Last year in October, August Home unveiled its second-generation August Smart Lock. The Smart Lock has an updated industrial design. Furthermore, it also has Siri control through HomeKit. Starting this week, August's Bluetooth-connected Smart Lock is available to purchase from Amazon and Best Buy. Although the  pre-order period of the device is quite lengthy even though stock appears to be slim so far.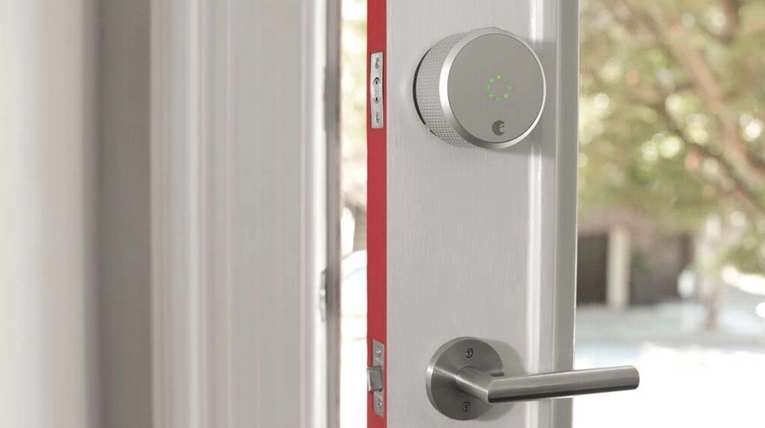 August's latest SmartLock enables users to lock and unlock the doors and other devices using Siri commands. This can be done by using iPhone, iPad, or an Apple Watch. This is all possible because of Apple's HomeKit support. In addition to that, the Smart Lock already benefits from being a Bluetooth-connected device. It can also be controlled by its own mobile application.
Apple's HomeKit support enhances the device securely for Apple devices users. It adds voice control to the Smart Lock. Furthermore, HomeKit is a framework that various smart home accessory makers support so you can automate other Smart Lock actions with other services as well.
For example, HomeKit allows you to create a scene called "Goodnight". The "Goodnight" scene lowers the temperature on your Scobee thermostat, turns off your Phillip Hue Light, and Locks the front door with August Smart Lock. Other applications like Matthias Hochfatterer's Home for iOS or Hesperus make controlling the HomeKit accessories without Siri easier.
August's second-generation Smart Lock also features an upgraded industrial design. The change alone is not worthy of upgrading, though unless you are adding another door. The new design has a new magnetic faceplate, along with micro-patterns to improve grip and rotation. Then there is an  indicator at the top of the lock for easy, visual confirmation that the door is locked or unlocked.
The original August Home Smart Lock, which was well-received last year, can be boughtu in a variety of colors if you are not interested in HomeKit support.
The second-generation HomeKit enabled Smart Lock is available at Amazon. The Smart Lock is available is silver or dark gray. August red and copper color will be available in the future.
MobileSiri.com is a participant in the Amazon Services LLC Associates Program, an affiliate advertising program designed to provide a means for sites to earn advertising fees by advertising and linking to Amazon.com. Read about our Affiliates Disclosure Policy
here
.