There are plenty of companies in the tech industry that release new products on a frequent basis. But, there are very few firms that can compete with Samsung's unwavering assault of new devices on the market. Almost every week, there is some sort of new upcoming device of Samsung in the spotlight. And now there is another piece of nifty hardware that has leaked online.
Although this time, the leak is not related to a smartphone, it is about an upcoming Samsung wearable tech. The device in that we are talking about is Samsung's upcoming Gear Fit 2 wearable fitness tracker. Below are the images of the Samsung Gear Fit 2 that have surfaced on the internet. Furthermore, the images display a pair of Gear IconX BlueTooth earbuds as well.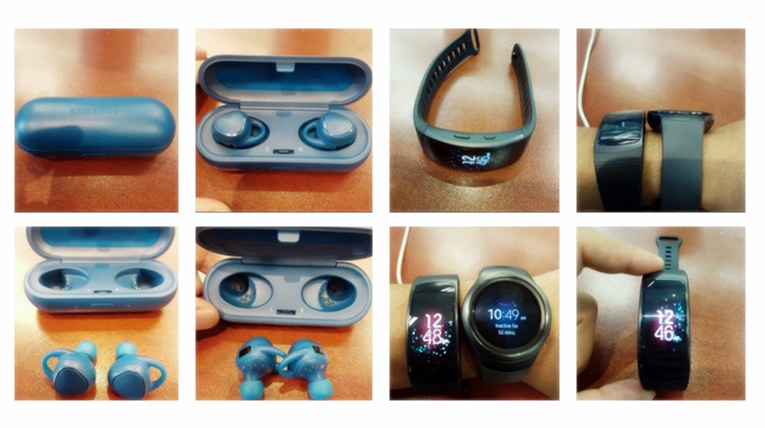 The upcoming second-generation Gear Fit 2 is similar in design to its predecessor, the original Samsung Gear Fit. The wearable fitness tracker has a sleek and narrow design that is aesthetically typical of fitness bands. The new fitness tracker is expected to be more ergonomic, than the previous model. The design will also be slightly curved to better fit on the wrist. The latest Gear Fit will also include a dedicated GPS chipset. The original Gear Fit does not have a GPS chipset.
The undoubted star of this particular leak is the Gear IconX. IconX is a pair of touch-operated wireless BlueTooth earbuds. The earbuds are said to be dust- and waterproof, which is ideal for active people. They can also apparently keep track of fitness data. More, one of the earbuds includes 4 GB of memory, so the Gear IconX can also work as a standalone music player.
Information on the pricing of the wearable is not available as of yet. But, this is quite an exciting news for fitness enthusiasts that are fans of the
Samsung Gear
.
MobileSiri.com is a participant in the Amazon Services LLC Associates Program, an affiliate advertising program designed to provide a means for sites to earn advertising fees by advertising and linking to Amazon.com. Read about our Affiliates Disclosure Policy
here
.