If you are suffering from allergies, Asthma, or sinus problems then you need the best air purifier for your room that gives you a fresh room feeling and keeps your space free from allergens, dust, viruses, bacteria, pet danders, and unpleasant odors. There are various types of Air purifiers available in the market. After long research, we have reviewed the best Air purifier that works with Alexa.
Can Alexa turn on the Air purifier?
There are many air purifiers that are compatible with Alexa and Alexa can turn on/off these air purifiers through voice commands or Apps.
How long does the air filter last?
The air filter usually last for 8-9 months, it is recommended to replace the filter after every 7-8 months. You can find replacement filters on Amazon.
Is it better to leave the Air purifier On?
There is no downside to leaving the Air purifier On as it combats allergies by killing the bacteria, and removes toxins and allergens
Check for: Homekit air purifier
Air Purifier that works with Alexa
Levoit Core 300s
Levoit Core 200s
Levoit Core 400s
Winix AM90 Air purifier
Mila Air Purifier
BlueAir Air Purifier
Dyson Pure HP02 Air Purifier
---
ozone free air purifier
Are you or your kids combatting allergies or Asthma? Here we have the Levoit Air purifier that can efficiently combat allergins and will surely keep you away from dry throats or nightly congestion.
Levoit Air Purifier is the best Alexa-compatible air purifier for bedrooms up to 219 ft. sq that purifies the air in just 12 minutes. The Home Air Purifier features a laser sensor. In auto mode, it detects the increased amounts of harmful particles in the air and adjusts the fan speed according to requirements. The core 300S contains an H13 Hepa filter with 3 stages of filtration. It traps smaller particles like dust, bacteria, pet danders and pollen to larger particles keeping your air free of airborne particles. The Levoit air purifier consists of a Carbon filter that absorbs unpleasant odors or fumes from the kitchen or washroom.
Moreover, you can set schedules and connect LEVOIT with your smartphone with VEsync App. The home air purifier has a low-level noise of 22dB.
All in all, the LEVOIT air purifier really worth the price.
Pros
It is really lovely air purifier for the price
It saves energy by consuming less power
Help you combat allergies, breathing difficulties, and sore throats.
Sleep mode reduces the noise and turns off the display light.
You can control the air purifier from anywhere with Alexa or Google Home

---
Levoit Core 200S is a wifi-enabled air purifier that works with Amazon Alexa and Google Assistant voice assistants. It has a nice interface at the top. You can control the Air purifier with VeSync app from anywhere. The Core 200S is compact but very powerful and more durable than any other Air purifier. It can purify the air of up to 183ft. sq space or room. Its quiet Keap technology decreases the vibration of the motor and fan. On sleep mode, it has as low noise as 24 dB. This feature saves energy as well
Moreover, the Levoit Core 200S uses ozone free purification method to clean air because UV Air purifiers are harmful to Asthma patients. Similarly, It also has three-stage filtration like Levoit core 300S
Pre-filter(traps dust, hair, and pet fur)
H13 True Hepa filter(captures pollen, virus bacteria and smoke)
Carbon filter(absorbs smoke and odors)
Pros
Levoit is an affordable Air purifier
It is portable that can easily carry from one place to other.
It does not use UV-C light for the Air purification method or Ozone free.
Replacement filters are cheap
Cons
Filters are not washable so you need to replace filters after every 6-8 months.

---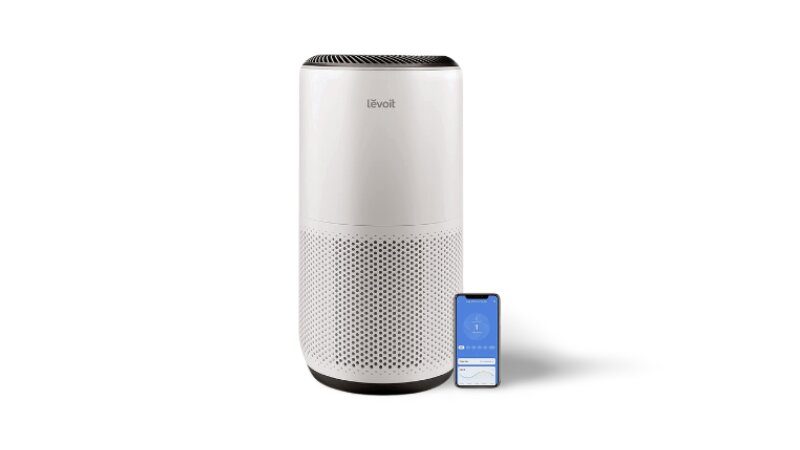 Levoit Core 400S is wifi enabled air purifier that can purify the air of up to 403ft. sq of area in just 12 minutes. It can control with the voice assistant Alexa. Levoit Core 400S uses cylindrical filters that are replaceable after every 6- 8 months. They are not washable.
Its H13 true Hepa filter traps germs, molds, bacteria, allergens, pollen, and pet danders. The carbon filter absorbs the smoke, fumes, and odors that exist in the room or kitchen.
Moreover, in wildfire season it helps you combat allergies like flu, breathing difficulties, dry cough, and sneezing by capturing the allergens in the air. The air purifying laser sensor detects the air quality and informs you of the air quality via VeSync App.
Pros
Levoit is ozone free air purifier
On sleep mode, It gives as low noise as 24dB
It's a sleep-friendly air purifier
Energy saver consumes less energy
Cons
It produces loud sound at maximum speed

---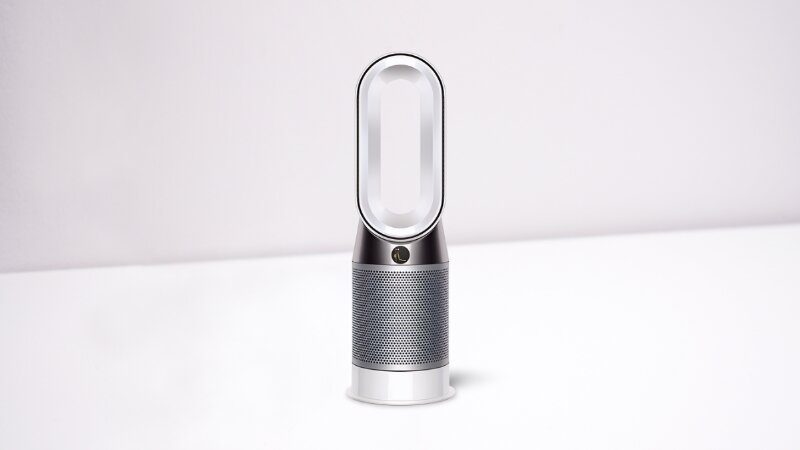 The 3-in-one well-designed Dyson Air purifier has the ability to not only work as an air purifier but also as a heater fan or a cooling fan. You can set cooling and heating functions in summer and winter by maintaining the desired temperature in the Air Purifier. It can rotate 360 degrees so that every corner of the room gets air. On the other hand, the carbon filter and the Hepa filter capture the toxins, smoke, odors, gases in the air, and allergens. The LCD screen tells you the real-time air quality and temperature as well.
Moreover, Dyson LinkApp monitors both outdoor and indoor air quality. The filters can easily be replaceable.
Lastly, you can run the Dyson Air purifier remotely with the help of voice assistants like Alexa and Google Assistant.
Pros
Best Air purifier
Best heater
Best cooling fan
Cons
It is pricey compared to Levoit

---
Winix AM90 is the best wifi enabled Air Purifier that works with Alexa. The smart Air purifier can purify the air of up to 350sq. ft room. The air purifier contains 4 layers of filtration, First defensive layer is Pre–filter that traps allergens, dust, germs, and pollen, a carbon filter that reduces unpleasant odors or smokes rising from the kitchen or fireplaces. The carbon filter and pre-filter are washable., HEPA filter that traps allergens, pollen, dust, bacteria, and viruses in the air. Thanks to Plasmawave technology that gives pure air.
Moreover, It consists of an air quality indicator that indicates the poor quality of air and dual smart sensors that adjust the fan speed according to air quality. Winix also has a filter indicator that shows when you should replace the filter.
In addition, Install Winix smart app and control your wifi enabled air purifier. It is best for both medium and large rooms and kitchens.
Pros
Its pre-filter and carbon filter are washable.
Cons
Winx is not ozone free when Plasmawave technology is turned on
Winx is a bit louder than Levoit at a higher speed

---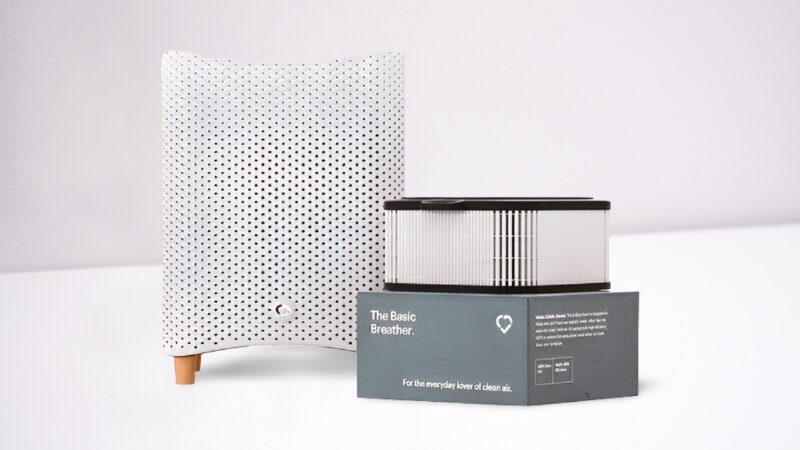 Mila Air purifier is designed to purify the air of a large area for upto 1000sq ft. The filter removes toxic elements in the air such as allergens, dust, pollen, smoke, and pet danders. The H12 Hepa filter makes the air clean and helps in circulating fresh air. It helps you in combatting allergies. It consists of 8 environmental sensors including a CO (carbon mono oxide)sensor. In addition, it is quiet at low speed but loud at high speed.
Moreover, the Hepa air purifier offers three useful modes such as sleep mode, energy saving mode, and child lock mode. You can get updates on air quality through smart apps.
Pros
Mila Air purifier can Purify a large area as compared to Levoit
It is totally ozone-free air purifier
Air purifier helps in saving energy
Its setup is very easy
Cons
Mila air purifier is an expensive air purifier than Levoit
You could have problems connecting apps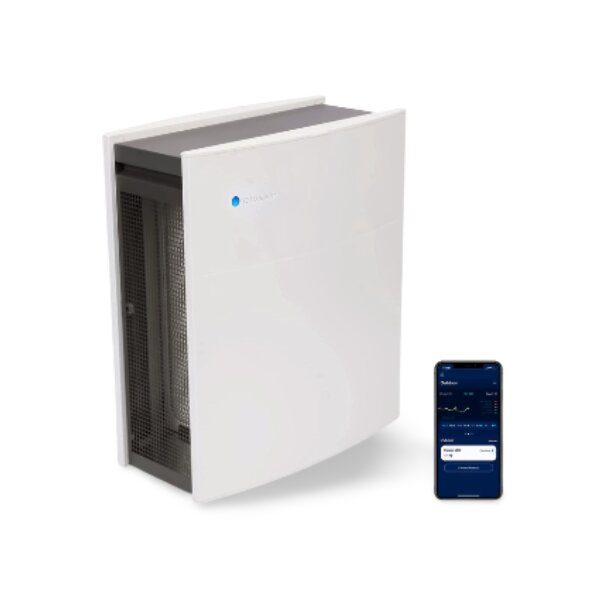 BlueAir Air purifier is wifi enabled Air purifier that can clean air of up to 300 sq. feet to 400sq. feet room. You can remotely control the Air purifier with the Blueair Friend app as well as it is Alexa compatible so you control it with your voice. It traps 99% of germs, viruses, pollen, dust, pet danders, and airborne particles. In Auto mode, Its air quality sensors detect the air quality and set the fan speed according to air quality.
Pros
Saves energy by consuming less power
Protect you from Asthma
Best for kitchens, offices, small bedrooms, and living rooms
The fan is quiet
Cons
It is not true Hepa Filter

MobileSiri.com is a participant in the Amazon Services LLC Associates Program, an affiliate advertising program designed to provide a means for sites to earn advertising fees by advertising and linking to Amazon.com. Read about our Affiliates Disclosure Policy
here
. Amazon and the Amazon logo are trademarks of Amazon.com, Inc. or its affiliates.