For those Samsung Galax Note 5 and Galaxy S6 Edge+ users, who are as desperate with battery life that even the 3000mAh battery falls short for them, here are the new ZeroLemon Note 5 battery cases that add up to an extra 8500mAh to either of the large Samsung Galaxy phablets.
The users of the Galaxy Note 5 and Galaxy S6 Edge+ know well that how strong a battery their devices have got. Both large devices in the Galaxy series were released in August last year with many common features.
These common features included the 3000mAh battery which is kept same on both devices with equal performance. Both devices carry the powerful 3000mAh battery as non-removable and with fast charging capability. The battery review of Galaxy Note 5 and Galaxy S6 edge+ have categorically proven the fast charging abilities of both devices.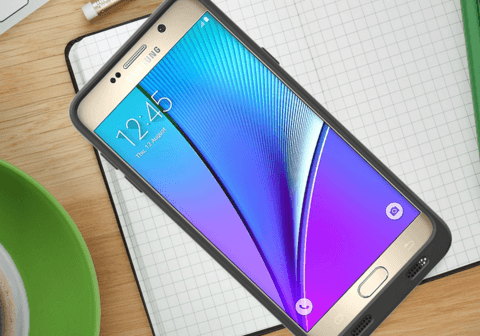 Though the battery is nothing short for the kind of devices like Galaxy Note 5 and Galaxy S6 edge+. But both of these devices are huge and carry high features where heavy use and the less recharging facility can push you for even more battery juice. For such users looking for extra battery life, the accessory maker ZeroLemon has released the giant battery cases.
The ZeroLemon battery cases come with charging capacity of 8500 mAh. The capacity is almost three times high as compared with the currently employed batteries on both Galaxy Note 5 and Galaxy S6 edge+. With this much capacity, the ZeroLemon battery case is expected to run your device for up to three days on heavy usages without the recharge.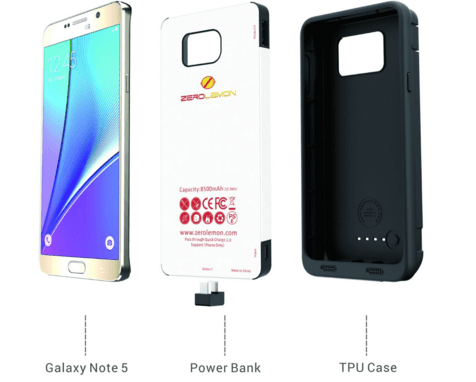 If you are really looking for as such a powerful battery case, the size and weighing will probably not be a thing to consider. The ZeroLemon Note 5 battery cases are quite heavy and bulky with 218gram weight and 21mm thickness. In addition, there are a number of ports on the case where you can charge other devices too.
MobileSiri.com is a participant in the Amazon Services LLC Associates Program, an affiliate advertising program designed to provide a means for sites to earn advertising fees by advertising and linking to Amazon.com. Read about our Affiliates Disclosure Policy
here
. Amazon and the Amazon logo are trademarks of Amazon.com, Inc. or its affiliates.