The smart watch we are going to review today is No. 1 S5 smart watch. If you are looking for a multi-purpose smart watch for your Android phone, S5 can be your good choice. The No. 1 S5 smart watch equips with heart rate monitoring, remote camera and 3D Touchscreen with G-sensors which helps you change the dial interface easily. The No. 1 S5 smart watch is available at GearBest where you can find almost all the Chinese made smart watches for good prices.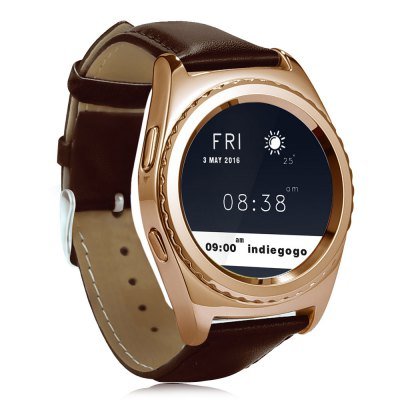 When talking about the design of the No. 1 S5 smartwatch, it has a full circular dial with crispy display and resembles like the normal wrist watches. With the stainless steel body, the watch has leather strap available in black, golden and silver colors. But inside the watch is the MKT6261 chipset which being used by most of the inexpensive smart watches these days. With the screen size of 1.2 inches, it has the screen resolution of 240 x 240 and IPS display. The smart watch is powered by 64 MB RAM and 128MB ROM.
As we discussed earlier, the No. 1 S5 smart watch comes with the heart rate monitor supporting real-time ECG. Other smart features like Sleep monitor, pedometer, sedentary reminder and thermometer are also part of the watch. The watch supports Bluetooth 3.0 to let you connect with WhatsApp, Twitter, FaceBook, and other social media apps. While the device is featured rich, you can only use it with your Android phone as it does not pair with the iOS.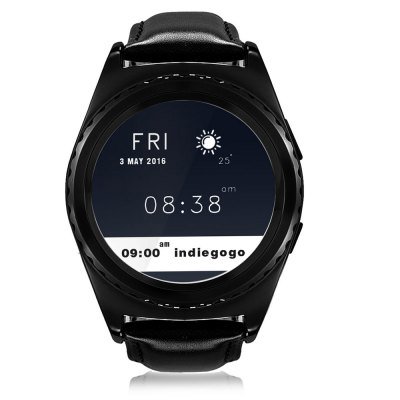 While many smart watches are coming these days with the built-in camera, the No. 1 S5 smartwatch is also equipped with the remote camera to help you take photos remotely. With Li-polymer battery of 350mAh, it takes around 3hours to charge the watch completely and then you can really forget about the charging for up to 5 days with normal usage.
If you are looking for an inexpensive smartwatch, which is featured rich and stylish as well, you can buy the No. 1 S5 smart watch for just $40 at GearBest.
MobileSiri.com is a participant in the Amazon Services LLC Associates Program, an affiliate advertising program designed to provide a means for sites to earn advertising fees by advertising and linking to Amazon.com. Read about our Affiliates Disclosure Policy
here
. Amazon and the Amazon logo are trademarks of Amazon.com, Inc. or its affiliates.