Google hosts Google I/O conference every year to announce different products and to spread awareness about its products in the developers community. This year's Google I/O conference had a lot of announcements about the new products like Android M– the successor to Android Lollipop, Google Photos- A photo sharing with free cloud storage, Android Pay- a mobile payment system, Android TV and other changes like Google Now and more development tools for developers. Google has released the developer preview of the Android M, its upcoming OS for the smartphones. Google has brought a lot of changes and nice features in the Android M which will replace the Android Lollipop.
Android M – Successor to Android Lollipop
We have seen there is a particular trend in the naming of the latest versions Android which are named after pastries and candies and also there is alphabetical order seen in their versions. Like android 1.5 was cupcake. Then there was donut, Eclair, Froyo and then the latest was one was Android Lollipop. We all know that in alphabetical after L there comes M so the new version of Android is Android M. There are various names like muffin, M&M, Milky Way which Google can use to name its Latest version of Android and also it can partner up with these brands just like it did with KitKat version. Accordingly this new version will be 6.0 after a jump from 5.2 as far as we know. It is heard that the new name will be Macadamia Nut Cookie but how can it be it's a difficult name and cannot roll out of tongue easily so surely the new name won't be like this.
Android M will have more ways to interact
Just imagine with your voice you can connect with Android apps. It is rumored that this feature might appear in Android M. this will allow the Android developers to add hands free capabilities to their feature. This hands-free can be a good and advance feature. Nearby is also another thing that is rumored to come in Android M which will make easier the discovery of and connections with other Android users. It is also rumored that Android M will also bring changes to UI notification with volume control system.
Google Photos – A new Photos Application
Google has released its new photo app namely the Google Photos. Google Photos will give you the unlimited storage on cloud which will help you save the images and pictures without deleting them. The new Google Photos app will be part of Android M and many people see it as a revolutionary app because of free unlimited Cloud space. You can learn more about the Google Photos app here.
Performance & UI Improvements in Android M
Android M will not be a major Android release if it not able to improve the platform overall performance. There will be optimization in RAM and battery management which means app would be using less of the stuff. While the device is sleeping it will reduce app wake ups and activity which will improve stand by time after the introduction of Android M. Android M will come up with new features like native-multi-window and quick replies to the message. Latest installations of Android M on Nexus 5 show huge battery boost.
Security and privacy enhancements
In past, to secure and make your phone's privacy high, screen pin and passwords were used but not the fingerprints used in most of the phone so it is expected that Android M will also have the fingerprint as a security to unlock the phone. It is rumored that it will be the most user friendly OS till now of all Android Operating systems that have been introduced. It is also heard that Android M will bring power to all the places whether small business or large. It is also rumored that it will also give the permission to edit apps. Let say you visit Google account information then you should be able to disable the software admittance to the data.
More apps with Material Design
Not as a revolutionary one Android M is shaping up as a great evolution upgrade from Android Lollipop. It would be emphasizing on the existing features improvement rather than introducing tons of new features and implementing them. The glance and the sense of Android Stock and user interface would be same because most of the things will remain unchanged. There will be some changes like Android UI which is rumored to be built on the principle of Material design initiated with Android 5.0 Lollipop. You will be seeing things like sliding transitions, shadows under objects and an great approach to graphic design of latest version.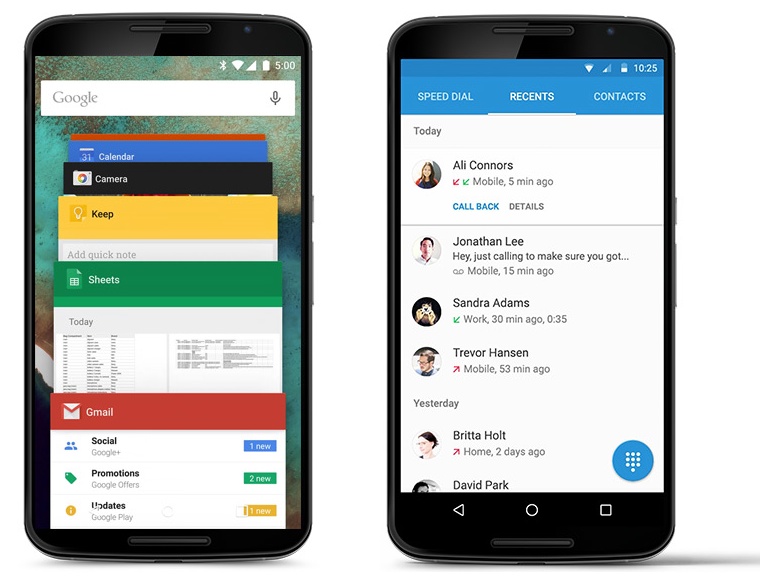 Android Pay- A mobile payment system
Google has been working on the Android Pay so it might be a new feature with the upcoming Android M which allows the devices and the companies to manage payments and transactions through mobiles. Android Pay will although a rival to Apple Pay but still it will have more features as well. Important to note that Samsung Pay is also on its way.
Android M Release Date
Google after announcing the Android M at Google I/O couple of weeks ago, is planning to release the Android M by the third quarter of 2015. Android M developer preview has already been released.
MobileSiri.com is a participant in the Amazon Services LLC Associates Program, an affiliate advertising program designed to provide a means for sites to earn advertising fees by advertising and linking to Amazon.com. Read about our Affiliates Disclosure Policy
here
. Amazon and the Amazon logo are trademarks of Amazon.com, Inc. or its affiliates.