Introduction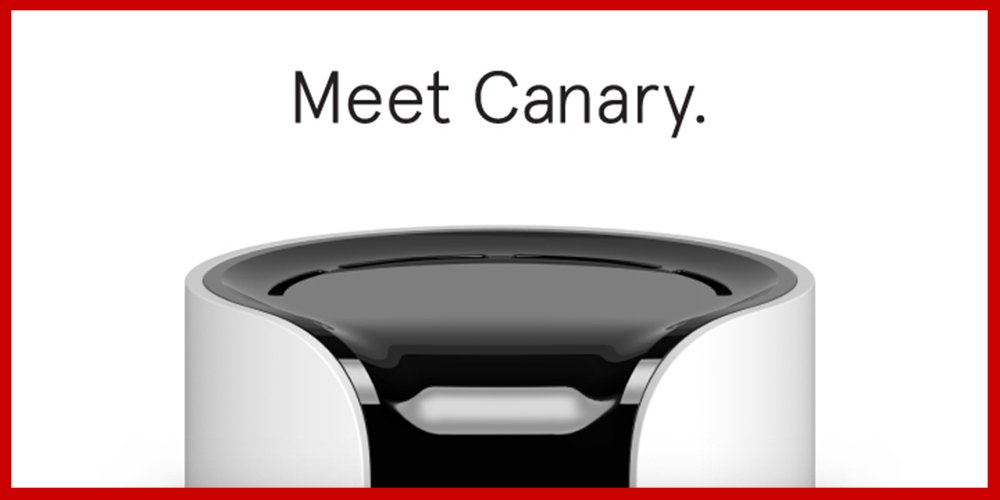 Numerous security cameras have been around for years. They typically record footage onto local or network storage and are like a nightmare when it comes to setup unless you have an expert to do this job. Many advanced models are not necessarily easier to configure and use. However, they can upload footage to the cloud so you can easily access it from anywhere as long as you are happy with paying the subscription fee and this is where Canary all in all-in-one home security system comes into play.
The Canary all-in-one home security system is a cylindrical camera that is easy to organize and use as much as possible. It leans heavily on your smartphone along with the selection of built-in sensors. The camera is pretty dependent on your phone so it does not require any web interface for both configuring the camera and watching the back footage. Instead of downloading an app, the device is available for both iOS and Android. After completing the setup wizard, the Canary will run in just a few minutes.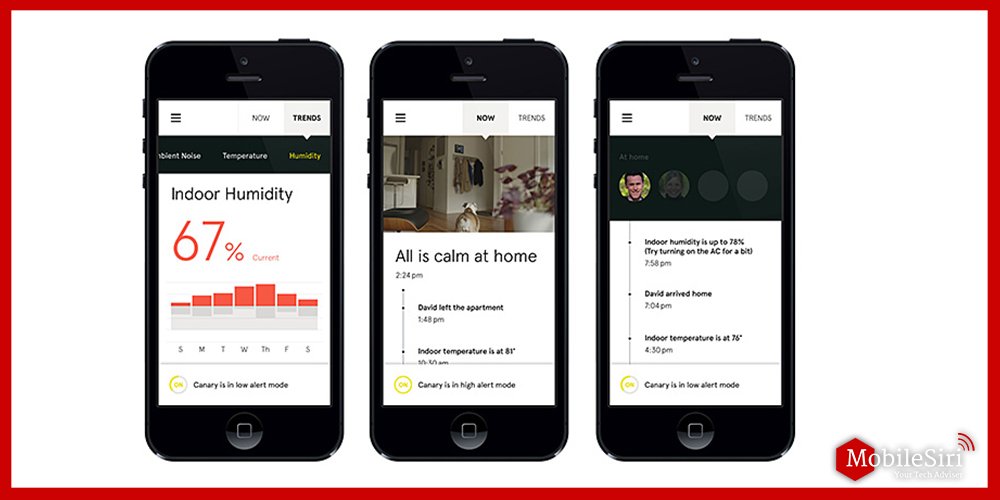 Read the full review to learn about several useful features of Canary home security devices that make it all in one monitoring system. These functions mainly include location-based notifications, in-depth and easy-to-use apps, and environmental data to track temperature, air quality, and humidity.
Excited already?
Canary All-In-One Home Security System Key Features (and Some Lacking)
What it has?
The updated software and app provide enhanced usability.
The slider effectually controls the sensitivity of the motion sensor.
The device automatically finds the contact details of the police, fire, and EMS near your home.
The automatic activation and deactivation are very convenient.
The videos are of superb quality; hence you can easily get the details regarding any suspicious activity in your home.
The siren sound is loud enough to scare intruders. You can clearly hear it from a distance.
The privacy mode offers excellent security so that you don't end up in trouble, especially in hacking problems.
The device provides the best video plans. The paid plans are competitively priced in comparison to competitor programs.
It does not have any cellular failover.
The unit has relatively sophisticated security features.
Home health monitoring is very useful.
It delivers reliable notifications.
The system is simple to install.
It offers crystal-clear night vision.
It effectually monitors air quality.
What it lacks?
Canary all in one home security system does not integrate with other connected home systems.
It requires a power outlet.
The device lacks a web portal.
Local storage could be improved.
It does not have a smoke detector or carbon monoxide alarm.
It is not compatible with Windows, Blackberry, or PC.
The device does not have any history to tell the performance and reliability of the system.
It lacks door or window contacts so anyone coming from the door or windows might not be detected.
The unit is relatively expensive.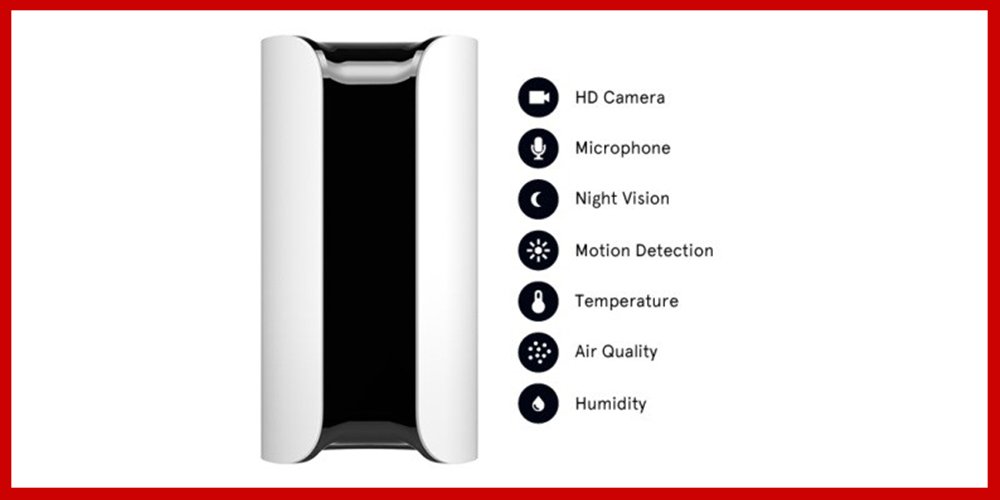 Key Specifications
| | | | | | |
| --- | --- | --- | --- | --- | --- |
| Dimensions | Camera | Sensors | Home Health Technology | Audio and Siren | Connectivity Requirements |
| 3 inches diameter | 1080p resolution | 3-axis accelerometer | 6 inches height | High-quality microphone | Broadband Internet connection |
| 3 inches' diameter | 147° angle lens | Ambient light | – | Built-in speaker | Wi-Fi or Ethernet |
| 0.87 lb. weight | Automatic night vision (approximately 25 ft. range) | Capacitive touch | – | 90+ dB siren | Power outlet |
| – | Motion detection | – | – | – | Android 4.0 or later |
| – | Recording | – | – | – | iOS 7 or later |
| – | – | – | – | – | – |
In the Box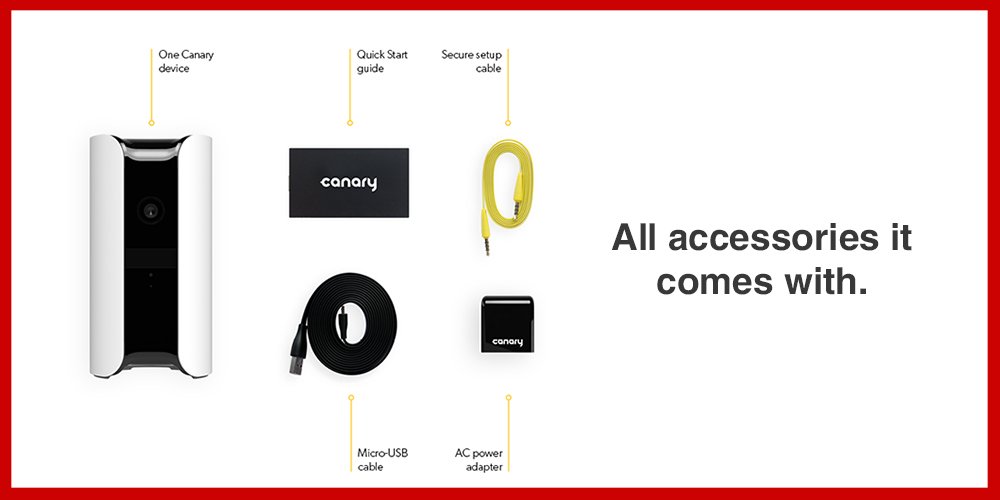 The Canary all-in-one home security device box has:
The Canary Home Security Device
Cable setup
AC power adapter
Micro USB cable
User manual
Features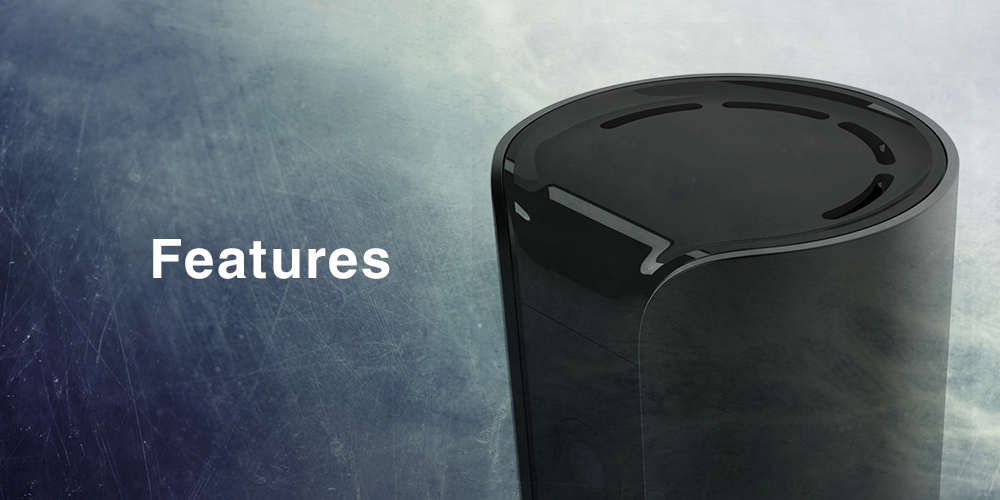 Canary Home Security Device comes with multiple features. The purpose of each function is to look at what's going on inside your home. It features a 147-degree wide-angle lens that successfully captures 1080p HD video. Also, it gives recorded footage and a live stream. The footage comes out to be crisp and clear. The zoom feature in the mobile app lets you pan, tilt, and zoom the camera. It offers you enough details even in low-light situations while reviewing the clips.
The camera sensors give superior performance in smoothing the video and providing details in a little light, even before the night vision comes on. One of the most interesting things about Canary's all-in-one home security devices is that the recent software update is not compatible with the Wink line of smart home devices. The Canary Home Security Device monitors different variables of your home including motion, temperature, humidity, and air quality. It sends you immediate notifications if anything seems to be wrong. The all-in-one security device is equipped with a microphone along with a built-in speaker. However, unlike Nest Cam, it does not have sound-activated alerts when the microphone detects a noise.
Though the audio capture by the Canary microphone is impressive. You can clearly hear even a quiet conversation between people, who are in the same room which is truly a surprise. Moreover, the camera allows you to sound a loud and startling 90+ dB siren from the app. Whenever you receive an alert on your smartphone, you can see what activated it. Also, you have the option of sounding the camera's siren or contacting emergency services. If you watch a video alert and see any suspicious activity in your home, you can even scare the person from your smartphone.
Additionally, the Canary's siren is loud. It is effective in petrifying someone who does not belong in your home. So, whoever hears the siren will clearly understand that they have been sensed. Perhaps, it is the most important home safety feature of the Canary Home Security Device.
The Canary all-in-one home security device comes with amazing geofencing technology. It lets you detect when there is an activated device such as a smartphone within a particular range. As long as it detects your device, the camera will be in a deactivated mode. But as your device leaves the geofenced area, Canary will automatically switch the camera to 'armed.' This is an important feature as you don't need to worry about forgetting to turn the camera while leaving your house.
Also, you won't receive several alerts while sitting in your living room and watching TV. The pro tip is not to register too many devices with the Canary Home Security Device as it tracks the device, not the person. It will minimize such issues and make coordinating the Canary's settings way too simple.
Performance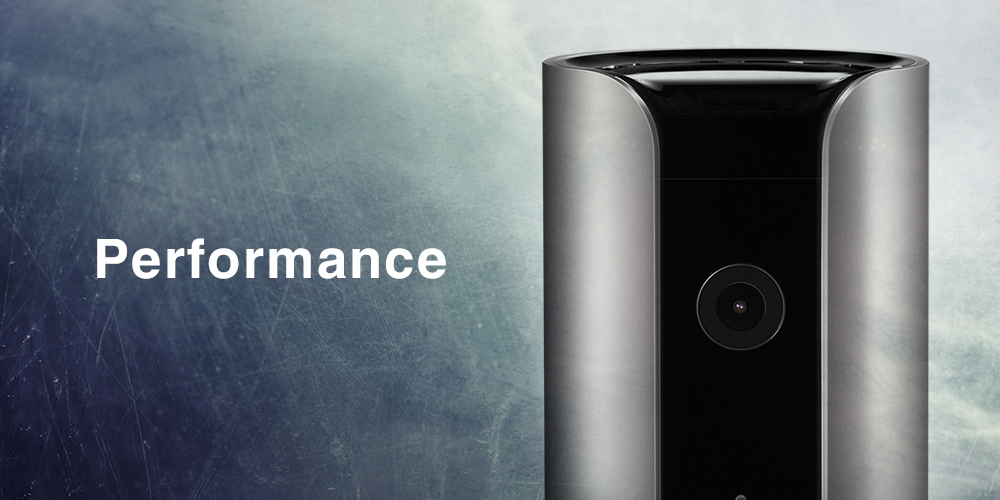 Like other home security cameras, Canary all in one home security device features motion detection and alerts. Though these features were inconsistent in the past such as activating false signals, shadows shifting, etc. With the recent software update, Canary has now successfully reduced the number of false alarms. It offers you the option of tagging an alert to tell Canary that you don't want to receive this notification anymore. Through this feature, the unit will start recognizing what's happening in a specific clip or whether it is relevant to you regarding security concerns.
Also, there is a sensitivity slider in the mobile app that further trains the camera. It lets the camera learn the kinds of alerts that you don't want to receive thus ultimately improving the quality and frequency of the alerts you get.As far as the performance of the app is concerned, it identifies, edits, and saves clips remarkably. In our testing of Canary's all-in-one home security device, it was a pleasing experience to learn how to search and operate video clips which were very easy to find in the app.
Furthermore, we were impressed by the sound quality, the voices and words were clearly audible on recorded clips when the people were speaking in very low tones. The speech was entirely perceptible, clear, and easy to understand. It shows the quality of the app software and the microphone in the camera itself.
As Nest Cam is compatible with Nest's smart thermostat, the Canary Home Security Device incorporates "Home health Technology" directly into the camera. The unit is fortified with several sophisticated sensors including an air-quality tester, a motion sensor, a humidity device, a temperature meter, and a 3-axis accelerometer. However, you need to take care of the position of the camera. If you are putting it very close to other audio-visual equipment, you will most probably get false temperature readings as the components generate heat.
In addition to that, you can use the temperature and moisture data in multiple ways. You can easily monitor anyone while you are out, keep a check on the live feed along with seeing the temperature and air quality right from your phone.
Likewise, you can track the temperature changes throughout the data and use the information to adjust the temperature and cooling schedule on your air conditioning unit to turn on during the hottest hours. Though these atmosphere features are a superb addition they should be used as the primary source of telling how hot or humid your house is. Some variables may alter Canary's temperature and air quality readings.
The canary home security system is not going to automatically sound the siren when it is activated which is a great blessing. It works in a straightforward way. If the device spots something in the middle of the night, it will alert you on your smartphone. Afterward, you will have an option whether or not to sound the alarm yourself.
Canary Security System Comparison With Others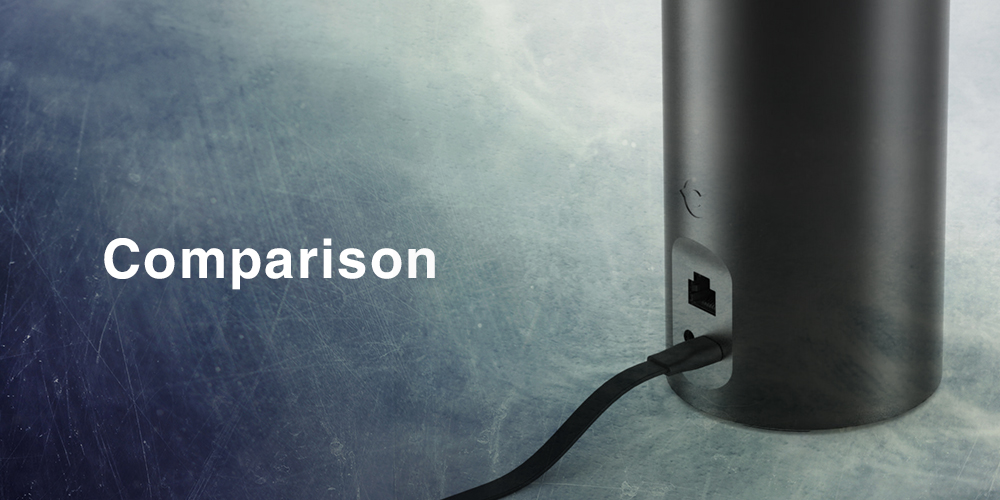 Canary Home Security Device is a great dependable addition to your home security. If you are willing to spend an initial £160 and switch between various subscription plans as per your needs, the device will serve you well. However, you can find other products as well with better features. For example, Nest Cam works quite similarly and has almost the same subscription plans. The additional advantage is the compatibility with IFTTT which has a slightly longer £8-a-month subscription plan of 10 days.
The Netatmo Welcome and Samsung SmartCam offer impressive battery storage as both have microSD card slots. While the D-Link Home Security camera allows you to store the footage on your local drive if you have a NAS or one of the cloud storage surfaces.
Canary Home Security Device has got a lot of room for improvement, but the good news is that the hardware is now updated and sound. The camera offers remarkable picture quality whether it is the regular mode or night vision mode. Likewise, the Home health sensors are helpful and accurate, and the motion detector does not miss even a single thing. Overall, there is a lot of good stuff going on under this device.
Still, there are problems with Canary that encourage users to spend $270 on Piper NV or $150 on iCamera instead of spending $250 on Canary. The over-sensitivity of the device and lack of third-party support make it not an appropriate choice for all those who want to incorporate their security with the larger smart home setup. It is expected that Canary will be better with time.
Conclusion
Canary all-in-one home security system combines high-quality HD video and superior audio with unique features that are not commonly found in many home security cameras. Though the camera's price is high, still the temperature, humidity, and air quality sensors make the purchase more attractive. Live streaming, sharp 1080p imagery, and instant mobile alerts are all significant reasons to consider Canary all-in-one security devices to fulfill your home security needs. The unit installs in minutes and lets you download and delete the recorded video. Additionally, the loud siren and motion sensor automatically activate itself when you leave the house.
Awesome?
The camera's motion alerts still use fine adjustment whereas a robust web interface is perfect for those who don't check their phones all day. Likewise, the live feed and ability to sound the siren or call the police in an emergency are quite valuable home security tools that you can rarely find in most home security systems. Also, there is video footage is reasonably priced on the cloud storage. We conclude that the Canary security camera is a high-quality security camera that is consistently improving. But it's just perfect for you!
MobileSiri.com is a participant in the Amazon Services LLC Associates Program, an affiliate advertising program designed to provide a means for sites to earn advertising fees by advertising and linking to Amazon.com. Read about our Affiliates Disclosure Policy
here
. Amazon and the Amazon logo are trademarks of Amazon.com, Inc. or its affiliates.