Samsung's latest flagship smartphones the Galaxy S7 & Galaxy S7 Edge have hit the smartphone markets with a storm. The highly anticipated devices were not a letdown and became popular very quickly. The smartphone duo has generated a substantial revenue for the Korean manufacturer. They can be rightfully called a success. The Galaxy S7 duo has a premium quality build and high-level features and specifications. The Galaxy S7 Edge is the smartphone that really stands out with its curved edge design.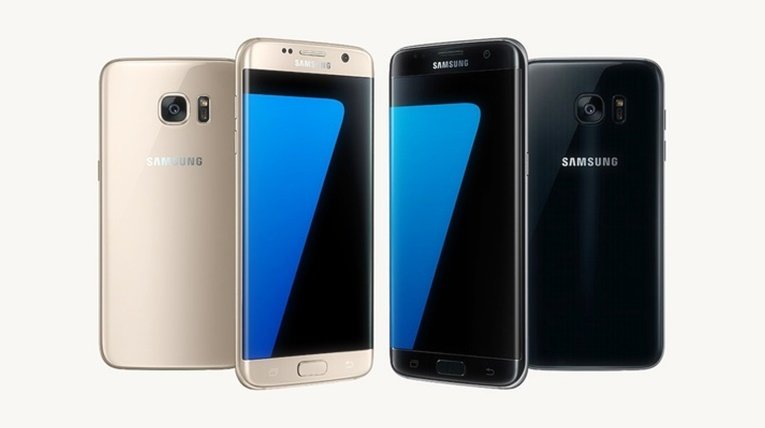 However, as gorgeous as the design of the S7 Edge is it is also quite fragile and will cost you a hefty amount to fix. The aluminum body can also be prone to dents and scratches if not taken care of. So the smart move would be to buy a high-quality protective case to secure your smartphone. This would ensure that it is kept safe from accidental damage. Since the S7 Edge is so popular there are quite a few cases and covers to choose from. In this article, we have compiled a list of the very best cases for the Galaxy S7 Edge so you can easily select one that suits your needs.
There is also a list of the very best accessories for the Galaxy S7 Edge below. These accessories complement the device very well and in some instances enhance its functionality.
Best Galaxy S7 Edge Cases:
There are a whole lot of Galaxy S7 Edge cases and protective covers available in the market. These days you can get many types of covers like silicon, book, back, and many others. Here we are going to help you pick the right cover for your Galaxy S7 Edge.
The beauty of the Galaxy S7 Edge is its dual edge side and no one will like to hide it with a poorly designed case. But no one can afford to use his her phone without using a case. This is where Encased Ultra thin SlimShield Case comes for the rescue. Without adding any extra bulk to your gorgeous S7 Edge, it gives your phone additional protection and extra comfort. Not only it provides extra protection, scratch and shock resitance but it also comes with two interchangeable colors to keep it fresh always.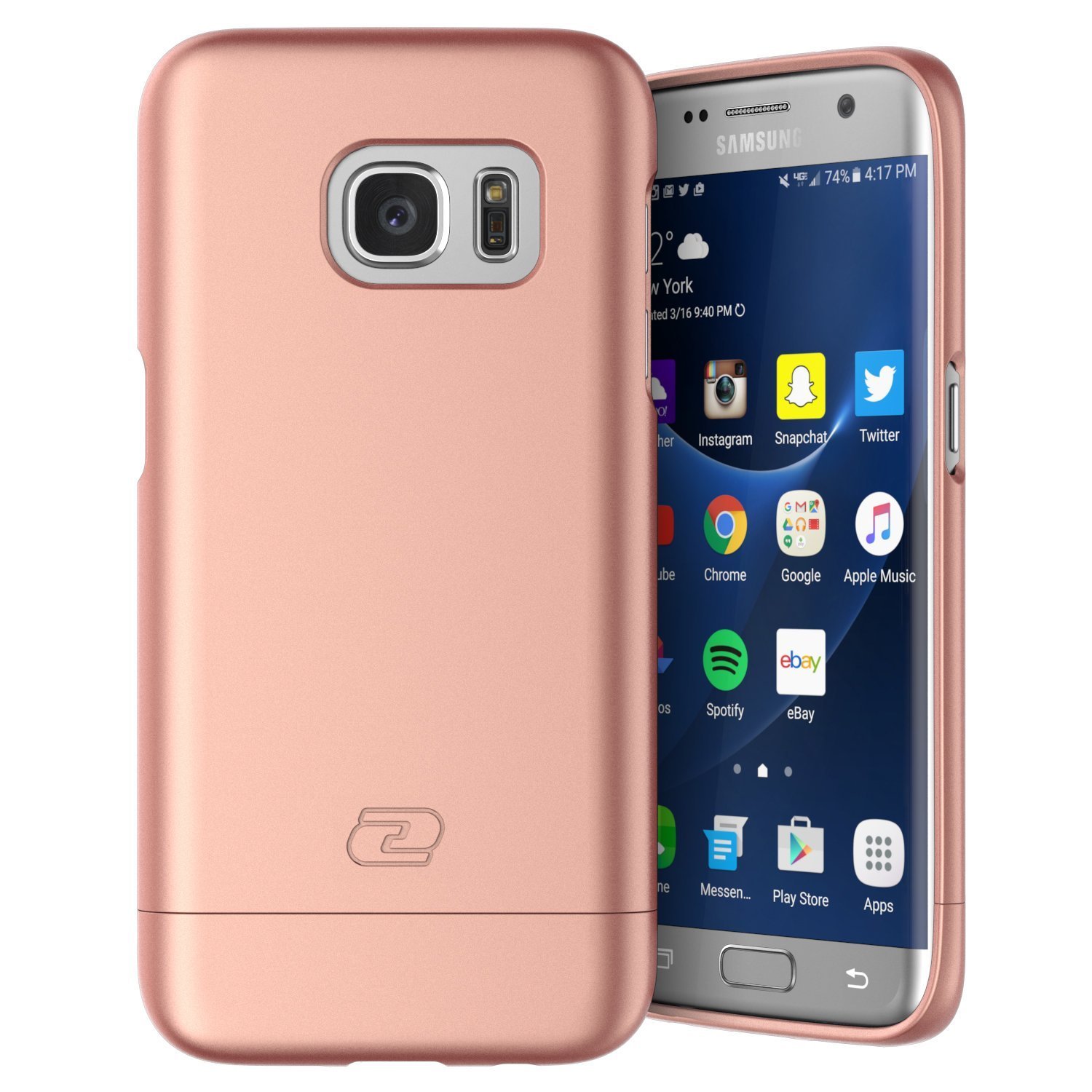 ---
Griffin Survivor Journey Case is a great choice if you are looking for a sleek and stylish case that offers a substantial amount of protection. This case is light and thin and it can survive falls from up to 6.6 feet in height. Journey Case utilizes a blend of poly-carbonate and TPU, but this time, the TPU is on the outside, which makes it very comfortable to hold and adds a comfortable grip.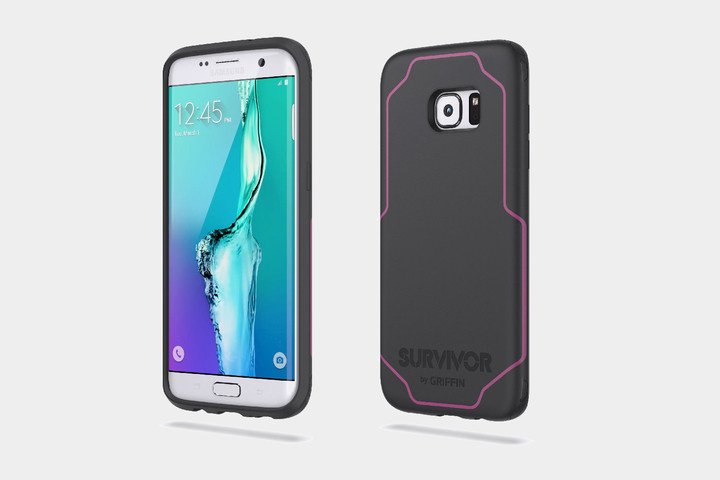 The buttons are also covered instead of cut-out so they are protected, they are also tactile so you can locate them easily with feel. The openings for your ports and camera are perfectly placed, and the sides dip to ensure you can take full advantage of those edges. It comes in black and gray and a colorful black-with-pink variant.

---
Spigen Sim Armor Case for Galaxy S7 Edge uses a tried and tested combination of flexible TPU and tough polycarbonate. If you are looking for military grade protection then this case is the right one for you. With this case on you, S7 Edge can survive typical accidental drops easily.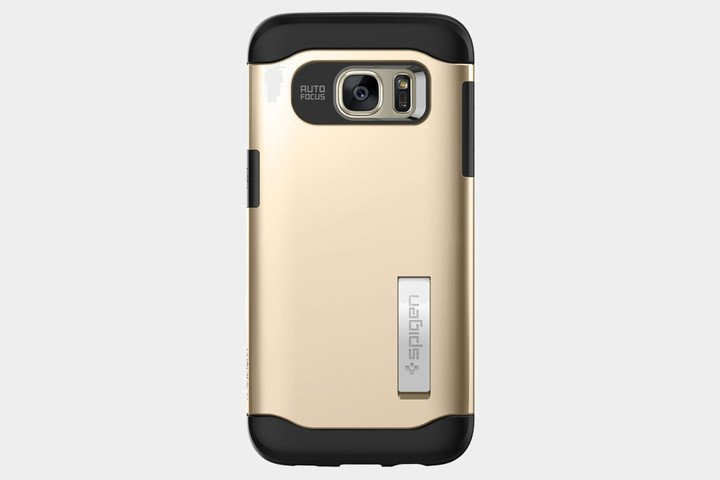 There is also a raised bezel around the screen for extra protection. The cut-outs are also accurate, so there's plenty of room for port access and little interference with the camera. The button covers are flush with the frame, but they still work quite well. There's an extendable, plastic kickstand on the back, but it's not very sturdy.

---
Caseology Envoy Series Case is one of the most stylish and good looking cases on this list. It features colored leather or carbon fiber finish on the back and a flexible inner shell that is built to absorb the shock impact. There is also a strong poly-carbonate bumper that slots on the top for extra protection.

The buttons are also covered with polycarbonate and they have a beautiful chrome shine. The openings for the camera and slots are well cut and provide room for most audio jacks and easy access to features. The case provides reasonable drop protection, but this isn't really rugged. However, if you are looking for something stylish this is the best bet.

---
Case-Mate Naked Tough Case is the best choice if you are looking for a case with light protection that doesn't obscure your stylish Galaxy S7 Edge and make it bulky. The Naked Tough case deliver solid drop protection. It features a dual-layer design that absorbs and reduces impact shock, in a transparent package that doesn't completely conceal the S7 Edge inside.

The cutouts for the camera and slots are accurate and the case provides a comfortable grip. The case is minimalistic aside from the subtle logos, the only real detail is the metallic buttons covers.

---
Skinit Pro Galaxy S7 Edge Case
The Skinit Pro Case is available in numerous attractive designs. The best part about these cases id that you can use your own images and photos to customize them and have them printed directly on your case.The actual base case makes use of a hard outer shell and a soft inner one.

The case also comes with a raised bezel to protect the screen from drops. It features chunky button and the slots for the camera and other ports are accurate. Basic cases start at $35, but it costs a mere $40 to personalize your own. You can buy the case from the Skinit website.
---
Cover-Up WoodBack Explorer Case is a case for you Galaxy S7 Edge with a wooden back. The case has a simplistic design and s available with a wide range of natural wood grain finishes for the back panel.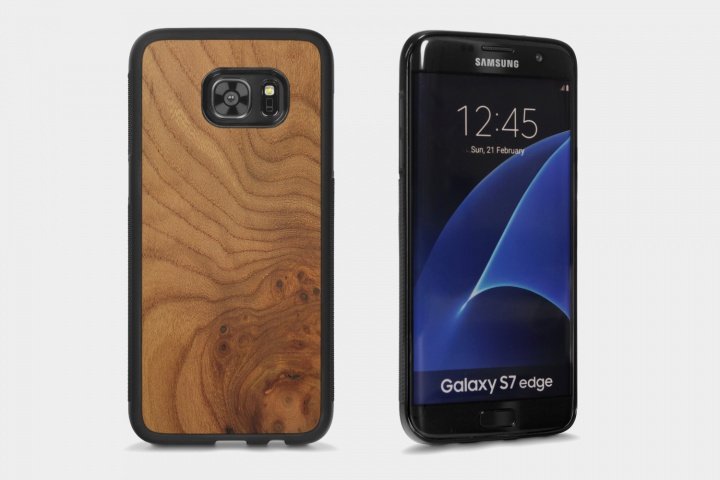 The case outer layout is a black polycarbonate shell that's slightly flexible and features textured stripes on both sides to really enhance your grip. There are very sleek button covers and well-cut openings for the ports, camera, and other functions.

---
Samsung launched a bunch of exciting accessories to go with the Galaxy S7 Edge. The LED view flip cover case is one of them and it is pretty interesting. This official accessory case is a folio style and has a minimalistic shell inside to hold your S7 Edge securely.

The case is made of faux leather and it is integrated to automatically turn off the screen of the smartphone when you close the cover. There are also LEDs that can show the time, incoming calls and messages, battery status, and more. The S7 Edge fits perfectly in this case and its sleek and stylish.

---
The Performance series by Incipio is the one that guarantees a high level of protection for your device. There are five different offerings from the Incipio Performance series for the Samsung Galaxy S7 Edge.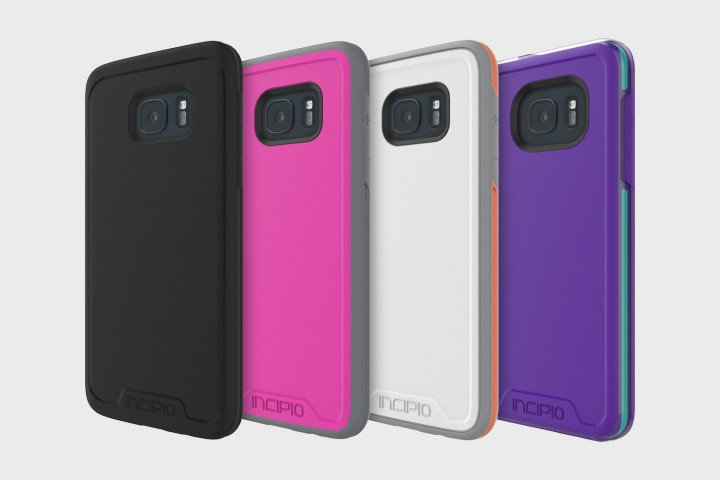 If you prefer a fairly chunky style or rugged case with military-grade drop protection or slim, Level 1 case, Incipio has covered all the users' needs. The case provides full 360-degree coverage with support for the hard drops. There is a range of colors to choose from including the classic Black. Choose whichever level case you want.

---
The Urbanite Select has the signature ballistic feel. With reinforced corners and high degree shock resistance, the case guarantees the drop protection up to six feet. To protect the screen and display, there is a raised lip on the side. The body, corners are all flexible with button covers easy to press.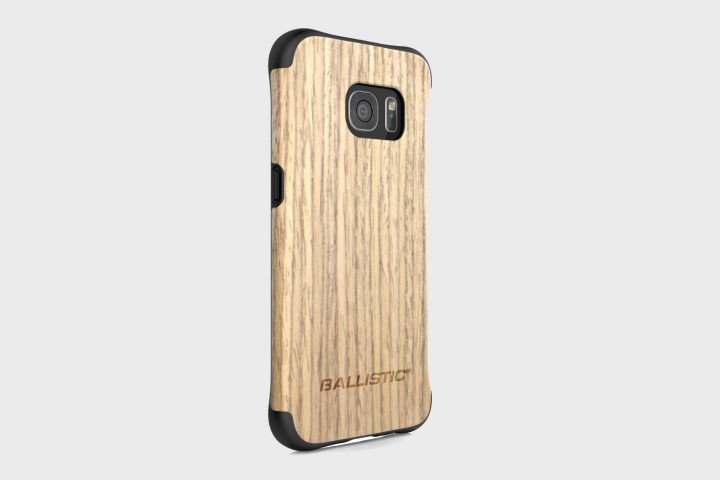 The urbanite select series is available in the choice of three different finishes. You get dark ash wood, light ash wood, or black buffalo leather to choose from.

---
Patchworks Flexguard Case is an affordable cover that offers enhanced protection and support. The case features a practical, soft, TPU case that's very easy to put on your Galaxy S7 Edge. The case also comes with greater protection at corners to bear the brunt of the direct impact and protect the screen as well as internal components.

The textured design provides a sturdy and comfortable grip. The cover buttons are also tactile and easy to press while the cut-outs of the camera and slots are also accurate. There's a dimpled pattern on the back with a subtle logo and you will find the Patchworks name on the side, but, overall, this is quite a plain and minimalistic case.

---

---
Speck CandyShell Grip is available in a range of covers for the Galaxy S7 Edge. However, the classic black and white variants are the best if you ask me. The grip and the comfort with which you can hold are strong which will prevent you from dropping and damaging your expensive S7 Edge.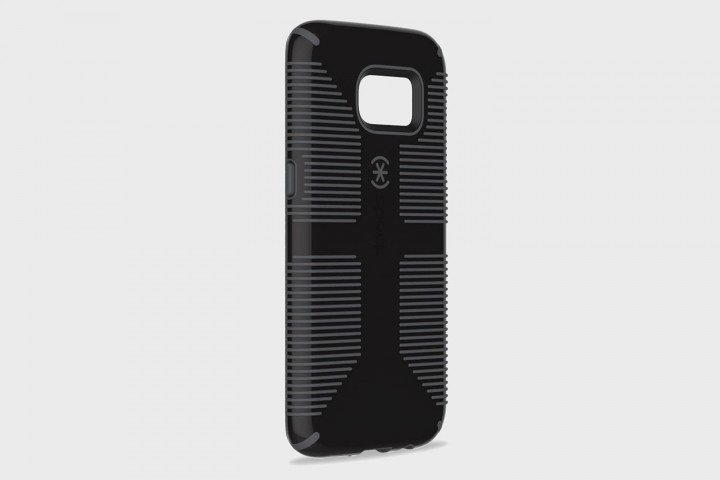 The signature ribbed pattern is stylish, which also confirms the grip hold. The dual-layers design absorbs the high voltage shocks and deflects the damage. There's even a raised lip to prevent the screen from shattering in case of drops. There is a comfortable button for the camera and other ports.

---
The Otterbox is another big name in the case manufacturing for the famous Smartphones. The case is the product of synthetic rubber and pitch perfect polycarbonate. The Symmetry series provides protection against drops and gives easy access to all the buttons with any discomfort.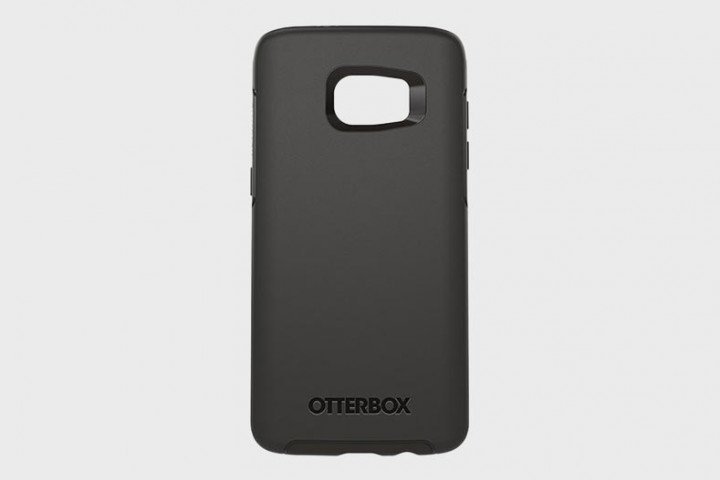 The Otterbox has an easy fit along with separate openings for camera and ports. There's a raised beveled edge around the front to safeguard your screen and the button covers are easy to find without looking. There are various beautiful and attractive two color combinations for this case or you can also choose a plain black if you are aiming for the traditional sober look.

---
This transparent back tech21 Evo frame is the frame I prefer if I were an owner of the dazzling Samsung Galaxy S7 Edge. The case has been manufactured with a Flex shock technology which can handle the drop up to 6.6 feet.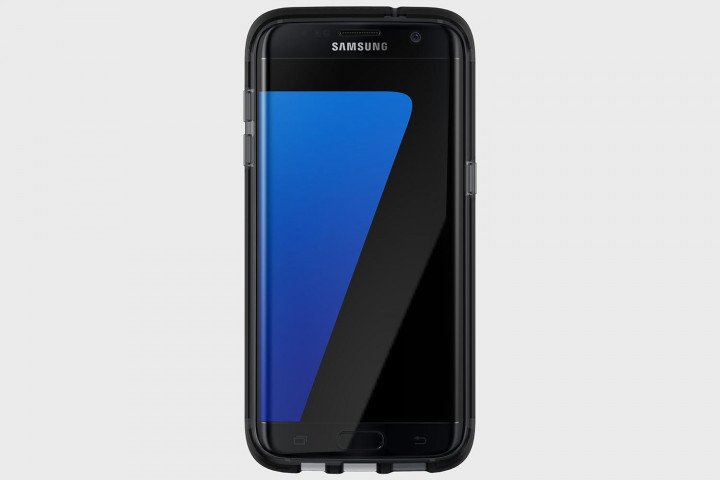 Alike the other cases, this one is also lightweight but with slim and sleek appearance. There are fine cuts for the speakers, camera, and all the other buttons. The major setback is that it has a Tech21 logo on the back which does not suit everyone's needs.

---
The Trident Aegis Pro is a simple, poly-carbonate frame with the in and out slides for daily usage. With the help of TPE core, the shocks of any impact can be absorbed and tolerated. There are special TPE plugs to seal off your ports and keep dirt out. The frame extends around the front a little to protect the screen and it also helps redirect the audio. The Aegis also meets military standards for drop tests and vibration resistance.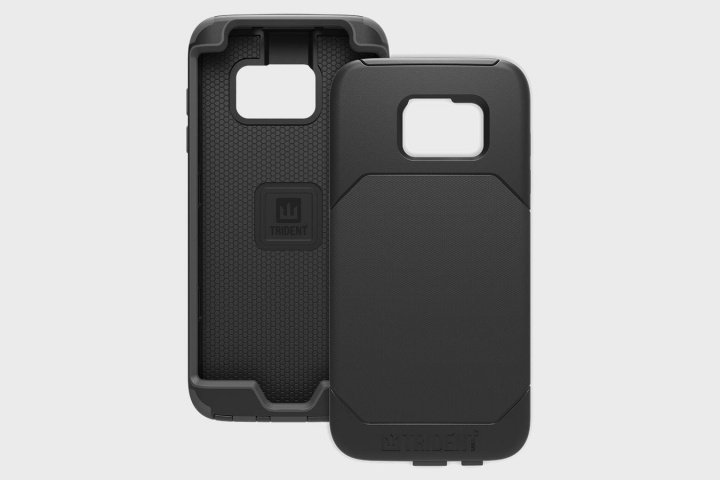 ---
If you are looking for top notch protection and a sturdy case for your Galaxy S7 Edge then the Urban Armor Gear Composite case is the one for you. The case provides a high level of protection and it is also quite light weight.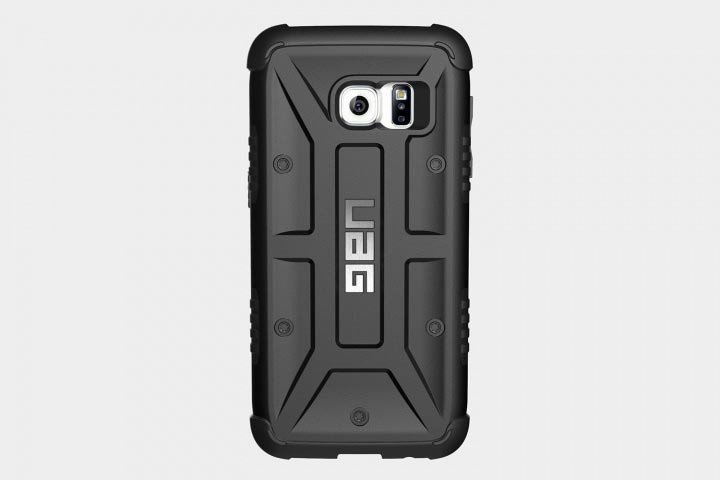 The composite case is also comfortable to hold and has a nice grip to prevent dropping. The Composite case meets the standard of the military drop test. There are also large button covers that make it especially easy to use your power and volume keys.

---
Noreve Horizontal Wallet Flap Case
If you are looking for a case that can hold you credit cards and your smartphone then Noreve Horizontal Wallet Flap Case is just that. The classy padded leather case provides substantial protection. Noreve Wallet case is neatly stitched and opens folio-style to reveal a couple of slots for cards and a thin shell that holds your S7 Edge securely in place.

The case is sleek and minimalistic, it also maintains easy access to your buttons and ports, and there's a good-sized cut-out on the back for the camera. The cover is closed with a classic stud closure. You can also customize the case and get it in various colors and leather finishes if you are willing to spend extra.
---
Olixar Leather-Style Wallet Cases for Galaxy S7 Edge
Olixar Leather-Style wallet is made up of faux leather so it is a little easy on the wallet, and if you are an animal lover also easier on the soul. The case has a smart and stylish look that compliments the S7 Edge nicely. It has slots where you can place you credit cards and it also features a stand like the design so you can fold the back and make it stand.

The one con of this case is that the volume buttons are slightly awkward. The inner case is cut so that it shows off the curved edge design of the device instead of obscuring it. The cove itself is a minimalistic black shell wrapped in faux leather. The case is available is red, brown, and black color variants.
---
This right here is a folio case that comes with three card slots and also a money pocket. The case closes with a magnetic closure to ensure that your Galaxy S7 Edge and other belongings are secure. The smartphone attaches in a TPU shell inside the cover.

The shell is attached securely to the external cover and there are also cutouts for the camera and other slots. Buttons are also not covered and are instead cutout. This case provides sufficient everyday protection but the case is thick so it may interfere with wireless charging.

---
The carved Traveler Wood case uses beautiful, unique, hand-finished wood. The company offers a wide range of different types of wood for your cases. ou can opt for plain wood cases or ones with a colorful print.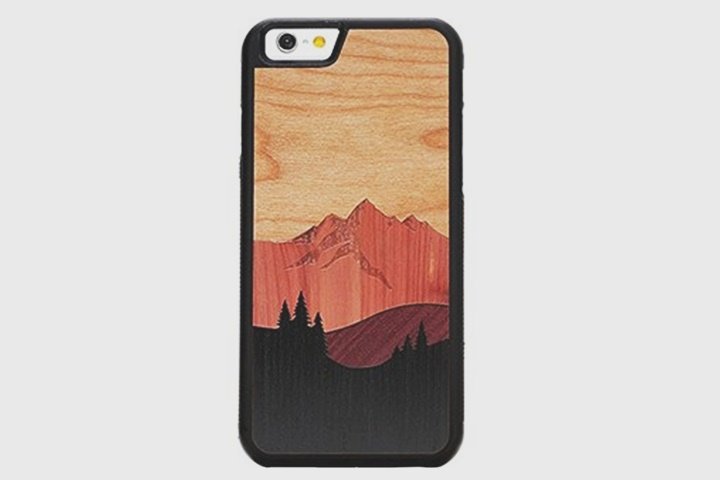 The cases are made of slim, black polycarbonate with a flexible bumper for your Galaxy S7 Edge. There are cut-outs for the camera, ports, and other sensors. Your choice of wood panel is inlaid in the back of the case. These cases are slim, but they're made with real wood.
These cases don't provide high-level rugged drop protection, and you should expect the wood to age. But, if you are looking for something trendy then these are exceptional.

---
Best Galaxy S7 Edge Accessories:
If you already have a Galaxy S7 Edge or are considering to buy one then you may be looking for some accessories to go with your device. Samsung has developed quite a few interesting accessories for the S7 Edge. Here we have created a complete list of all the very best accessories of S7 Edge from wireless chargers to headphones.
During the launch of Galaxy S7 Edge Samsung made sure to mention a few accessories on stage, and are making some of their own beautiful accessories we have never seen before. Like wireless charging stands, camera lens clips and much more. Some of these accessories are manufactured by Samsung while other are created by third party manufacturers. Most of these accessories are also compatible with the Galaxy S7 so if you are looking for accessories for Galaxy S7 or S7 Edge then keep reading…
Samsung is now offering a qwerty style physical keyboard cover for the Galaxy S7 Edge. The keyboard cover is detachable and ergonomic. It also features a Molded Polycarbonate shell provides added protection for your S7 Edge.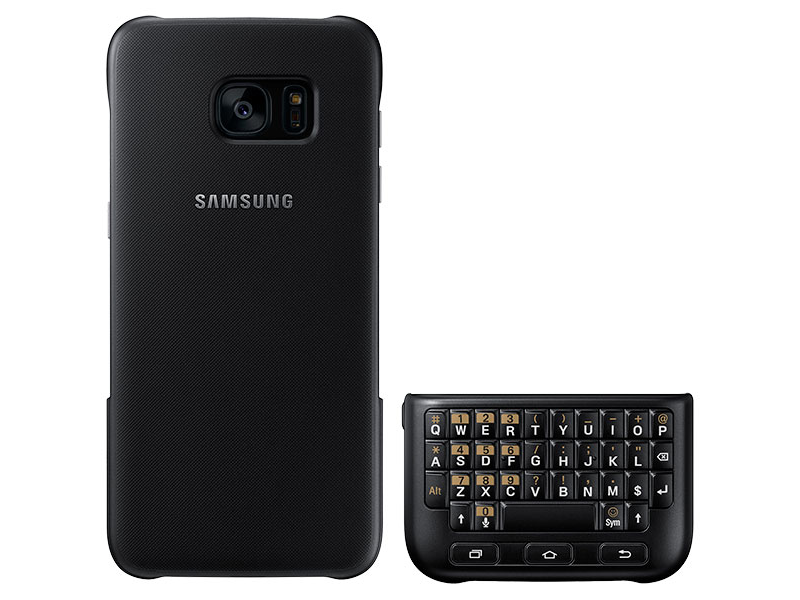 The keyboard is currently only available in standard black color. It is priced at $60. The keyboard also features an exclusive key layout with shortcuts and hotkeys. The cover that comes with it is also quite sturdy and you can use it without the keyboard also. This keyboard is an official S7 Edge accessory by Samsung.

---
We've seen 3rd party clip-on lens covers for smartphones in the past, and they typically offer amazing experiences for photographers or those looking to get more out of their camera. However, now Samsung has launched an official Lens Cover for the S7 Edge.
A new official Galaxy S7 accessory called the "Lens Cover" from Samsung is now available, and is exactly what you think. A case with a built-in camera lens for added photography options. Like a macro lens, wide-angle and many others.

---
The Galaxy S7 Edge is capable of fast charging as well as wireless charging. Moreover, The S7 Edge is also capable of fast wireless charging. That means that wireless charger charge at the same speed as your normal wired chargers. So you can now quickly charge your S7 Edge wirelessly.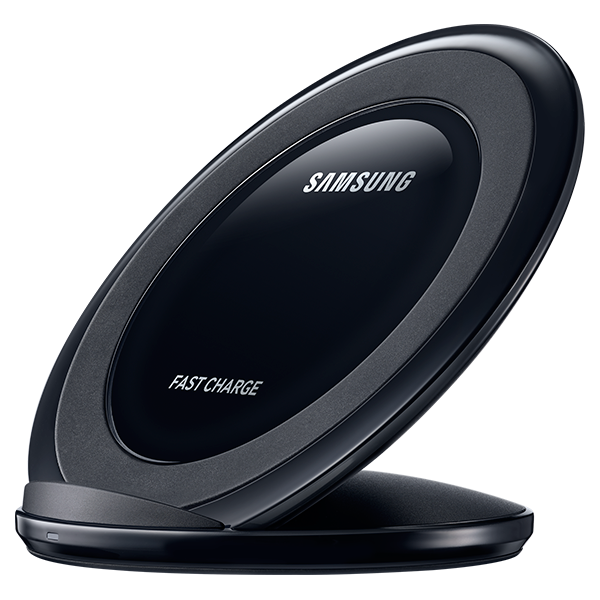 Samsung has manufactured a fast wireless charging stand that will allow you to do so. Samsung's fast wireless charger is Qi-certified by the WPC. Additionally, it also supports wireless charging for other Qi-enabled devices. The wireless charger is a bit pricey so you can go for a third-party model if the price seems too high to you. However, Samsung's official accessories are always worth the price and always of great quality.

---
One of Samsung's official accessories is the Backpack for S7 and S7 Edge. The Backpack is a sleek and stylish battery case that is available in black and white colors. the Backpack extends battery life in the most effortlessly simple way. You can carry on using your phone as usual including taking photos and listening to music. No need to take it off, no need for extra connectors. It also features a power status indicator lets you know how much charge you have left.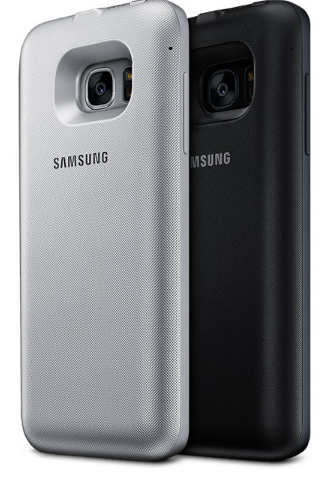 ---
If you want a wireless charger that is also a car mount then iOttie wireless charging car mount is the one for you. This charger is specially designed for cars and it is a two in one, you can use it to mount your S7 Edge to the dashboard of your car and also charge it.
iOttie car mount is made of high-quality materials and is one of the best and reliable third party accessories for you Galaxy S7 Edge. The mount is simple and easy to use, all you need to do is stick it to your car's dashboard, put your phone in the dock, and it will start charging. The best part, It also comes with an extra USB port so you can charge up to two devices simultaneously.

---
Charged wireless charging station comes with all the functionality and features you need to charge your smartphones and other devices in a flash. The charging station comes with a wireless charging pad and 3 USB charging ports so you can charge three devices simultaneously.

One of the ports is a QC 3.0 quick charging port while the other two are smart ports that will detect your device and send the fastest charge possible to charge it in a flash.

---
Charged Quick Charge 3.0 is one of the best power banks for smartphones and tablets. The Charged Quick Charge can charge your Galaxy S7 Edge with incredible speed while you are on the go. The quick charger has 4 ports that will help keep your S7 Edge and extra devices all charged up.

---
Anker Power Core is a great option if you are looking for something more compact that packs a hefty amount of power. The Power Core has a massive capacity of 13000 mAH. It will keep your Galaxy S7 Edge charged on the go or when you don't have access to outlets.

The PowerCore is light and slim enough to be carried easily. It comes with two fast-charging USB ports so you can charge two devices at the same time. It also has an 18-month warranty, so if anything goes wrong with this product which we doubt it will because Anker is reliable, you can get it fixed without any issues.

---
Samsung is now offering official battery packs also. The Fast Portable Battery Charger features Quick Charge 2.0 meaning it is capable of charging a Galaxy S7 Edge 0%-50% in under 25 minutes.

The wireless charger is available in black and white color without the need of plugging. The Samsung wireless charger is capable of charging two smartphones or watches, at the same time times. The Samsung wireless charger has dual output so Luckily, it can charge two devices at a time. It also features a nice LED indicator light for battery levels. Even though it is slightly overpriced considering that it is an official Samsung accessory we can count on it being worth the money spent.

---
This is the era of virtual reality. It is clear that these days the VR technology is progressing rapidly. One of the best aspects of the Galaxy S7 Edge is that it can be used with Samsung Gear VR. The Gear VR is Samsung's smartphone powered virtual reality headset. It is one of the best virtual reality headsets in the market.

Samsung's take on virtual reality is quite impressive. If you purchase the VR headset you will get access to the Oculus Store, where you can download Gear VR-exclusive titles to enjoy whenever and wherever you'd like. The Gear VR is pretty lightweight too, even if it does look a little big in pictures.

---
You can still experience virtual reality even if you are all out of money to spend after buying the expensive Galaxy S7 Edge. All thanks to the Google Cardboard you can now build your own virtual reality headset from cardboard or buy one from $10-$25.

The Google cardboard is cheap and easy to use and it is compatible with various devices. To build your own all you need is a simple cardboard box and two 40mm focal distance lenses. Aside from these, you can also use Velcro, rubber bands, and magnets to customize your headset.

---
Samsung's official 360 Camera lets you record 360 videos and other VR content. The Gear 360 camera is available for around $350 and it is a great accessory for your S7 Edge if you want to fully utilize its VR capabilities.

The Gear 360 camera has two 15 megapixel f/2.0 fisheye lenses that can capture photo and video in 360 degrees, and so far it looks to be the best VR camera on the market.

---
If you are looking for a pair of good headphones to go with you Galaxy S7 Edge then Audio-Technica ATH-M70x is a great choice. The ATH-M70x not only sounds great but they are also stylish and super sleek with white accents.

The headphones are of premium quality and the rice has gone off since the launch of the headphones which is a testament to its quality. ATH M70x is pricier than the previous model but it is great for monitoring and critical listening. These headphones are aimed at pros so keep that in mind before you decide to buy them.

---
The Level U Pro Earbuds are the best in the market if you are looking for something affordable but high quality at the same time. They are manufactured by Samsung so you know they are reliable. They feature a stylish, premium design with two-way speaker units and UHQ Audio for a great sound.
The Earbuds are also quite flexible, which makes for a very comfortable fit. And if you want to take these on a run or to the gym, don't worry because the best part is that the Earbuds are also splashed and sweat resistant.

---
If you are looking for screen protectors to secure you Galaxy S7 Edge from scratches then try the IQ Shield LiQuidSkin screen protector. This screen protector is a wet install screen protector which makes applying it a whole lot easier than standard screen protectors.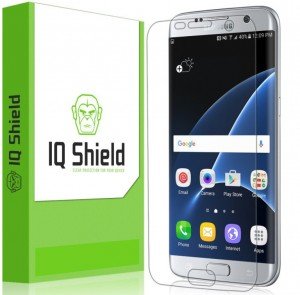 Standard screen protectors are usually a pain in the neck to apply because you have to be careful not to let the air bubbles in. But, the IQ Shiel protector is easy to apply and the wet install prevents any air bubbles. Moreover, it is just as inexpensive as standard screen protectors too, which is always a bonus.

---
This was our list of the very best accessories and cases for the Samsung Galaxy S7 Edge. Hopefully, this article will help you find the right cases and accessories for your S7 Edge. What do you think of our list? Did we miss any good accessories or cases? Let us know in the comments…
MobileSiri.com is a participant in the Amazon Services LLC Associates Program, an affiliate advertising program designed to provide a means for sites to earn advertising fees by advertising and linking to Amazon.com. Read about our Affiliates Disclosure Policy
here
. Amazon and the Amazon logo are trademarks of Amazon.com, Inc. or its affiliates.