Introducing LG G Watch R
Bring your adventurous side in front
Soon after the announcement by Apple about its Apple Watch release, Google has upgraded its Android Wear and thus giving an opportunity to Smartwatch makers to improve their wearable gadgets as well. LG G Watch R is a similar effort in this regards and LG has come back with a real cool smartwatch achieving number one position in the smartwatches market leaving behind Samsung Galaxy Gear S and Motorola Moto 360.
We earlier reviewed the Motorola Moto 360 smartwatch which was the only circular shaped smartwatch with Android Wear running on it. But Motorola Moto 360 was not 100% circular. LG G Watch R instead is 100% circular shaped and has traditional looks. We will compare these two smartwatches and the others as well in details but the additional bezel with clock markings on LG G Watch R gives it a distinguish look, make it 'rock solid' and perfect for adventurers.
LG has introduced its G watch R at the price of US$250 which equals 220 GBP and AU$ 280. At this price certainly this Android Wear enabled smartwatch is certainly not cheap but the prices are almost same as of Motorola Moto 360. One of the many reasons behind the high prices for the smartwatches is its being in an earlier stage of evolution and the companies making them are putting large amount of cash in risk.
Design
LG G Watch R is a smartwatch with tradional wristwatch design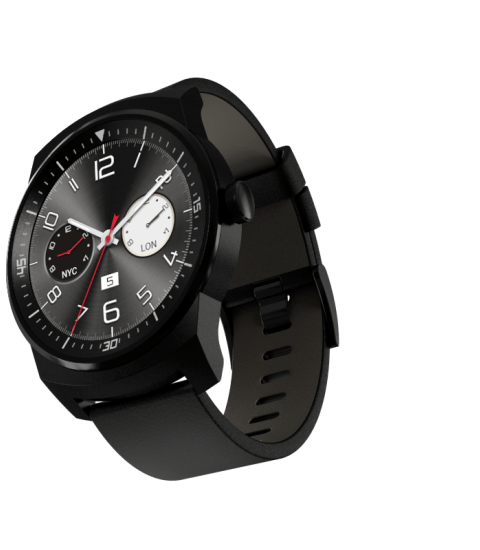 The LG G Watch R is a result of three years of research and development to build a perfectly round OLED display with 1.3 inch diameter which is slightly less as compared to 1.56 inch diameter of Moto 360. You will not find disc on the strap like in the case of Motorola Moto 360 but the metal bezel around the display with clock markings reminds us the actual purpose of the watches i.e. Time keeping and give it a nice look.
Made with original black leather strap the LG G Watch R has a home button right side to initiate different functions. Without using this button you will not find any major difference between the traditional watches and this cool smartwatch. Comparing the new LG watch to older LG G Watch, the LG G R has more potential and it is more stylish, fashion oriented with focus on latest wearable technology.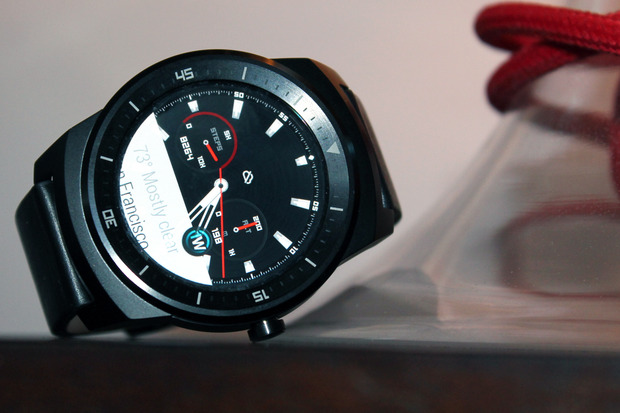 Despite the Motorola Moto 360 appeals me more while talking of design and has much beautiful looks, I will go for LG G Watch R because of its completeness and because of the 'call for adventure' appeal in it. It is not only the demonstration of Android Wear but a more refined product as compared to Moto 360 and other rectangle shaped smartwatches.
Although LG G Watch R has a microphone for voice commands but it lacks speakers which is a shame for such a classy smartwatch because without speakers you cannot make and receive calls with it. The heart beat sensor is at the back as usual and it is waterproof as well but to certain extends.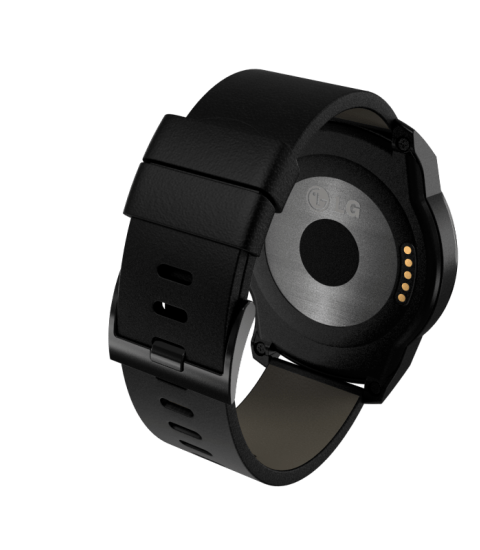 Display
LG G Watch R is a smartwatch with Analogue display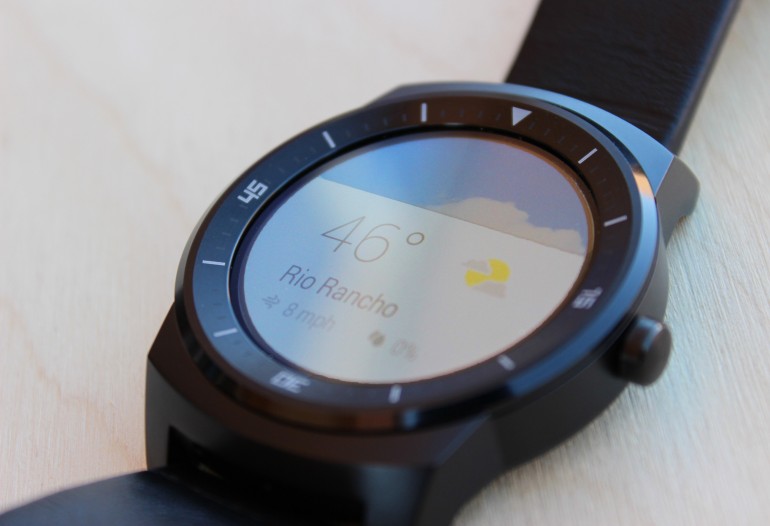 The LG G Watch R comes with a resolution of 320 x 320 which is higher than of Moto 360 which is 320 X 290.The analogue feature of R does not need waking the clock to check the time and it works nice in direct sunlight with lowest brightness settings as well.
Android Wear comes with multiple watch faces and Google has just recently introduced new watch faces as well. You will find the default watch face of LG on your LG G Watch R and you can find different other watch faces at Google Play as well. The default faces which comes with the watch keep the overall theme of watch and have dark backgrounds which perfectly shine with the black bezel and strap.
You will get additional features in these faces like world clock allows to display time of two additional time zones you set and the fitness face will show your step count as well. Likewise the hiking face has a compass as well which works quite nice if calibrated perfectly.
Performance
The LG G Watch R runs on the Android Wear platform of Google thus it can work with all Android enabled devices with Android 4.2 or above. While there is no major competitor to Android Wear yet, the Google platform for wearables is yet getting matured and provides limited functionality.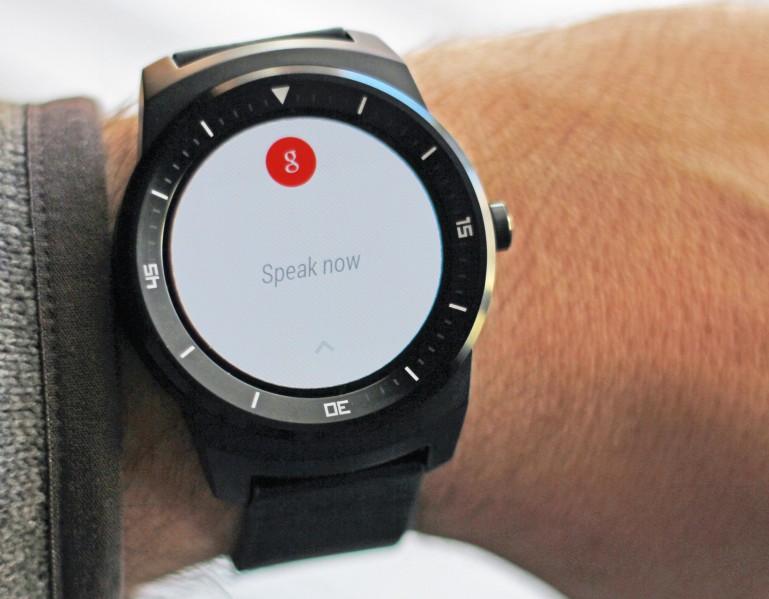 You can use limited apps on it available at Google Play and along with the Clock, you will mostly use scheduling cards for travel and appointments and the fitness card. The voice commands works very well with LG G Watch R and it gives you astonishing results sometimes for passive inquires. Like it will tell you the weather when you ask about having a jacket with you instead of asking about weather directly.
You need to tap the watch face or say 'OK Google' to wake the watch and voice commands will help you perform routine tasks. Although it takes too long sometimes to wake and respond and this issue is more related to Android Wear instead of the watch itself.
You get a notification on screen when an Android Wear update is available. Likewise, in setting section you can adjust the brightness, restart and reset the watch as well. It is the Start menu which brings all the apps installed on it to you.
The voice commands are helpful while your hands are busy like if you are driving or carrying something other than it, 'talking to wrist' in public places is not an idea which has been accepted yet.
The LG G Watch R comes with a 1.2 GHz snapdragon 400 processor, which is a quite powerful while talking of wrist watches and it has 512 MB of RAM like other Android Wear devices.
Battery Life, charging and connectivity
One of the major issues with the smartwatches is the battery life. There is no smartwatch available right now which provides a decent battery backup right now and LG G Watch R is not exception here. Depending on the usage, it can
give you 2 full days backup when moderately used and it will not be able to give you more than a day backup if you use it heavily. The voice commands are the worst enemy of battery and drain it too quickly.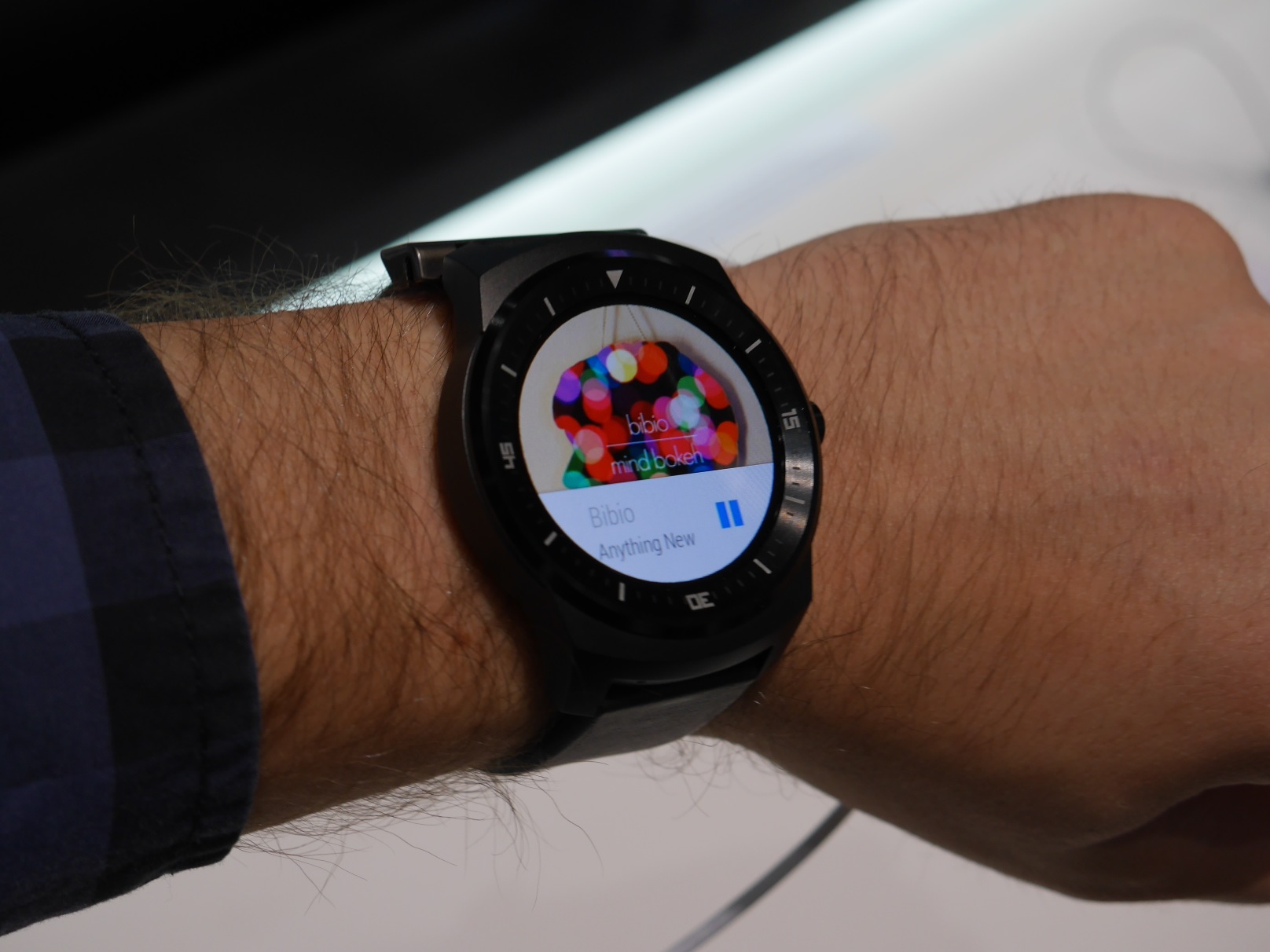 The charging method of LG G Watch R is same as of Motorola Moto 360 and it comes with a magnetic dock with micro-USB cable to plugin. But what make Moto 360 much better in this regards than G Watch R is the ability of Moto 360 to become a bedside alarm clock while charging with displaying watch face having dim light.
Conclusion
By the time we are reviewing LG G Watch R, Apple Watch has not released and we can say with confidence that the LG new smartwatch is the best Android Wear smartwatch available in the market. The black bezel, collection of watch faces and Analogue time display all make it stand confidently.
While talking about the negatives of smartwatches, mostly it is not the hardware which lacks but it is the Android Wear which is still in evolution.
MobileSiri.com is a participant in the Amazon Services LLC Associates Program, an affiliate advertising program designed to provide a means for sites to earn advertising fees by advertising and linking to Amazon.com. Read about our Affiliates Disclosure Policy
here
. Amazon and the Amazon logo are trademarks of Amazon.com, Inc. or its affiliates.