Losing your images, useful data and other multimedia on your iPhone can be painful but this is where Stellar Data Recovery comes to your help.
Every other person you see today owns an iPhone. The iPhone users have saved all their precious data on their device. These gadgets are considered to be the safest amongst smartphones. The device is secure, no one can break through the phone to access your data, you get enough space to store all your data, the gadget has got amazing features.
It's a great device to use. However, there are times when you 'accidentally' delete your precious data. What will you do at a time like this? Well, the answer is quite simple. You can use Stellar Phoenix Data Recovery for iPhone.
It's the best software to get everything back on your phone. From Call Histories to Notes and Camera Roll, you can expect to get almost anything back with the help of this device.
What Is Stellar Phoenix Data Recovery for iPhone?
Stellar is high-end recovery software for iPhone gadgets. The software has been devised specifically to recover all the lost data you had in your device or that you deleted unintentionally. This includes recovering your Contacts, Messages, Call History, Camera Roll, WhatsApp Messages, Voice Memos, Notes and much more.
Download the Stellar Data Recover for iOS 9 Here.
Key Features Of The Stellar Data Recovery Software
The Stellar Phoenix Data Recovery for iPhone is equipped with notable features that will make it easy for you to get all your data back. You can recover your data for all iOS devices such as iPhones, iPads, Mac even iCloud and iTunes. The software works in a very methodical and effective manner to retrieve your files and data. Some of the noted features of the software are;
Retrieves all your erased iMessages.
Retrieves and saves all contacts deleted.
Recovers all data and files from your iOS gadgets.
The software recovers iTunes and iCloud backup data.
Stellar Recovers the entire call history.
Recovers all your bookmarks from browsers like Safari.
Recovers all encrypted backup files from iTunes.
Retrieves deleted or lost notes.
Compatible with iPhones, iPads, iPods.
Available in Mac and Windows Variants.
How Can You Recover Lost Data, Images Or Files From iOS Devices?
There has never been an easier way to retrieve your lost iPhone data. The software is incredible in many ways. It is equipped with features that will help you recover almost anything lost from your phone. Let's take a look at how you can do that.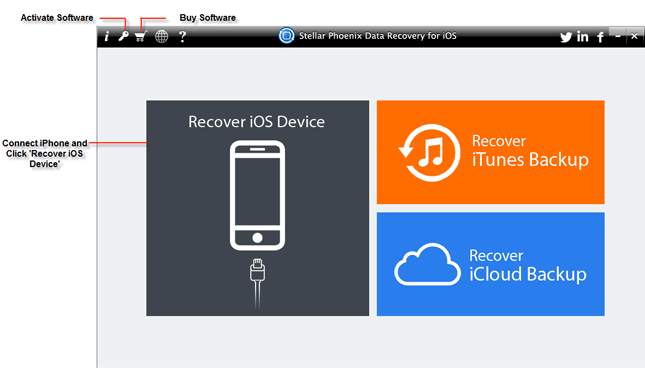 How Do You Recover Files For iPhone?
Install the software on your system and run it.
Connect your iPhone device with that system. From the options, you need to choose 'Recover from iPhone'.
The software will analyze your iOS device before commencing scanning.
Once the scanning is complete, you will be able to view a list on your computer screen. The list will be all the data that you can recover.
Preview all the content of data you need to retrieve.
Select the files you wish to save and hit the save button.
Choose a location on your phone where you want to save your data that you select.
How To Recover Deleted Images For iPhone?
Once the software has been installed and run on your system, connect your phone.
Select the 'Recover from iPhone' option once connected.
After a thorough scan, you will see a list of all those images and files you can recover.
Review the images that you wish to save back on your device after recovery.
Choose a location and hit the save button.
Note: Whenever you are about to save data on your phone, you need to ensure that no other files or data is overwritten by them. The software can retrieve lost or deleted data but not the one over-written.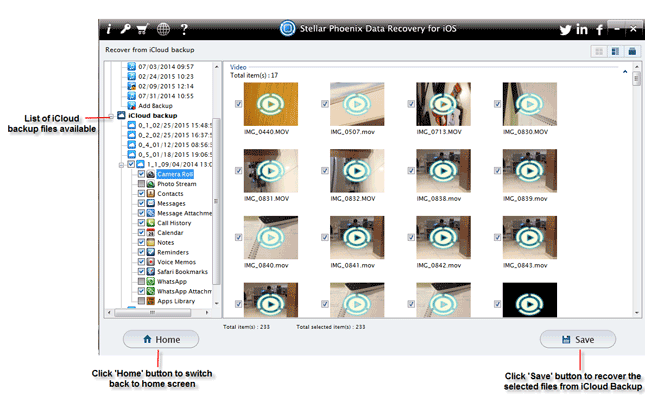 Retrieving Images From iCloud Using Stellar Phoenix Data Recovery
It is quite easy to recover your images from iCloud. Here's how;
Download and install the software on your Windows-based device/system.
In the same system, you need to install the latest iCloud version.
Once you install both the software and iCloud, run the software on your computer.
From the options on the main screen, choose 'Scan iCloud Backup'.
When asked, type in your Apple ID and Password in the required window.
You will get a list of all the backup files available on your iCloud.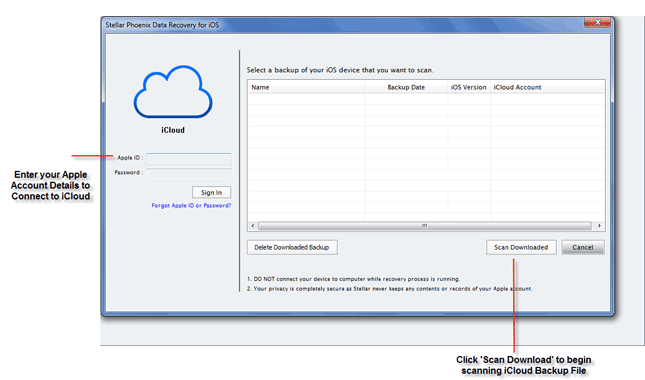 Note: To initiate the scanning process, it is required that you synchronize your iCloud with your iOS gadget prior recovery. However, you have to connect your gadget to your system during the scanning or recovery process, which is a necessary step.
Download for Windows                      Download for Mac.
MobileSiri.com is a participant in the Amazon Services LLC Associates Program, an affiliate advertising program designed to provide a means for sites to earn advertising fees by advertising and linking to Amazon.com. Read about our Affiliates Disclosure Policy
here
. Amazon and the Amazon logo are trademarks of Amazon.com, Inc. or its affiliates.