As expected during this holiday season, Apple topped the charts with remarkable performance of its devices, including the Apple Watch. Fresh data from Argus Insights further reveals the popularity of the Apple Watch, showing impressive number of mentions it got on social media on this Christmas.
According to the data Apple Watch got more mentions than Fitbit and Jawbone through December 26. Though Apple Watch has got the plus point of Apple's customers loyalty but with Fitbit's emerging popularity it was expected to face some challenges during the holiday season. Following promotions Fitbit's mentions touched the peak in November. But it was not enough for Fitbit to hinder Apple Watch's popularity.
The data by Argus Insight also gives info about the customer loyalty to Apple Watch and Fitbit through Net Promoter Score. Using this metric consumers' loyalty is measured as they answer a question, asking them about the chances that they will recommend the company or its products and service to their friends and colleagues.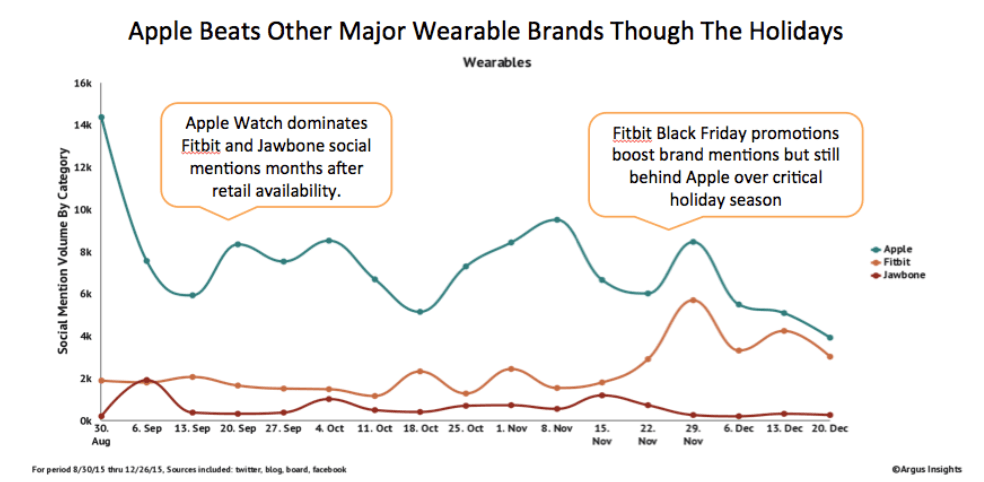 As we mentioned the customer loyalty has been a key asset for Apple which also seems translating here in Net Promoter Score. According to the data Apple by December 19 surpassed Fitbit in Net Promoter Score. As the year comes to the end Apple tally reaches .75 which is impressive. The score above .5 is marked as outstanding.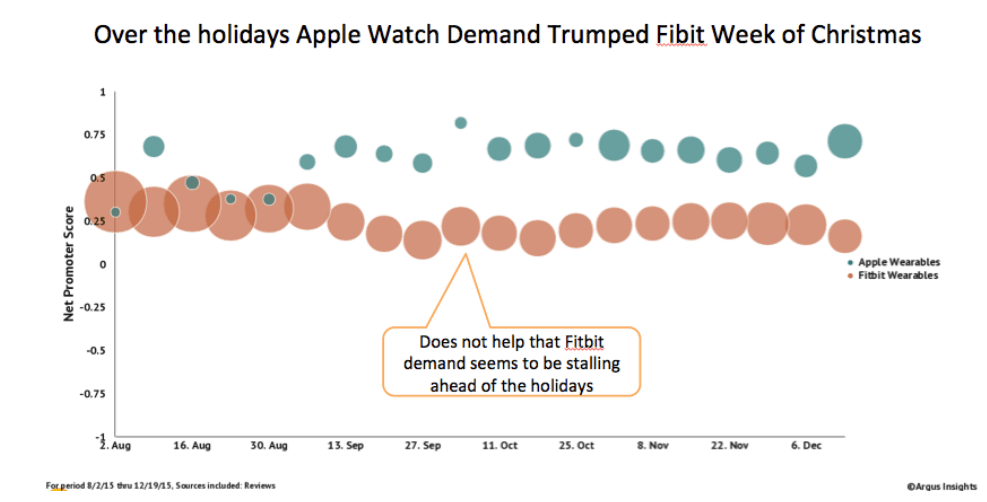 Apple Watch has also been on the top on a number of other indicators including the Trend Score computed by IBM. The indicator goes through millions of data sets to determine the concentration of a trend. Here Apple Watch has been on the top with highest possible score of 100 since August. On the same indicator Apple iPhone 6S is listed with just 10. Though Apple Watch is not going to outnumber iPhone 6S practically but the data show the stronger performance by the Apple Watch during holiday season.
MobileSiri.com is a participant in the Amazon Services LLC Associates Program, an affiliate advertising program designed to provide a means for sites to earn advertising fees by advertising and linking to Amazon.com. Read about our Affiliates Disclosure Policy
here
. Amazon and the Amazon logo are trademarks of Amazon.com, Inc. or its affiliates.