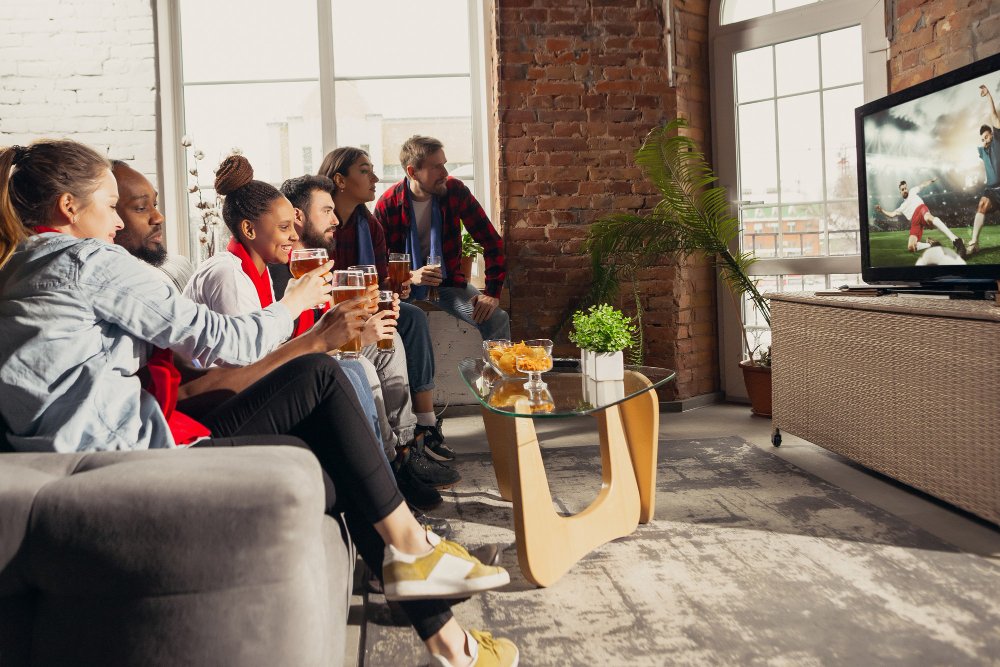 Apps help bring people together and promote engagement, and it's particularly evident in the sports sector. Some fitness apps can make you better at sports, like Charity Miles as it can be a great source of motivation to walk, run or use your bicycle. Each time you complete a mile, a sponsor will donate a few cents, and the cents eventually add up to dollars which go toward a good cause, while keeping you fit.
A wide selection of apps helps you connect directly with your favorite clubs and teams. Some offer digital benefits, others are engagement platforms, and all these options bring you closer to the game than ever before. Here are some of the best sports fan engagement apps for this year.
1. NHL
Out of the 30 National Hockey League (NHL) teams, 14 have already launched their app, like the St.Louis Blues and the Tampa Bay Lightning. By having the app installed on a mobile device, the fan will have real-time data about their favorite team's games as well as access to special game highlights and memorable moments before and after each game. These new ways of connecting die-hard fans with their teams have proven to be remarkable and it is only a matter of time until all 30 NHL teams have a dedicated app of their own.
2. Socios
The best all-in-one sports app for influencing a team, taking part in polls, and buying fan tokens is the Socios app. When fans install this app on their phones, they immediately get the chance to buy Socios fan tokens that grant them the ability to participate in polls and vote on essential team topics.
The topic could be choosing a jersey design, the type of in-stadium entertainment, or even selecting the next fan event. These fan tokens also allow them to take part in quizzes and answer questions about the season or history of their favorite team. Every time they participate in such activities, they gain reward points and even more VIP surprises. A person only needs to own 1 fan token to join these activities, but the more they own, the bigger influence they'll have.
3. NBA Top Shot
For hardcore basketball enthusiasts, the NBA Top Shot is the best app currently available. Through this app, fans can collect and trade video NFTs of their favorite player's most amazing shots. It's like how trading cards worked years ago, but now it's with NBA highlights on digital assets based on video clips. Legends like Michael Jordan or LeBron James are among the most popular NFTs. An epic LeBron James dunking moment set the NBA Top Shot record at $208,000 in February 2021. This is clear evidence that this new type of digital trading is not just for entertainment purposes but is also proving to be a lucrative investment as well.
4. ATP Tour
With over one billion tennis fans around the world, the ATP Tour & Hologic WTA Tour mobile app is the perfect way to engage fans with their favorite tennis starts. With so many players and tournaments occurring simultaneously around the world, it's hard to keep up and always be updated. The app solves this as it provides official live scores, rankings, stats, schedules, news, and exclusive content on every tournament and player there is. Fans can get direct access to all this important information, from anywhere in the world, simply by having this app, thus staying connected to all your favorite tennis players.
Sports apps today are not only about fitness anymore as most allow fans to follow and support their favorite team. Some best sports fan apps have even given fans a voice and certain privileges, such as those with fan tokens. We can imagine that this is only the beginning, and more development will come that will truly immerse fans into the world of their favorite sports and teams.
MobileSiri.com is a participant in the Amazon Services LLC Associates Program, an affiliate advertising program designed to provide a means for sites to earn advertising fees by advertising and linking to Amazon.com. Read about our Affiliates Disclosure Policy
here
. Amazon and the Amazon logo are trademarks of Amazon.com, Inc. or its affiliates.