Moto 360 is the best Smartwatch Available in the market
If you want to buy a smartwatch now and you cannot wait for the release of Apple Watch which is expected to be released by January 2015. You should start reading the reviews of Motorola's Moto 360 as it is one of the best smartwatch in the market along with Sony Xperia smartwatch, Samsung Galaxy Gear, LG G watch R and Asus Zenwatch.
When Google announced the release of its wearable tech operating system Android Wear OS, Motorola responded to it quickly and announced to launch its android wear enabled smartwatch, which is now available in market as Moto 360.
Read More : Why Moto 360 is better than Samsung Galaxy Gear
Moto 360 prices are competitive as compared to other smartwatches. You can buy it for $249.99 here.
While other smartwatches did not get overwhelming response from the end users, Moto 360 has managed to catch the eye of audience at large because of its really good design, Wireless charging options and better battery life as compared to other smartwatches.
[tweet "The round design display and removable leather strap of Moto 360 gives a fabulous look and feel."]
On the other hand you will find all the limitations in Moto 360 which are in other Android wear smartwatches because of the limited features in Android wear OS. And this is certainly not the fault of Motorola but Google needs to put more efforts on its wearable tech operating system Android wear.
Moto 360 Design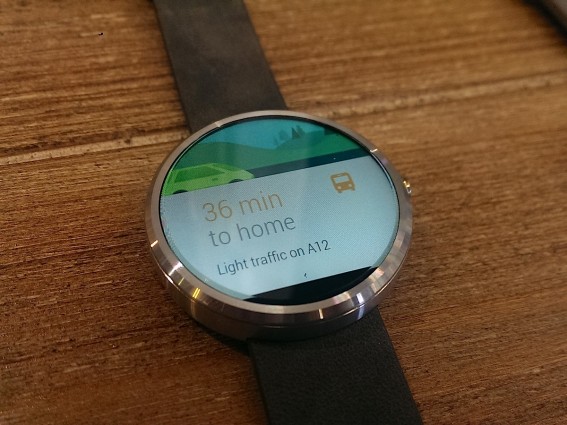 When speaking of Moto 360 from the design prespective it gets maximum marks when compared to its competitors Galaxy Gear and LG G smartwatches. Moto 360 is a cool looking beautiful smartwatch and everyone who will see it on your hand will appreciate it. Although other android wear smartwatches are on their way to come in market but rounded design Moto 360 captured the market earlier.
The round display is not the only great looking feature of Moto 360, but its finely brushed stainless-steel body with a leather watch strap looks very decent on your wrist whereas Samsung Galaxy Gear and LG G smartwatches come with the plastic strap leaving toy watch impression on the people. And the first impression you receive is of a cool wrist watch on your hand instead of a big sci-fi style wearable bracelets made for spies which usually the smartwatches like Samsung Galaxy Gear leave on others.
Moto 360 comes in black and stainless steel colors and its leather straps are black, gray and stone, which you can buy for the extra cost as well. The lightweight feel and clean design of Moto 360 hide the fact that the round display is little larger. Moto 360 weights 1.7 oz with its strap on the contrary Galaxy Gear weights 2.1 oz and LG G watch weights 2.2 oz.
There is a button on the side which looks like a watch crown but it is a button as contrary to Apple Watch's turning digital watch crown. The button on Moto 360 activates and deactivates the watch and display the menu when you press and hold it. The button is on right side and you will find the microphone hole on the left side of the watch which is quite powerful and makes the life easier for you when speaking public places.
Inerface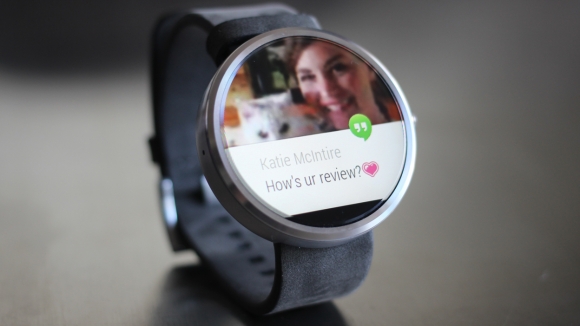 Your Moto 360 also takes care of your health and you will find an optical LED heart-rate monitor in the middle of the back of your watch. The wireless charging is also done at the back of the watch. It has a 1.56-inch diameter display protected by Gorilla Glass. Underneath the Gorilla glass you will find the LCD screen with a resolution of 320×290 pixels with 205 ppi densitiy.
Moto 360 is a 'powered by Google' and runs Android wear like other smartwatches. You can view related information along with text messages and important emails which lacks in Samsung's Galaxy Gear. You will have to interact a little with the touchscreen but mostly the Android wear will predict things for you like your scheduled meetings, reminders and all other stuff which you have configured properly.

Apps and Compatibility
Moto 360 supports all the major apps available on Google Play Store's 'Android Wear' section and it has also more apps installed with it as compared to Samsung Galaxy Gear and LG G watch.
You can use Eat24 to check for food delivery and let Wunderlist organize your to-do list. Whereas Tinder will help you set your calendar. One nice app is Glympse which can send your contacts your location with real-time GPS coordinates. Google Map is also a very useful Android wear apps with which you can navigate easily for directions on your watch. The Heart rate monitor helps you collect correct accurate data about your daily workouts as well. Similarly you can use Google Fit for your fitness help as well. Motorola is committed to provide more features functionality wise in future updates as well.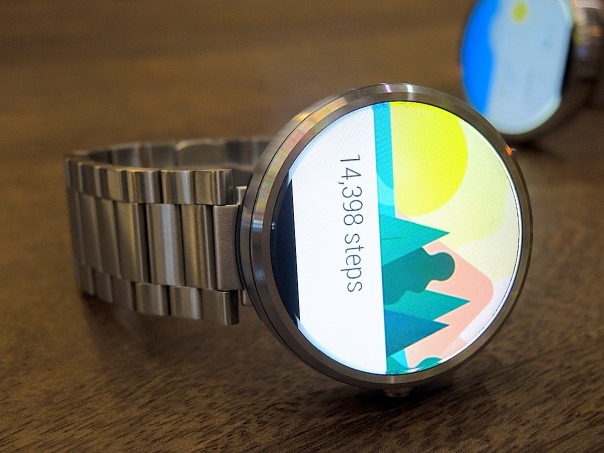 The other wonderful feature of Moto 360 which gives it an edge over its rival Samsung Galaxy Gear is the compatibility. Moto 360 is compatible with all the devices which Android 4.3 Jelly bean and above, whereas Galaxy Gear is only compatible with Note 3. But if you are an iPhone user or you are using Android 4.2 yet, you are out of luck as Moto 360 is not compatible with any of the two devices. As a matter of fact no Android Wear watch is compatible with iPhone and there is a very less chance of it in near future as well.
Moto 360 is not completely waterproof but still it has an IP67 rating with water and dust resistance. You can worn it while showering, in rain and when you sweat and it will continue to work but here you should remember the cool leather strap of your watch as well, as it can get damaged.
Battery Life and Charging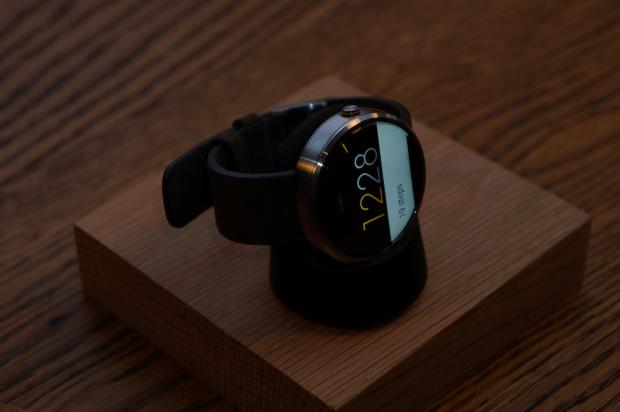 Battery life of Moto 360 is not good like other Android Wear competitors. Instead it performed poor initially and gave only 11 to 12 hours backup after full charging as compared to 24 hours backup of Samsung Galaxy Gear. But later Motorola released a firmware improving the battery life to 50% and now you can use it for almost 18 to 20 hours after full charging.
Despite Moto 360 has 320 mAh battery which is better than Samsung Galaxy Gear's battery of 300 mAh, Moto 360 provided less battery backup until the firmware was released. When we talk about the battery life of Smartwatches, LG G watch leads all other Android wear watches with its 410 mAh battery and giving one and half day of battery life.
But this is not the end. Moto 360 has a very cool option of charging it. It uses Qi charging dock for charging and charges in 2 hours after which you can use it for another one full day. Noticeably Moto 360 is compatible with other chargers like Nexus Qi charger for Nexus 5 and Nexus 7. There is no micro-USB port with Moto 360 but its charging method is one of its plus points as well.
Conclusion
Soon after the announcement of Android wear, people were waiting for the wearable hardware which can change the history of wearables. Motorola came forward and launched its Moto 360 smartwatch, which is cool and has a very nice look and feel.
Moto 360 beats its competitors in many ways other than design as well. Its rounded display with stainless steel casing and genuine leather strap make it elegant and its Qi charging method make it more futuristic as compared to other devices.
On the other hand, its battery life of 18 to 20 hours, less crispy display of its LCD are its lacking. Its processor is also under performing at times and its Qi charging dock can may leave you in trouble when you forget it somewhere else.


Despite all these lacking, many of which are because of Android wear, Moto 360 is a very cool and elegant watch which every tech savvy and fashion admirer is going to love and wear. Motorola is a real winner in the market of Smartwatches competition and make yourself ready for the Apple Watch Vs Moto 360 watch competition.
MobileSiri.com is a participant in the Amazon Services LLC Associates Program, an affiliate advertising program designed to provide a means for sites to earn advertising fees by advertising and linking to Amazon.com. Read about our Affiliates Disclosure Policy
here
. Amazon and the Amazon logo are trademarks of Amazon.com, Inc. or its affiliates.