Desktops are typically home to tons of precious photos, videos, songs, and a massive repository of digital information. Losing that data can be catastrophic in the extreme, and truly frustrating even under a best-case scenario. Although the best practice is not to lose your data in the first place, people have poor habits when it comes to securing their data and taking backups. That's why data recovery is rapidly emerging as a must-have contingency wherever data is concerned.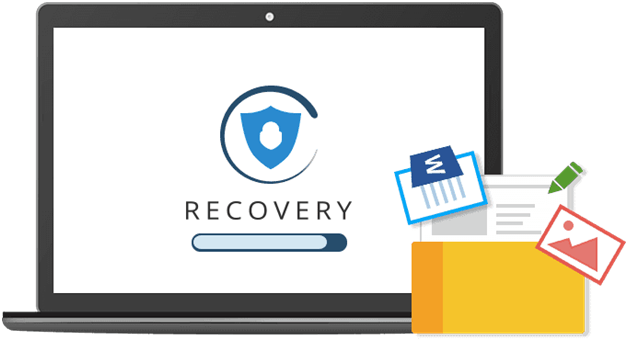 One of the best Windows tools for data recovery is EaseUS Data Recovery Wizard for Windows. It is a robust desktop application with a wide range of recovery capabilities from diverse devices such as camcorders, memory disks, and digital cameras. It can also recover data easily from traditional drives like external hard disks, flash drives, and solid-state drives.
In addition, it can quickly recover data under several different data loss scenarios, which include the following:
Accidentally deleted data
Corrupt or damaged drives
Crashed system
Formatted disks or partitions
Hidden locations
Systems with boot errors
Whether your system has crashed or you deleted data by mistake, EaseUS Data Recovery Wizard for Windows can rapidly recover and restore your data.
What Types of Data Can it Recover?
The utility can recover any type of media such as videos, photos, and music files. It can also recover documents across a wide range of formats, as well as email data from Outlook and Outlook Express. The width of coverage is impressive, and it can even recover archive files, disk images, SITX, and numerous other formats.
But the real power is not in the massive array of data types or devices that the software works with. The best part about this tool is the user experience. Data recovery is not everyone's favorite chore, but it's an essential tool so most of us just grumble our way through this unpleasant task. EaseUS puts a whole new twist on data recovery by providing users with a friendly and intuitive interface. You can start using the software with zero knowledge about data deletion and recovery and still walk away with any type of data you want to retrieve.
How Does It Work?
EaseUS Data Recovery Wizard Professional 12.9 for Windows is compatible with a wide range of Windows and Windows Server versions:
Windows 10/8.1/8/7/Vista/XP
Windows Server 2016/2012/2008/2003
The minimum configuration required for your PC is an x86 CPU, a minimum of 32MB space for the application, and a RAM of at least 128MB. As you can see, it's not at all resource-intensive, which belies its recovery capabilities.
Once you download the software, follow the steps in the installation wizard to get set up. When you launch the program, you will be shown options for where to begin your search. If you know where your missing files originally were, you can choose from those options. If you have an external storage device to recover data from, make sure it's hooked up so the software can detect and display it as a recovery target. If the data to be recovered is on your PC but you don't know exactly where just select the first one and keep going in sequence.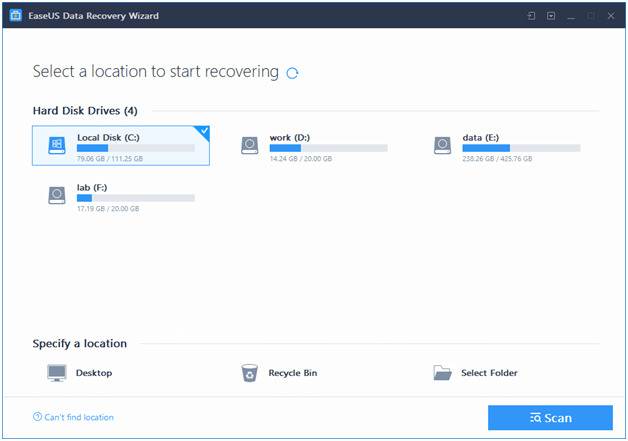 Once the location has been selected, click on Scan initiates a deep scanning of the chosen memory device or partition. The results of the scan – recoverable data – will be displayed in the next window for you to preview. On this preview page, you can choose to recover everything or just specific items. Hit the Recover button and specify a destination for the data. That's where all recovered files can be found after the process is over.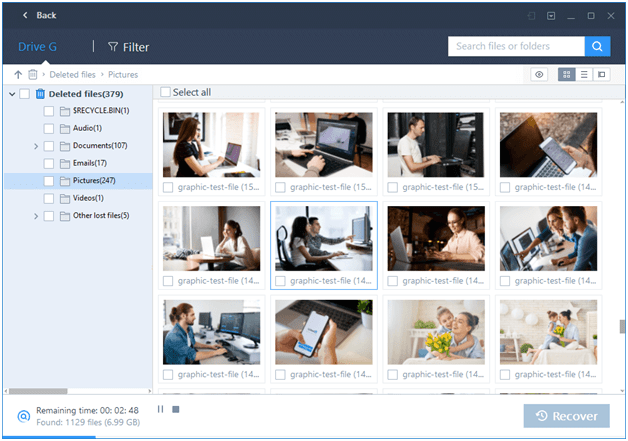 What Versions are Available?
EaseUS Data Recovery Wizard for Windows is available in four flavors: Free, Pro, Pro + WinPE, and Technician. The free version has all the recovery features of the Pro but is limited to 2GB of recoverable data. You can still scan and preview all the data that is recoverable, but there's a cap on how much of that can be retrieved. It's a great way to check out the software before you purchase a full license.
The Pro version comes with free tech support, as well as the ability to recover data in a number of data loss scenarios, as we saw. It's essentially an unlimited version of the free trial.
The Pro + WinPE package comes with the preinstallation environment required to boot a PC that won't start up properly. In cases where the computer won't boot normally or the system has permanently crashed, the usual approach is to re-install the OS. However, this will wipe all data, so unless you have a proper backup, that's not an option we recommend. Besides, you wouldn't be using a recovery tool if you had a backup in the first place.
The Technician version goes a step further and provides the tools necessary to service a group of clients. This is ideal for data recovery teams that handle multiple clients or multiple departments within an organization.
The latest version of the software, v12.9, offers a much smoother graphics interface for users. It has enhanced Office file preview capabilities and even a quick feature to only scan your desktop or Recycle Bin. In addition, there's much better support for recovering from FAT and NTFS file systems.
Even obscure formats that you thought nobody used anymore can be quickly identified and recovered. You can also do RAW recovery, which gives you much deeper access to files that no longer retain their original name or directory path. The Tag feature helps by displayed data labels and other metadata to help you identify such files, and organizes them for easy preview and subsequent recovery.
The fact that the free trial has a generous 2GB limit means it is more than enough for a first-time user if they only want to recover specific documents or a limited number of files. If you want more, the premium options have you covered.
MobileSiri.com is a participant in the Amazon Services LLC Associates Program, an affiliate advertising program designed to provide a means for sites to earn advertising fees by advertising and linking to Amazon.com. Read about our Affiliates Disclosure Policy
here
. Amazon and the Amazon logo are trademarks of Amazon.com, Inc. or its affiliates.