After Samsung Galaxy S7 and S7 Edge were released, initial teardowns of the flagship device revealed some sort of cooling system that was composed of  flat piping running around the processor area. Samsung has confirmed that the smartphone do feature the unique cooling mechanism.
"The cooling system in these phones, with a very thin thermal spreader, keeps devices cool, so gamers can focus on winning." -Samsung when discussing its new Game Launcher Setup.
Today Samsung has posted a complete interview with the people from the engineering department that had designed the Galaxy S7 duo's cooling system. The Galaxy S7 cooling system is a unique heat pipe as it is the thinnest, tiniest spreader.  The engineers have confirmed that, at 0.4mm in diameter and just 0.2mm wide space inside, it is the most compact cooling system available in the market currently.
The interview also revealed that the engineer's failed to find an off the shelf solution for the cooling system. Therefore, they decided to design the thinnest possible pipe from scratch. They experimented with various alloys and mesh inside the pipe, as well as with the exact placement metal, so as to preserve the phone's structural rigidity. Because of this, the thermal heat spreader in the S7 has 50 times higher heat conductivity than that of pure copper.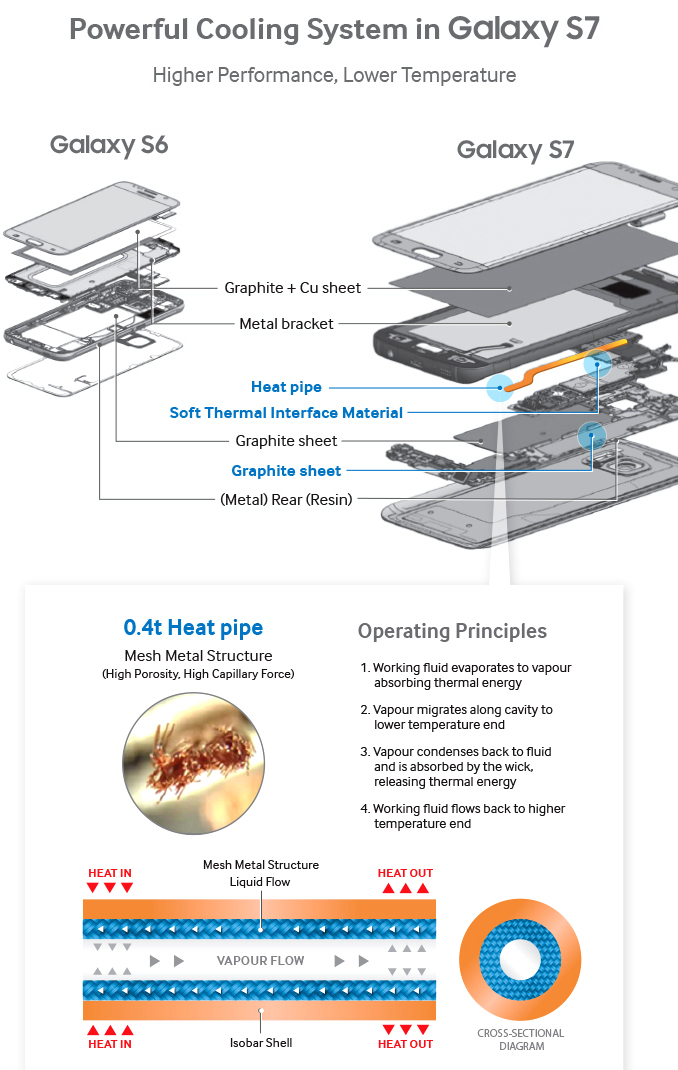 The flat pipe in the cooling system uses a tiny amount of water that constantly evaporates. It then travels the steam away from the processor where it cools down in the other end. The steam then condenses back and spreads the heat evenly around. This prevents the CPU/GPU from getting thermally throttled. This allows the gamers to get maximum performance out of their Samsung Galaxy S7 and S7 Edge.
"There were three major ways. First, we improved conventional thermal conductive materials by working closely with partners. We also applied the thermal solution to not only smartphones but wearable devices, cameras, tablets, PCs and other products."said Kyungha Koo, from Samsung when discussing how they got the idea for the cooling system.
MobileSiri.com is a participant in the Amazon Services LLC Associates Program, an affiliate advertising program designed to provide a means for sites to earn advertising fees by advertising and linking to Amazon.com. Read about our Affiliates Disclosure Policy
here
. Amazon and the Amazon logo are trademarks of Amazon.com, Inc. or its affiliates.