Every year Apple and Samsung both release flagship phones that are highly anticipated and sought after. Many would argue that these two companies are the kings of the smartphone industry. So naturally the question of which one is better among the two always comes up. This year the two phones that are being put head to head are Galaxy S7 Edge and iPhone 6S plus. In the video below, you will find some interesting points when comparing Galaxy S7 Edge vs iPhone 6S Plus.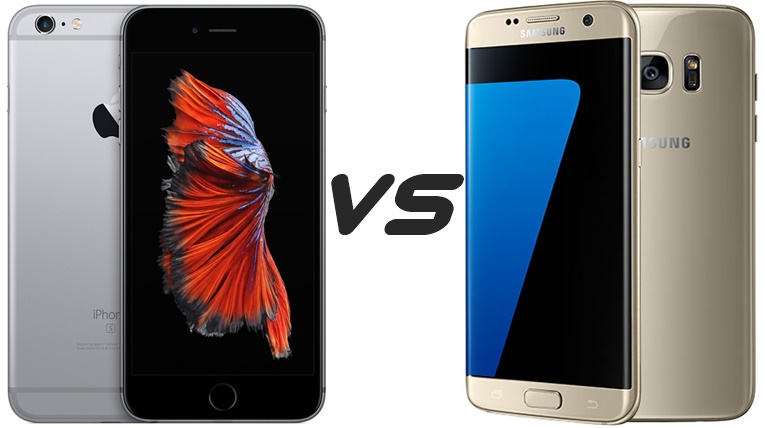 Design:
Apple has always prided itself as a trendsetter of beautiful devices. Pretty much all of the Apple devices are elegantly designed. The Samsung smartphones, on the other hand, were a bit flimsy with their plastic body and didn't stand a chance against iPhone's sleek aluminium design. Although last year, Samsung took a different approach and started focusing on the aesthetics. But, this year Samsung has outdone Apple in the design department with the sleek and stylish Galaxy S7 Edge.
The Galaxy S7 Edge has a unique and interesting design while the iPhone 6S Plus is starting to get monotonous. The iPhone 6S, while still stunning, is the biggest 5.5-inch flagship phone available by Apple. Subjectively Galaxy S7 Edge is the better-designed device in several ways. It is much more sleek and thin compared to the iPhone 6S. Moreover, it is also waterproof and dust resistant.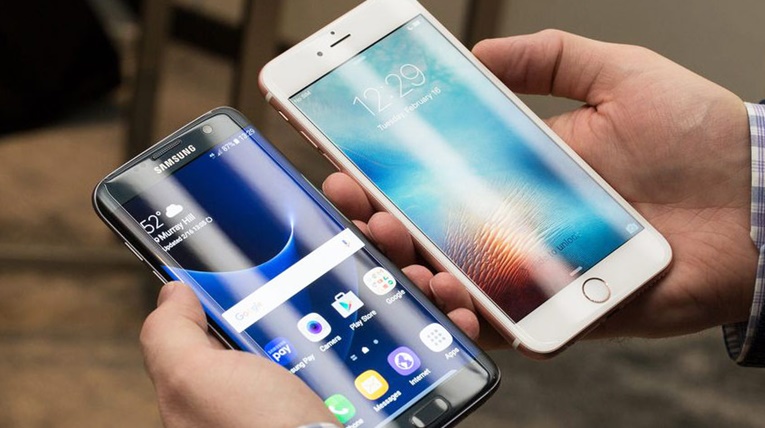 Display:
The iPhone 6S features an LCD display while the Galaxy S7 Edge features an AMOLED panel. So it is best AMOLED vs the best LCD screen. Ultimately there isn't much difference between the two. Both are stunningly clear and crisp. When it comes to the viewing experience, the noticeable difference is the colour reproduction. The S7 Edge's display is slightly more vibrant than the iPhone 6S Plus. The other noticeable difference is Galaxy S7 Edge's curved display, which comes with a few interesting features. It is also unique so it provides extra points to the S7's design.
Camera:
iPhone's camera was the best in the market for a long time. The camera of iPhone 6S still takes impressive shots, its photo and automatic mode results are still very good and Live Photo feature adds additional value as well. But, in this department too Galaxy S7 Edge has taken the lead. Both phones have fast shutter speeds, and 12MP sensors, along with image stabilization and face-detection-autofocus. But, Galaxy S7 Edge's aperture make all the difference between the two sets. The Galaxy S7 Edge is better at taking pictures in low light conditions. It also has the amazing depth of field, which enable you to take stunning shots with background blur.
But the main feature that makes the Galaxy S7 Edge's camera better is the Pro mode. The Pro mode lets you adjust shutter speed, exposure, and white balance. It also lets you focus manually.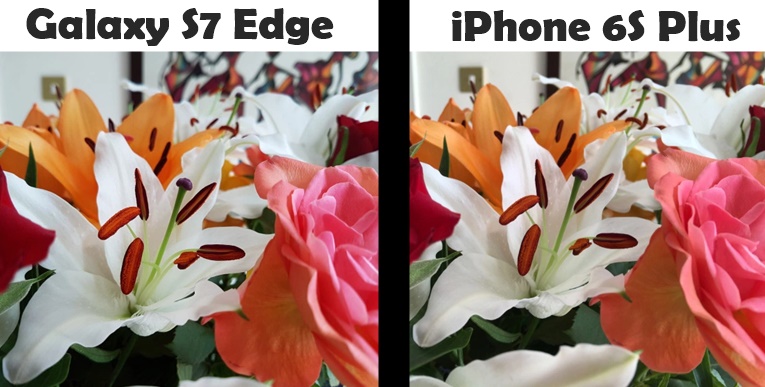 Battery and Performance:
Galaxy S7 Edge and iPhone 6S plus are both strong contenders when it comes to battery life and performance. There is little difference between the two. One thing to note is that the international version of Edge S7 comes with Exynos processor while the US version sports Snapdragon 820.
When it comes to battery life, both  phones are practically two-day phones if you are a moderate user. S7 Edge has a 3,600 mAh cell while the 6S Plus is equipped with a 2,750 mAh battery.
Considering performance, both are equally capable of loading intense graphics. Hence, both phones are good if you play a lot of games or watch a lot of movies on your device. Apps and games also load quickly on both phones, and animations run smoothly and without lagging.
Software Features:
Samsung and Apple's special features differ quite a lot from each other.  The Galaxy S7 Edge is capable of taking motion photos. But, the iPhone S6 comes equipped with a pressure sensitive touch screen which uncovers an extra user interface layer of options. The feature combines with Live Photos to add animations to your photos.
Galaxy S7 Edge's other unique features include; the Always-On display which shows the clock, and notification icons without draining a lot of battery life. It also has a split-screen multitasking view for using two apps side-by-side and exchanging information between them. The Edge panel provides quick access to important stuff you want.
Conclusion:
In some ways, the Galaxy S7 Edge clearly trumps the iPhone 6S Plus. Even though iPhone S6 Plus is still brilliant in many ways, Galaxy S7 Edge is probably the best phone currently available on the market. But, apart from design and camera, the iPhone 6S matches the S7 edge in every department. Enjoy this cool comparison of Galaxy S7 Edge Vs iPhone 6s Plus and decide yourself, which one is better!
Source: 9to5Google
MobileSiri.com is a participant in the Amazon Services LLC Associates Program, an affiliate advertising program designed to provide a means for sites to earn advertising fees by advertising and linking to Amazon.com. Read about our Affiliates Disclosure Policy
here
. Amazon and the Amazon logo are trademarks of Amazon.com, Inc. or its affiliates.