Recently, Garmin announced its upcoming golf wearable smartwatch, the Approach X40 Golf Band. The band is the ultimate fitness-tracking wearable for golf enthusiasts. It blends the GPS course data with a heart rate monitor. The design of the wearable fits the Garmin Vivosmart family more than any other golf range. The Approach X40 fitness tracker has a 1.2-inch display. The design is sleek and simple best suited for golfers.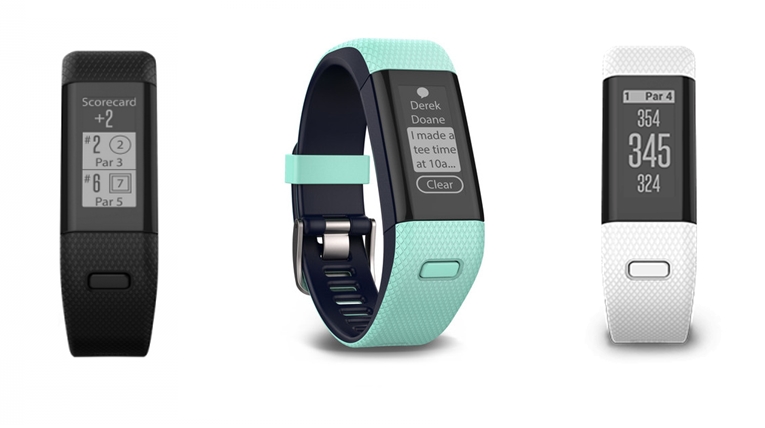 Same as other wearables of Garmin's range, Approach X40 also includes information about 40,000 golf courses. Because of this information, it can easily provide distances to the front, middle, and back of any golf field. It also offers information about layups, hazards, and doglegs.
Furthermore, similar to the Garmin Approach S10, Approach X40 also includes the AutoShot feature. This feature is used to register the location of your hacks around the golf course. After your round, the data is fed back to Garmin Connect.
However, the feature that makes this wearable truly shine isn't golf-related. This feature is the heart monitor that the company has included in the wearable. Garmin added its own optical heart rate monitoring technology into the golf band. This feature has turned the Approach X40 into a powerful activity tracker. In addition to heart rate, the golf band is also capable of tracking steps and pinging you with smart notifications.
"We're excited to introduce our new Golf GPS in the form of a slim and sleek band, bringing more style and fun to the game, the Approach X40 is the perfect all-in-one solution for golfers who want to know all the distances on the course and track wellness data 24/7 without the hassle of switching between multiple devices" said Martin Resch, senior product manager of golf at Garmin.
This is another example of Garmin blending multiple technologies and trying to make its specialist sports tracking tech even more useful to its users when they're not playing.
It is expected to hit the market. The golf band will be available in black, white, blue, and green colors.

Price Disclaimer
MobileSiri.com is a participant in the Amazon Services LLC Associates Program, an affiliate advertising program designed to provide a means for sites to earn advertising fees by advertising and linking to Amazon.com. Read about our Affiliates Disclosure Policy
here
. Amazon and the Amazon logo are trademarks of Amazon.com, Inc. or its affiliates.