Google Nexus 6 review
Google brings the Nexus 6 in partnership with Motorola having key updates in its Android Operation System along with the boosted features of its Moto X. It is the first smartphone that loads Android 5.0 Lollipop. These boosts and the OS upgrades make this smartphone a truly competitive device for Samsung Galaxy Note 4 and Apple iPhone 6 plus. It is also a phablet size smartphone with its 6-inch screen which makes it more competent to experience the changes of the new Android 5.0 lollipop OS.

Read More : Apple iPhone 6 Vs Google Nexus 6 Vs Samsung Galaxy Note 4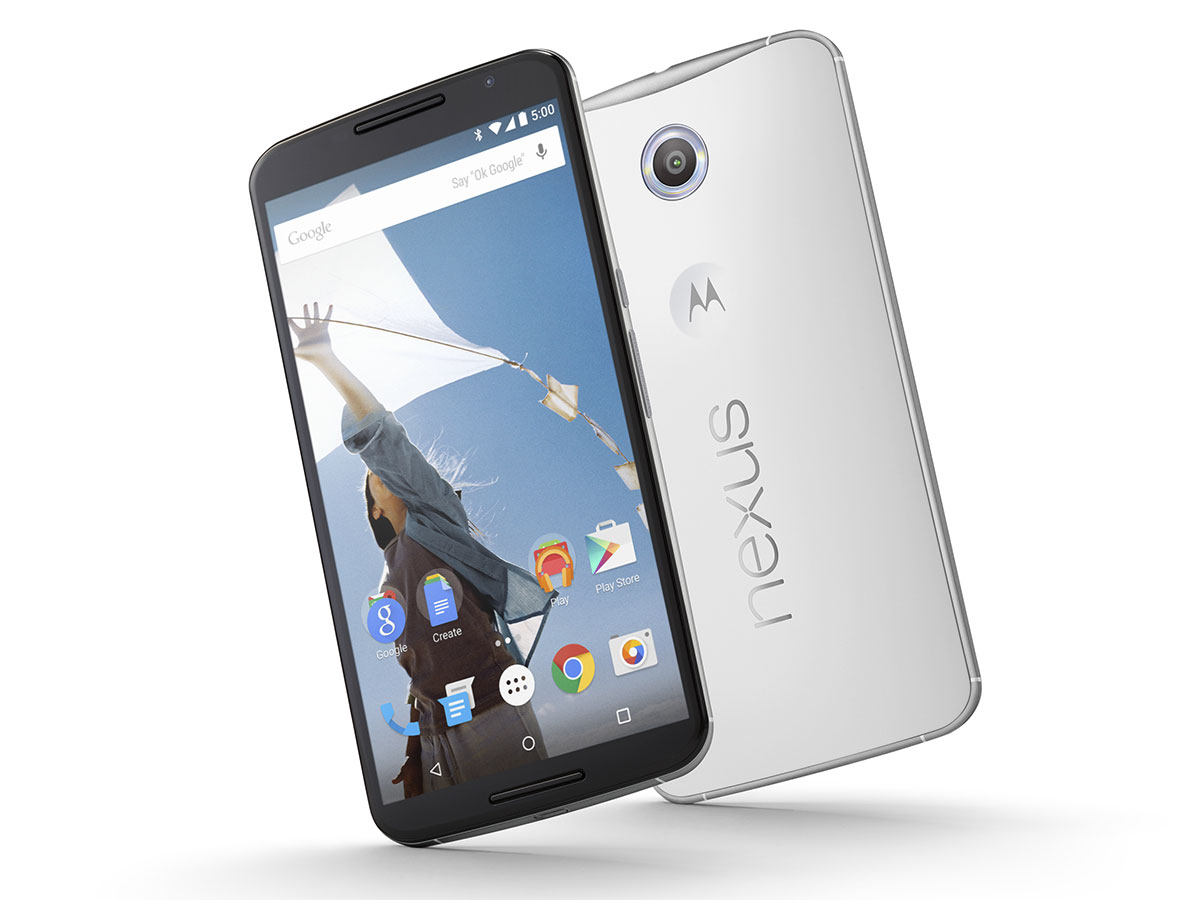 Google Nexus 6 comes with a colorful design, which makes its big size beautiful. Internally it has also made easy and fast to run the amazing features. The speed and continuity in its features are maintained by its latest Snapdragon processor and 3GB of RAM. You can also take the full experience of its big size design, new OS and the high-end specs with a powerful battery. There is a Qi-chargeable 3220 mAh battery which can make the Nexus 6 to last all the day.
These specs brings Google Nexus 6 in front of iPhone 6 plus. It has the processing power and the design finish which can truly score its position in the market. It is designed perfectly to feel better in your hand and also there is the Android keyboard which makes it even easier to type on the Google Nexus 6.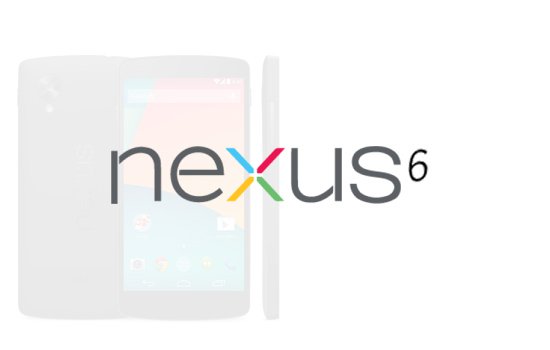 Google still offers its great personalization options which are all there in the Nexus 6. You can go more personal by just a single swipe to the left which enables you to get extra from your Google phone. However, the Nexus 6 is a big smartphone which is made to entertain the particular customer category looking for the extra-large phablets rather than usual smartphone. Similar to the other phablets in the market the Nexus 6 is also not for the single hand use. It has pushed the limits of Moto X which came with 5.2-inch size.
Along with its bigger size and more powerful specs it also stands high on price range. The prices of Google Nexus 6 unlocked model is US$649 which is equivalent to £499 and AU$700. These prices are much higher than the past Nexus phones.
Design
The phablet-size design of Google Nexus 6 takes both hands of you to operate properly. Its design with this big size feels better and improved in many ways. This is made possible with the famous Motorola design on Nexus 6. This Motorola design comes with many of features borrowed from Moto X. you will have the similar aluminum metal frame which makes it strong and impressive in its looks. Its design is also gently curved on back which makes it palm-pleasing.
On its big design more room is left for the display as there are no physical buttons on its front. Screen of Nexus 6 is therefore, an edge-to-edge display which makes it comparatively good with respect to the iPhone 6 plus and other leading phablets in the market. However, considering its weight you will find a heavier device than the competitors. The Nexus 6 weighs at 6.49 oz. which is equivalent to 184g. By comparison you can find its competing iPhone 6 plus and Samsung Galaxy Note 4 much lesser in their weight. Its big size may trouble fitting into your pocket but with its curves you will have it comfortable. Its curves give it a natural feeling with smooth finish.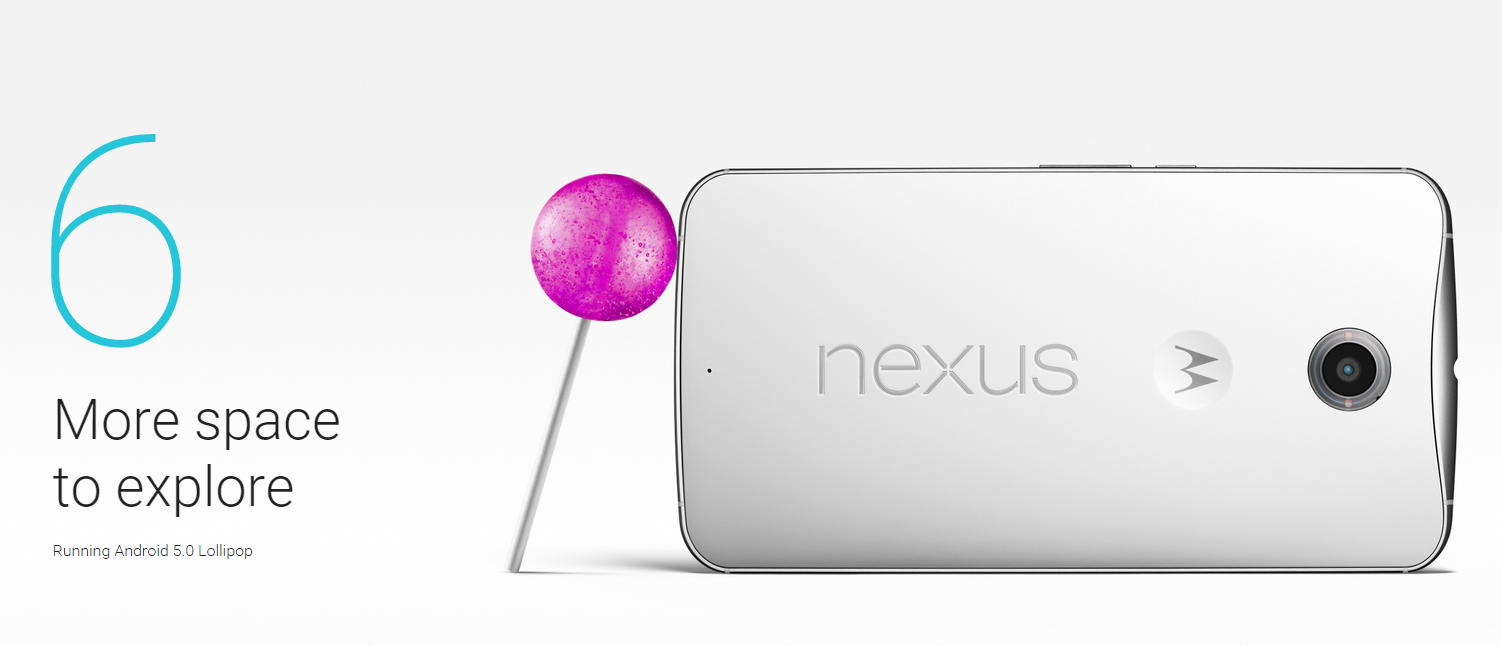 In Motorola Nexus 6 you will have some of the familiar things there while missing out some others. For instance, you will have the dimpled logo on the back while skipping out many of the Motorola customization like wood finishes and leather backs. It comes in limited colors as you can have it either in Cloud White or Midnight Blue.
Among the missing features of earlier smartphones of its make are the Active Display functionality of Moto X and the knock-to-wake feature the of the Google Nexus 9 tablet. The Active Display is a bit useful function with its notification at a glance function which you will miss in it. However, the tablet knock-to-wake feature didn't work well on Nexus 9 therefore it may not matter much for the Nexus 6.
It has inherited the new Moto X's ridge-filled power button which can be easily differentiated from the volume button. It has also adopted the high quality front facing speakers. Its stereo sound is almost good to point the sound in the right direction. Its top is thickest where you can find the 3.5mm headphone jack and the nanoSIM card slot.

Interface
Nexus 6 is made to set new standards in interface and performance among the Android smartphones. It's the Google's standard bearer which others will follow. With the top internal specs there is the updated interface of Android 5.0 Lollipop to experience as well.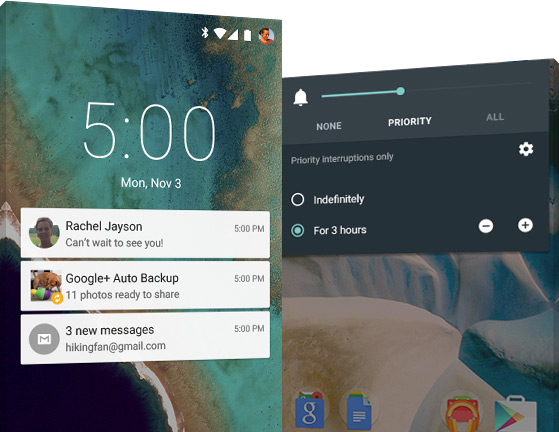 There are many new interface features in the Android 5.0 Lollipop which make the Nexus 6 a valuable smartphone. The Lollipop version of Android sports a flat but layered theme which is better named by Google as the Material Design. You will have an impressive experience of menus and apps with shadows and punched up colors. Menus on the Lollipop are also made less dark as compared to Android 4.4 KitKat.
On the updated OS Google has managed with a more unified layout through its ecosystem. The conventional Google apps like Gmail, Google Play and Google Maps are made simplified and more convenient to use.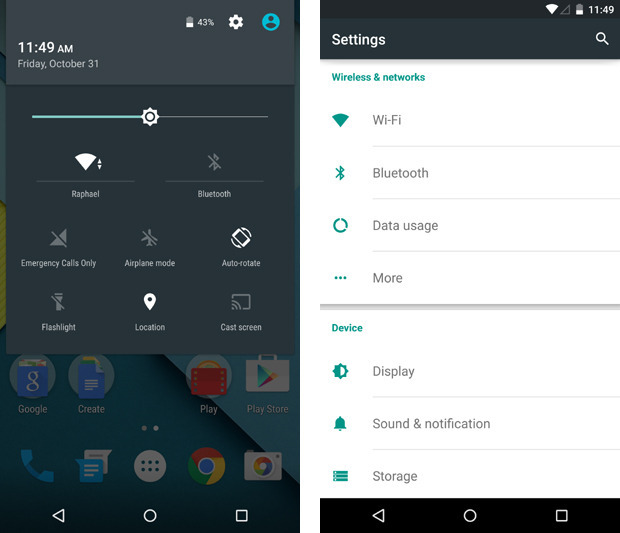 The first experience of Android 5.0 Lollipop is there on the lock screen of Nexus 6. You can easily have an understanding of its functioning with the first impression. For instance, you can notice the lock screen notification penal with hidden notification at the forefront. Therefore, at the first glance on its lock screen you are notify with new emails, text messages and app updates. However, if you are concerned with privacy issues of this feature then Google has put the option for you to turn it on or off in its Sound and Notification settings.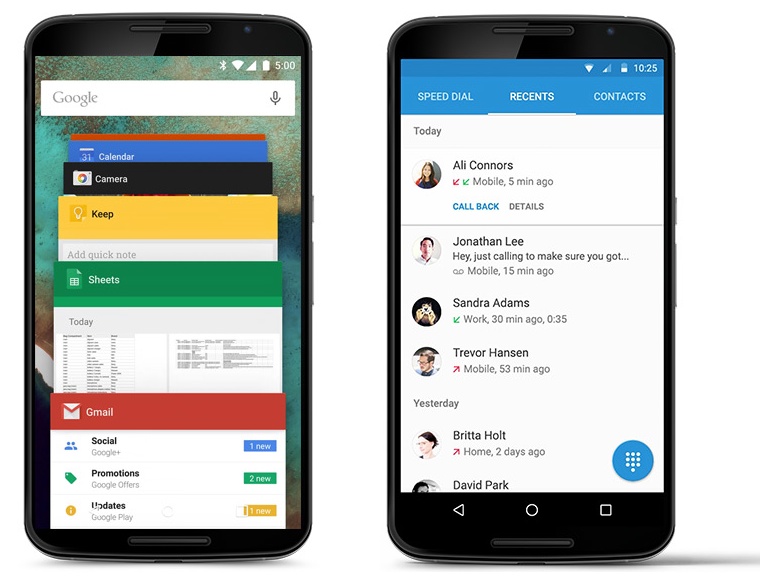 You will have the advanced Priority Mode with the new Google Nexus which works like the famous Do Not Disturb feature of Apple. With this mode you can silent your Nexus 6 indefinitely or for particular intervals. It's an advanced silent mode where you can allow or disallow certain apps and calls for notifications and alerts. With this system feature in your Google Nexus 6 you don't have to look for third-party Silence app. This Priority Mode is not a part of its Quick Setting. You can activate it by pressing the volume key and following the toggles on the screen.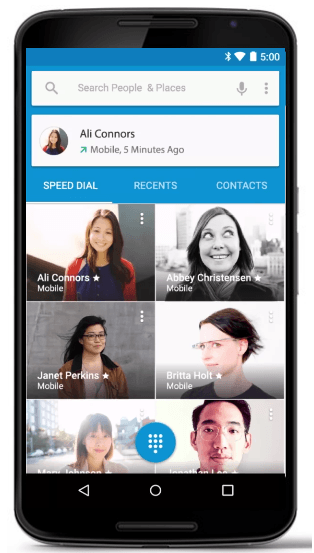 The quick settings on Nexus 6 also have some new additions. For instance, its pull-down menu is made more convenient which require two fingers simultaneously on other models. With Google Nexus 6 this still works but one swipe will take you to notification area while another reveals hidden quick settings.
Its quick settings still cannot be customized but you will have some additional buttons alongside the Wi-Fi, Bluetooth and Airplane Mode. On its quick menu now you will have the brightness options where you can change the brightness directly without going into its sub menu.
Specifications
With big screen and Android 5.0 Lollipop Google Nexus 6 becomes the leading Android phablet in the market. Its basic specialties are also backed with powerful hardware to make it stand higher in its range. The processor on Google Nexus 6 is a 2.7 GHz quad-core processor with Qualcomm Snapdragon 805. This comes with the Adreno 420 GPU and 3GB of RAM.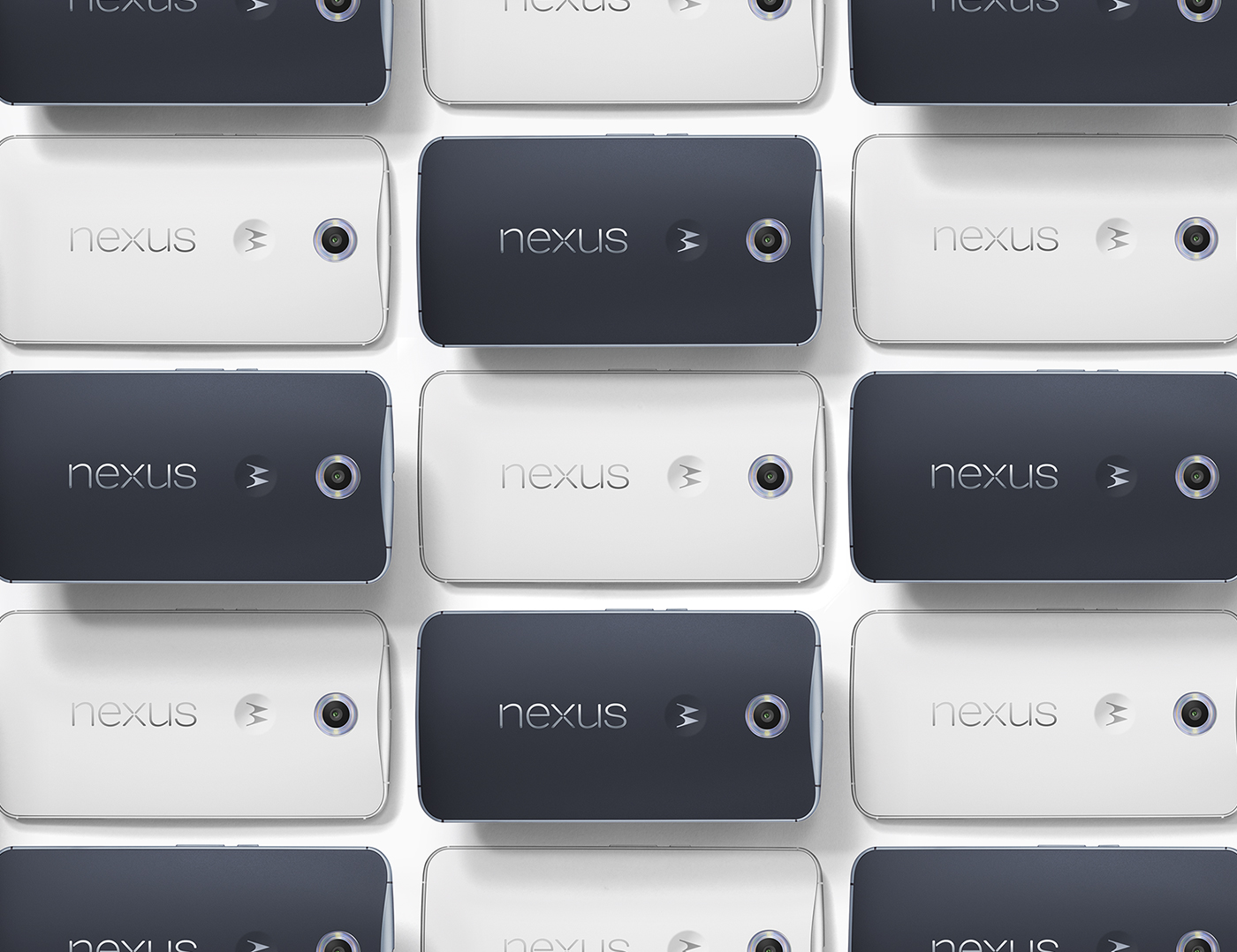 With these amazing specs you can have a great experience of Android Lollipop on the Nexus 6. You will probably not have any halt or delay in its operations while running heavy apps and high-end games on it. Therefore, with the new interface and improved Google play store you can have anything on your Google Nexus 6 without worrying about its performance. These good hardware make it an impressive phone along with its increased physical size. However, you may face a slow boot-up but this slow down don't follows in its functionalities.
Camera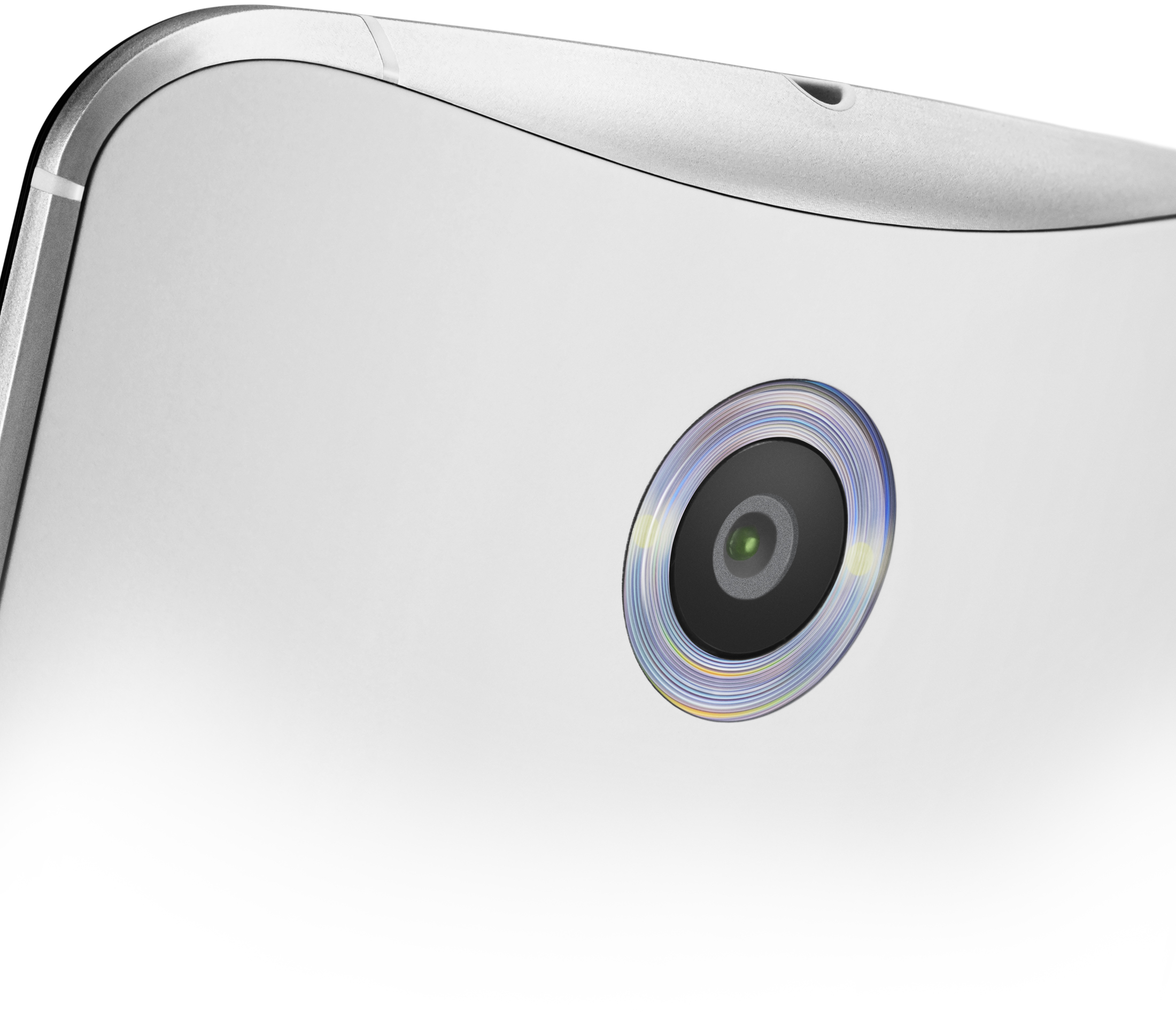 The camera result brings it on the top against the last year's Nexus 5 and also the rest of the Motorola lineup. It comes with certain improvements including the Sony IMX214 CMOS sensor along with a wider f/2.0 aperture and optical image stabilization. The camera of Moto X lacks these specialties which are power to the Google Nexus 6. It makes its camera a powerful lens which can capture impressive and professional images.
The camera on the Google Nexus 6 is a 13 Megapixels which has better shot-for-shot color accuracy and OIS feature. This makes it more impressive then the Moto X and Droid Turbo. Its color accuracy gives the snaps a natural look. This makes it results closer to reality.
It is no doubt an amazing camera but comparing it with Samsung Galaxy Note 4 you can observe the difference of camera skills. Despite the specialties of the Nexus 6 the color accuracy and other camera skills of Samsung are still unbeaten. However, the Motorola Nexus 6 will surely beat most of its range smartphones with its camera skills.
Its front camera is not made any special. The front camera in Nexus 6 is kept under 2 Megapixels. You may find it a bit redder and grainier when there is not sufficient light available in low light. You will also not be able to capture selfies with as good results as they are with Note 4 and the HTC Desire Eye.
The autofocus function on the Nexus 6 looks improved than the Samsung Galaxy Note 4 in many cases. But unlike Samsung the other options which improve the images are not there in Google smartphones. Although You can go for many of the camera tricks and third party apps which can perform the similar functions for your Nexus phablet.
Unlike its still images the video recording on Google Nexus 6 is little more straightforward. You can record 4K video at 30 frames per second. Its video results are impressive while playing them on quad HD smartphone.
Battery
Finally it comes to the power to run this phablet of Google. As mentioned it is a powerful smartphone with big screen, improved interface and high-end specs which all needs more power. Google however showed its best by bringing an excellent battery which can make you completely experience its Nexus 6 along with the Android 5.0 Lollipop.
You can find this powerful 3220mAh battery behind the 6-inch AMOLED display of Google Nexus 6. This battery capacity is same as the leading Samsung Galaxy Note 4 and iPhone 6 Plus. This again brings it among the toppers of the phablet market. Despite the similar battery capacity the advantage of Google Nexus 6 over its competitors is its brand new Android 5.0 Lollipop OS which bring an improved power saving option. With the battery-saving optimizations you can save valuable battery power and also improve its performance.
Its battery is also good in charge up with the turbo charging option. Google Nexus 6 battery is able to add up 20 percent of battery power in just 15 minutes which is six hours of run time. With this charging capacity the Nexus 6 is charged from zero to 100 percent in about 1 hour and 20 minutes. This is quite a good capacity which can make your 6-inch phablet running without the issue of battery drainage.
With this battery and charging capacity Google has also shift in its charging standards. However, unlike the many other advance addition the charging standards are brought back to the old ones. With this phablet Google had adopted the Qi charging standard once again. The experience of Qi charging standards is also there in the Motorola's Moto 360 smartwatch. With this option the Google Nexus Wireless Charger or any Qi charger can be used to charge your Google Nexus 6.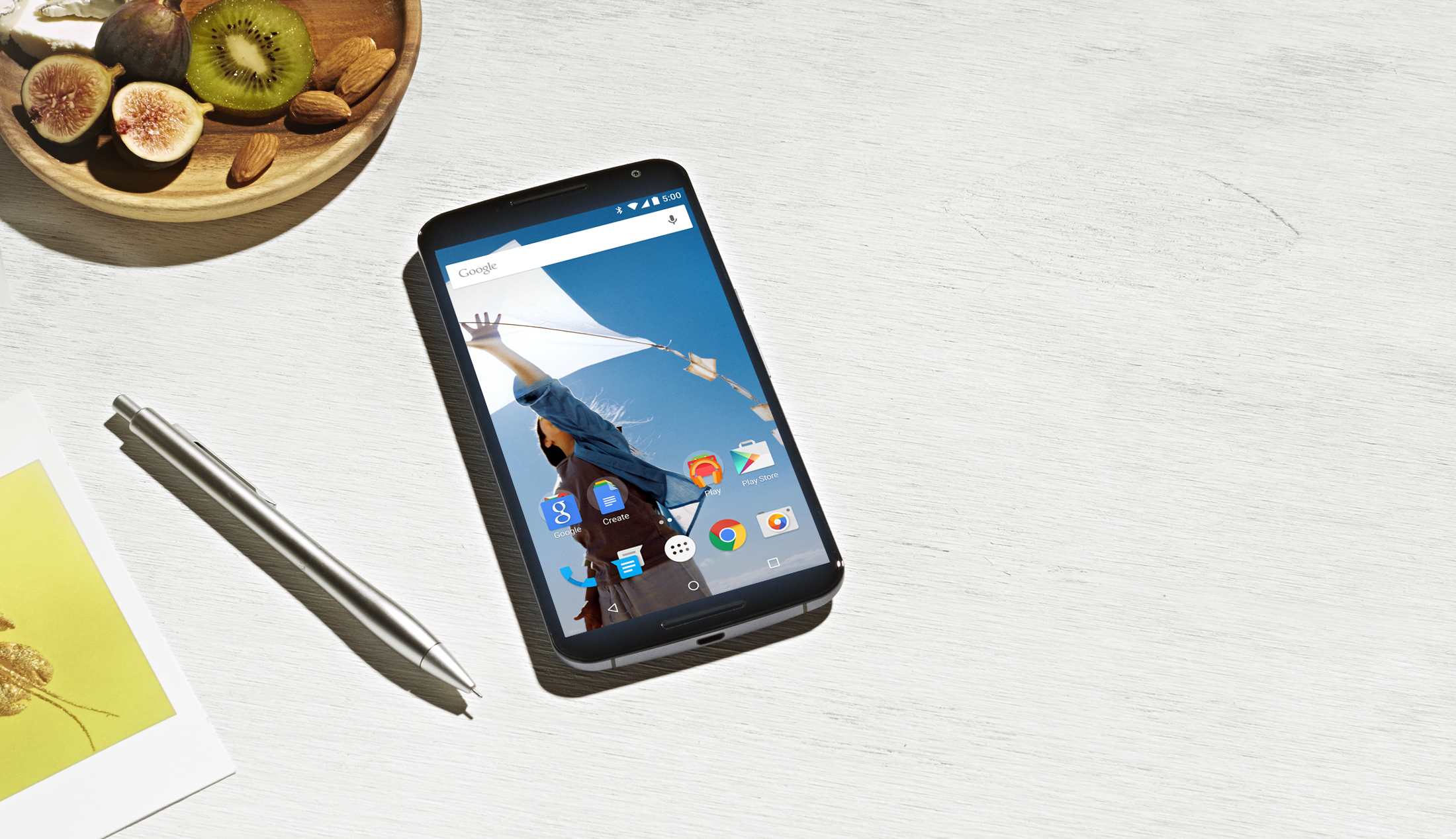 Conclusion
If you are thinking of buying a phablet smartphone, Google Nexus 6 should be your preferred choice. As it comes with latest Android 5.0 lollipop OS and other nice features. You can include Samsung Galaxy Note 4, LG G3 and Apple iPhone 6 Plus in the list but in the end, Galaxy Note 4 and LG G3 both lack Android 5.0 Lollipop and iPhone 6 Plus is much expensive as compared to Google Nexus 6.
MobileSiri.com is a participant in the Amazon Services LLC Associates Program, an affiliate advertising program designed to provide a means for sites to earn advertising fees by advertising and linking to Amazon.com. Read about our Affiliates Disclosure Policy
here
. Amazon and the Amazon logo are trademarks of Amazon.com, Inc. or its affiliates.