Apple's keynote is over, and Apple's 27th WWDC 16 is officially now in session. There have been some major announcements in the conferences. The crucial updates include enhancements and new functionality for Apple watchOS, macOS, and tvOS platforms. Moreover, various important changes that will be implemented in the upcoming iOS 10 were also detailed.
Many new features of the iOS 10 were announced at the WWDC. Here are the all the new features of the upcoming OS:
New Lockscreen and Camera shortcut:
Previously, to get to the camera on your Apple iPhone you were required to swipe up. This has now been changing and to access camera you have to now swipe right to left.
Raise the iOS device to wake it:
Now iPhone users will be able to wake their smartphones by simply picking them up like the Apple Watch. This is done by using a gyroscope and an accelerometer.
Widgets:
Apple has finally decided to include widgets in the iOS 10. The widgets in iOS 10 are a lot smarter and innovative. Pop-up menus are also richer in functionality in iOS 10 compared to its predecessor.
A dedicated widget pane:
Widgets are finally making their debut in the Apple devices with to iOS 10. Apple has filled the Siri pane that is located on the left side of the screen with widgets for easy access.
3D Touch on the lock screen:
In iOS 10, notification on the lock screen will be actionable via 3D Touch. The result will be a rich and functional preview. 3D touching an app will open a small preview window. For instance, if you 3D touch an app you can reply in the small preview window that will pop up.
Apple Pay in Safari:
Apple Pay is similar in functionality to Android Pay. The feature will be directly usable inside mobile websites as a payment option.
New Home app:
Apple has finally announced an official app for Apple HomeKit called Home. The app will make Home automation easier to implement and manage.
Redesigned Music App:
The music app in iOS 10 has also been redesigned for the better. The user interface of the new music app is a lot simpler and user-friendly.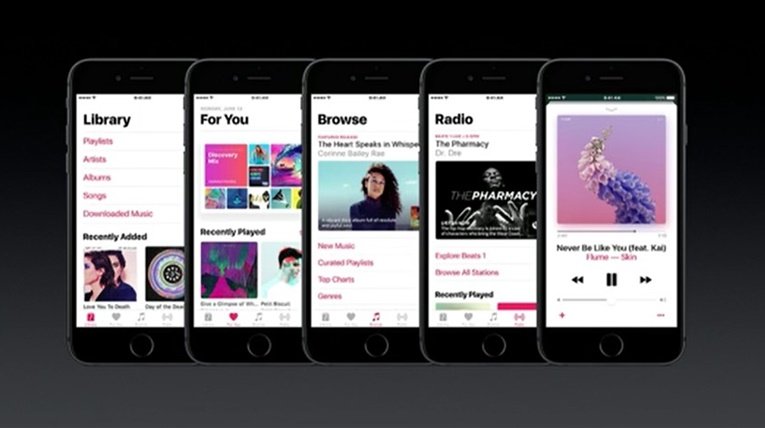 Redesigned News App:
The News app in the upcoming Apple iPhone OS has been revamped. It has been made simpler and new features like alerts, breaking news, etc have also been added.
Photos app is now truly smart:
Apple has made the Photos app truly smart in iOS 10 by featuring some artificial intelligence in the app. The app has improved and can better recognize faces, objects, places, and others, and make those searchable.
Improved QuickType keyboard:
The QuickType feature in iOS 10 has gotten smarter. The QuickType will let you change to different languages without manual switching. The feature will also bring up more relevant predictions and suggestions.
Apple Maps is also getting better:
Apple maps are getting better app integration. With iOS, 10 users will be able to directly book a table or call a ride with Uber directly from the Maps app.
Siri is now open to third-parties:
Siri is now officially open to developers. Now, with iOS 10 third-party app developers will be able to integrate Siri into their apps.
Messages and bubble sizes:
The Messages app is undoubtedly the most used app of all. Apple is paying special attention to the app and introducing new features for it int the iOS 10. A new feature in the Messages app will allow you to control the size of the message bubble to denote a 'whisper' or a 'shout'.

Messages and handwriting:
iOS 10 will also feature handwriting input. The handwritten reply can also be animated in real time for the recipient.
Messages and full-screen effects:
Another cool new feature of the Messages is effected. These can be, for example, birthday balloons or celebratory fireworks.
Messages and Invisible Ink:
An amazing new feature of the iOS 10, called Invisible Ink allows you to send and receive texts that are blurred out. To reveal them you will have to swipe them for a preview and within seconds, it will get blurry again
Messages and Tap back:
In iOS 10 the Tap back feature will allow you to reply inline with a choice between six quick replies.
Messages and Stickers:
Stickers are finally going to make an appearance in iPhones via iOS 10. They will be available for use in the messages app.
iOS 10 comes with new emojis:
Apple has increased the size of emoji by three-time for better viewing. The Messages app in iOS 10  will allow you to tap on top of words within your reply that have a corresponding Emoji quickly exchange them.

MobileSiri.com is a participant in the Amazon Services LLC Associates Program, an affiliate advertising program designed to provide a means for sites to earn advertising fees by advertising and linking to Amazon.com. Read about our Affiliates Disclosure Policy
here
. Amazon and the Amazon logo are trademarks of Amazon.com, Inc. or its affiliates.