Are you thinking of trading your old iPhone iPad device for the new one and wondering how to clean it?
Before you do, make sure to read this article first. There are some things that you must do before selling or giving away your iPad, iPhone, or iPod.
It is very important to remove all personal information and data completely from the device. It is also crucial to clean the iPhone, iPad, or any device digitally. In this article, we will help you through the process. By doing all these things your device will be ready to resell or give away.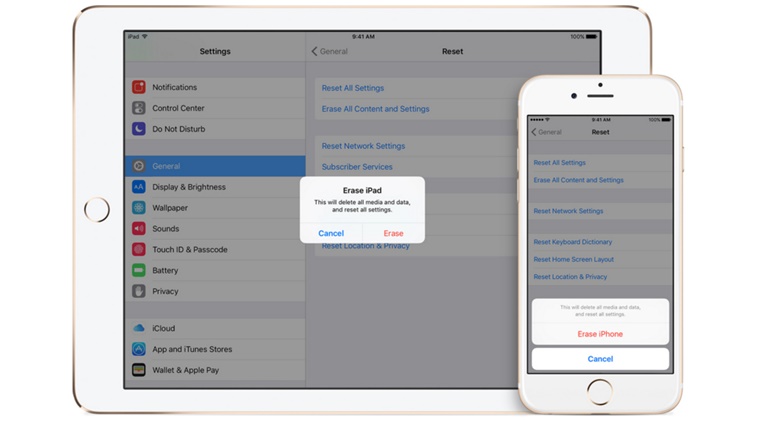 1. Unpair your Apple Watch and iPhone:
If your iPhone is paired with an Apple Watch, it is very important that you unpair it. Follow these steps to properly unpair your Watch from your iPhone:
Place the two devices close to each other.
Open the Watch application on your iPhone.
Go to MyWatch->Apple Watch then tap Unpair Apple Watch. To confirm tap again.
If the Activation Lock feature is set up, you may need to enter your Apple ID password.
Before erasing all settings and contents of your Apple Watch, a backup will be created on your iPhone.The Backup can be used to restore a new Apple Watch.
You can still unpair your Apple Watch even if you have already sold or given away your iPhone. To do this on your Apple Watch head over to Settings > General > Reset > Erase all Content and Settings. By doing this your Apple Watch will revert back to its factory settings.
2. Backup your iOS device:
There are many methods that you can use to backup your iOS device. You can either backup to iCloud through your iPhone, or you can backup to iTunes through your computer. It is a good idea to create backups on both in case you need an alternate backup. Click here for the complete tutorial on how to properly create the backup of your iOS device. Without taking backup, do not start cleaning your iPhone or iPad.
3. Sign Out of iCloud:
iCloud controls a lot of data on your iOS device if it is set up. If your media, photos, and videos are on the iCloud, all you need to do is sign out of the account. This will lead to the data being deleted from your iOS device. To sign out of iCloud, go to settings > iCloud then scroll down and tap on Sign Out. If your device has iOS 7 or earlier, then tap the delete account.
4. Turn iMessage and FaceTime Off:
Open Settings on your iOS device.
Tap on Messages for iMessage, for FaceTime tap on FaceTime
In Messages, turn off the toggle for iMessage
In FaceTime, turn off the toggle for FaceTime

5. Sign Out of iTunes store:
Head over to Settings then scroll down and tap iTunes & App Store.
Tap on your Apple ID then taps Sign Out.
6. Sign Out of other accounts:
To ensure security make sure to not leave any accounts like; Facebook, Twitter, and Gmail logged in. Deleting the Facebook or Twitter app will Sign you Out automatically but just to be on the safe side before installing the apps Sign Out of all user accounts too.
7. Delete applications:
As a precaution delete all applications from your iOS device. This will ensure security and privacy. When you delete an app its cache is also deleted. Furthermore, any traces of your personal information or Login will also be wiped out.
8. Disable Restriction Codes & Passcodes:
A factory reset erases everything, including all restriction codes and passcodes. But just to be on the safe side disable all restrictions also. To do so go to Settings > General > Restrictions, then tap Disable Restrictions.
9. Delete your Cards from Apple Pay:
Here is what you need to do to remove credit/Debit card information from your iPhone or iPad.
-Go to Settings on your iPhone or iPad that contains the Apple Pay card you need to delete.
-Tap on Passbook & Apple Pay.
-Select the credit card you'd like to delete.
-Scroll to the bottom and tap on Remove Card, and it will be removed.
10. Factory Reset:
If any media, photos, or videos have not been deleted, or there is other data on your phone that you want to erase, Erase All Content will take care of it and wipe the device clean. Even if you think you have gotten rid of all of your data, this step is important. There might still be some traces of passwords and personal information left on the phone but resetting it will wipe out all the traces. There are the steps you need to follow to do this:
In your iOS device open Settings.
Tap on General then scrolls down and tap on Reset.
Tap the Erase All Content and Settings.
Confirm and your iOS device will reset. It will shut down and then reboot.
If the Find My Phone feature is on, you may need to enter your Apple ID and password. Enter the device passcode if the device asks for it. After doing this your iPhone will be restored to its factory settings and will be good as new from the software side of things.
11. Contact your carrier:
After completing the above steps contact your carrier and ask them to associate the device with your account. You can also contact your carrier to transfer the service to the new owner.
If you have already sold your iOS device:
If you don't have your device anymore and you want to erase all your user data here is what you can do:
Contact the new owner and request them to Factory Reset your phone. Ask them to Erase all data and settings as explained above.
If the Find My Phone feature is turned on, and the iCloud is set-up Sign Into icloud.com/find, from there select your device and click Erase. When the device has been successfully erased click Remove from Account.
If completing the above steps isn't possible, change your Apple ID password. This will prevent the new owner from tampering with your information from iCloud.
If you are using Apple Pay, remove your credit or debit card information at iCloud.com. Go to settings and select the devices you wish to remove then click Remove.
If your new phone isn't an Apple one, then de-register iMessage.
MobileSiri.com is a participant in the Amazon Services LLC Associates Program, an affiliate advertising program designed to provide a means for sites to earn advertising fees by advertising and linking to Amazon.com. Read about our Affiliates Disclosure Policy
here
. Amazon and the Amazon logo are trademarks of Amazon.com, Inc. or its affiliates.