Introducting Galaxy Gear
The fast changing pace of consumer electronics is in its initial phase of shifting focus from smartphones to smartwatches. Apple, Samsung, Motorola Moto 360, LG G Watch R, Asus all have either launched their smartwatches or are planning to launch in near future. But this time Samsung has taken the lead over its competitors in the smartwatch market and has launched multiple smartwatches naming them Galaxy Gear famous as Samsung Galaxy smartwatch. Galaxy Gear, Galaxy Gear 2, Gear 2 Neo and Gear Fit are its recent launches in the line of smartwatches.
Will the smartwatch become a good alternate for smartphones or not, it will be decided sooner but certainly taking calls, sending messages and performing other various tasks from your wrist without touching your phone is an exciting idea especially for the James Bond Lovers!

The Samsung Galaxy Gear box contains: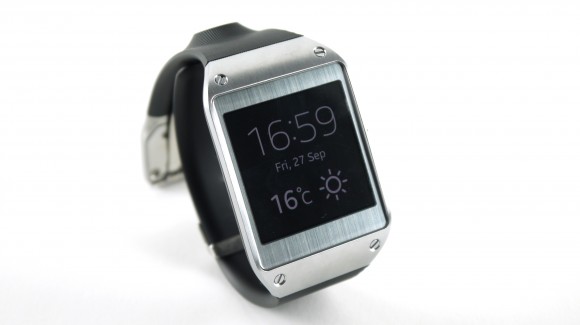 • microUSB cable
• Wall Charger
• Documentation books and
• Cradle adapter

Samsung Galaxy Gear comes with skinned version of Android 4.3. It has a 2-megapixel camera on the strap. It has 4 GB memory built-in to store your data likes photos and can give you up-to 25 hours of battery backup.
Samsung Galaxy Gear comes with skinned version of Android 4.3. It has a 2-megapixel camera on the strap. It has 4 GB memory built-in to store your data likes photos and can give you up-to 25 hours of battery backup.
The Samsung Galaxy Gear does not require SIM Card or any other data connection. Instead it is connected to your phone over Bluetooth, so you do not need to watch your phone every time it rings. You can handle calls, send receive messages on your Galaxy Gear but it does not lets you send receive emails and other social activities are also not supported which is a big limitation.
The other major limitation with Galaxy Gear is its limited compatibility with other devices. The $300 Galaxy Gear is only compatible with Galaxy Note 3 yet making it a big disadvantage for the users of other samrtphones like S5, S4 and Note 2. But Samsung has promised to upgrade its watch to be compatible with these smart devices.
Design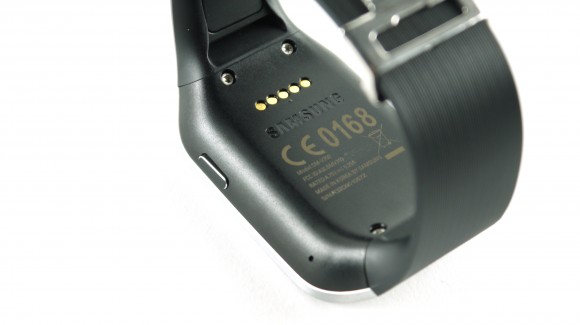 The Galaxy Gear comes with the strong rubber strap and has no buttons on front. The finely brushed metallic device comes in different range of colors including black and silver and looks attractive in design. The only button on the outside is a multi-functional button. It power ups the display and double tapping it makes the Gear perform additional but limited tasks, which you decide yourself, including the S Voice feature. Samsung S Voice feature helps you control the different functions by speaking to the watch and you have to make the settings in your Note 3 before you use it on your watch.
The Galaxy Gear has a touch display and one can navigate it like other smart devices. It has a 1.6-inch Super AMOLED capacitive display with 320×320 pixel sharp resolution, which makes the small text readability easier and let you enjoy photos you took with the camera in the strap.
Interface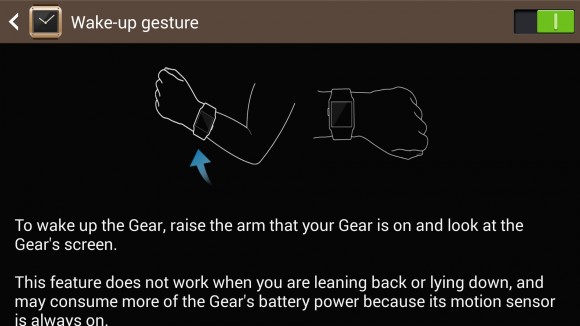 You do not need to wake your Galaxy gear with the double tap on the screen, instead raising your watch to your eye level wakes the watch and you can start using it.
It has 800 MHz processor which helps finding apps and performing other tasks very smartly without much delay. Although if you swipe through the app icons quickly it can be very time consuming and can take long to launch the app you desired.
Generally speaking, Galaxy gear has a minimal interface and many things are hardwired like you cannot change place of your notifications but certainly this seems to be on purpose. You can either use analogue options or a digital clock as a display. Similarly if you want to weather option, music controller and notifications alongside it is not possible. But you can use music controller on the display.
Calling and Messaging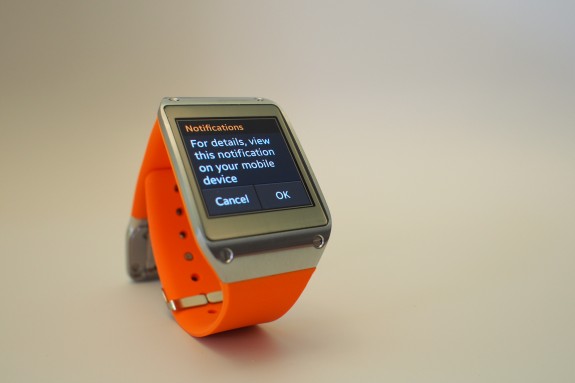 Calling and messaging features are almost same as in any other smart device. When a call comes in, it will be displayed with the options to accept or reject the call. If the caller was in your contacts list, his/her details will be shown as well like Name and image. Similarly messages are displayed with an icon and name and you can tap on to read it or read them later in the notification section.
It has a good loud speaker and you can hear easily in a busy place but at noisy places it will be a more challenging and annoying to talk and speak smoothly. And the additional voices and noise will make it more difficult for your watch to understand you and you will have to repeat yourself again and again. The headphones also does not work smoothly with the Samsung watch and it can put you in troubles at times.
If you want to call someone it is quite interesting, just launch your S Voice software by double tapping the side button and say "Call Obama" and it will start calling Obama providing a contact with the similar name exists in the contact list already. Alternatively you can go to contacts section and select the contact you want to call and make a call.
Although If you want send messages, your only choice is S Voice. The small screen size makes it impossible to have an onscreen keyboard. So you must dictate the message using S Voice.
S Voice is easily capable of understanding you and almost 80% times it understands you correctly provided you have a nice accent but some names are difficult to understand for it and you can easily confuse it. But overall it is not bad at all.
In all this process of making and receiving calls and sending and getting messages you must maintain a connection between your phone and your watch through Bluetooth else you are going to miss some important calls.
Camera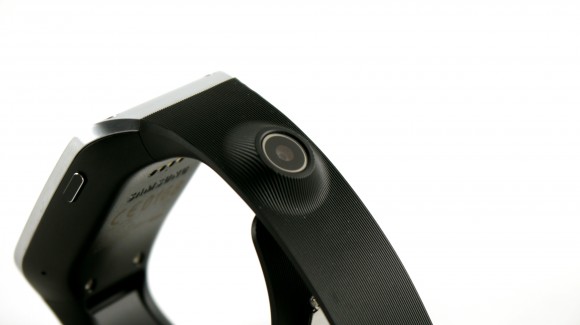 The camera of the Galaxy Gear is a really unique feature, it has a 1.-MP camera which works very quickly and you can take an image in 2 seconds which makes it a better option for the quick moments you don't want to miss.
Although the quality of the image is not as good and sharp as the other smart devices like phones and tabs are snapping but still it is good enough to enjoy the moments later. You can also shoot videos in 15 seconds bursts which is more like Vine videos. But angling your arm to take the snap is not easier for everyone. There is also a shutter sound when you grab a photo which lets people know what you are doing.
Battery and Other Accessories
The battery of the watch is not very long lasting and charging it is more difficult. If you want to charge your Galaxy Gear you should have its cradle with you as well. Galaxy Gear does not come with the built-in USB port that is why you need cradle with adapter to charge your watch. With the heavy use the battery lasts not more than a day so take your watch's cradle and adapter with you always if you are going away from your home.
It has a 315mAh battery and gives around 25 hours of use when used fairly. Comparing this backup time with the smartphones battery backup time can make you happy but the idea of charging your watch every night with a separate charging cradle is not exciting at all and you will take time to become used to of it.
Conclusion
Galaxy Gear price is much more as compared to its features, When it was launched it came with a price tag of £299 but now it is available for £250 which is almost equal to $299 and $324 in Australian dollars. With this price, Galaxy Gear is only compatible with Note 3 and will be compatible with couple of other devices as we discussed earlier, which makes it rather expensive deal.
When thinking about the idea of smartwatch, everyone wants at least Email and social activity features enabled along with Calls and messages. This is a real big lacking of Galaxy Gear. If you cannot use Skype, whatsApp, viber and other apps in your smart watch then you cannot leave your smartphone in your pocket for a long time. Until more apps are available to use with Galaxy Gear, its usefulness is limited and cannot become an important tool in the daily life.
With the high price tag, limited features and a very few compatible devices, Galaxy Gear is not the super exciting entrance into the market of wearable devices.
MobileSiri.com is a participant in the Amazon Services LLC Associates Program, an affiliate advertising program designed to provide a means for sites to earn advertising fees by advertising and linking to Amazon.com. Read about our Affiliates Disclosure Policy
here
. Amazon and the Amazon logo are trademarks of Amazon.com, Inc. or its affiliates.