Nokia Lumia 735 review
Introduction
Microsoft with its Nokia smartphones has been among the key players in the low-end smartphones market where it has its many variants of smartphone models to compete every move. This time it has focused the race of selfies in the low-end smartphones and brought the Nokia Lumia 735 with a super powerful 5MP front-facing camera. With this smartphone Microsoft has brought you the power to capture the clearest selfies.
Read More : Microsoft to replace Nokia brand name from Lumia Phones
Many other smartphone manufacturers have also been targeting this trend in their models. The step-inn by Microsoft in this field shows the growth of this trend and also the increasing interest it is gaining by manufacturers. On Lumia 735 you will also have a keen focus on selfies while you may miss out many other fields which are sacrificed in Nokia Lumia 735. With this focus you will have it in low range with specialty in in some areas.
The powerful front-facing Camera
Among the features that stand the most for the Nokia Lumia 735, is its front facing camera. Microsoft has already cleared that it has made the major focus on the front camera. This front-facing camera of Nokia Lumia 735 is a 5MP sensor which is blessed with double powers in megapixels as compared with most of the smartphone of different ranges. This feature not only gives it certain advantage in its particular field but also can earn sales for it.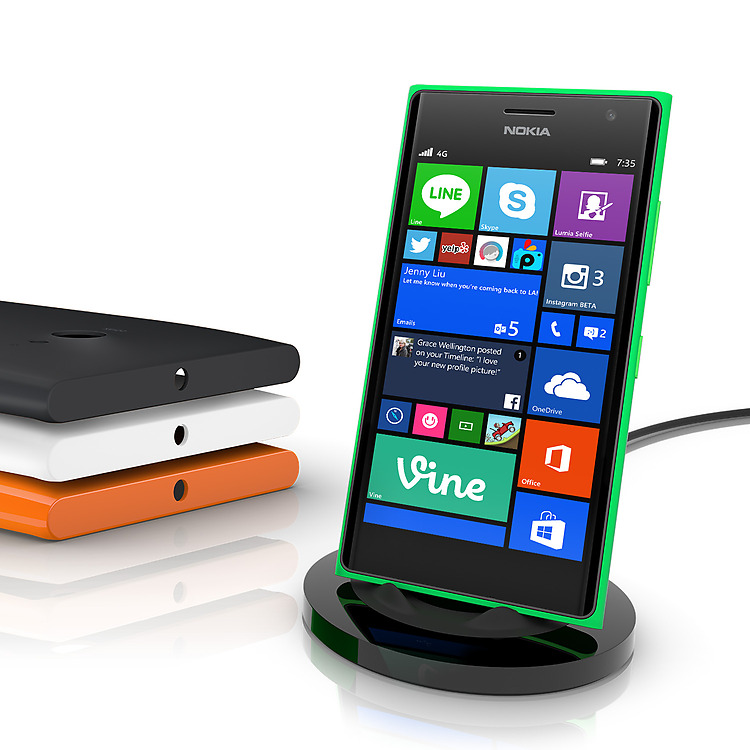 While focused on the front-facing camera the rear is also not ignored. The rear camera on Lumia 735 is a 6.7MP. It is an average megapixel for a rear camera but considering its range this sounds well. It also has the advantage of Carl Zeiss lens and single LED flash. This makes it a great smartphone for selfies and a good for the rear pictures.
The selfie feature is not limited to the 5MP camera but also there is a specific app to assist you capturing quality selfies. This selfie app called the Lumia Selfie app can make your selfies perfect with good editing tools. It enables you to apply different photo filters and frames on your selfies. More than this you can also share the perfect selfies captured from its 5MP camera.
For this purpose you can take advantage of its super speed 4G connection which is another value added feature of Lumia 735. Thus, on your Lumia you can just capture impressive selfies and easily share them on any social platform.
Display and Design
You can view the results of its super selfie camera and the impressive specs on its HD screen. The screen of Nokia Lumia 735 is made 4.7-inch in size with HD display. This screen size is not too big that could take it to next level. However, taking into consideration its range, it is acceptable by the customers with this screen size which is average but impressive in its result.
The display on Lumia is 735 is 720 x 1280 in resolution which will give you a pixel density of 312ppi. Again, its resolution and screen depth might not impress you if you are going to compare it with the screen champs of its range but its display results will surely not disappoint you.
With its impressive resolution you will also find the color brightness of Nokia Lumia series on it. For instance, you will find a good experience of Nokia colors along with a clean touch of Nokia Lumia series.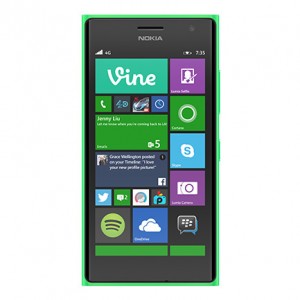 The colorful impression of Lumia 735 is not limited to its display but you will also have a colorful exterior of Nokia in it. Nokia has been very friendly in the use of colors as we have seen a beautiful selection of colors in its Lumia smartphone. With this it gives its customers the option to pick their desired model in the color of their own choice.
So, with Nokia you are not bound to be limited in color selection. On the Lumia 735 you will have this plus point of Nokia Lumia series. You can have your Nokia Lumia 735 in a bright green or white or black finish if you like it or simply chose another to suite your choice.
It is colorful but you will not have all these colors on a metallic body. Rather it prefers the colorful plastic material for its exterior. It may sound to lesser its value but considering its range the plastic made body on it is not surprising.
You will still have the bright and colorful feel of Lumia on this plastic body. Apart from the convenience in its looks the plastic exterior is too much prone to get messy. It seems to pick dirt as easily as you have to wipe off its dark smudges continually if you want it to always be in a shiny look.
Its design with curved frame and well-arranged buttons is made comfortable to hold in the hand. Its beautifully curved frame is 134.7 x 68.5 x 8.9mm which easily fits in the hand with a comfortable feeling. On its body you will have all the necessary buttons conveniently placed that can make its use easier. For instance, you can find its volume rocker on right hand side along with the single button for power and lock screen. On its right these buttons are the only articles placed which make it easier to hold and use these button more conveniently.
It is this ease of operation that you will not find too many buttons in the Lumia 735. Like button the ports on the Lumia 735 are also well placed on top and bottom which not only make it easy to use but also enhance the beauty of the design of your Lumia.
On its top there is the standard 3.5mm headphone port situated in the middle. Similarly on the middle of its bottom there is the mirosUSB port which you can use for charging and connecting to your PC.
This seems to be a good design idea to place the port for headphone and microUSB at opposite places i.e. one on top and other separate ports on bottom. This not only separates them but also give your phone a stylish look. Apart from these there is no external easy access to its nanoSIM and microSD slots. Both slots are placed behind the 2220mAh battery of your Lumia 735. To access you SIM and miroSD card you have to remove the back plate and battery. This feature however, looks irksome as most of the smartphone today don't requires the pull down of back cover or at least the battery for the removal of SIM and microSD card.
Specifications, Storage and Performance
Read More : Full Specifications of Nokia Lumia 735
Apart from these excellences, Nokia Lumia 735 faces tough competition form the other budget smartphones. Considering its internal specs and other key features we might find it below many other competitors but still these specs are much impressive when comparing to its prices.
Nokia Lumia 735 comes with the processing power of 1.2GHz quad-core Snapdragon 400 SoC. This processing power backed by 1GB RAM and Adreno 305 GPU makes it a valued smartphone which can run most of the features a competing phone usually has.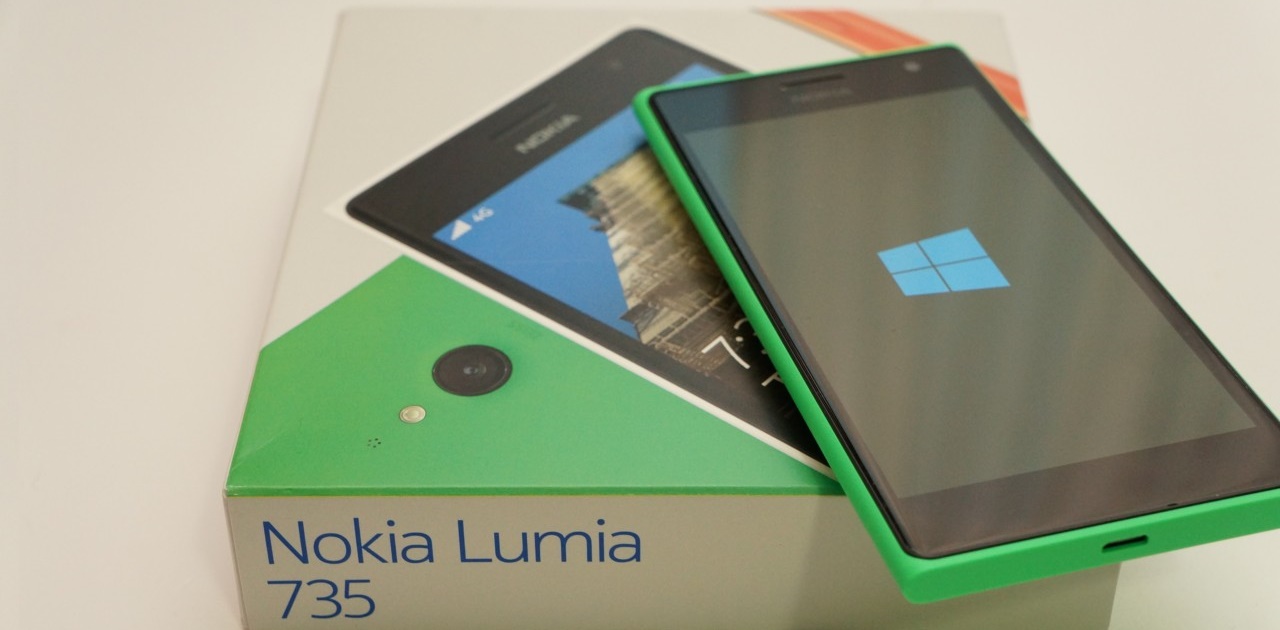 These specs of Lumia 735 come with enough internal storage capacity and optional external storage. The internal storage of Lumia 735 is kept up to 8GB which sounds good. This sufficient storage is also backed by many other storage options that make it a truly powerful smartphone in terms of storage. This enough internal storage is boosted with 15GB cloud storage of Microsoft's One Drive and microSD card option where you can add up to 128GB of storage.
With these magnificent storage options Microsoft made it a limitless smartphone where you will never be short of storage. It is good to back-up your files on your Microsoft cloud storage or save files on your microSD card. Keeping all other things on external storage, you can better use its internal storage to save apps and games on it.
As mentioned earlier Nokia Lumia 735 has focused on its particular field therefore, you can notice some low results in its performance. These comparatively low power specs might be disappointing in its operation. Although you will be bit surprised seeing that the Lumia 735 is equipped with quad-core CPU while the older versions of Windows Phone were optimized to run on the dual-core CPU.
You can experience this lack of sufficient processing power in the halts and slow down of various functions including its key features, the Skype call. It results in slow loading of features specially the notification bar or the Action Center as Microsoft names it. However, this is not only because of lower processing powers as Windows itself pushes the Skype and other features and apps to background to save battery. You have to reload them manually, each time.
Interface
As Microsoft itself claimed for its Nokia Lumia 735 that it is going to be the first smartphone that is specially designed for selfies and skype video calls, we can expect it to miss out many other functions. But it is not in the field of its Operating system. The OS of Nokia Lumia 735 is the Windows Phone 8.1. The power of Windows Phone 8.1 is also among the key value added features Lumia 735 has.


With Windows Phone OS you will have the best experience of Skype which is also one of the key features of Lumia 735. You may have experienced Skype on many other platforms but using it on this OS will surely give you a different experience. It also sounds a little odd as Microsoft used a build in app as its main feature while it is already incorporated with most of smartphones. However, on Lumia 735 you will have the advantage of the powerful and specialized camera for Skype call which is not there on other smartphones.
If you have been using Android platform then the unique and different live tile Interface of Window Phone OS might confuse you. But if you have already used Windows 8.1 on your PC then you will not face this confusion as the Windows Phone 8.1 OS will have the familiar look of the PC version of Windows 8.1, as you have a similar tiled User Interface as it is there on your PC.
Another key point of Windows Phone is the option to set background of the live tiles. It works similarly like the desktop where you set the desktop image to appear on the background of the selected tiles. However, you can only set backgrounds for particular app tiles which come in block colors as other don't allows much customization.
Prices
Its features and specs are well-set to stand on a lower price range with attractive offers to its potential buyers. To make it a low-end smartphone, the prices of Nokia Lumia 735 are set at US $21 which is equivalent to the UK £13 and AUS $24 pm for 2 years contract. It is also available from US$259 to US$291 which equals £160 to £180 and AU$294 to AU$331 without contract.


These prices place the Nokia Lumia 735 against the champs of low end market like the HTC Desire 610, Sony Xperia Z1 Compact, Samsung's Galaxy S4 Mini and the Moto G 4G. These however, reflects the lower end of the market in the range and features but with Lumia 735, Nokia has conveyed the message to the market that it has something that can add value to its new smartphones and make it distinguished.
Battery life
The Battery life is one of the key things to decide the final value of the smartphones. The specialized features, big screen with lights and good brightness, camera and high end apps all needs extra amount of battery in their persistence functioning. Nokia Lumia 735 is powered with a 2220mAh battery to run its features uninterruptedly. It is also removable and replaceable therefore you can have an extra battery for it or simply replace it in case of malfunctioning.
The Lumia 735 is also well optimized to function with this battery power. If you are going to use your Lumia 735 with light operations like an average use of Skype and Facebook and a little gaming in break time then this battery is able to run you Lumia 735 for two days.
Conclusion
The new Nokia Lumia 735 is a phone for selfie lovers. Either you hate it or love it but this trend has taken the market and you can easily find other likely smartphones as well in the market. With 5MP front camera it is best option for selfie fans and the powerful battery makes it more robust. Similarly the 4G enabled Lumia 735 helps you stay connecte with your social circle always.
Other than the camera, battery and prices rest of the features of Microsoft-Nokia Lumia 735 are not impressive at all and you are going to disappoint if you are a selfie hater.
MobileSiri.com is a participant in the Amazon Services LLC Associates Program, an affiliate advertising program designed to provide a means for sites to earn advertising fees by advertising and linking to Amazon.com. Read about our Affiliates Disclosure Policy
here
. Amazon and the Amazon logo are trademarks of Amazon.com, Inc. or its affiliates.