While the launch event of Nokia N1, the Android powered tablet by Nokia, went undergo yesterday in China, people have started comparison among the multiple tablets available in the market. When the initial specifications of Nokia N1 were released, it was said it is an iPad Mini 3 with Android OS, but the latest comparison by AnTuTu Benchmark site, shows that Nokia N1 is far ahead in the competition with iPad Mini 3 and other different high specs tablets.
According to the tests run by AnTuTu, Nokia N1 scored 45,121 points in terms of CPU as compared to 28,446 points by iPad Mini 3 and 15,899 by Samsung's Android tablet. Similarly, when talking of Image Processing efficiency, Nokia N1 scored 12,623 as compared to 10,102 points by iPad Mini 3 and 3,190 by Samsung powered Android tablet.
The other benchmark GFXBench shows the similar results! Although the points margin is not bigger this time but the Android Lollipop powered Nokia N1 tablet is still a winner. The three tests shown below clearly show how Nokia N1 is ahead in the game of speed and power.
Taking a look at Specifications of the Nokia N1 tablet, we see there is a lot common in Apple's iPad Mini 3 and Nokia N1. The Gorilla Glass 3 is there to protect the screen which has zero air-gap as well. It has 64 bit Intel Atom processor having 2.3 GHz clock speed. In terms of storage and memory you get 2 GB of RAM and 32 GB of storage.
The New Nokia N1 tablet is equipped with Bluetooth 4.0 and Wi-Fi 802.11 at 5GHz and MIMO antennas. There is 8-megapixel rear camera with auto focus feature and a front camera of 5 MP. It is equipped with 0.5W stereo speakers as well. You can find the detailed specifications of Nokia N1 in the below image.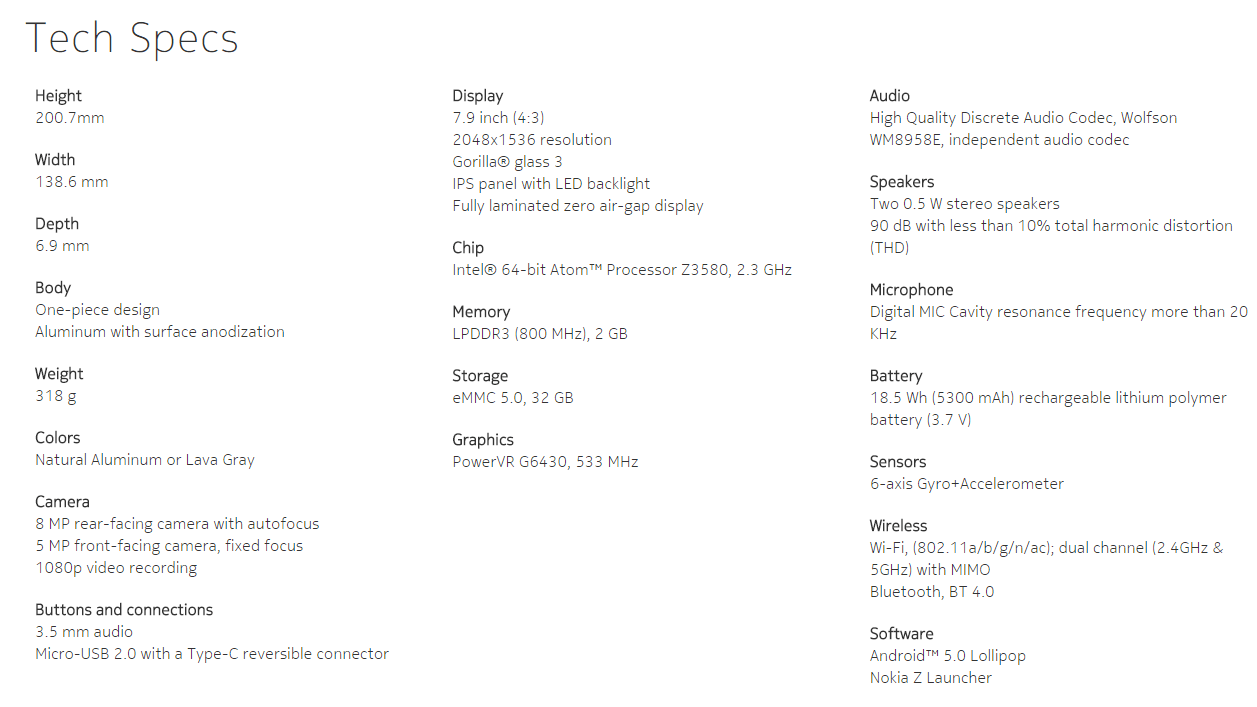 MobileSiri.com is a participant in the Amazon Services LLC Associates Program, an affiliate advertising program designed to provide a means for sites to earn advertising fees by advertising and linking to Amazon.com. Read about our Affiliates Disclosure Policy
here
. Amazon and the Amazon logo are trademarks of Amazon.com, Inc. or its affiliates.