Introduction To Rooting
Samsung Galaxy Note 5 launched as a better and enhanced version of our good old Samsung Galaxy Note 4. The Galaxy Note 5 comes with a stylus pen that enable users to take notes and perform other similar operations on their phone like the predecessors.
But simply using a Galaxy Note 5 is not enough to call yourself a Note 5 power user, unless you have gained root privileges.
Rooting your Galaxy Note 5 can also give you access to the restricted parts of your phone. This can be helpful in downloading the apps you cannot download normally. You can even download the other Operating Systems by rooting your phone. Isn't that simply great?
The Rooting Risks and Benefits
The rooting process for the Samsung Galaxy Note 5 running Android OS is not very complex. You can easily get the root done if you follow the procedure, wisely. One thing that should be known before starting the root process is that you will never be able to repair your phone by giving it to the official Samsung technicians. Your phone warranty will also become void after rooting the device. The benefits have their own setbacks too! So, take your time before rooting the phone and make a wise decision, suitable to you.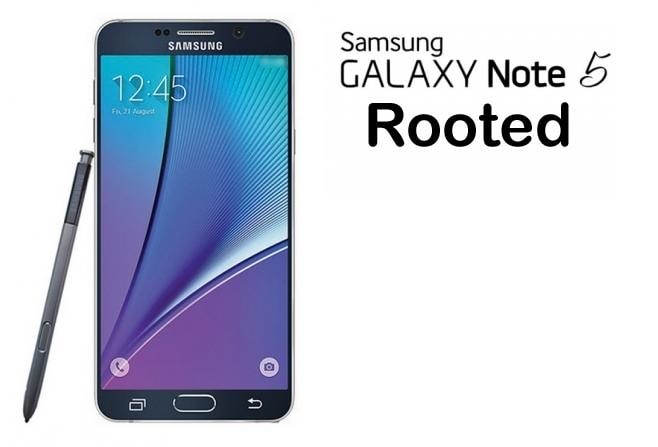 One should already assume that rooting a Galaxy Note 5 is an extremely risky task. This should not be tried by inexperienced people and should be well researched before doing something on your own. Otherwise, you will be responsible for the loss of your phone.
Rooting lets you take a better control over your phone. The ability to customize the ringtones, wallpapers and icon packs is possible with root permissions; as it is the most powerful thing you can do to your phone. The battery will not give you a hard time anymore, after rooting, and launching apps, sending messages etc will become automated. Unwanted advertising will be blocked after rooting and full backups will be possible as well.
Things to take care of Before Rooting your Galaxy Note 5
Extra Battery: Before starting your root process for the Samsung Galaxy Note 5, you should get an extra battery in case the existing battery is not enough.
Android Version: For rooting your Note 5, you will need the Android 5.1.1 version. Here are the steps you can follow to find that out.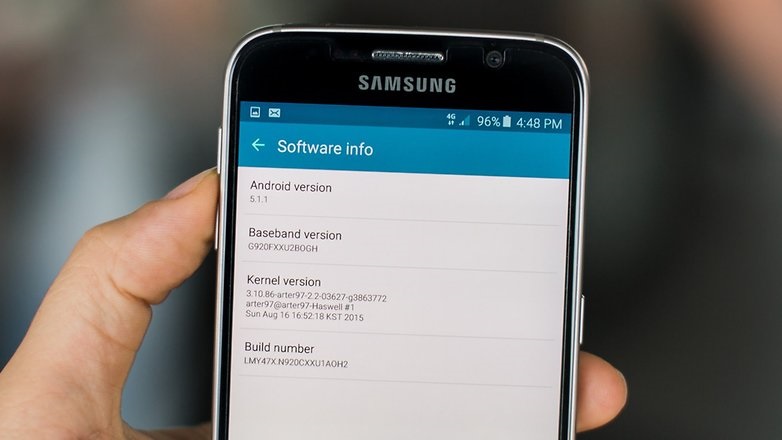 To do that you can go to Settings>About Device , check to see if Android 5.1.1 version is listed or not.
Please discontinue any further steps if the version on your phone is not Android 5.1.1. If the version is alright, then go ahead and root the phone by following these steps. You will need a USB cable and a Computer with Windows OS, preferably Windows 8.1. Do not follow this tutorial if you are using an Apple computer or Mac.
Backup Your Phone: Before continuing with the actual root process, make sure to backup your personal data. Samsung Kies or any similar application can be used to perform a secure backup. In case you don't back the info, then we will not be responsible for any loss.
Charge The Phone: If the battery finishes during the root process, the phone may not recover from this damage. Therefore make sure to charge your phone to 100% before rooting.
Download Samsung USB Drivers: Installing the drivers for USB is a a pre-requisite for rooting your phone. Samsung Kies will also handle this job for you, very well.
Enable USB Debugging: In the root process, the phone will need to be altered through the USB cord. Therefore enabling USB debugging is a pre-requisite to rooting. This can be done by these simple steps:
Go to Settings > More > About Device. Now search for the Build Number of the phone.
You need to tap it 7 or 8 times to get into the developer's mode so you can be granted access to be a developer. Now if you go back to Settings> More, you will be able to see Developer Options. Just turn the off button to On in the Developer Options in the "Enable OEM unlock".
Your boot-loader is now unlocked as well.
Confirm the Phone's Model Number: Determining the model number of your phone is pretty straight forward. You can follow the steps below to discover:
Go to Settings > More > About Device. The model number of your device will be visible here.
Make sure that your model number is not different from one of these numbers provided below.
---
SM-N920C, SM-N920CD, SM-N9200, SM-N920I, SM-N9208, SM-N920P, SM-N920T
---
Put the Phone Into Download Mode: Now the time has come to start the rooting on your phone. First, turn the phone off and hold down three buttons (Power, Volume and Home Button) down at the same time. When you see the warning screen, the downloading will start.
If followed and completed the steps mentioned above, we would recommend you to move forward and start rooting your Galaxy Note 5 already. How to do it ? Its all here.
Run Odin and Start Rooting
Odin is a software we are using in this tutorial to root the phone. By now your should have Odin downloaded. We will not cover how to download Odin in this tutorial. Lets get started with our rooting process.
Open your Odin application. Your phone should be plugged into this application and should be detected under 0:[COM4].
Now click the PDA button to load the Kernel for the root function. After opening the file, click start button. When you see a green "pass" button after a little while, be sure that the rooting is completed.
Download SuperSU
Congratulations ! You have successfully rooted your Samsung Galaxy Note 5 now. You can use the phone more powerfully than ever, but before that, download SuperSU and make sure that your phone asks you before downloading the restricted apps on it. Enjoy your rooted Samsung Galaxy Note 5!
MobileSiri.com is a participant in the Amazon Services LLC Associates Program, an affiliate advertising program designed to provide a means for sites to earn advertising fees by advertising and linking to Amazon.com. Read about our Affiliates Disclosure Policy
here
. Amazon and the Amazon logo are trademarks of Amazon.com, Inc. or its affiliates.