The Apple iOS 10 allows users to view two Safari windows side-by-side on the iPad through a feature called Safari split view. The feature is similar to the standard Split View between separate apps, but there are some crucial differences to consider as well. Here we will show you how to use Safari split view on your Apple iPad, and highlight some of its best features.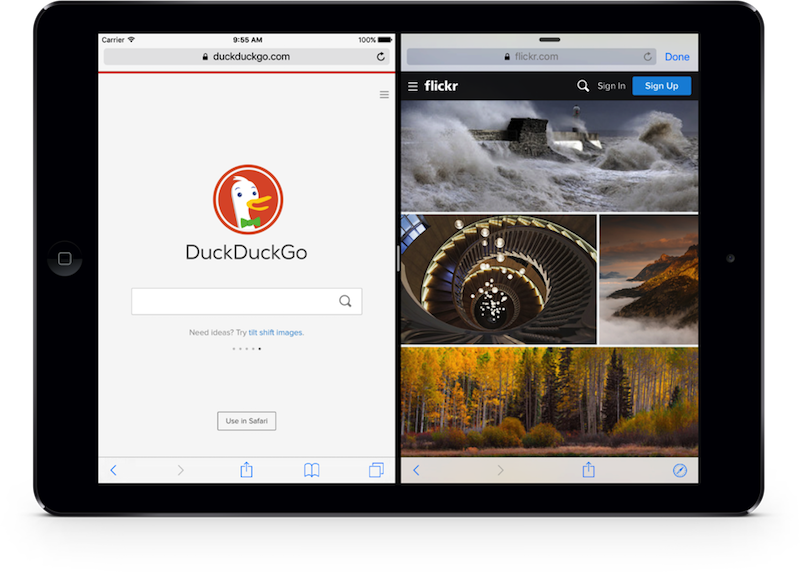 How to use Safari Split View in Apple iPad:
Step 1: Hold your Apple iPad in landscape mode.
Step 2: Open the Safari app on your iPad.
Step 3: Use one of the following steps to activate Safari Split View.
Tap and hold on any link and then select Open in Split View.
Use the Command+N  keyboard shortcut to open the Split View.
Drag a tab to the right or the left side of the iPad screen.
Tap and hold the tab button and then select Open Split View.
While you are using Split View, each Safari window will contain its own address bar, interface, bookmark and share buttons, etc. Using Safari Split View is basically like running two separate apps side by side. One notable difference between Safari split-view and the standard split view is that you cannot change the ratio of the Safari windows. Each window will occupy fixed half of the screen.
However, you can move tabs between windows by dragging a tab from one side to the other. When doing so, the tab retains its place in history, allowing you to use forward and back buttons accordingly. Once Split View is engaged, you can also open links in the adjacent browser window. To do so, simply tap and hold any link and select the Open on Other Side option.
To merge all of the tabs in both windows long press the tab button and tap Merge all Tabs. Tabs can only be moved from one window to the other if both windows have the same status, meaning you can move a tab between two private windows or two regular windows only.
If you close the Safari app or even force close it, Safari will remember where you left off, and re-engage Split View automatically along with all open tabs.
A complete walkthrough of the Safari split view is explained in the video by 9to5Mac below.
MobileSiri.com is a participant in the Amazon Services LLC Associates Program, an affiliate advertising program designed to provide a means for sites to earn advertising fees by advertising and linking to Amazon.com. Read about our Affiliates Disclosure Policy
here
. Amazon and the Amazon logo are trademarks of Amazon.com, Inc. or its affiliates.