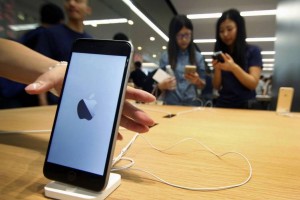 Apple shares are facing a slight decline for some time now. We have been seeing the decline for some weeks now. However, another analyst has just lost hope for the increase in sales and has his concerns over the decline of the iPhone sales. Pacific Crest Securities analyst Andy Hargreaves Sunday lowered his 12-month price target to $127 from $132. Soon after, the Cupertino's sales went down 1% to $101.94.
Mr Hargreaves has stated that "soft demand" is what inspired him for this move. He also stated that though he continues to have an "overweight" rating on shares.
The news that the demands are falling is not shocking yet. Many major analysts have already predicted that the sales of the iPhones will decline for the first time ever in this fiscal year. The general consensus is that the decline has started and will shoot to above.
Mr. Hargreaves cut his revenue estimate to $50 billion from $51.3 billion for the current period. The famous analyst even trimmed his reports for the sales of the iPhone for the present quarter. He is now expecting 47.5 million units to be sold, versus his earlier estimate of 49 million.
Apple analysts surveyed by FactSet project 50 million units were sold in the current quarter (which is Apple's fiscal second quarter). The analyst noted that;
"While not much appears to have changed since mid-January, our demand and supply checks seem more consistent with sales volume at the low end of Apple's guided range."
Tim Cook, Chief Executive, in Apple's latest earnings call at the end of January stated that he anticipated iPhone units sold would decline in the current period because of tough comparables from the year-ago quarter. He also said that some of the company's first-quarter demand last year was pushed into its second quarter due to supply constraints and that the macroeconomic backdrop is different now than it was a year ago. These are the main reasons affecting the sales, negatively.
Apple's revenue for the iPhone is 68% for the fiscal first quarter. Mr. Hargreaves, unlike the other analyst, also stated that the upcoming iPhone 7 will be a breath of fresh air for the sales of the company.
"We continue to recommend owning [Apple] as we believe the combination of an attractive valuation, high customer stickiness and the likelihood for strong growth in the iPhone 7 cycle make [Apple] attractive at current levels."
Apple's stock has revived subsequent around February, alongside a change in the wide market. Apple relies upon to reveal new products in the coming two weeks.
MobileSiri.com is a participant in the Amazon Services LLC Associates Program, an affiliate advertising program designed to provide a means for sites to earn advertising fees by advertising and linking to Amazon.com. Read about our Affiliates Disclosure Policy
here
. Amazon and the Amazon logo are trademarks of Amazon.com, Inc. or its affiliates.