Carrying around a key chain in an era of smart homes is a thing of the past. Especially, when there is a smart lock, deadbolt, and ring keyless door lock as well as electronic locks to choose from and via which you can enter your home with a push of a button. Smart locks that work with the Ring are more useful for people who integrate ring doorbells for their home security.
Ring compatible door lock replaces your door deadbolt to do much more than simply lock and unlock the door without a key. They allow you to receive alerts, track who is entering and leaving your home, email limited access digital keys, and remotely lock and unlock in your absence. The idea of a smart lock is that you can lock and unlock without a key along with monitoring and controlling remotely is way too appealing.
Here we have reviewed some of the best smart locks that work with Ring and Alexa that will give you the best security.
Does Ring work with smart locks?
Yes, Ring can integrate with the ring-compatible smart locks via the Ring app. Ring app allows you to connect your lock easily with your Ring doorbell. Ring app will notify you on your mobile in case of any activity at your door lock.
What smart locks are compatible with ring doorbells?
Yale Assure lock SL, Schlage encode deadbolt and Kwiskit Halo deadbolts are some of the best locks compatible with Ring
Can I unlock my door with a Ring?
Interestingly, In case of the arrival of any of your guests or package delivery, you can unlock the door remotely via the Ring App
How do Keyless door locks work?
Keyless door locks come with a touch screen Touchpad where you can unlock the door without keys. Keyless door locks allow the user to enter the pre-set code to unlock the door. You can lock or unlock the door with your phone remotely by adding the App on your smartphone.
Most of the best smart locks and deadbolts come with one or more means of entry, such as Bluetooth, biometric, wifi, RFID (Radio Frequency Identification), or keypad.
Smart locks that work with Ring
---
If you are looking for a Ring compatible door lock, Here is a list of smart locks that work with Ring
Yale Assure lock with z-wave
Kwikset-Kevo 2nd Gen
Yale Assure lock SL
SCHLAGE Connect Smart Deadbolt
Yale B1 Lock with Keypad and deadbolt
---
Ring keyless door lock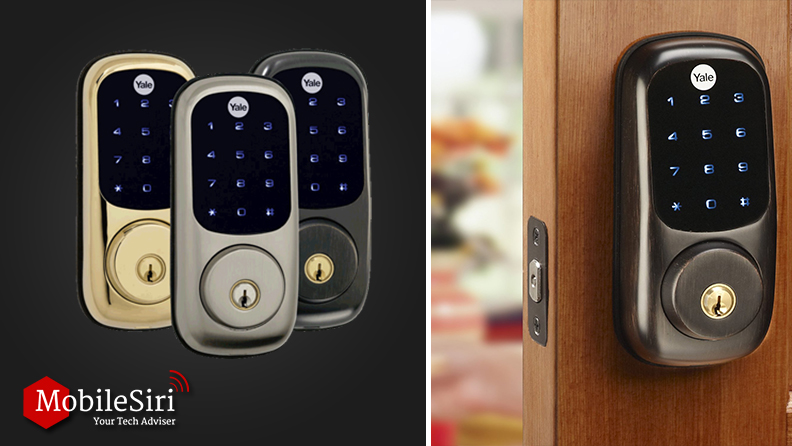 Yale Assure smart lock is one of the best smart locks that work with the Ring and Alexa and the best smart deadbolt for Ring. It features backlit keypad controls and home automation integration. It comes with a Z-wave radio module that connects the lock to common home automation systems. The lock has excellent security, convenience, and technical support. Yale Assure Smart lock offers similar protection as most deadbolts. It has an inbuilt siren sound when someone kicks your door.
Besides this, Yale Assure is a Ring keyless door lock that has a built-in touchscreen keypad so you can unlock or lock your door without a key. You can program guest codes and send them through email or text messages. It has a traditional keyhole so you can use the physical key.
Also, the smart lock has an auto-lock feature that engages the deadbolt 30 seconds after it has been unlocked. Moreover, it has remote access, enhanced guest access, mobile app functionality, and video doorbell compatibility. The automation system tracks the lock's activity as well.
Pros
Yale Assure Lock Z-Wave Deadbolt connects the lock to the home automation system.
It features a built-in touch keypad.
It has an auto-lock feature.
Cons
Many of the smart lock features work only with the home automation system.

---
Ring compatible door lock
The Keyless entry smart lock is the best z-wave door lock that works with Ring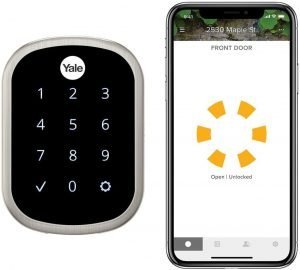 Yale is one of the best ring-compatible door locks that can also be controlled remotely by z-wave technology. Assure SL lock is a Ring keyless door lock that comes with a touchscreen keypad, you don't need keys for locks just an integrated code that helps you to unlock or lock the door and can set it to auto-lock or unlock. It offers remote access to lock through your mobile via the Yale app. You can operate it with voice assistants like Alexa, Google Assistant, and Siri. Additionally, you can track activities through the Yale Access app with a WiFi connection.
Pros
Yale Assure lock SL is the best smart deadbolt for ring

Ring compatible door lock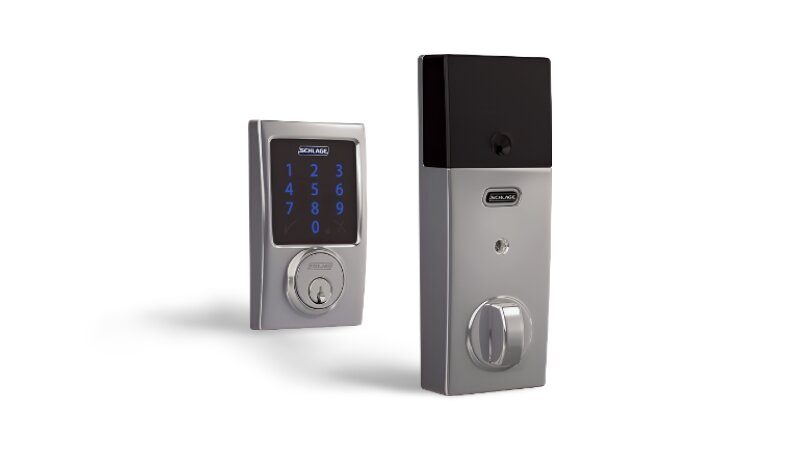 Schlage Connect is the ring smart door lock that works with Ring and Alexa. The Ring-compatible door lock has built-in Alarm technology that beeps when someone opens or shuts the door, or tries to tamper the door lock. The Schlage Connect is a Ring keyless door lock integrated with Z wave and lets you control your door lock from anywhere.
Moreover, it can pair with security systems like Samsung smartThing and Ring Alarm to make your life easy and convenient allowing you to lock or unlock your door from anywhere. The Schlage Connect is compatible with Google Assistant, Wink, and NEXIA as well.
Pros
Easy Installation
The fingerprint-resistant touchscreen lets you share 30 access codes
The Ring door lock keypad is a backlight that provides help to see at night
Schlage Connect is the ring-compatible door locks

---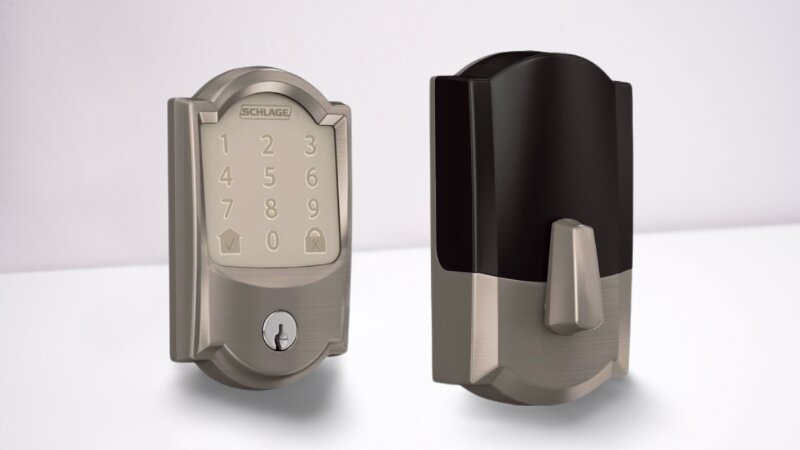 The Schlage Encode is the best Ring keyless door lock. The most prominent feature of the Schlage Encode smart deadbolt is compatible with the Ring App. It works remotely with your phone through Wifi, just install the Schlage Home app. No need to worry about handling keys just enter the PIN code you have set and unlock the door.
Moreover, the Schlage-encoded smart Wi-Fi deadbolt needs 4 AA replaceable batteries. It also supports 100 user codes more than any other lock. You can integrate your lock with the Ring app and Ring video doorbell to lock and unlock the door. The Schlage encode lock has a built-in Alarm.
Pros
No more accessories or Hubs are required to connect the lock
Easily connect to your Home Wi-Fi network
It features a low battery indicator
No hard wiring required

---
Ring-compatible door lock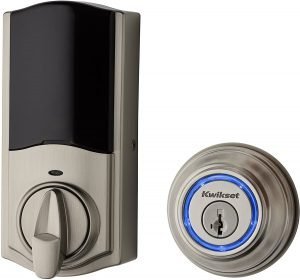 Kwikset Kevo is a smart lock that works with Ring and has different keys for different people and even for visitors during specific hours. Well if you didn't know of it, this one's interesting for you surely.
Kwikset Kevoo Smart Lock comes in a unique design. The smart lock is great in design, technical support, and control. It has excellent security and convenience features. The Kwikset app makes the lock much easier to use. It features two eKeys that you put on your phone or give to your family members for access. Also, you can send unlimited Guest eKeys that expire within 24 hours duration.
One of the convenient features of Kevo is the touch to open. It scans your phone or key thus allowing you to touch the lock and activate it. You can also rekey the lock by using the innovative key tool. The tool lets you switch compatible keys without even visiting a locksmith. The smart lock works most effectively with a smartphone. Kevo is among the best smart door locks that work with Ring and Alexa, as well as Honeywell home automation platforms.
Moreover, it offers FAQs and video tutorial support resources. As a whole, the digital lock is a good choice for its unique handiness features.
Pros
1 Kwikset Kevo Smart Lock has excellent customer support and quality design.
2 It offers various convenience features.
3 Kwikset Kevo is compatible with Ring video doorbells, Honeywell home automation platforms, and Nest.
Cons
4 It doesn't have an auto-lock feature

---
Homekit smart lock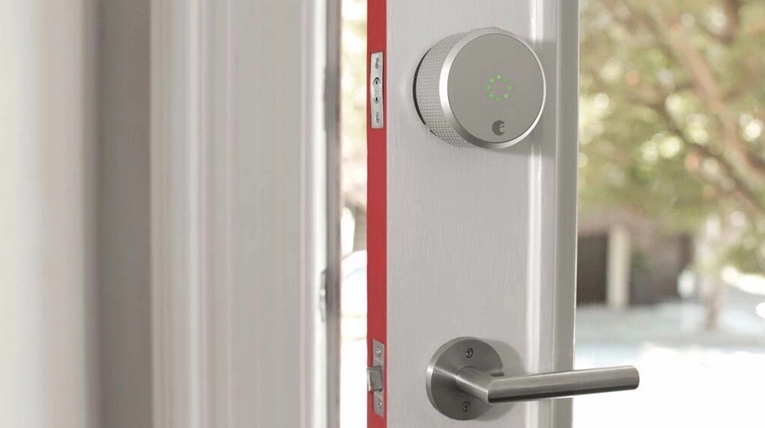 Smart things come with smart specifications and some outstanding features to keep your security tight! And we have just the thing for you.
August Home Pro Smart Lock Homekit has a minimalistic and clean design. It comes in silver, dark grey, red, and champagne colors. The smart lock offers some additional components such as a doorbell cam, wireless keypad, and August connect that act as a bridge between the lock and Wi-Fi network. The lock is easy to install as compared to other smart locks because the installation is required only on the interior part of the door. Also, several mounting plates and color-coded adapters will make installation much easier for you.
Does August lock work with Ring?
You can integrate the August smart pro lock with the Nest, Wink, Smart Things, Logitech, Ring security system, and Z-wave.
It is compatible with both Android and Apple phones, therefore simply go to the store and download the free August smart lock app. In addition to that, you can access the smart lock using Bluetooth within 15 feet. Once you open the app, you will see a big red circle. It will turn green and unlock the door if Bluetooth is in range. Coming towards functionality, the smart lock is very versatile.
Interesting Feature
Another interesting feature is the Auto-Unlock which will lock the door automatically while you are 100 yards away. Besides this, the Ever lock feature will automatically lock the door within 30 seconds after the door is opened or closed. You can also set schedule time limits for certain keys or assign guests access to the lock through your smartphone. Overall, the August smart lock comes with ease of installation, extra security features, and remote access features, securing its position as one of the best smart locks on the list.
Pros
1 The August smart lock features unlimited virtual keys.
2 It effectively works with Nest and HomeKit.
3 It comes with Ever lock, Auto-lock, and other impressive remote access features.
Cons
1 It does not have a built-in alarm.

---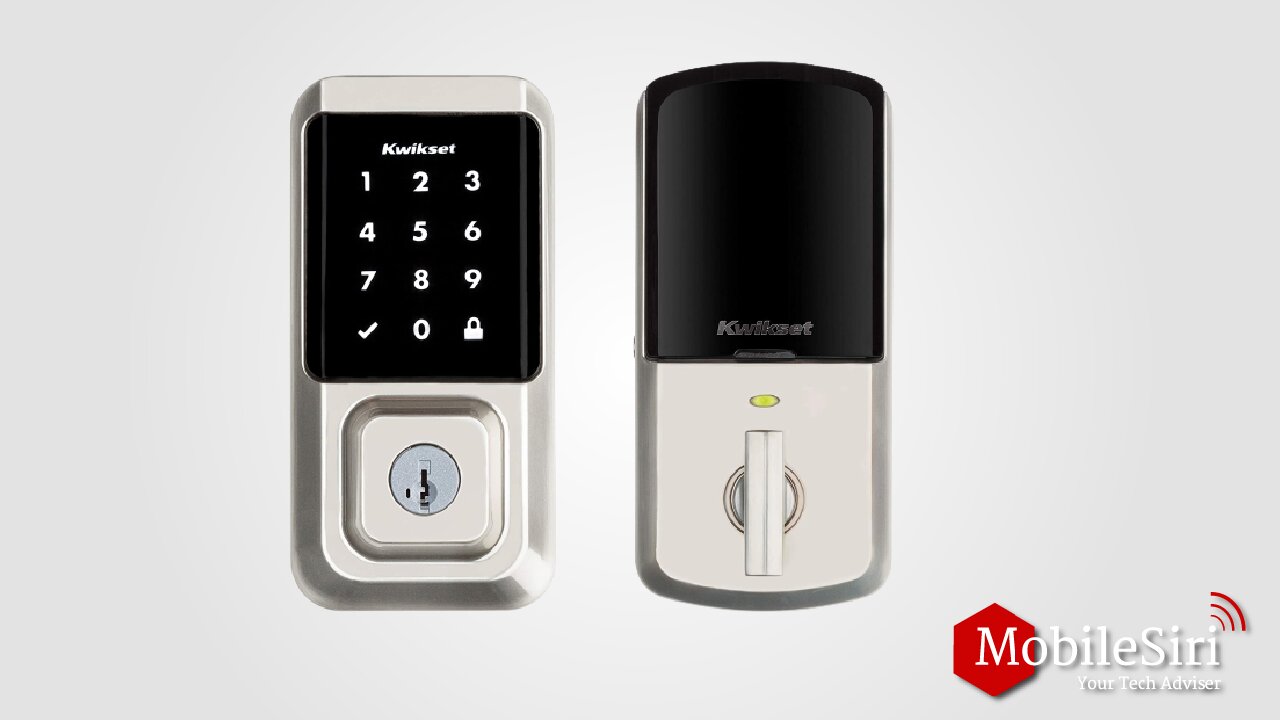 If you are looking for the best smart deadbolt for Google Home that can work remotely through WiFi, without any third-party smart home hub then Kwikset Halo is the best Alexa deadbolt.
Kwikset Halo smart lock features an electronic touchscreen that allows you to lock and unlock with an advanced secure screen and smart key security features. You can also rekey the lock by using the smart key tool in seconds.
Moreover, Kwikset Halo is the best smart lock for Alexa, Google Assistant, and Apple Homekit. The Kwikset app sends you an alert of all-day lock activity.
Is Kwikset Halo compatible with Ring?
Yes, it works well! As Kwikset Halo works with Alexa and Ring doorbell works with Alexa. You can see a person on your Smartphone or have Alexa show you who is at the door. You can ask Alexa to unlock the door by providing a PIN or security code.
Moreover, it works with the Ring App as well.

---
Everyday advancements in technology, it is making our life much easier than before. These technologies are setting up modern trends. All of these best smart locks for the home, as well as some of the above smart locks that work with Ring, have superlative security, automation, and compatibility. It's not just a trend but safety for your family. It might cost you more than a traditional lock, but for all these impressive features and convenience, your money will pay you off well.
MobileSiri.com is a participant in the Amazon Services LLC Associates Program, an affiliate advertising program designed to provide a means for sites to earn advertising fees by advertising and linking to Amazon.com. Read about our Affiliates Disclosure Policy
here
. Amazon and the Amazon logo are trademarks of Amazon.com, Inc. or its affiliates.