Smart homes need smart thermostats to keep your family at home solace and cozy! Here, we have the Best Alexa enabled smart thermostat that is reliable and saves you money and energy.
Is it worth getting a smart thermostat?
Yes, the best smart thermostat can efficiently save your money and energy on power, keep your home comfortable, and learn your habits and preferences. Smart thermostats are easy to install, highly customizable, and flexible.
This buyer guide has selected the top 17 finest smart thermostats for you, super high tech, remotely controllable, affordable, and come with many programmable options.
I highly recommend you go for one of them. Let's have a look to learn more about their features and specifications.
Keep reading!
Things to keep in mind while buying the Alexa enabled smart thermostat
Compatibility.
Sensors.
Connectivity.
Durability.
---
Alexa Enabled smart thermostat
Alexa Enabled Smart Thermostat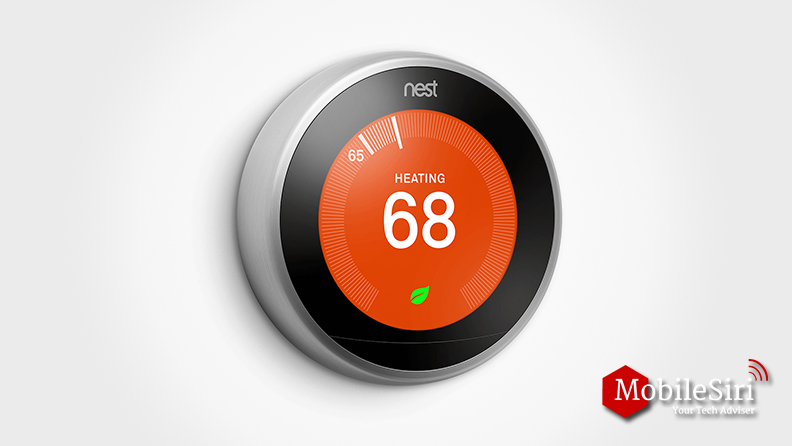 The 3rd generation already signifies the smart thermostat is already upgraded to meet all your requirements and needs to bring about the best, just for you.
Nest Learning Thermostat (3rd generation) features an impressive learning mode, a simple user interface, and compatibility with a variety of smart home products. It acts as an independent and responsive device that effectively controls the comfort of your home. The model is very appealing and comes with a tactile metal ring that glides smoothly, works consistently, and feels nice in your hand. It has a 40% larger and brighter screen than the previous model to display a digital or analog clock, the current temperature, and the current weather forecast.
Here's a bit of detail about the sensors it has to comfort you…..
Nest learning thermostat features Machine Learning Algorithm
Moreover, the device has a built-in occupancy sensor that senses your presence and absence and creates a schedule accordingly. It also uses machine learning algorithms to model thermodynamics and learns how quickly your home cools or gets warmed and how your system performs. Besides, it has some additional features such as cool to dry and airwave that combat hot summers by cooling and reducing humidity. When the AC is turned off, it uses a fan thus saving your energy and money.
The thermostat comes with automatic software updates and offers you family accounts, home/away assistance, and much more. Nest thermostat also offers you an Auto-Away feature to lower the HVAC's energy usage when it senses no one is at home making it another Best Alexa Enabled Smart Thermostat.
Can Google Nest thermostat work with Homekit?
Google Home App and Nest App work with iOS devices 13 version or later.
Smart, right?
Pros
Nest Learning Thermostat (3rd generation) comes with updated software and hardware.
It gives you various display options.
It effectively uses machine learning algorithms.
It supports Geofencing.
It works efficiently with other cooling and heating systems.
Cons
At times, the reported temperature is plus or minus 3 degrees.
---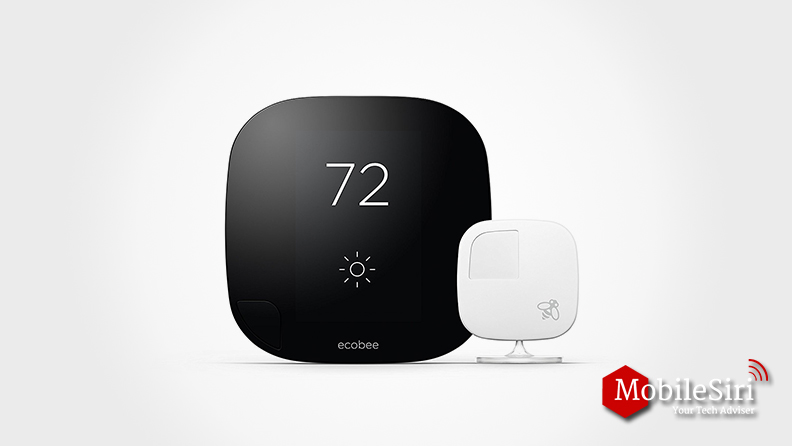 Looking, for an Alexa enabled Smart thermostat that has some outstanding features? Somewhat, that has some more smart sensors than you could ever imagine. Well, here's the deal…
EcoBee smart thermostat boasts various features that keep it standing out from the crowd. It features smart specifications that you can expect from any card-carrying thermostat. The thermostat offers smartphone connectivity, learning software, Wi-Fi, and much more. It is an iPhone-controlled thermostat. The EcoBee smart thermostat comes with remote sensors that can be placed around your home. It enables the device to understand what room you are in and adjust accordingly.
For setup, first, download the Ecobee app from the app store.
Moreover, it has extra hardware, which is cool and makes the system much more accurate. One of the features of the EcoBee 3 is free cooling. It recognizes the temperature difference on cool summer evenings and uses the outside air to cool down your home without the air conditioner. In this way, it saves both power and money.
Additional Features
Ecobee is the best thermostat with humidity control. Ecobee has the ability to detect and adjust humidity.
It identifies the expanse of moisture in the air, takes humidity, and adjusts itself. It can even control indoor humidity to prevent frosting. At times, the thermostat also uses an air conditioner when required.
Cool, isn't it?
Pros
EcoBee 3 is Wi-Fi enabled and offers smartphone connectivity.
It offers many smart features such as Free Cooling.
It comes with learning software and extra hardware.
It offers easy and quick installation.
It saves 26% energy per year on heating and cooling and notifies air quality.

---
Is Nest better than Ecobee?
Although Nest is more budget-friendly than Ecobee. Ecobee has more advanced features than the Nest thermostat as well and Ecobee is the best option in terms of saving energy. You can adjust the temperature swing, and get detailed data on inside and outside temperatures in Ecobee. Ecobee has an easy-to-use touchscreen. Also, Ecobee is compatible with all smart devices, smart things, Apple Homekit, Alexa, and Google Assistant while Nest only works with Alexa and Google Assistant.
---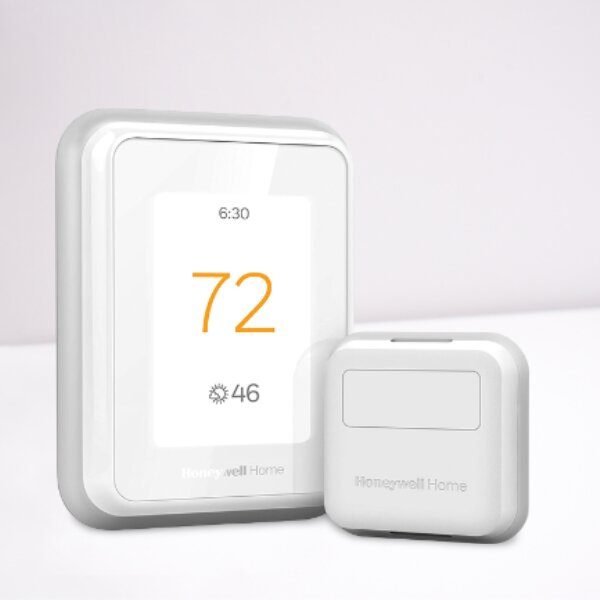 Are you thinking of buying a very efficient and quick-control WiFi iPhone-controlled smart thermostat? Something that you can operate with your gadgets to Windows. Here's what we have got for you then.
Honeywell wi-fi thermostat T9 is the best smart thermostat which is simple and easy to install. It has a sleek and instinctual design with a touch screen to keep you updated. It gives you various fun features such as a comfort boost that speedily brings comfort as soon as you touch the button. Also, it helps you to save energy more efficiently. It effectively controls and manages your home energy anywhere with your smartphone, tablet, or laptop.
It learns how your system is running from a distance and glows a different color based on various modes.
Specification
Moreover, it integrates with IFTTT thus letting you connect with hundreds of products and services and enhance your home-connected experience. The device comes with a smart room sensor and light switch timer that allow automated control of your home heating or cooling.
Moreover, the Honeywell Wi-Fi thermostat Home T9 is a thermostat with humidity control through smart sensors. It works with Apple Homekit, for iOS, Google Assistant, and Android devices and is a complete home energy management solution.
In conclusion, it is smart, efficient, and one of the best smart home thermostats. Pretty right? Aren't we?
Pros
Honeywell Wi-Fi thermostat is easy to set up and use.
It works well to keep your home at the desired temperature.
It saves energy and money due to auto home or away mode scheduling
Honeywell Home T9 comes with a battery-powered room sensor that covers a range of up to 200ft area.
Cons
It does not work with an electric baseboard heat(120-240v).

---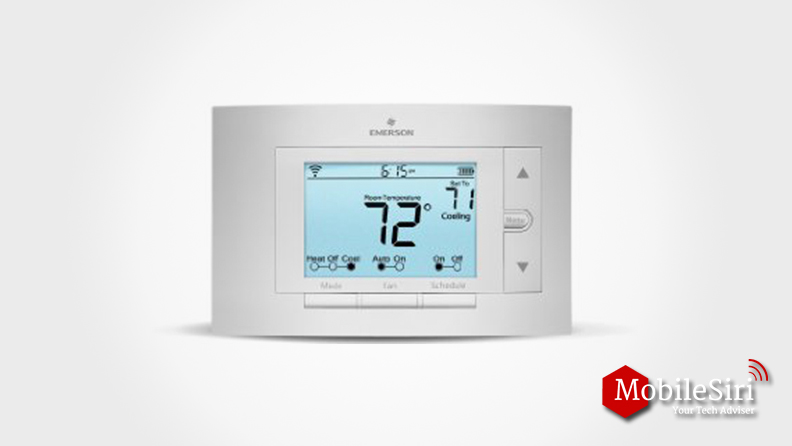 The Emerson Sensi is the best smart thermostat that works with Apple Homekit. It offers you the easiest ways to conserve energy with maximum home comfort qualifying the standards of being the best smart thermostat comparable to any other.
The Wi-Fi programmable thermostat allows you to create custom temperature schedules. While using the app, you can select the days you want to follow a particular schedule and choose temperature and time setpoints.
Also, you can run heat-only or cool-only schedules. The Temperature Offset allows you to change the temperature display to +/- 5 degrees to match your prior thermostat.
Amazing? Feeling pro-customized?
In addition to that, the Sensi mobile app comes with several features and advanced thermostat settings that make it more energy-efficient and protect your HVAC equipment.
One of the interesting features is Early Start which tells your thermostat when to start the cooling or heating system and makes sure that your home is at the right temperature.
AC protection feature:
Moreover, the AC protection feature will delay cooling for some time when the cooling system is turned off to prevent any potential damage. The boost feature will provide you with maximum comfort and quickly activate all the available heating and cooling stages when the temperature is manually changed. Lastly, the cycle rate on the Sensi mobile app regulates how fast your heating or cooling system delivers the setpoint temperature, and you can adjust it as per your requirements.
Pros
Emerson Sensi offers you temperature offset, cycle rates, and boost features.
Emersion Sensi is powered by a battery or C-wire
It is the first Wi-Fi thermostat to meet new energy-aware standards that require plus or minus 1 degree of accuracy in temperature control.
---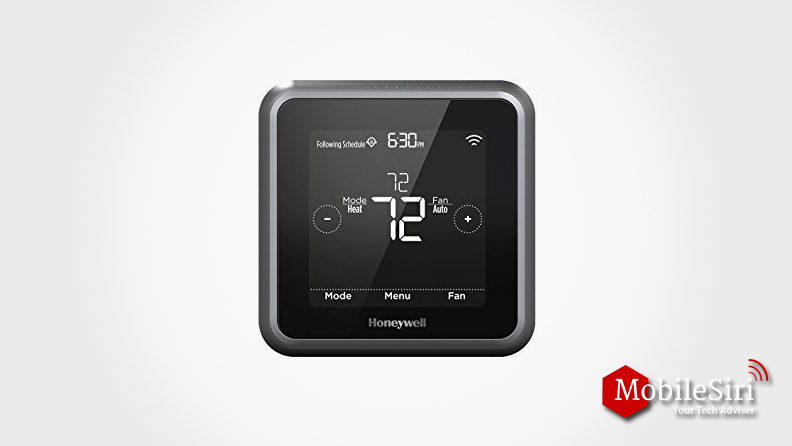 Looking for something cool? Something smarter at a touch to being compatible with your favorite platforms, right? Well, here's what you need then…..
Honeywell Lyric T5 is a reliable smart thermostat that works with Homekit and has a glossy black finish design. It has a grey trim with a touch-sensitive feature. It is accessible through the Lyric App for Android.
Moreover, It is one of the best iPhone-compatible thermostats. The thermostat uses geofencing to set custom Home and Away distances so your phone can make changes automatically. It features an Auto changeover program that decides whether the thermostat should be set to heat or air conditioning.
The device gives you a very smart response since it's one of the high-rated best smart thermostats. It quickly learns your routines and sets heat or AC to the temperature you desire. Moreover, with the smart alert option, you can opt into alerts based on your need to change a filter and extreme temperatures. Finally, you can avail all of the standard features of the Honeywell Lyric T5 smart thermostat at extremely affordable rates.
Pros
Honeywell Lyric T5 is quite affordable.
It helps in saving energy by reducing energy usage
It features efficient learning software.
It adapts your heating and cooling schedules and runs your system automatically accordingly
It integrates with Google Home, IFTTT, Wink, Apple Homekit, and SmartThings.
---
Ecobee3 Lite-best smart thermostat for Homekit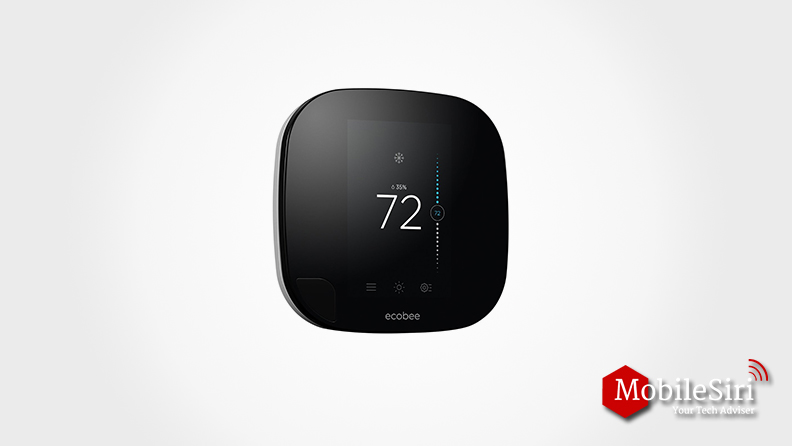 Here we go with another just perfect yet the best Alexa enabled smart thermostat satisfying your comfort standards.
Ecobee3 Lite Smart Thermostat is a Homekit-compatible thermostat. It is the minimum expensive Wi-Fi thermostat that you can find on the market which supports five smart home platforms. The best Wi-Fi thermostat is one of the most appealing-based 7-day programmable smart thermostats. It features a 3.5-inch digital display with a touchscreen interface just like your smartphone. All you need to do is tap on an option to change the temperature, set schedules, and view the current forecast.
The Ecobee3 Lite interface is spontaneous, convenient to circumnavigate, and very alert. The device does not offer a rechargeable battery.
Therefore, a C wire is required to install the included power extender kit or digital display. The installation is easy and does not consume much time. Once your thermostat is installed and powered on, you can set the temperature and program temperature schedule changes.
EcoBee app
The EcoBee app on your Android or iOS device allows remote access to heating or cooling. In this way, you can make adjustments and check the status of your thermostat whenever your phone is connected to Wi-Fi. Also, it effectively works with Alexa and Siri voice control.
Besides this, the preprogrammed temperatures are updated automatically. Overall, the device is responsive and easy to program.
Pros
Ecobee3 Lite Smart Thermostat is iPhone iPhone-controlled thermostat.
It works with five smart home platforms.
It can work with Alexa and Siri voice control.
Cons
It does not give you a remote sensor.
---
Alexa enabled smart thermostat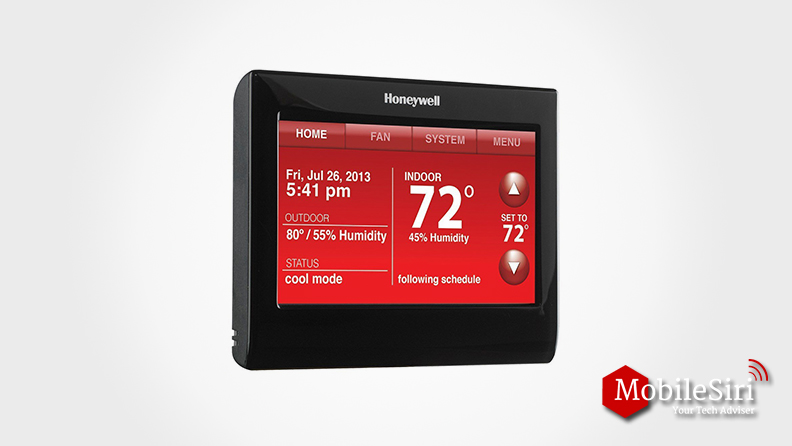 Up to buying something beautiful yet best specifications? Much more customized?
Here's what we have just for you…..
Honeywell Wi-Fi Smart Thermostat features a bright and beautiful screen. It is remarkably flexible and programmable thus allowing you to set it up easily.
Honeywell Wi-Fi Smart Thermostat comes with 7 7-day scheduled program and keeps you well informed about any changes in indoor climate. It comes with an easy-to-read color LCD. Moreover, you can customize the LCD to your taste. It is the thermostat with humidity control.
Display
The screen will show you the indoor temperature, relative humidity, outdoor temperature, and much more. It lets you control the thermostat through the mobile app. The thermostat will learn about your activities over time.
Most importantly, it tells you when you should change the air filter in your furnace for optimum efficiency. Overall, the Honeywell Wi-Fi Smart Thermostat offers you ease of use and setup, a highly customizable schedule, and automatic temperature changes at quite an affordable rate.
Can the Honeywell thermostat connect to Alexa?
Yes, the Honeywell thermostat is compatible with Alexa, Google Assistant, IOS, and Android.
Pros
Honeywell Wi-Fi Smart Thermostat features a bright and beautiful LCD screen.
It keeps you regularly updated about indoor climatic changes.
It has a highly customizable schedule.
It offers precise automatic temperature change features.
Cons
The installation will depend on your experience with wires and the types of heating and cooling systems you have.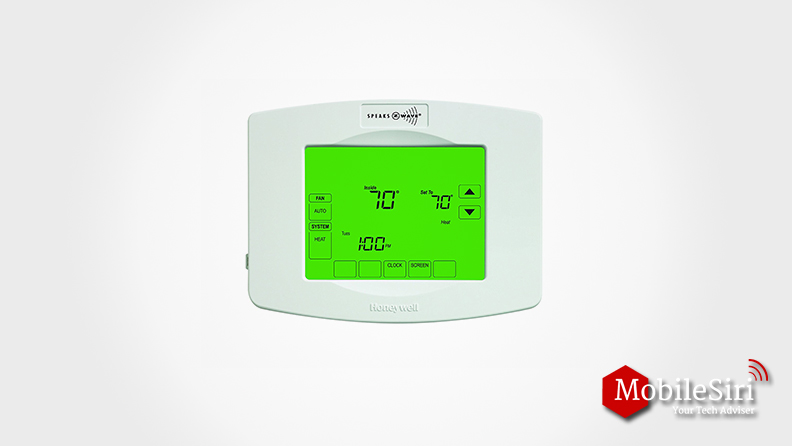 The Thermostat is compatible with a wide range of products and apps that allow you to control each aspect of your home. From the lighting and other appliances to your heating and cooling, your phone or tablet or any other internet-connected device acts as the best controller.
If you are looking for something compatible with numerous platforms, the Honeywell-Z thermostat works with Alexa.
Most importantly, the thermostat has several programmable features such as a simple interface for temperature adjustment on a 7-day schedule, the option of getting messages from other HVAC equipment, and much more.
As well as the device can work without the use of a C wire just so that you can quickly and conveniently install it in places. The Z-Wave smart home and automation platform makes the device worth investing in. As a whole, the device effectively works with several apps, services, and media.
Pros
Honeywell Z-Wave Enabled Thermostat is compatible with tons of apps, services, and platforms.
It gives you an interface for temperature adjustment on a 7-day schedule.
It gives you the option of messages from other HVAC equipment.
Cons
It uses a C wire or a separate wire saver for power.
---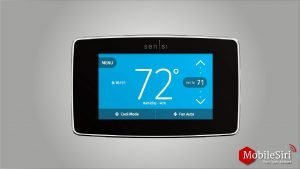 Sensi Touch is the leading affordable smart WiFi Alexa Enabled smart thermostat. Apple Homekit thermostat features a color touchscreen display whereas everything else is tucked behind the plastic covering that can easily fold down. It makes the thermostat look pleasantly minimal. The energy-certified thermostat can work with HVAC equipment.
In addition, the display gives you both the current and target temperature at the same time and even labels their room and set so you don't get confused between the two. The device is compatible with Alexa, Google Assistant, Apple home kit, and Samsung smart things. It is easy to install and use and has a remarkable required C-wire. Gives you the option of remote access from a smartphone or tablet with the Sensi mobile app for Android and iOS devices., With easy programming, you can conveniently adjust the temperature swing.
Above all, the Sensi touch thermostat comes with an air filter monitor, adjustable second-stage heat offset, and an optional wall plate.
Pros
1 Emerson Sensi touch thermostat comes with a touchscreen color display.
2 It features a backlight, smart alerts, keypad lockout, and remote access.
3 It gives users various programmable options.
---
Emerson Sensi vs nest
One of the main features of the thermostat Sensi is its compatibility with Alexa, Google Assistant, Samsung Smart Things, and Apple Homekit while Nest is not compatible with Siri. Also, you can have the option to lock the Thermostat display so that nobody can change display settings, especially kids.
Nest Thermostat has a scheduling system. However, it would change over time even though you set the schedules at a time on the Nest Thermostat. In the case of Sensi, you don't need to worry about whatever schedule you set up will work well without changing on Sensi. Also, Sensi can detect humidity levels and alert you as well.
What thermostat can I use with Alexa?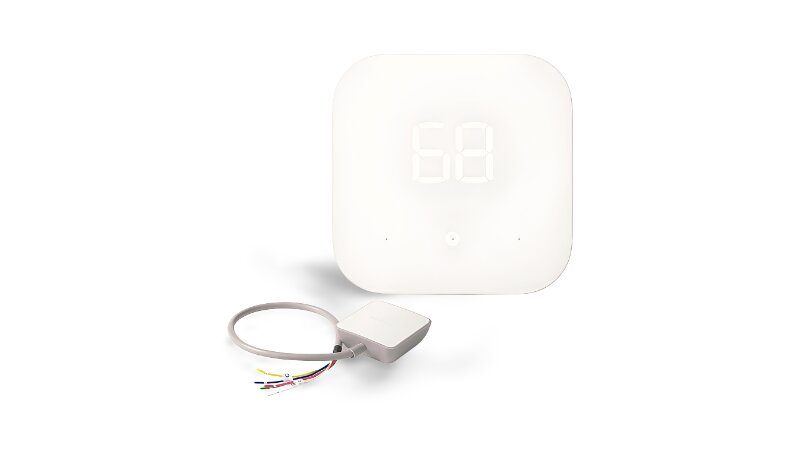 In addition, the Amazon smart thermostat is ENERGY STAR certified and helps save 50% on energy bills. But make sure it requires C- a wire or power adapter kit.
How to Install Alexa smart thermostat
Before Buying an Amazon thermostat make sure that:
First, you need to check the thermostat compatibility in your Home or it requires C- a wire or power adapter
Amazon thermostats require a C-wire or power adapter
Install the Alex app
All instructions regarding the installation of the thermostat are available on the Alexa app.

---
Google Nest thermostat is compatible with Alexa. The smart thermostat is designed nicely and can work without C-Wire but systems like heat only or cool only require C-Wire. It is available on a snow color screen that can be controlled remotely by the Google Home app on iPhone or Android.
The Wi-Fi-enabled Nest is compatible with many heating systems, such as heat pumps and radiant floor systems. Besides, It can recognize how long it takes to heat or cool a house based on the type of HVAC system installed.
Moreover, it does not waste energy resources by micro-managing the temperature on systems that might take longer to regulate comfort levels. With the circular design, it perfectly fits over holes. As well as, it comes with easy-to-follow instructions, which is why it is remarkably convenient to install.
Is the Nest thermostat compatible with Homekit?
Nest Thermostat is not compatible with Homekit but iOS devices are compatible with the Nest thermostat.
Nest's built-in 2 AAA batteries
Nest's built-in 2 AAA batteries solve your problem of worrying about stringing a power line through the wall or replacing batteries to power the thermostat. It comes with a backplate to cover large holes, labels to mark the wires, and a small screwdriver. Another feature is that the system learns your preferred setting on particular days and after a week. Then, it starts making changes on its own.
The Google Nest thermostat switches into 'Away mode' in case of no motion for a certain period. As well as It also turns down the heater or AC according to the presets. Nest thermostat supports Geofencing.
Lastly, it has the Google Home app for Android, iOS, and Kindle Fire devices.
Nest thermostat is ideal for those who want to save energy with smart temperature management options.
Isn't it an interesting yet best Alexa enabled smart thermostat?
Pros
Google Nest thermostat is very easy to install.
It efficiently works with various heating and cooling systems.
It automatically learns the user's heating and cooling habits.
Through a smart thermostat, you can control heating and cooling remotely
Overall, It works with 85% of systems

---
This buyer guide is comprised of the top-rated Alexa enabled smart thermostat. Thus, making it easier for you to choose the best one for your home. The guide helps you to explore various programmable features. Detailed research has been conducted, and the information is made available to you. Get your best smart thermostats and feel free to enjoy the luxurious environment of your home.
MobileSiri.com is a participant in the Amazon Services LLC Associates Program, an affiliate advertising program designed to provide a means for sites to earn advertising fees by advertising and linking to Amazon.com. Read about our Affiliates Disclosure Policy
here
. Amazon and the Amazon logo are trademarks of Amazon.com, Inc. or its affiliates.