Tesla Motors' latest electric car, the Tesla Model 3 has been unveiled on March 31. The Tesla Model 3 is the company's first mass-market vehicle and according to industry experts, the car is going to be a key player in the electric cars market. And this was proved with the record number of pre-orders in the first week. According to the reports, the Tesla Model 3 received some 200,000 pre-orders in just 36 hours and successfully received more that 325,000 pre-orders of the electric car have already been placed, with a deposit of $1000 per unit despite the car itself will not be available before the end of 2017. This clearly tells us that the Tesla Model 3 will not be a success instead it is already a big success in the electric vehicle market.
"This is a critical vehicle for Tesla, much more critical vehicle than any vehicle that has come before, this is their effort to become more than a niche. A lot is riding on this". said Jack Nerad, executive editorial director at Kelley Blue Book.
The Tesla Model 3 comes with a more affordable price tag. Its price starts at $35,000 as compared to the Model S which starts with the price tag of $76000. Elon Musk showed off the electric sedan inside a SpaceX hangar in Hawthorne, California with a bold statement:
"You will not be able to buy a better car, any better car, for less than that," said Elon Musk.
Tesla Model 3 Key Features:
Model 3's range is 215 miles once fully charged
According to Tesla CEO, Elon Musk, the minimum expectation range of the Model 3 is 215 miles once it is fully charged. The Tesla model 3's range is only slightly less than the Model S, which is Tesla's shortest range model. There has been no elaboration on the battery technology  of the car yet. The key aspect people were concerned about was the range per charge of the electric car. The Model 3 can easily go 215 miles on a single charge and with the increasing charging pads on the highways across the globe, it is a fair deal.
The Dashboard design will be from the future
The Model 3 will feature a futuristics dashboard as claimed by the manufacturer. The main user interface will only be the simple steering wheel along with a mounted tablet. At the Model 3's unveiling event, the prototypes showed a bare minimalist dashboard, with just a steering wheel and a large horizontal screen mounted in where your radio and temperature controls go. Elon Musk recently tweeted that the finalized car will have an interior that will feel like a spaceship. There is no information yet as to when the finalized futuristic dashboard will be revealed.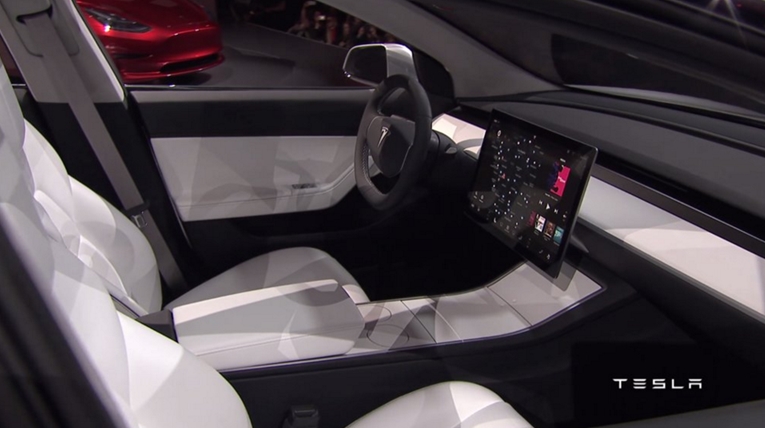 Sleek design with glass roof
When it comes to design, Model 3 features sleek lines along with a continuous pane of glass. The roof and rear windshield, of the electric car, are made out of a single sheet of glass. Similar to the Model X's front windshield, Model 3's rear windshield will sweep up over the occupants heads. This design feature results in amazing headroom and feeling of having more space, for the passengers in the back seat, said Musk.

The rear seat is made more comfortable
The Tesla Model 3 can comfortably seat 5 passengers at a time. The front seats are moved further up by the design team. This has resulted in even more legroom for the rear seat passengers. The driver and the front passenger is now closer to the car. it is unknown, whether this change will contribute to better driving experience or not. But it sure will positively affect the people seated in the back.
Lots of cargo space
The electric car is compact, but still there is loads of cargo space. According to Musk, the car doesn't skimp on cargo space. Same as Tesla's Model S, the Model 3 will have enough trunk space to fit a seven-foot surfboard.
Comes with Auto-pilot
Every Tesla Model 3 will come with the auto-pilot hardware. All of the key features and hardware of the auto-pilot will be built in every car. So, the car will be able to semi-drive itself. It also includes features, like lane changing and lane keeping . If you want to add the ability to cruise down the highway with the computer in control of the car, it will cost you extra.
Model 3 is incredibly fast
Tesla's ability to combine incredible speed and best safety features all in a single car is impressive. The Model 3 will be affordable, but that doesn't mean that Tesla is skimping out on speed.
"At Tesla, we don't make slow cars." said CEO Elon Musk
The standard model of the Tesla Model 3, will be able to go from zero to 60 mph in less than 6 seconds. Fancier upgraded versions of the Model 3 may be even faster than that.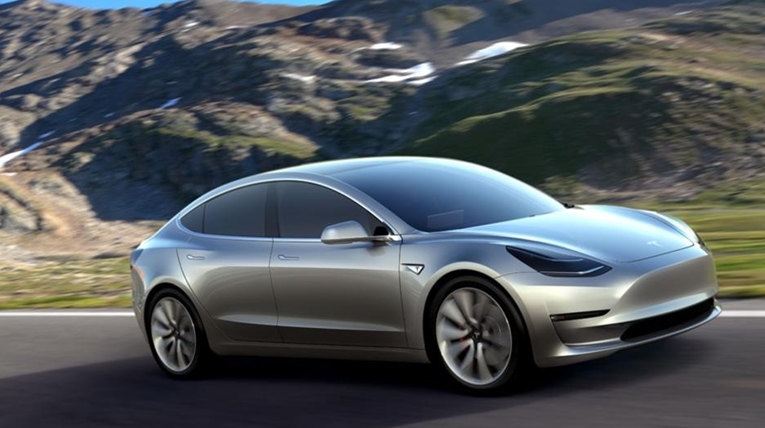 Supercharging will be a standard feature
All cars of the Tesla's Model 3 will come with supercharging. Musk also said that the public charging stations will also be doubled. Currently, there are about 3,600 charging stations, they are expected to increase to 7,200. To achieve this the company is partnering with hotels, restaurants, and stores. All partnering locations will have Tesla wall connectors, from which owners will be able to supercharge their cars.
 "A lot about having a car is about freedom, It's about going where you want to go and the superchargers are critical to that." said Musk.
Tesla Model 3 will open doors for more choices
In other news,  Nissan boss Carlos Ghosn stated that he welcomes the hype and the good competition Tesla Model 3 will bring to the electric car market. Elon Musk has several times routinely invited competitors to build better electric cars. Now Nissan is doing the same by rooting for Tesla and welcoming the hype surrounding the latest Model 3.
Currently, Nissan is the leading electric car manufacturer in the market. Its partnership with Renault has sold 302,000 electric cars worldwide. Since Nissan's electric car launch, the company has sold a total of 211,000 units. On the other hand, Tesla has sold significantly less. Total electric cars sold by the company in its lifetime are around 211,000 units.
According to Carlos Ghosn, releases of electric vehicles like the Tesla Model 3 will only increase the development of electric cars, and result in healthy competition. This will ultimately lead to more, and better electric vehicles and EV infrastructure.
Nissan still has work to do if it wants to continue being the lead the electric vehicles market sales. Nissan's leaf is quite cheaper than the Tesla Model 3 but it also lacks in various aspects. The Leaf only possess a range of 155 miles after extension, which is far less as compared to the Tesla Model 3's 215-mile range.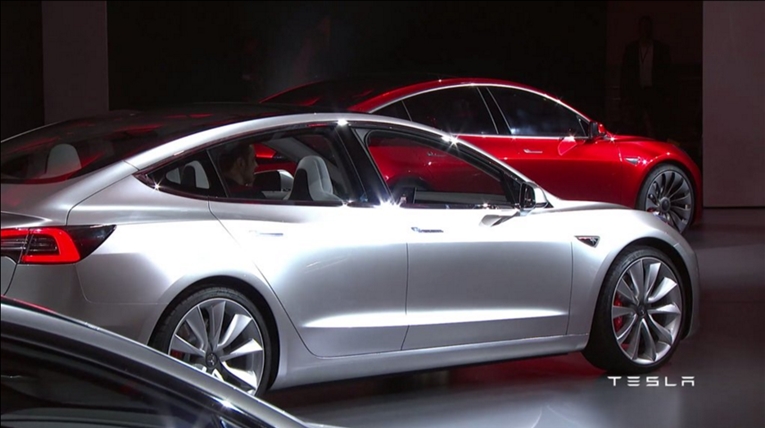 Elon Musk claims Tesla Model 3 is a "World Changing Car"
According to Wired, the Tesla Model 3 might just be the most important car the company will ever manufacture. Musk is claiming that the electric car will change the world.  Before even the Model 3 was unveiled at the company's design studio 115,000 preorders for the electric car had been placed. Recently, Tesla announced that it has received 325,000 pre-orders already.
So it is looking like Elon Musk might be right, and whether or not the electric vehicle will change the world, it is surely making a huge impact on it. Some are worried that due to so many pre-orders Tesla might fall short of delivering them on time.
"The electric vehicle market is getting more and more crowded and as the months go by, there will be more competition from major manufacturers, so time is of the essence, I think based on their history, they are not noted for exactly hitting the mark right on the money in terms of delivery, so I think there are some concerns about that and some of those pre-orders will fall away because of that" said Jack Nerad.
But, for now, CEO Elon Musk is pretty confident that the company will meet its goal of delivering the Tesla Model 3 vehicle, in late 2017. Tesla was founded in 2003 and Elon Musk had joined as the primary benefactor only a year later after selling Paypal to eBay for $1.4 Billion. Musk became the CEO of Tesla in 2008.
Consumer reactions to the Tesla Model 3 have been amazing. There has been intense hype surrounding the vehicle and already more than expected orders have been placed. The vehicle is set to be delivered by the end of 2017. There have been speculations that there might be drawbacks and potential pitfalls because of that. The Electric car technology is expanding rapidly. For now, 215 miles on a single charge seems exceedingly impressive, but at the rate EV infrastructure is developing will it be still  sufficient in a decade?
If competitors like BMW and Nissan begin delivering electric cars with ranges of 300 to 400 miles then it could significantly degrade the Tesla Model 3 appeal and value. On the flip side, it is entirely possible that the company will manufacture new, upgraded versions of the Tesla Model 3 in the future. Tesla also has a crucial head start over other electric car manufacturers so it might just end up leading int the electric car sales if it manages to meet all demands.
Another issue that was picked up by Motley Fool is that whether access to Tesla's supercharging will be free and offered as standard to Model 3 customers. At last week's reveal, Musk said that all Model 3s will come with supercharging , but Tesla later told the site that the company hasn't specified yet whether the supercharging will be free or not.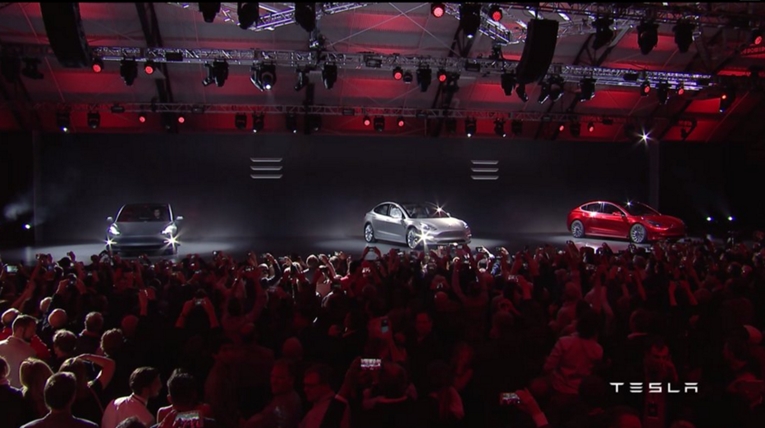 MobileSiri.com is a participant in the Amazon Services LLC Associates Program, an affiliate advertising program designed to provide a means for sites to earn advertising fees by advertising and linking to Amazon.com. Read about our Affiliates Disclosure Policy
here
. Amazon and the Amazon logo are trademarks of Amazon.com, Inc. or its affiliates.