World's smallest camera drone is ready to fly for the tech enthusiasts who love miniature gadgets. With unbelievably light weight and smart looks the Nano Drone is now available for sale for just $69. It carries a small camera but with sufficient results and a microSD card to keep the recorded videos.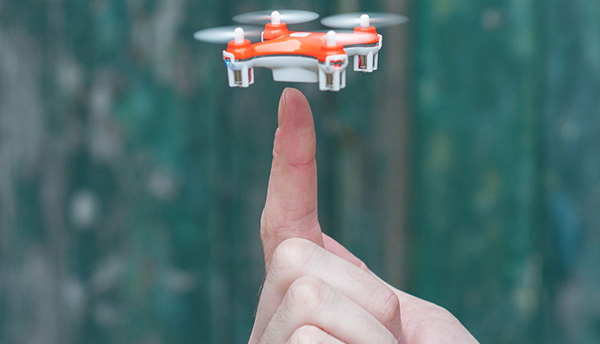 The SKEYE Nano Drone, which is the smallest of its kind in the market, comes with weight of just 14grames and measures at 4.0×4.0x2.2cm. You would like to give the impressive Nano Drone a flight test as it costs just $69.
For the videos the small piece of camera on the SKEYE Nano Drone is 300,000pixels that records video with resolution of 640×480pixels. The recordings on the Nano Drone are saved on a 2GB microSD card. You can easily transfer the recordings to your computer after completing your test flight.
The SKEYE Nano Drone is enabled to fly with certain features like Throw To Fly, Ready to Fly, Stable & Easy to Fly and also with additional Aerobatic 'Flip' Capability. These features enable it to fly with maximum fun that you would be looking on a Nano Drone. Also it contains LED lights which helps for night flights.
The Nano Drone has good control system with sensitivity levels that makes it an easy flying Drone for even beginners. You can fly it at beginner, mid-level or expert level according to your expertise with flying gadgets. Its adjustable gyro sensitivity with 6 axis flights control system helps smooth flight.
Being the smallest Drone camera it is equipped with enough battery powers and frequency. It contains a 120mAh battery and 2.4GHz frequency which makes it flying up to 50meter for approximately 3 to 4 minutes. Its battery once charge can last for about 30 minutes of flight which is not bad.
Enjoy this cool video of SKEYE Nano Drone which you can just buy form Amzaon.
MobileSiri.com is a participant in the Amazon Services LLC Associates Program, an affiliate advertising program designed to provide a means for sites to earn advertising fees by advertising and linking to Amazon.com. Read about our Affiliates Disclosure Policy
here
. Amazon and the Amazon logo are trademarks of Amazon.com, Inc. or its affiliates.