Are you a big fan of any Android game like Candy Crush Saga, Subway Surfer or Clash of clans? And want to play these games on bigger screens instead of your android phone? Here is the solution for you. Yes we are talking about 'andyroid' or 'Andy the Android Emulator'. Download and install the andyroid software on your PC or Mac machine and start playing your favourite games on bigger screens.
Read More : AirDroid 3, Access your phone from your PC/Mac
Although this awesome idea has been converted into softwares already and there are other products in the market as well but we are here to discuss andyroid, which is trying to act as a bridge between the smartphones and your systems. The mission statement of the company is quite impressive as well!
At Andy we strive to create a stronger connection between a person's mobile and desktop life. We believe you should always have the latest Android OS running without the necessity of a manual update, that you should be able to download an app on your PC and automatically have access to it on your phone or tablet, and that you should be able to play your favorite games whether sitting on the train to work or in the comfort of your living room
What makes Andyroid different from its competitors like BlueStacks and youWave is running your android apps from the desktop and at no cost! Yes Andyroid is free of charge as well. You get the maximum storage on your Mac or PC and you can enjoy playing games on your desktop while using your smartphone as a joystick.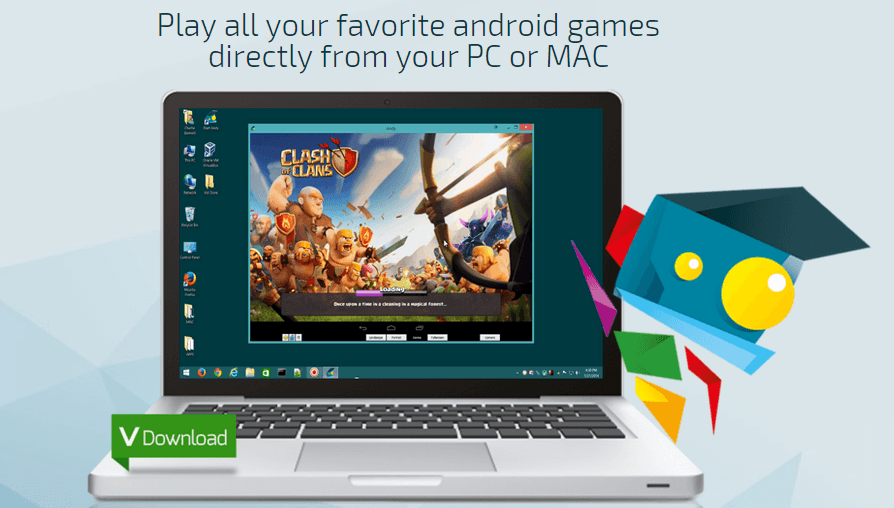 Andyroid or Andy is just not limited to playing android games on your desktop. You also can download whatsapp for your desktop and you can get SnapChat pictures on your desktop as well with the seamless connection between your phone and your personal computer. Running all your communication apps on your PC is certainly a cool idea for busy people who cannot switch between their phones and desktops so often.

While you can enjoy android games on your desktop and can easily communicate using different apps, you can also interact with complete Android GUI as well. It gives you OpenGL support and makes it possible to download anroid apps from Play Store to your machine directly.
I enjoy playing racing games mostly on my desktop while using my phone as a joystick. What is your favourite app which you use on your desktop with connected to phone throught Andy? Do tell me in the comments section.
Or if you have not download the Andy the Android Emulator. Download it here!
MobileSiri.com is a participant in the Amazon Services LLC Associates Program, an affiliate advertising program designed to provide a means for sites to earn advertising fees by advertising and linking to Amazon.com. Read about our Affiliates Disclosure Policy
here
. Amazon and the Amazon logo are trademarks of Amazon.com, Inc. or its affiliates.