Nowadays many devices and even appliances in our homes have become connected. The array of connected home products, smartphones, smart TVs, and other mobile devices is huge and it is very important to equip with one of the best wireless routers for homes and businesses that can handle the increased demand for Wi-Fi connectivity. If you are a gamer then you surely need the best 5g wireless router for nonstop online gaming.
Choosing a suitable wireless router is no easy task. There are many factors that you need to consider before you set out to buy one. We are going to help you through the selection process. Here we have compiled a list of the very best wireless routers that are available in the market as well. Our collection has all types of routers from those that are suitable for low-level users to the best 5g wireless routers for home best for uninterrupted high-level online gaming.
Now the first thing that you need to take into account when buying a router is the coverage area. Different routers offer different ranges so it is important to make sure that the router meets your range demands. Other aspects that you need to take into account include the number of clients that will be connected and the types of devices that will connect to the router.
TP-Link vs Netgear Router
Is 2.4 GHz or 5 GHz better for gaming?
A 2.4GHz Wi-Fi network is best for connecting different devices in a long-range while 5GHz is best for faster speed with high performance in a short range for example it decreases the lagging in the game.
Best Wifi Routers:
There is a vast range of wireless routers out there and picking one appropriate to your needs and budget isn't an easy task. But don't worry because we are here to help you out with a complete list of the very best wireless routers for homes.
---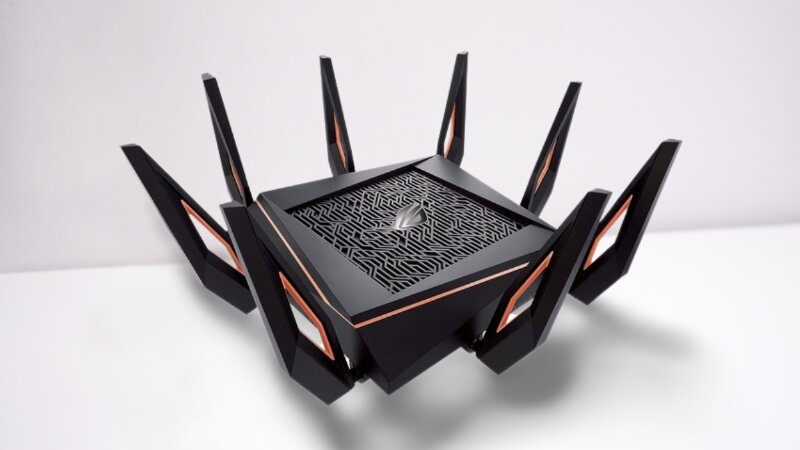 The Asus GT-AXE11000 is the best 5g wireless router for gaming that covers a very large area. The router comes with a 1.8GHz Quad-core processor and a 2.5-gigabit port. It gives private internet connections for private Gamer networks with the help of WTFast. The router has a fast wireless speed of 11000 Mbps for gaming, internet surfing, downloading, and HD video streaming. The setup is effortless. The Asus AXE11000 supports 5GHz wifi for gaming and 2.4GHz for web browsing.
The Asus AXE11000 is compatible with gaming PCs, PS5, and Xbox series X all internet providers whether cable, satellite, DSL, Fibre, etc
Overall, This is one of the best wireless routers for large homes that can work with 60 connected devices. Moreover, Asus GT-AXE11000 protects your devices from hackers, computer viruses, and internet scams. The 5g router makes it easy to bring dual-band 802.11ax and 802.11ac networking to a large home and its discrete design is one of its greatest selling points.
The Asus AiMesh feature generates the entire home Wi-Fi system by using multiple ASUS router models, and love its range and easy setup, even if they find the price tag a little Cheap. Users with large homes and multiple devices especially like this router.
Pros
Asus GT-AXE11000 is the best router with advanced parental controls

---
Best 5g gaming Router under $100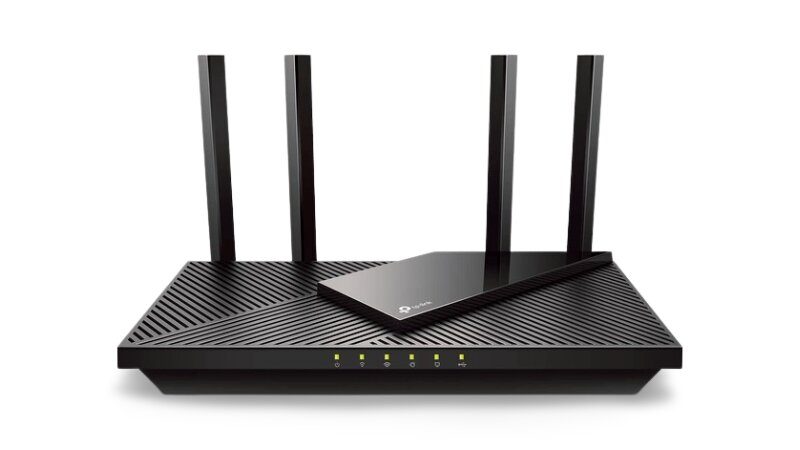 If you are looking for a high-speed Next Gen dual band WiFi 6 router and 5g gaming router under $100, the TP-Link AX1800 comes with up to 1.8gbps speed and beamforming technology. However, this router is great in both cases as either a Wi-Fi router or a NAS server
The router supports a VPN server and VPN client. The Network range of TP-link AX1800 is up to 574 megabits per second on 2.5GHz and over 1200 megabits /sec on 5GHz at the price of just $99, This router is the least expensive.
That said, if you want a router that delivers excellent Wi-Fi 6 performance and can also work as a host for Time Machine backup, file sharing, media streaming, and pretty much anything else you can do with a typical NAS drive, the TP-link AX1800 is an excellent buy.
Moreover, the Archer AX 21 dual band delivers faster speeds with up to 1.8gbps speeds. There's also great support for shared storage, with well-designed iOS and Android apps to access files. You can directly manage the router from your iPhone, Web, or Mac. There's also an SD card slot joining the single USB 3 port for shared external storage.
Most of the users of the TP-link AX1800 love its range and easy setup. Users with large homes and multiple devices especially like this router. This router is also wall-mountable. The router also features 4 antennas with 5-gigabit ethernet ports. and it is very easy to add functionality through the Tether app on the Apple Store and Google Play that quickly installs. It also features powerful Parental controls.
Pros
TP-Link AX1800 (Archer AX21) works with Alexa
Best for gaming and 4K streaming
You can connect up to 40 devices including gaming, phones, and smart devices

---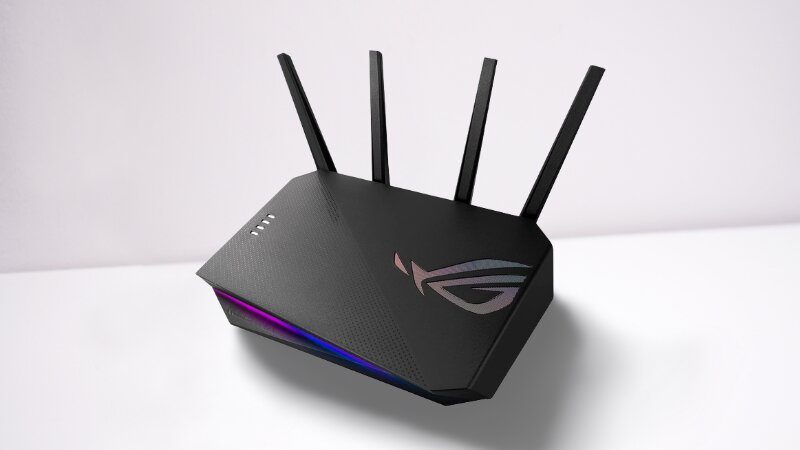 If you are a gaming user then look no further because we have just the right router for you and it is the ASUS ROG Strix AX5400. This router features a gaming port and gear accelerator to optimize mobile gaming, PC, and console. You'll find a slew of customization options, and the ASUS Ai Mesh supports the home Mesh network smoothly with routers that work with Ai Mesh.
ASUS ROG Strix supports the latest Wi-Fi speed standard of up to 5400Mbps with 160 MHz WiFi 6 channels. It mostly delivers fast Wi-Fi performance of up to 2x faster speed and has outstanding signal stability. However, it is expensive but necessarily delivers a better Wi-Fi experience than much cheaper routers.
This Dual-band router also features an Instant guard, that lets your mobile device securely access the internet by a private VPN connection from your router while your mobile is not connected to the router. One of the best features is safe to access the connected USB storage device.
Moreover, it features a user-friendly application via the ASUS router app along with easy parental control settings.
Both the performance and setup are pretty easy, and ASU customers have never complained of any software issues. The router weighs 1.55 pounds weigh. Asus ROG Strix is the best 5g gaming router.

---
What is the fastest 5G modem?
best gaming modem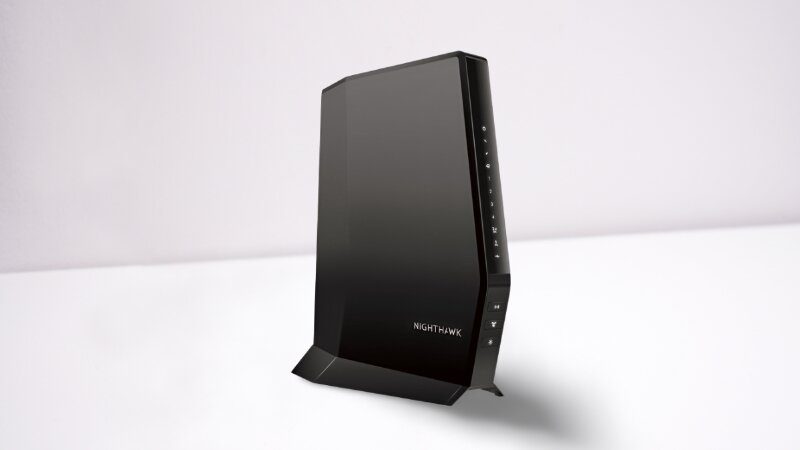 The Netgear Nighthawk CAX30S is the fastest 5G modem with wifi 6 router. It is the best modem router combo for gaming. The gaming router and modem combo support cable internet plans up to 2Gbps speed.
The NetGear Nighthawk is a dual-band Wi-Fi 6 router with 2.7 Gbps speed with 90 days subscription included. The Gamingmadem has a 1.5GHz dual-core processor, 512MB RAM, that includes ports for both Gigabit Ethernet and USB 3.0.
The NetGear NightHawk cable modem is an absolutely seamless piece of work. It can easily provide fast internet connections and downloads within 2,500 sq. ft.
Furthermore, with its brand-new AX2700 technology, the wireless router supports connectivity for up to 25 devices. Nonetheless, its sensational or rather robust parental controls allow parents to block inappropriate content for their kid's safety while using the internet.
The NETGEAR Nighthawk CAX30S Modem Router Combo comes with 4×1 Gigabit Ethernet ports and 1 USB 3.0 port. It also supports cable internet providers like Xfinity, Spectrum, Cox, and more. The gaming modem is best for cable providers' plans up to 2GBPS.
Pros
Nighthawk CAX30S Modem Router Combo is the best router with parental controls
It saves your money by getting rid of monthly modem rental Fees
Cons
The gaming modem is not compatible with Verizon, AT&T, providers, Dish, CenturyLink, and DirecTv

---
Best wireless router for gaming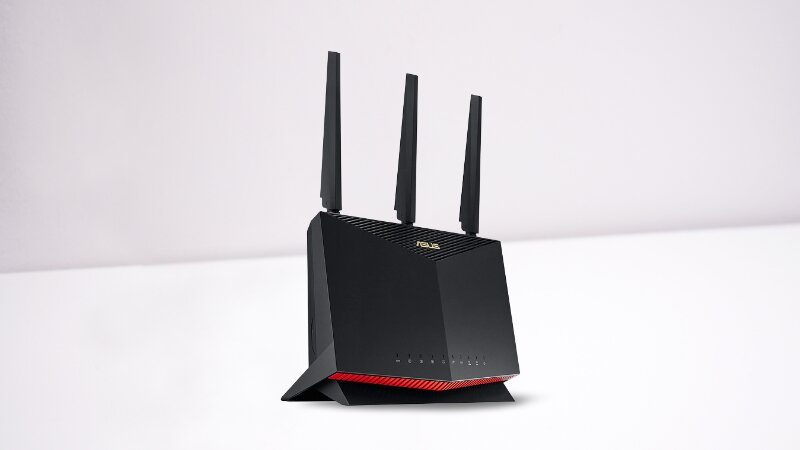 If you are looking for the best low-price router for wireless gaming for a large house, The ASUS AX5700(RT-AX86U) is a perfect choice. The latest WiFi 6 of 802.11ax router has an ultra-high speed of up to 5700mbps suitable for uninterrupted mobile gaming by just installing the ASUS Router app, It also supports ASUS Ai Mesh technology, these features are quite exceptional. ASUS RTAX86U is a dual-band gaming router with smart beam technology.
This router also supports MU-MIMO, OFDMA, TWT technology, and 160MHZ channels. The smart beam technology of this router is also pretty solid.
This router is great for gaming and for connected homes that have high WiFi demands. The Router management is done via an app that you can access and monitor from anywhere. The router comes with 3 detachable antennas and 7 ports. In addition, the router offers advanced parental control for the protection of your home.
The majority of tech-savvy users have high praise for this router. The range and the performance have also been highly praised. The smart connect feature is also a great feature and doesn't drop connections.

---
Best 5g Wireless Router For Streaming & Gaming:
TP-Link AX6600(Archer GX 90) is the best 5g wireless router for homes and gaming. This router is perfect for those who are looking for a powerful and dependable router that can handle gaming and streaming. The Tri-band Wi-Fi 6 gaming router comes with great cutting-edge features. It also has eight antennas and can deliver much faster speeds 802.11ax router. It also features a more reliable 6GHz Wi-Fi band connected to up to 100 devices and supports coverage up to 3,500 sq ft more easily. This router comes with a Quad-core 1.5 GHz processor and offers boosted speeds with 6579mbps.
Archer GX90 also comes with smart beam features. A smart beam can lengthen the range of the router. The built-in ports include one USB 3.0 connection and one USB 2.0 port, one 2.5Gbps WAN/LAN port,1 Gbps WAN/LAN port, and three Gigabit Ethernet LAN ports, Which will allow you to set up even the craziest, multi-device gaming setup. Pretty much everything about this router is perfect for gaming. The only slightly awkward thing is the design.
The TP-Link Home subscription plan protects your home devices and network. Tether App helps in setting up and monitoring speed as well as data usage. It also supports OFDMA, MU MIMO Technology, 1024 QAM, QoS, and smart connect.
Many experienced users even claim that this is the best 5g router for wireless gaming currently available in the market. It is also easy to configure and the user interface is also easy to use. This router is also quite bulky and covers up a lot of space.
Pros
TP-Link AX6600 is the best router with parental controls.
The Free Home Care game protector keeps your system privacy secure
It can connect up to 100 devices with the help of wifi 6 and OFDMA

---
Best 5g gaming router: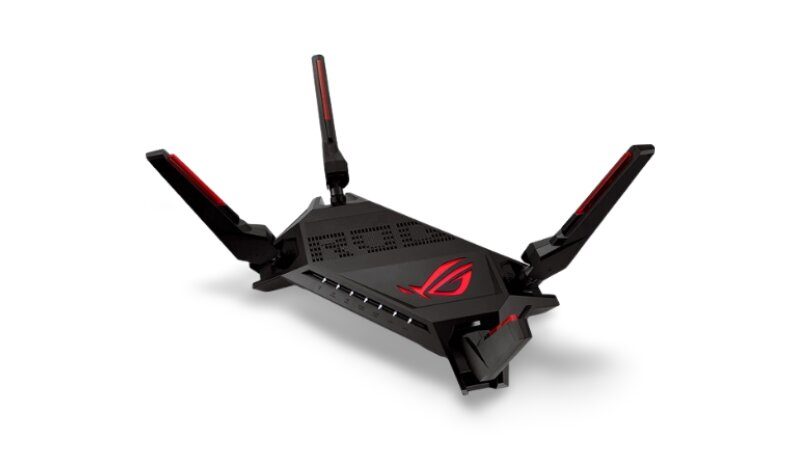 The ASUS ROG Rapture Dual-band router is a GT-AX6000 router, which as far as real-world performance goes, it's as fast as you can get. The Asus GT-AX6000 is a faster Wi-Fi 6 standard dual-band gaming router with speeds up to 6000Mbps.
The ASUS ROG Rapture GT-AX6000 has an interesting black design with 6 extendable antennas. The router features 2.5 Gigabit LAN ports and 3.5 Gigabit WAN ports. It has high performance 2.0 Quad-core 64 Bit-CPU. Moreover, there are USB ports USB 2 and USB 3 to connect printers or hard drives so you can share your hard drive or other devices on your network. It comes with 4 LAN ports and two WAN and LAN ports with 2.4 Gigabit Bandwith.
The design of the router is also slim and its price is also reasonable. It can do anything particularly clever or unique it is proficient enough to work with the vast majority of all wireless hardware on the market at maximum capacity. The software is also minimalistic and easy to use. The ASUS ROG Rapture GT-AX6000 is the best dual band 2.4GHz and 5g gaming router suitable for most homes and offices.
Pros
Most importantly, the ASUS router is faster at 5GHz
The router streams many wifi devices from smartphones laptops, and phones at the same
The routers come with RGB lights

---
Best budget gaming router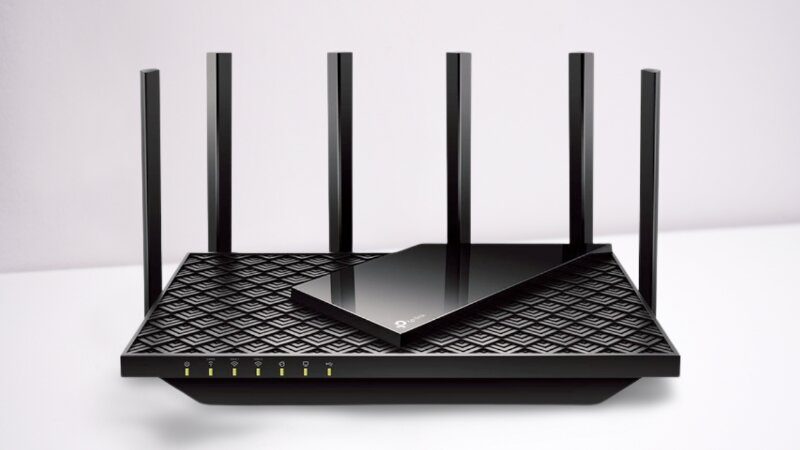 The TP-Link AX5400 is one of the best budget 5g wireless routers for under 200. That works with Alexa. This router is one of those that is going to last a long time in the future. It is a worthy investment if you can afford the hefty price tag. The manufacturer has boosted the technology used to transmit wireless data and proclaims that the 5GHz band can go as fast as 2402Mbps, while the 2.4GHz band can go as fast as 574Mbps. While this would improve your bandwidth, it will help you with Wi-Fi 6 network speeds and certain slow-down issues. OFDMA and Tri-Band allow users to connect many devices without latency
The smart connection technology in the TP-Link can choose the best band for your device and location. Its range can span over a large area thanks to the 6 High-performance antennas. The router includes 4 Gigabit LAN ports, a USB 3.0 port, and a USB 2.0 port. All the LAN ports indicate that the router is ready for a business environment, but it can also easily be used in homes, dorms, and apartments.
The TP-Link AX5400 also comes with AiProtection, Trend Micro software that searches for vulnerabilities, detects threats, blocks suspicious sites, and offers the level of parental control that has become a must-have for growing families. Best of all this is One-mesh router is a new type of wireless standard that allows a router to communicate with several compatible devices at the same time. Furthermore, it works with AT&T, Verizon, Xfinity, Spectrum, CenturyLink, Frontier, etc
Most users find this router very reliable. The interface is also said to be user-friendly and the setup is easy as well. This router is also wall mountable there are two holes on the bottom with rubber plugs in them that, when removed, will allow the router to be hung on two screw heads.
Pros
TP-LINK AX5400 is the best router with parental controls
It can connect up to 100 devices
The Alexa-compatible router has an affordable price of just $199
Best for Playing games with 3x faster speed without disruptions
5g router can be mounted on a wall

---
Best 5g wireless router for gaming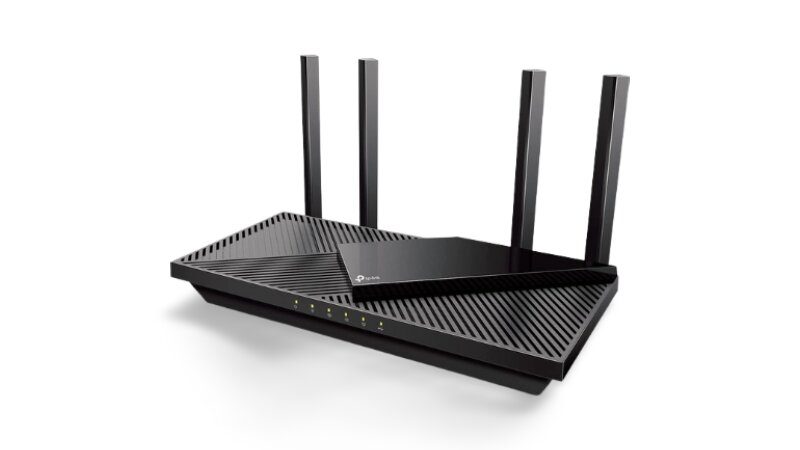 TP-Link Archer AX55 is the best 5G wireless router for streaming and faster downloads. TP-link is known for making great routers with great software and the TP-Link Archer AX55 Wireless Router is the best budget choice. If you are looking for an advanced home networking device at an affordable price then you can't go wrong with this one.
The TP-Link Archer AX3000 wifi 6 Router is equipped with a fast 160 MHz Bandwidth and supports VPN servers and VPN clients. The router offers up to 2402mbps speed on the 5GHz frequency band and up to 574Mbps on the 2.4GHz band. This router also comes with 4 high-performance antennas that increase wifi signals. TP-LinkArcher AX55 the best 5g wireless router comes with WPA3 security and an improved cooling design.
Moreover, it is also not wall-mountable. The bottom line is that for advanced and professional users, the TP-Link Archer AX55 Router is worth every penny. The router has brilliant performance, a solid build, and numerous useful features.
The router is not wall-mountable. But the speed, range, and interface are highly praised. It is available on Amazon for $119.
Pros
Best 5G router for wireless gaming and streaming 4K videos

---
Best router under $100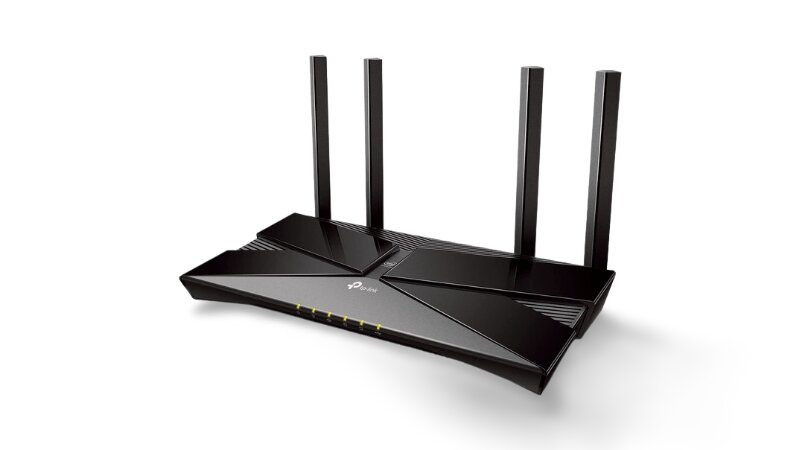 This router is the best 5g wireless router for gaming and streaming and is relatively inexpensive, there's very little lacking from its specification list. It supports 2402Mbps on 5GHz and 574 on 2.4GHz WiFi 6(802.11ax) wireless speeds that will deliver maximum performance for just about all laptops currently on the market. Archer AX50 is attractively designed and has great performance but the best part is that it is a good deal cheaper than its competitors.
It also has great software, powerful hardware, and a bright white, inoffensive look that won't look garish in the middle of your living room. Although the built-in Homecare, OFDMA MU MIMO technology, makes this a solid value option.
At the back of the router, the selection of connections is nothing special but ticks all the crucial boxes. From left to right we've got the USB 2.0 port, WPS and reset button, the Ethernet socket that goes to your modem, four more gigabit Ethernet ports for the rest of your network, and the power socket and switch. the Archer AX50, There is also a second USB port on the side, and this time, it's USB 3.0. It is ideal for sharing files on your network from a USB drive. The one at the back is only USB 2.0.
Ultimately the Archer AX50 is a great router at an affordable price. It offers good Wi-Fi speeds at long ranges and is easy to set up and use. Moreover, it provides rock-solid reliability and the feature set is great for the price.
The router is also very reliable. Users also say the real-life tech support department actually listens to you and is very responsive. The interface is also easy to navigate.
Pros
Best budget Alexa-compatible router for just $69
You can connect up to 40 devices with OFDMA technology
Minimum lag whether you are playing online games or streaming 4k videos.

---
Homekit Mesh wifi 6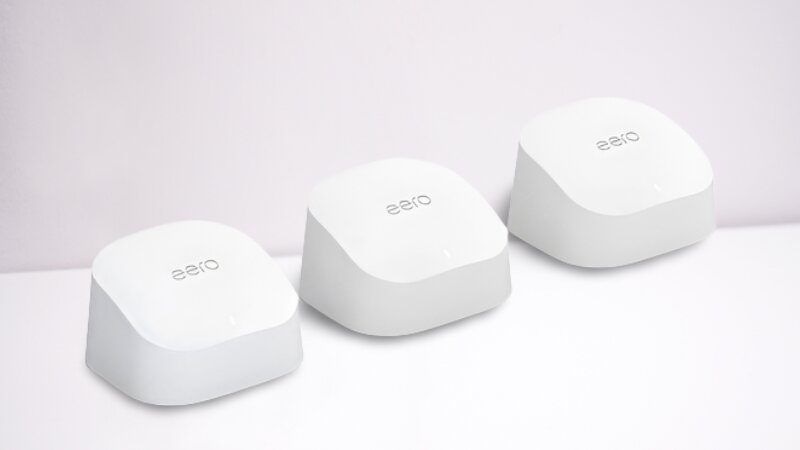 Amazon Eero 6 is one of the best Homekit WiFi 6 wireless routers for homes that have the fastest Wi-Fi internet speeds of up to 500 Mbps. The three packs of Eero 6 cover up to 4,500sq. ft area. It consists of 6 ethernet ports. The fastest internet speed of Homekit router wifi 6 is very helpful for devices like printers and computers because each Eero 6 router consists of two ethernet ports.
Moreover, the Latest Mesh technology lets you stream 4K videos, video meetings, and games without any disturbance in the internet speed and allows 75 connected devices.

---
Mesh WiFi for 5000 sq ft house
Mesh WiFi 6 System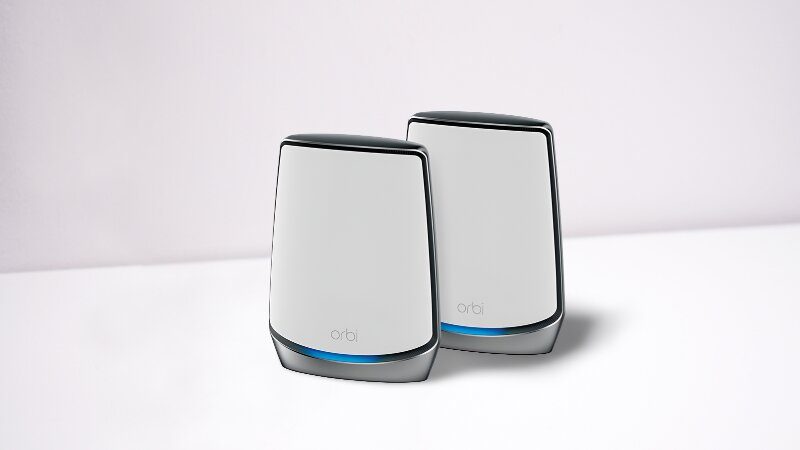 This Mesh WiFi router is designed for a 5000 sq ft house for a situation where you might have dozens of computers, tablets, smart televisions, gaming consoles, and other devices all needing access to wireless resources. The Netgear Orbi AX6000 has Quad-core 2.2GHz processor support using 802.11ax, so even when a large transfer is using up all the space on one channel, you can keep other devices running at full speed on the other one.
The router also has a streaming speed of up to 6Gbps. It features a Tri-band Mesh WiFi 6 system that is 5 times faster than WiFi 5. The router and satellite have 4 Gigabit Ethernet ports each for streaming and gaming as well. In addition, the setup is very easy with the Orbi app but first, connect the system to your existing modem.
The management interface of this router is also user-friendly and simple. It provides the usual basic settings page alongside advanced pages for each Wi-Fi band. The Orbi app monitors internet speed and data usage.
The bottom line is that this router uses extended satellites to help ease network congestion and can connect with up to 100 devices uninterruptedly.
The user interface of this router has been highly praised for being sleek and simple. Users also indicated that it is great for streaming services and the overall performance and range of the router are also sub-par. However, some users found the design of the router a bit weird and gangly. But, overall the reviews show that it is one of the best wireless routers, the Netgear Orbi AX6000 router works great in crowded areas. All in all, Netgear Orbi is the best 5g gaming router for a larger home.

---
Mesh wifi router for wireless internet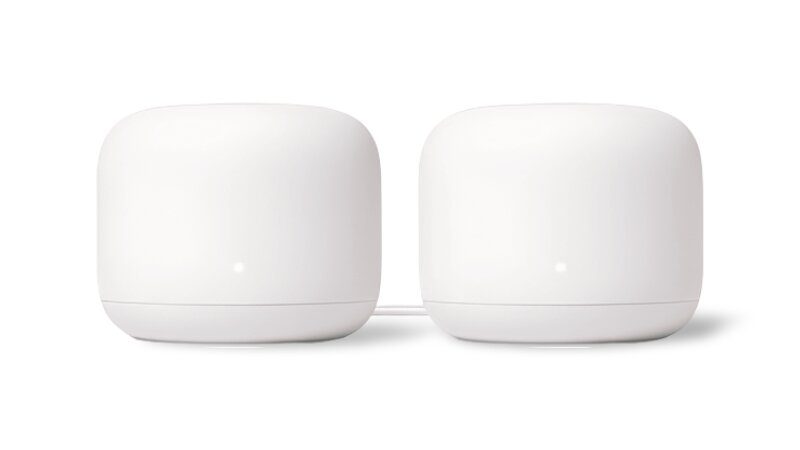 The Pack includes 2 router units. It has a 1.4GHz quad-core processor along with 4GB of flash storage. The Google Nest Wifi is good for gaming and streaming with a fast-speed home network. It is equipped with a single 2.4GHz band and 5GHz band that can transfer maximum data of up to 2.2GB per second. However, it lacks WiFi 6 which is becoming standard and fastest in new routers.
The Google Nest WiFi also has a bunch of interesting features including MU-MIMO, a dual-core CPU, beamforming, and 4 internal antennas. The most useful feature is Smart Connect. It lets you assign separate SSIDs for the two 5GHz bands, allowing you to have one network dedicated to your gaming desktop PC, and another purely for 4k media streaming or professional work, without the two getting in the way. so Google Nest is one of the best 5g wireless routers.
Google Nest Wifi router has a 1.6-inch speaker. While four ethernet ports are sufficient for most households, it's always nice to have extra ports. Wired network connections are always faster and more reliable than Wi-Fi. These 2 routers cover up to a 4,400 sq ft home network, the mesh router fits the bill.
Most Users say that the user interface of this router is user-friendly and the device is also easy to set up in the Google Home app. Also, you can manage parental control for your kid's protection. The selling point of this router is its performance with 200 multiple-connected devices.

---
Ultra-fast wifi 6 router
Linksys is compatible with iPhones, Alexa devices, tablets, televisions, gaming systems, Nest, Xbox, as well as PlayStation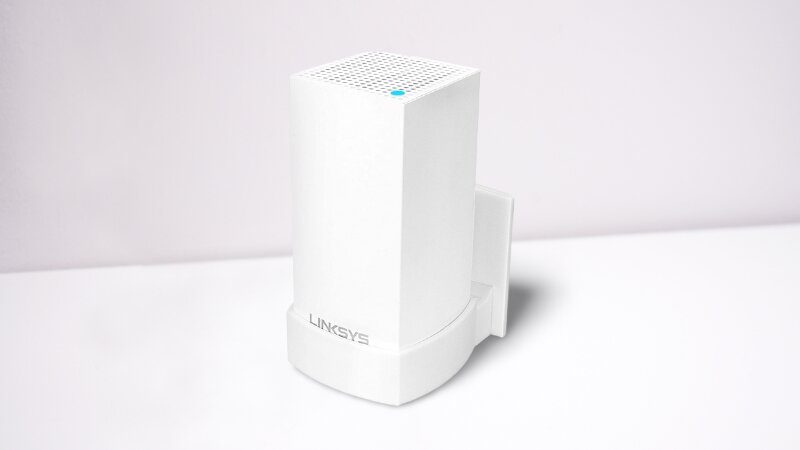 If you are looking for the best 5g wireless wifi router for gaming, streaming, and smart home devices you can possibly get for under $500 then Linksys MX12600 is the one for you. This is a budget router that provides a relatively inexpensive way to bring wireless networking to your home.
This router comes with 802.11ax technology, a USB port, and a user-friendly management setting. Its performance is great compared to other budget routers. It is slightly bigger in size than most routers and uses a glossy white enclosure with LED activity indicators on the top panel for power, Internet, Wi-Fi, wired ports, USB, and WPS.
The bottom line is that the Linksys MX12600 Smart Wi-Fi router is a great choice if you are looking for an affordable router that supports Tri-band Wi-Fi 6 mesh technology. It offers full-speed home coverage of up to 8,100 sq ft area. Its management settings are generous and will allow you to adjust the router according to your needs.
Most of the users find it reliable and has great features. They like the performance and range of the Linksys MX12600, especially given its price tag. Users also cite easy set-up as an added bonus.

---
Compatible with Alexa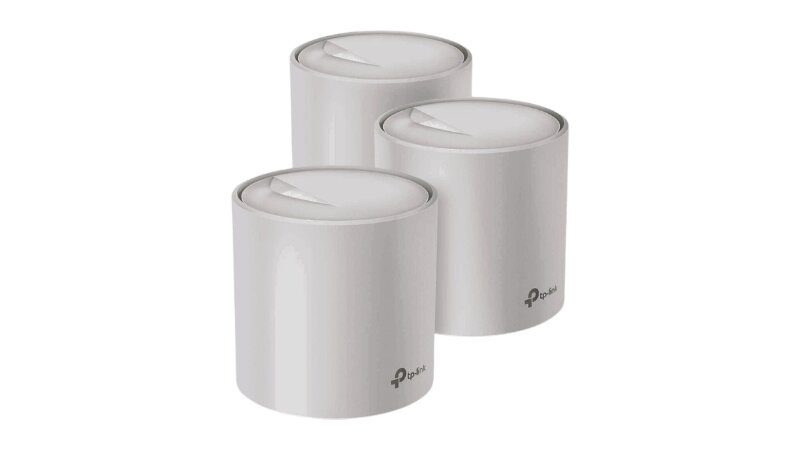 If you are a gamer then the TP-Link X20 is built for you with WiFi speeds up to 1.8Gbps. The router replaces wireless routers that come with extenders. The router is extremely customizable, letting you tailor its settings to maximize your online gaming. It can also handle video and music streaming on 150 multiple devices while other computers pass data back and forth. Even in a crowded Wi-Fi environment, this router won't suffer any stutters or freezes during your online gameplay or streaming.
TP-Link Deco X20 comes with MU-MIMO streaming technology. It delivers solid performance and is especially great when multiple devices are using Wi-Fi simultaneously. It features a dual-band with 575 Mbps speed on 2.4GHz and 1200mbps speed on a 5GHz wireless connection. The router also supports 2-gigabit ethernet ports.
The TP-Link Deco X20 is one of the few routers available in the market that supports the latest MU-MIMO technology. The interface of the router is also user-friendly and responsive. This router excels with multiple connected devices, but its competitors are faster and less expensive.
The TP-Link Deco X20 Wi-Fi Router earns kudos for its performance and range. The setup of the router is easy with the Deco app and it has fast connection speeds. Also, you get TP-Link homecare that provides antivirus and parental control.
Isn't it the best 5g router for wireless gaming?

---
TP-Link vs Netgear Router
TP-Link and Netgear are two well-known networking companies, that manufacture routers, switches, and other networking devices. Both companies offer a range of products designed to meet the needs of various users and budgets. The choice between TP-Link and Netgear depends on your requirements. Here are some important facts to consider when differentiating the two:
Price:
TP-Link usually offers more budget-friendly options across its product list If you're looking for affordable routers, TP-Link is the better choice. Netgear, on the other hand, usually offers routers in a bit higher price range, with more advanced features.
Performance:
Netgear comes with high prices and better quality, more powerful routers. If you need the highest quality performance, for gaming or streaming, Netgear will lead. However, TP-Link has also improved the performance of its routers
Features:
Netgear generally offers a large number of advanced features in their routers. These include advanced Quality of Service (QoS) settings, security features, and management options. TP-Link also provides good features in its routers but not many advanced features in some of its more budget-friendly routers.
user Interface
TP-Link devices are recognized for their user-friendly interfaces and simple setup processes. Netgear devices can also be easy to set up, but some of their more advanced features may require a bit more technical knowledge
Compatibility
Both TP-Link and Netgear manufacture reliable networking routers. However, each router's compatibility can vary, so it's essential to check routers it is compatible with your internet service provider(ISP) and the devices you want to connect because compatibility issues may cause connectivity problem.
In conclusion, both TP-Link and Netgear offer an extensive amount of routers, and it depends on your requirements and budget. If you're looking for affordability and user-friendly options, TP-Link is better. If you need advanced features, especially for gaming purposes, Netgear is the better option. Try to research and compare different routers to find the one that fits your requirements.
MobileSiri.com is a participant in the Amazon Services LLC Associates Program, an affiliate advertising program designed to provide a means for sites to earn advertising fees by advertising and linking to Amazon.com. Read about our Affiliates Disclosure Policy
here
. Amazon and the Amazon logo are trademarks of Amazon.com, Inc. or its affiliates.