Carrying around a key-chain in an era of smart homes is a thing of the past. Especially, when there are tens of smart locks and electronic locks to choose from and via which you can enter your home with a push of a button.
Smart locks replace your door deadbolt to do much more than simply lock and unlock the door without a key. They allow you to receive alerts, track who is entering and leaving your home, email limited access digital keys, remotely lock and unlock in your absence. The idea of a smart lock is that you can lock and unlock without a key along with monitoring and controlling remotely is way too appealing.
Here we have reviewed some of the best smart locks that will give you the best security.
Things to consider while buying a smart lock:
1.) Security methods (to unlock).
2.) Burglar alarming.
3.) Connectivity.
4.) Weather resistance.
Most of the smart locks come with one or more means of entry, such as Bluetooth, biometric, RFID (Radio Frequency Identification), or keypad.
Best Smart Locks Comparison
Smart Lock Brand
Features
Compatibility
Connectivity
Price
August Smart Lock
doorbell cam, wireless keypad, Auto-Unlock, Ever Lock, Set Schedules
Android, IOS, Nest and HomeKit
August connect
Check Price
Yale Assure Lock SL
Auto unlock,
touchscreen keypad
Amazon Alexa, Google Assistant, HomeKit, Phillips Hue and Samsung SmartThings
Yale Access app
check price
Kwikset Halo Smart Lock deadbolt
Electronic touchscreen deadbolt
Alexa, Google Assistant smartphone, Kwikset app
WiFi
check price
Kwikset Kevo Smart Lock 2nd Gen
two eKeys, electronicTouchscreen to Open, Smart key tool
Alexa, Google Assistant, Nest, Honeywell home automation platforms and ring video doorbell
WiFi, Bluetooth
Check Price

Yale Assure lock with Z-Wave Touchscreen Deadbolt smart lock
inbuilt siren sounds, touchscreen keypad, auto-lock feature, remote access, enhanced guest access
mobile app, video doorbell compatibility
Z-wave radio module
Check Price
Master Lock
Padlock
touch sensitive LED, color-coded intuitive interface, touchpad, auto relock, history, weather protected device
Android, IOS
Bluetooth
Check Price
Schlage Sense
Touchscreen, checkmark, red X indicator, program codes, history, set scenes, auto lock, built-in alarm
Apple HomeKit
Bluetooth
Check Price
Google Nest x Yale Lock
touchscreen keypad
Nest, Googe assistant,
WiFi
check price
MEGAFEIS Smart Padlock
Fingerprint padlock, iP65 weatherproof
mobile app
bluetooth
Check Price
August Smart Lock Pro (3rd Gen)
Fingerprint, keyless entry, door sensor, notifications
Homekit, Alexa, Android, IOS
connect Hub Bridge, Z- wave, Alexa, WiFi, Homekit
Check Price
August (4th Generation) Smart Lock
fingerprint, door sensor auto lock, scheduling
Alexa, Google Assistant, Homekit, Smartphone app
built-in WiFi, Fingerprint
check price
Schlage Z-Wave Connect Camelot Touchscreen Deadbolt
Touchscreen keypad, enter code to lock or unlock, notifications
Z-Wave, Alexa, Wink or Iris
Z-Wave
Check Price
Lock Stat LS-500I Remote Lock wi-fi enabled
Keypad, audible alert, customize guest access, property management tools, auto lock
Airbnb, Lock State Connect home automation platform, Lock State products, third party products
Wi-Fi
Check Price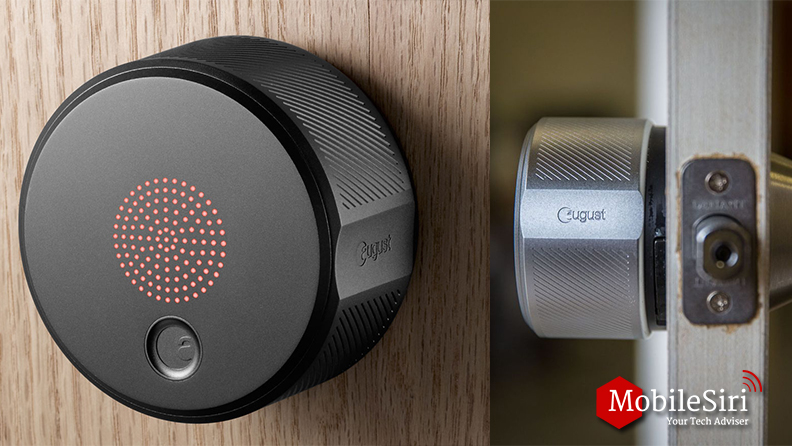 Smart things come with smart specifications and some outstanding features to keep your security tight! And we have just the thing for you.
August Smart Lock has a minimalistic and clean design. It comes in silver, dark gray, red and champagne colors. The smart lock offers some of the additional components such as doorbell cam, wireless keypad, and August connect that acts as a bridge between the lock and Wi-Fi network. The lock is easy to install as compare to other smart locks because the installation is required only on the interior part of the door. Also, there are several mounting plates and color coded adapters that will make installation much easier for you.
It is compatible with both Android and Apple phone, therefore simply go to the store and download free August smart lock app. In addition to that, you can access the smart lock using Bluetooth within 15 feet. Once you open the app, you will see a big red circle. It will turn green and unlock the door if Bluetooth is in range. Coming towards the functionality, the smart lock is very versatile.
Another interesting feature is the Auto-Unlock that will lock the door automatically while you are 100 yards away. Besides this, the Ever lock feature will automatically lock the door within 30 seconds after the door is opened or closed. You can also set schedule time limits for certain keys or assign guest access to the lock through your smartphone. Overall, August smart lock comes with ease of installation, extra security features, and remote access features, securing its position as one of the best smart locks in the list.
Pros
1 The August smart lock features unlimited virtual keys.
2 It effectively works with Nest and HomeKit.
3 It comes with Ever lock, Auto lock, and other impressive remote access features.
Cons
1 It does not have a built-in alarm.
---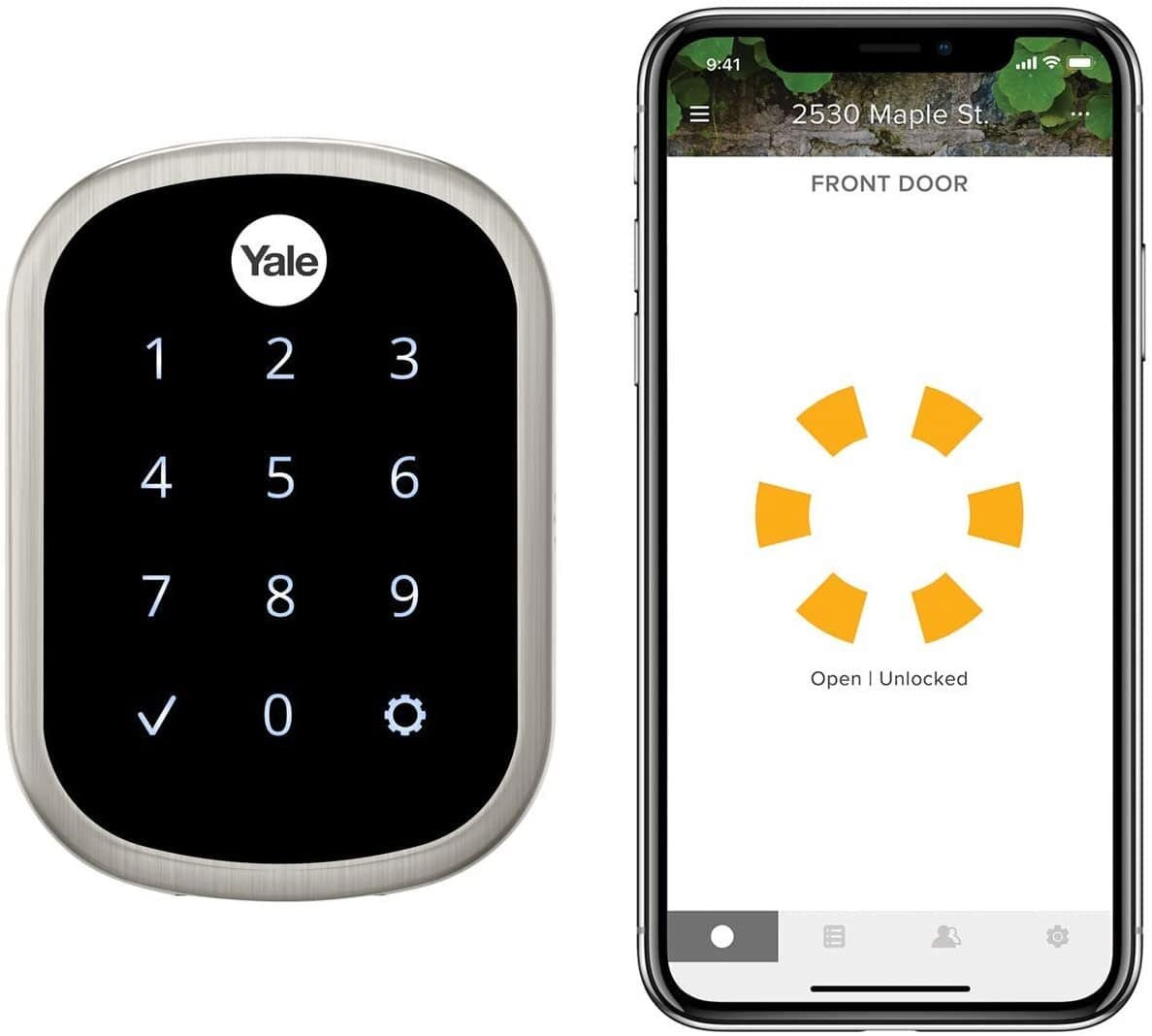 Yale Assure Lock SL is a smart lock with a touchscreen keypad, you don't need keys for locks just integrated code help you to unlock or lock the door and can set it to auto-lock or unlock. It offers remote access to lock through your mobile. You can operate it with voice assistants like Alexa, google assistant, and Siri. Additionally, you can track activities through the Yale Access app with a WiFi connection.
---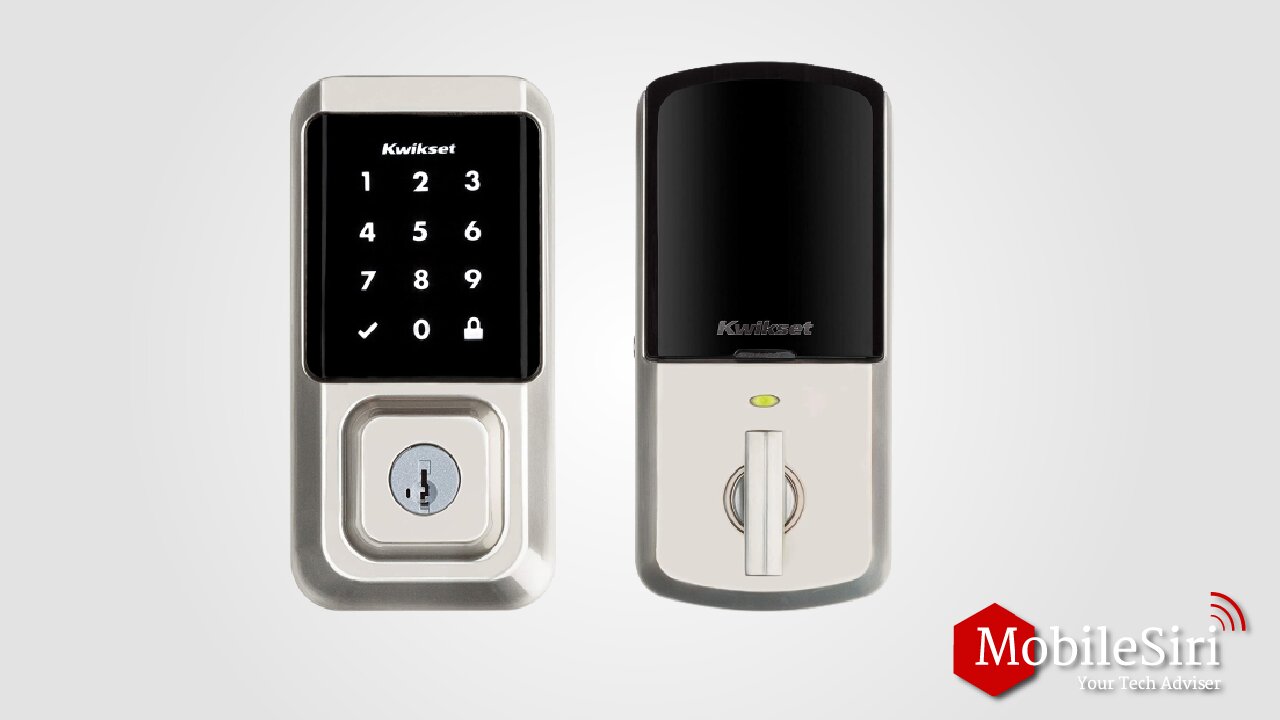 If you are looking for a smart Lock that can work remotely through WiFi, without any third party smart home hub then Kwikset halo is the best smart lock deadbolt.
Kwikset Halo smart lock features an electronic touchscreen that allows you to lock and unlock with an advanced secure screen and smart key security features. You can also rekey the lock by using the smart key tool in seconds.
Morover, it is compatible with Alexa and Googe Assistant. Kwikset app sends you alert of all day lock activity
---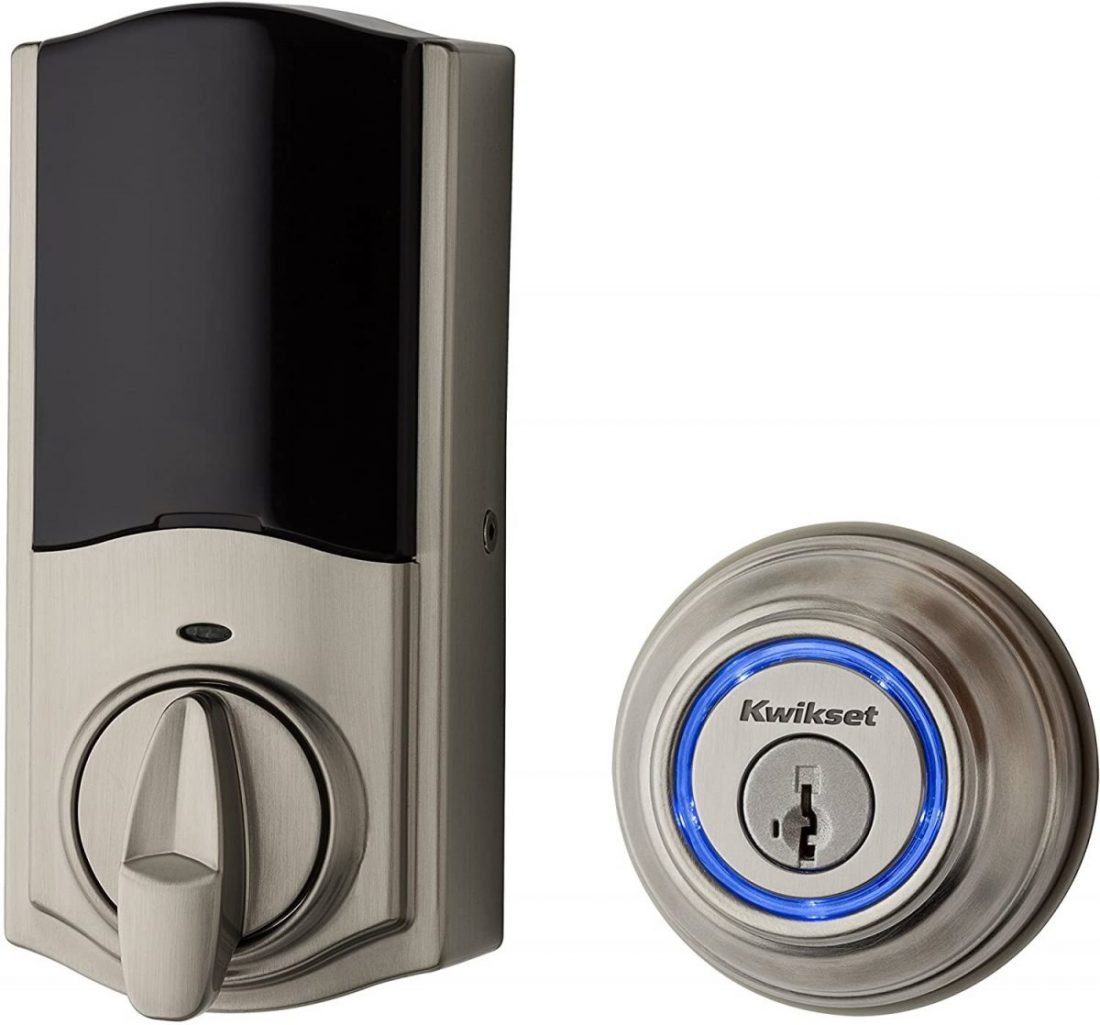 Looking for some smart lock that has different keys for different people and even for visitors in specific hours? Well if you didn't know of it, this one's interesting for you surely.
Kwikset Helo Smart Lock comes in a unique design. The smart lock is great regarding design, technical support, and control. It has excellent security and convenience features. The Kwikset app makes the lock much easier to use. It features two eKeys that you put on your phone or give it to your family members for access. Also, you can send unlimited Guest eKeys that expire in 24 hours' duration.
One of the convenient features of Helo is the touch to open. It scans your phone or key thus allowing you to touch the lock and activate it. You can also rekey the lock by using the smart key tool. The tool lets you switch compatible keys without even visiting a locksmith. The smart lock works most effectively with a smartphone and is compatible with Alexa and Google Assistant, Honeywell home automation platforms and ring video doorbell.
Moreover, it offers FAQs and video tutorial support resources. As a whole, the digital lock is a good choice for its unique handiness features.
So, isn't it the best smart lock? We know you are amazed!
Pros
1 Kwikset Haloo Smart Lock has excellent customer support and quality design.
2 It offers various convenience features.
3 It is compatible with Nest, Honeywell home automation platforms, and ring video doorbell.
Cons
4 It doesn't has an auto-lock feature
---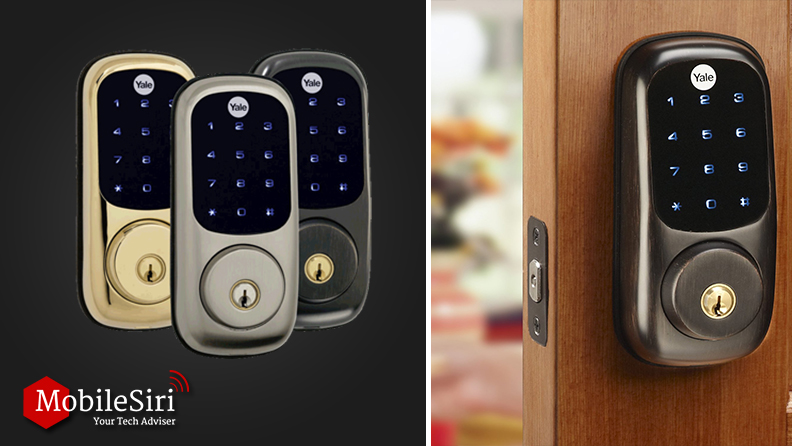 Another great smart lock just for you….
Yale Assure smart lock features backlit keypad controls and home automation integration. It comes with a Z-wave radio module that connects the lock to common home automation systems. The lock has excellent security, convenience, and technical support. Yale Assure Smart lock offers similar protection as most of the deadbolts. It has an inbuilt siren sounds when someone kicks your door.
Beside this, it also has a built-in touchscreen keypad. You can program guest codes and send them through email or text message. It has a traditional keyhole so you can use the physical key. Also, the smart lock has an auto-lock feature which engages the deadbolt 30 seconds after it has been unlocked. Moreover, it has remote access, enhanced guest access, mobile app functionality and video doorbell compatibility. The automation system tracks the lock's activity as well. Lastly, the smart lock comes in satin nickel; oil rubbed bronze and polished brass.
Pros
1 Yale Assure Lock Z-Wave Touchscreen Deadbolt smart lock connects the lock to home automation system.
2 It features built-in touch keypad.
3 It has an auto-lock feature.
Cons
1 Many of the smart lock features work only with the home automation system.
---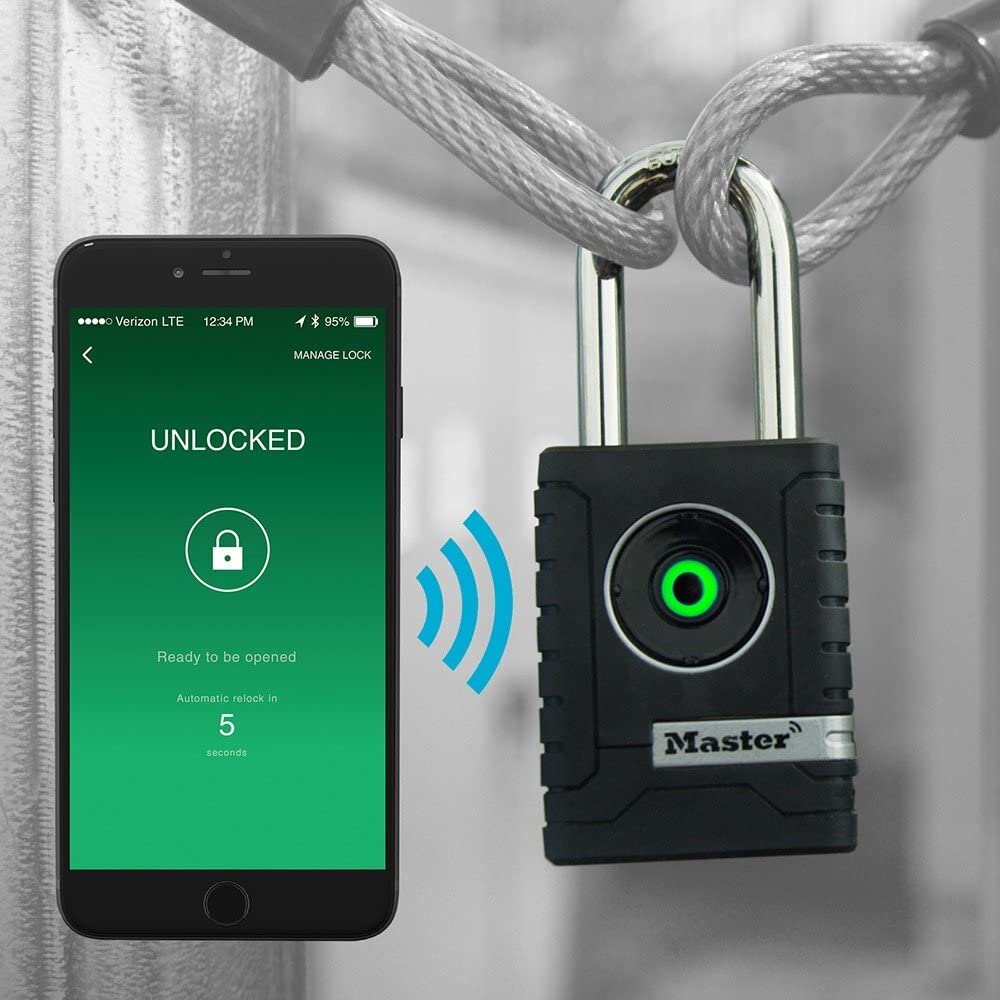 Looking for something hardened? Something with dual security? Well, here's the best smart lock for you then.
Master lock can be controlled through Bluetooth on your smartphone app. It has a heavy-duty body covered in a weather-resistant rubber along with an extra-long shackle, so you don't need to worry about water or rust damage at all. It features a touch-sensitive LED that lights up in either blue, white, green, or red color. The smart lock is compatible with both Android and IOS. The app offers a color-coded intuitive interface, and the instructions are quite easy to follow.
There is a two-step unlock method that adds an extra security as it requires to use the touchpad and tap unlock your phone. It uses Bluetooth signal range and will open the lock with a touchpad LED turning green. The app gives auto relock feature that automatically relocks the shackle after 5 seconds. The locker mode helps you out when you want to lock up your phone in a gym locker or other storage unit. It will activate the click pad code to unlock the device. Besides this, the app keeps the history of when a padlock was locked or unlocked and also by whom. As a whole, it's a great smart lock with a very straightforward and effective app.
So what are you thinking then?
Pros
1 Master lock has easy Bluetooth unlocking.
2 It is a weather protected device.
3 It has the ability to securely share access.
Cons
1 It is expensive.
---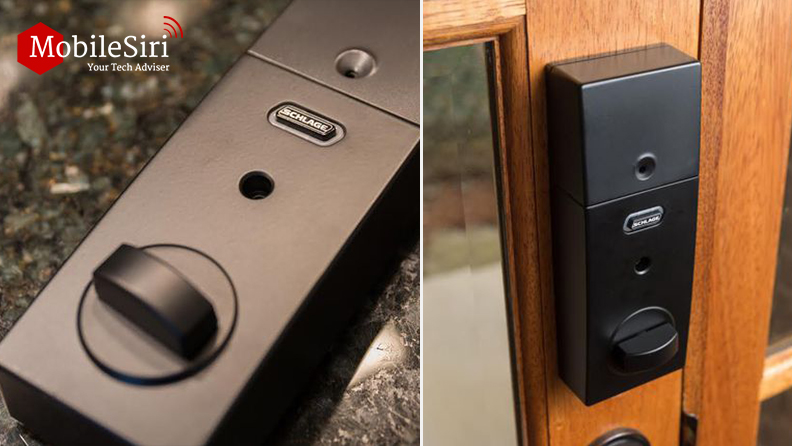 Smart lock with smart options! Here's just another best smart lock for your security!
Schlage Century Touchscreen Deadbolt Lock is equipped with Bluetooth and impressive performance, security, and various smart options.It also offers WiFi adapter(sold separately) to connect with youe home WiFi network to lock and unlock remotely. It works with Android smartphones through Schlage sense app, iPhone, iPad, iPod touch, Apple HomeKit. The smart lock features a basic touchscreen with a white backlight to make it more readable. It features a checkmark indicator as well as a red X indicator. The Schlage Sense smart deadbolt app allows you to control the lock, program new codes, and view history.
If you have HomeKit compatible accessories such as light, thermostat, etc., you can control all of them. Also, you can set scenes in different rooms. Moreover, it offers you auto lock feature and locks automatically between 5-30 seconds after the door is closed. There are different codes available to you, and you can store up to 30 codes. Also, you can give your family or friends the unlimited codes access. Besides this, it includes an optional reinforcement place with each lock for extra security.
Lastly, the smart lock has a built-in alarm with various sensitivity settings.
Pros
1 Schlage Century Touchscreen Deadbolt Lock is HomeKit compatible.
2 It has the ability to give voice commands with Siri.
3 It has a sleek and smudge resistant keypad.
---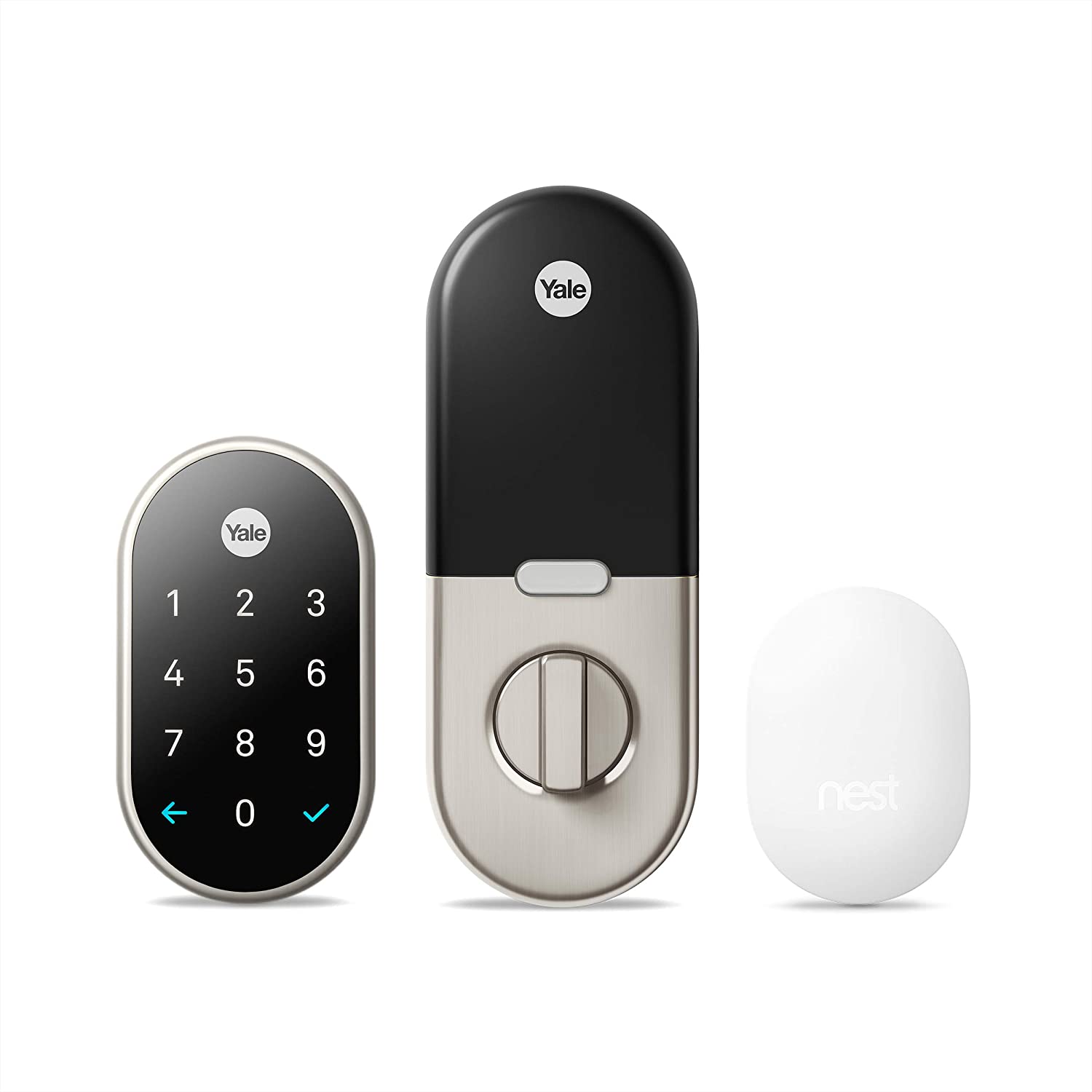 The Google Nest x Yale Lock Deadbolt is a stylish electronic lock with WiFi compatibility. You can pair it with the Nest app to control the lock remotely. It features a touchscreen keypad that allows you to enter the passcode and open and close the door without keys.
In terms of security, if someone tries to tamper with your lock or tries to steal, you'll immediately get notified.
Moreover, it has an auto-lock feature that automatically locks the door. You can either schedule when it has to lock or after how many seconds. Lastly, you can control who can enter your passcode or when. It will offer you scheduling, email alerts, and other useful features.
Undoubtedly, the best smart lock? Right?
Pros
1 The Google Nest x Yale Lock Deadbolt Lock features passcode entry
2 It has tamper alert notification.
3 It's easy to install and program.
---
MEGAFIES padlock is a great smart lock that can be unlocked by just one touch with your finger only or a single click through Bluetooth equipped devices. It offers you keyless control and no need for a password. Also, an IOS and Android compatible app to operate the lock and various interesting features. The lock's LED illuminates with different colors depending on the functioning of the lock.
A flashing green LED is an indication when the lock is about to unlock; the smart lock isn't it? It is weather-resistant and can effectively withstand high temperatures. Moreover, the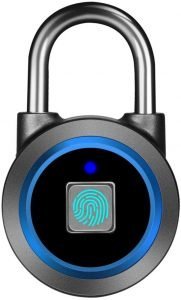 MEGAFEIS Fingerprint padlock can record up to 15 sets of fingerprints. You can also share the lock with your family and friends. The app of the smart lock provides you the history of when and how many times it is locked or unlocked. It also accurately tracks the location of the lock and allows you to share access with other people who need it.
Pros
1 MEGAFEIS Padlock has a sleek and modern design.
2 It can be easily unlocked through the finger, a smartphone, or Bluetooth.
3 It comes with a USB rechargeable lithium battery.
---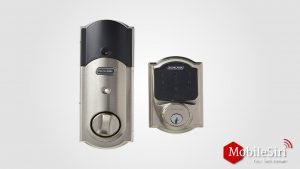 Like everyone, your security is also a matter of concern for us and if you are thinking for some affordable yet best smart lock, here's what's best for you.
Schlage is a company that stands out for its highly-advanced door locks. The Schlage Bolt comes with a contemporary design, touchscreen keypad, keyless entry, and various smart competencies to give the owners peace of mind and ease of use. A unique feature is that it allows you to get 30 user codes at a time thus allowing you to lock or unlock the door by entering 4- digit code. Zwave technology connects to your home automation system that perfectly locks or unlocks doors remotely through a smartphone. This deadbolt has an integrated alarm system for security purposes. Furthermore, it delivers you notifications if someone enters your home. Finally, it is very affordable as compare to other smart locks.
Pros
1 Schlage deadbolt opens your door when you enter codes.
2 It works best with Zwave as well.
3 It is quite affordable.
4 It comes with built-in alarm.
5 It can work with Alexa through smart things.
---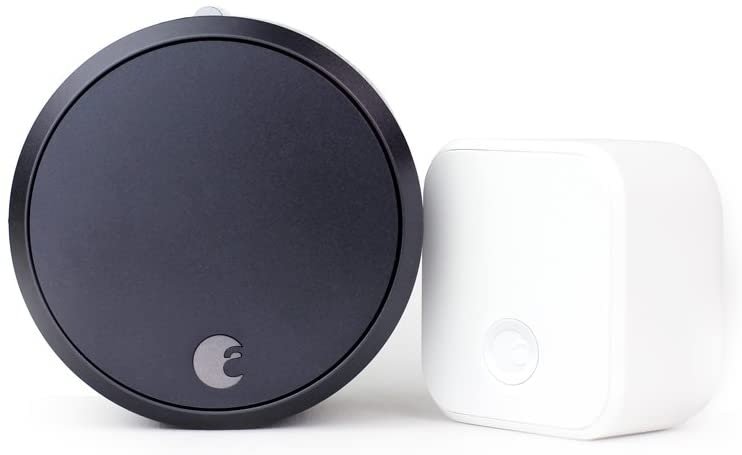 The August smart lock pro lets you use your fingerprint, keys or app to open the door. The smart lock allows you to give access codes to those people who you trust as well as revoke access whenever you want. It comes with auto lock feature thus no matter you are coming or going; it will lock itself once the door is closed for a few seconds. The August smart Lock is fully compatible with any door. Moreover, the app offers great scheduling features as well. Overall, it's a simple and easy lock to operate.
Pros
1 The August smart Lock unlock your home with the fingerprint, passcode or the app.
2 It allows you to generate keys and give access to your family and friends.
3 It comes with auto lock feature thus efficiently protecting your home.
4 It is compatible with Alexa and Apple homekit.
---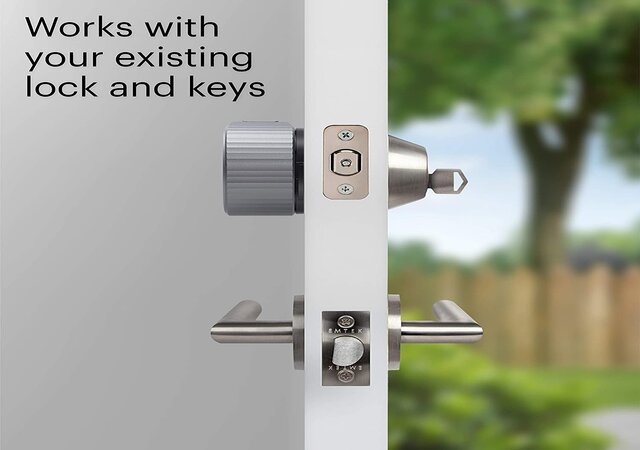 Some sensor stuff! A smart lock that superpositions above all other smart locks.
The August Smart Lock 4th generation is smaller than previous August smart lock, it comes with many convenience features. The first one is that it has built in WiFi, control your door with your voice, three voice assistants Siri, google assistant and Alexa will allow you to lock and unlock the door by simply using your voice. It can work with your existing deadbolt by attaching them on the inside of your door. The other one is auto unlock that will automatically unlock the door remotely through WiFi, only require 2.5GHz network. To lock or unlock the door, you can choose biometric Verification to use your smartphone's fingerprint or facial recognition.
For setup, just enter your WiFi information in August app.
Furthermore, you can also disable the auto lock feature and enable it again later depending on the situation. It's quite easy to select from the various unlock options within the app, notifications, and other settings. Finally, the lock settings also let you customize its direction.
Pros
1 August Wi-Fi, (4th Generation) Smart Lock requires WiFi.
2 The built-in sensor works very effectively.
3 It offers various lock and unlocks settings.
4 The installation is easy.
---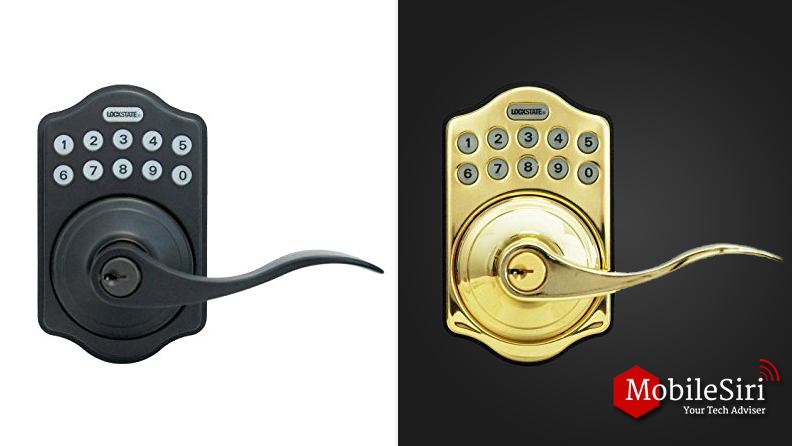 A remote lock feature that outcasts all others and is rated as one another best smart lock.
The Lock Stat LS-500I Remote Lock Wi-Fi enabled is a useful smart lock, especially for property managers. It is nicely designed with built-in Wi-Fi and excellent technical support. The best smart lock has various great control and security features. Efficiently tracks the keypad users and has an audible alert to let you know when the lock fails to engage. The Wi-Fi door lock connects to the Internet to customize guest access and add codes remotely.
It is fully compatible with Airbnb that lets you rent out properties for cash. Moreover, the lock has property management tools which are very helpful for managing multiple rental properties. Also, you can use the web portal to enable the auto-lock function as it relocks 10 seconds after someone unlocks the door. Lastly, it is compatible with the Lock State Connect home automation platform, Lock State products, and some other third party products. It is only compatible with IOS.
Pros
1 Lock Stat LS-500I Remote Lock wi-fi enabled comes with property management tools.
2 It has an auto lock feature.
3 It has an excellent technical support.
Cons
1 It does not feature any tamper alarm or siren.
---
With everyday advancement in technology, it is making our life much easier than before. These technologies are setting up modern trends. All of these above 11 smart locks have superlative security, automation, and compatibility. It's not just a trend but safety to your family. It might cost you more than a traditional lock, but for all these impressive features and convenience, your money will pay you off well.
MobileSiri.com is a participant in the Amazon Services LLC Associates Program, an affiliate advertising program designed to provide a means for sites to earn advertising fees by advertising and linking to Amazon.com. Read about our Affiliates Disclosure Policy
here
. Amazon and the Amazon logo are trademarks of Amazon.com, Inc. or its affiliates.