Samsung Galaxy S7 and Galaxy S7 edge made their first official appearance last day after spending quite a long time in rumors and leaked reports. As it has been speculated, both the Galaxy S7 and Galaxy S7 edge are made powerful in specs which enabled them running heavy features. Some of key features makes the Galaxy S7 and its larger variant perfect gaming smartphones.
The devices do have proper arrangement which is needed for running heavy features without any issue. At the top while running heavy features you will not want to see your devices heating up. The efficient cooling system on new Galaxy S7 flagships helps you keep your device cool while running it to the extreme.
Here we have got the first Galaxy S7 teardown which shows some interesting components including its liquid cooling system beneath the waterproof chassis. The first tear down of Galaxy S7 is done by a Russian tech blogger who managed to remove the watertight chassis of the new Galaxy unit with a heat gun and a little bid of work to remove its back cover.
After removing the back cover we can locate the liquid cooling system built on flat copper pipe which contain a small amount of liquid inside. The copper pipes are weaved around the CPU/GPU combo on the Galaxy S7 chipset. The heat pipes keep the Exynos 8890 or Snapdragon 820 chipset cool after excessive gaming and running other heavy features.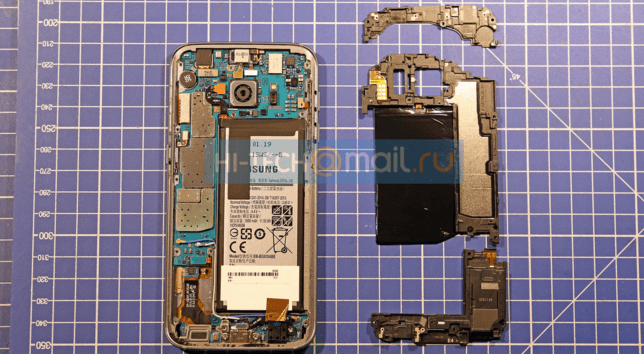 The new Samsung Galaxy flagships are improved specially for their gaming abilities. The Galaxy S7 supports new Vulcan graphics and also comes with dedicated Game Launcher which minimizes the notifications and other things which you don't want to bother. Overheating is also a real disruption in gaming on your smartphone which is now taken care of with improved cooling system. You will probably get the perfect gaming experience on your Galaxy S7 without thinking of issues like overheating and freezing.
MobileSiri.com is a participant in the Amazon Services LLC Associates Program, an affiliate advertising program designed to provide a means for sites to earn advertising fees by advertising and linking to Amazon.com. Read about our Affiliates Disclosure Policy
here
. Amazon and the Amazon logo are trademarks of Amazon.com, Inc. or its affiliates.