The many new features of the iOS 10 were unveiled at Apple's WWDC 16. One of the main changes made in the iOS 10 was the redesigning of the Lock Screen. The iOS 10 lock screen has been significantly changed and changed for good.
Apple introduced a new side panel which contains widgets. The Control Center has also been redesigned and the notifications have been revamped. Moreover, there is also quicker camera access. The Slide to unlock feature has also been overhauled.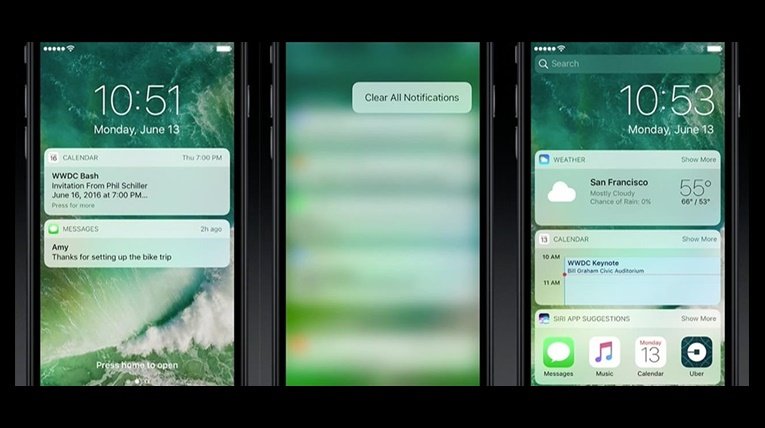 Apple got rid of the 'Slide to unlock' feature in the iOS 10 lock screen2 to make it more accessible, formerly users were required to Swipe right to unlock their device. Swiping right now brings forth the widgets side panel. When you swipe left the Camera apps opens which provides quicker access to the camera. The widgets panel contains widgets that were formerly located in the "Today" view of the Notification Center.
Apple changed the unlocking mechanism in iOS 10. This was done because with Touch ID it was easy to bypass the lock screen to quickly. This sometimes made it difficult to see the notifications. The new overhauled Lock Screen in the iOS 10 also uses a really cool new feature. Now to wake your iPhone all you have to do is pick it up, this feature is being termed as 'raise to awake'. Unfortunately, the feature is only available for  iPhone 6s, 6s Plus, and SE. All three are powered by an A9/M9 processor.
The Control Centre is also significantly redesigned. Notifications in Apple have also gotten richer. In iOS 10 the Control Centre and the notifications both support 3D Touch. In the Control Centre using 3D Touch on Timer, Flashlight, or camera brings forth different options. When a user 3D presses an incoming notification, options pop up like for instance replying to messages directly from the Lock screen.
To check out all the new feature that were introduced in the iOS 10 at WWDC 16 check out our latest article iOS 10: All the new features unveiled at WWDC. Apple has also introduced third party app support in Siri to read about it here.  To check out the iOS 10 Lock Screen overhaul for yourself view the video below.
MobileSiri.com is a participant in the Amazon Services LLC Associates Program, an affiliate advertising program designed to provide a means for sites to earn advertising fees by advertising and linking to Amazon.com. Read about our Affiliates Disclosure Policy
here
. Amazon and the Amazon logo are trademarks of Amazon.com, Inc. or its affiliates.