Microsoft Lumia 535, the big-screen selfie phone is the first Lumia phone without Nokia name
Microsoft Lumia 535 has become the first Lumia series smartphone without the Nokia name. It has been quite long that Microsoft took over Nokia mobile phones business. And now we have an array of smartphones in the market with the nice impression of Microsoft. This takeover especially proved well for Lumia and other Nokia smartphone lineups. Such on-market smartphone series sought the advantage of the merger of both well-known companies in their respective markets. Though the journey form the tag of Nokia to Microsoft was equally positive for the Lumia series yet it has many of its devices which got the mix of rich and poor functions. This mix of features is also giving the Lumia smartphones a mixed rating in the market.
Read More : Microsoft Lumia 535 Specifications & Review
Following the journey, Microsoft Lumia 535 is also no exception in the treats of the Lumia lineup. Lumia 535 is the smartphone with the 5-inch display, familiar plastic body, rounded covers, 1.2GHz quad-core processor and 5-megapixel cameras on front and back. With its display and front/back cameras being 5-inch and 5-megapixels respectively, it has well achieved the 5x5x5 branding of Microsoft. Among these its 5-inches of screen puts it on a higher rank than its Lumia 530 counterpart. Compared with the 4-inch screen of the Lumia 530 it displays more impressive results with equally higher resolution.


Apart from these some nice points there are also feature which affects its value. One of the key features that it lacks is the 4G connection support. But you can have the data speed of 3G networks. Though, taking in to consideration the ultra-budget range of the Lumia 535 such trade-offs are reasonable but it also reduces its field of competition. This takes it away from the race of smartphones which support higher data speed of 4G connection.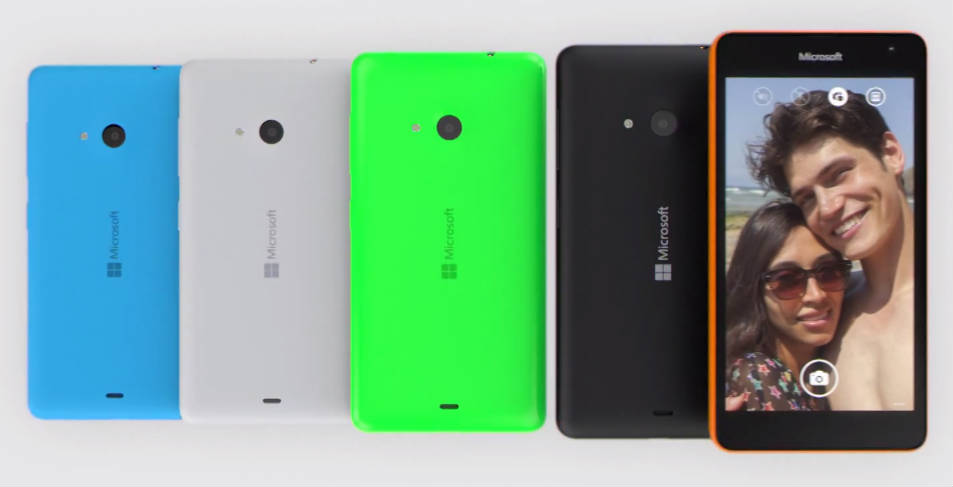 The Lumia lineup is also too much diverse with its plenty of devices all with certain similarities and differences. Following the same, Lumia 535 also faces a good competition from its own counterparts. Comparing with the Lumia 630 and Lumia 635 we find the Lumia 535 less compelling. Both the Lumia 630 and 635 come with more impressive screens and more powerful cameras. However, considering the internal specs, the Microsoft Lumia 535 is made more powerful with 1GB of RAM against the 512MB of its competing models. The lacking of the ambient light sensor also makes the 630 and 635 less in standard against the Lumia 535.
Besides all these introductory features, its cheap price, colorful body and bigger screen, its lack of 4G LTE and some sluggish interface reduces much of its value. Even if its many of the specialties can earn for it still its weak points are equally important which can cost it much. Here in this detail review we go through each of its fields to find out its expertise and the weaknesses.
Colorful Lumia 535 Design and strong build
If you already experienced the styling of Lumia 635 then the Lumia 535 would not be a new smartphone for you. It is extremely similar to the Lumia 635 with the same design. For instance, the wraparound plastic cover is again there which covers its battery, twin SIM and microSD slots underneath. It also feels good in the hands with a high-gloss finish and smoothly rounded sides.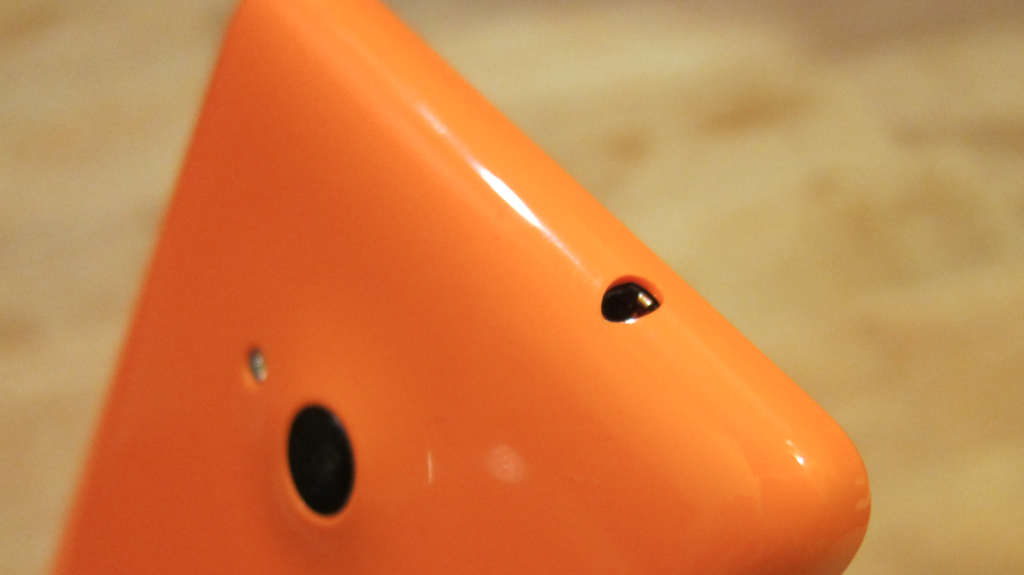 Following the growing trend of low-end Windows Phones, it also lacks the dedicated camera button. Instead you have to use the on screen button to capture snaps. Along with this it holds the essential power and volume buttons around the edge. They are also well arranged for easy access. The volume rocker set on the top of right side slightly up then the power button. You can also find the 3.5mm headphone jack along with a microUSB port that can be used for both charging and data transfer. Its microUSB port is there at the bottom while the headphone jack is on the top. Bellow the jack you can find the speakers.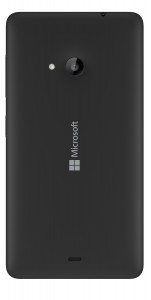 The certain change of tag from Nokia Lumia to Microsoft has its physical impression on the body of Lumia 535. Apart from this its overall design scheme is kept the same as usual Lumia devices. It also follows the colorful tradition of Nokia Lumia. Its wrap-around plastic cover comes in variety of vibrant colors. The range of color includes orange, green, cyan, white and black.
Hosting the 5-inch screen it is probably a large phone. Though the design on Lumia 535 is made to look nice with its larger screen but still it has its feel of bigger size. Considering its dimension it measures 140mm long, 72mm wide and 8.8mm thick. Though it doesn't stand against the competition of slim smartphones but for an average user it may be a bit cumbersome.
Bigger Display
The display of Lumia 535 is one of the fields where it has got an edge over many of its range Lumia phones. It is a large 5-inch display with some other supporting features. Taking in to consideration its display size we find it on a good position in budget phones. Apart from the bigger size its screen comes with 540 x 960pixels resolution and 220ppi pixel density. It displays unpleasant text and pictures results. However, the Windows phone interface and its basic apps are clear and easily readable. Despite the weakness it still remains much powerful than the Lumia 530 in its screen size, resolution and pixel density.


Its display is an IPS LCD with 16M colors. Though its colors are not much good but you can have some nice viewing angles along with good Animations and video play back. Its screen is also well protected with Gorilla Glass 3. With these ups and downs its display doesn't pass the higher quality but yet it is not bad with its range.
Apart from these its display also doesn't do well while compared with Android smartphones. The Android phones of the same range like the Moto G, Asus Zenphone 5 and others have quite improved display than this.
Software and interface
The Operating system on the Microsoft Lumia 535 is Window phone 8.1 Lumia Denim. The Lumia Denim update on the latest Windows phone OS provide you an improved experience with your Lumia 535. The Lumia Denim updates also improves its camera app, the 'Hey Cortana' and many other basic features.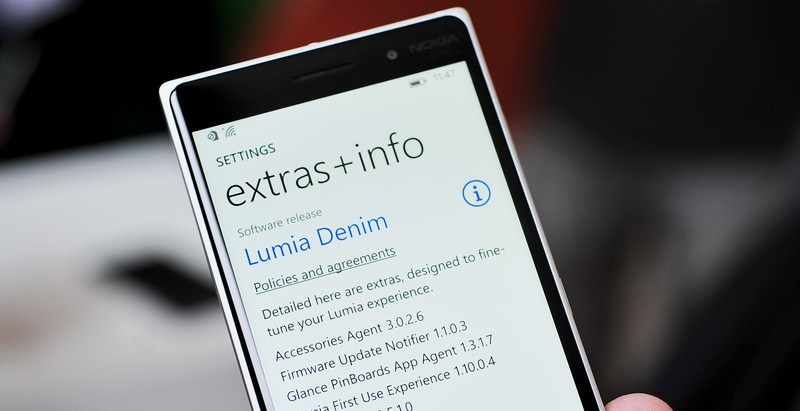 It has included some useful features to attract its target market. These features include the improved action center which enables you to reach notifications easily. You can now reach the notification panel by pulling it down from the top. It seems that Microsoft has adopted this feature from the Android interface. Similar to the Androids You can have a quick access to the notifications about your incoming messages, apps updates, email and much more. Similarly it provides you the access to quick settings along with common tasks like turning Wi-Fi on/off and controlling screen brightness.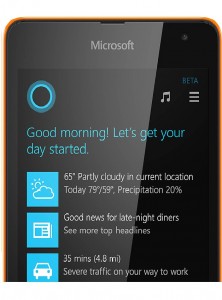 The 'Hey Cortana' service on Lumia Denim also gives you a nice experience. With the updates now Cortana includes improved natural language, better car kit integration and certain calendar improvements with snooze reminder. Other Microsoft services are also more integrated in Lumia 535. Along with this you will also have more integrated services of Microsoft. For instance, the Skype services are made more accessible as you can easily switch from call to Skype.
As mentioned earlier with the Windows phone Operating System the Lumia 535 is also the smartphone which experience the change of tag from Nokia to Microsoft. Though, loading the Windows phone OS even before the purchase it also faces the tough time faced by most of its similar device regarding their system software. Despite the struggle yet the Windows phones are unable to achieve the market share which is achieved by Android and iOS. Considering the challenging competition from Android and iOS the desired position of Windows phone in the market is yet too far.
Better internal specifications
Its display and design express a bigger phone with lower display. Yet certain hardware specifications of Microsoft Lumia 535 with its updated software, give it much value. This also gives it the advantage of nice software and hardware integration by Microsoft. Looking under its hood we found a Snapdragon 200 SoC chipset with a 1.2GHz Cortex A7 quad-core CPU. It's given processing powers enable it to run most of its functions without trouble, yet similar to its display the processing powers don't match its large build.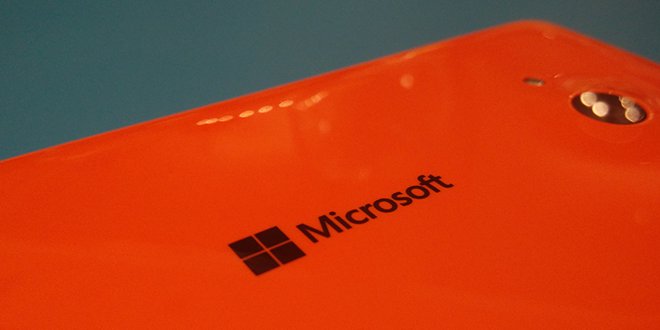 Apart from the screen and build if we take in to consideration its range and lineup it comes to be comparatively powerful. It is well equipped with 1GB of RAM which gives it an edge over its competing Lumia counterparts. However, the combination of its 1.2GHz processor and 1GB of RAM are much powerful yet you will miss the expected softness in loading heavy features and apps. But it is powerful enough to give you a satisfactory experience with its hardware and software integration and its basic apps and features.
The internal storage on Lumia 535 is 8 GB. It also seems low but you can expend it with external storage. It has placed a microSD card slot along with its Dual-SIM slot underneath its back cover. It can load up to 128 GB of external storage via microSD card. Along with this Microsoft's free cloud storage also adds up 30 GB of extra storage.
Perfect Selfie camera
With dual 5 of its cameras it got three 5s branding of Microsoft. It got a 5MP main camera on its back and an equally powerful 5MP camera on front. Considering its camera powers the 5MP on its rear would prove average which can only does the basic camera function with average results. Though, its main camera is the same in most of the Lumia smartphones of its range but the front facing camera is the point where it can claim a position.
The front facing camera in most of the Lumia smartphones are less focused. Especially the earlier generation of the 535, the Lumia 530 missed out the front camera. Contrary to this the Lumia 535 has featured a wide-angle 5 MP camera on front with powerful selfie capturing capability. This makes it a truly selfie-centric smartphone. This feature of Lumia 535 also seems to be the only feature which reached to another level.


With nicely integrated camera app for selfies and wide-angle lens you have plenty of options to take selfies in different ways. For instance, you can capture good selfies in large groups and different other conditions.
Apart from the powers on its front, the rear camera also has an auto-focus lens and LED flash. You can capture 30 fps FWVGA videos at 480p. Its video recording ability also seems very limited as compared with many other phones of its range. However, the auto-focus and LED flesh option instead of fix focus and no flash adds up some considerable value in Lumia 535.


Poor battery
Again it missed a feature which needed much focus while considering the large screen and updated hardware and software. The battery we found on the Microsoft Lumia 535 is a Li-Ion 1905 mAh. As many of its similar Lumia smartphones got better batteries it's going to lose some value and efficiency. However, with this power you can still have talk time of up to 11 hours and 23 days on standby. It is good in this sense yet it is a multimedia phone with a large screen which surely demands more than this level of power for its optimum use.
Attractive prices
And finally you can have the Lumia 535 with expected prices at $135 which is equivalent to £85 and AU$160. The prices sound affordable and also match with its specs and functions we discussed in this detailed review. These attractive prices help adjusting the Microsoft Lumia 535 in its ultra-budget range.
However, its specs are not fully bound to its range. Rather, it has opted for certain features of the higher-end Lumia smartphones. It comes in an impressive design with interchangeable cases, the camera that find on most of Lumia and some powerful software features. With these exceptional features the Lumia 535 just leads the budget devices of Lumia 520 and 530.
MobileSiri.com is a participant in the Amazon Services LLC Associates Program, an affiliate advertising program designed to provide a means for sites to earn advertising fees by advertising and linking to Amazon.com. Read about our Affiliates Disclosure Policy
here
. Amazon and the Amazon logo are trademarks of Amazon.com, Inc. or its affiliates.