Samsung Galaxy S7 and S7 Edge debuted on the runway of MWC, 2016. Just last week, the audience started to get their hands on the device. Early teardowns have revealed much about the South Korean new duo. From burn test to scratch test and to finally under-water procedures, both the devices have seen their fair share of tortures.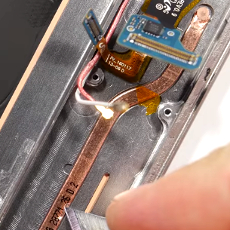 However, in the midst of different tests and teardowns a heat pipe wrapped around the processor area was found. It was presumed that the piped area was a little liquid cooling system. Amidst all the guesses and speculations, the brainchild behind the Smartphones has confirmed the presence of cooling system. Samsung, while talking about its new Game Launcher setup, clarified that a liquid cooling system is present in the Smartphones. To those who don't know Sony and Lumia have previously used the same system in their devices; Xperia Range and Lumia 950 respectively.
Coming to the point, Samsung in a statement noted that;
"The cooling system in these phones, with a very thin thermal spreader, keeps devices cool, so gamers can focus on winning."
Thus, you have your confirmation now! The pipes do not swoosh some mysterious liquid to keep your device cool. In fact, there is complete flat copper piping with little droplets of liquid. The liquid most preferably here is water. The liquid, or the water, evaporates when it hits the CPU area. The evaporation swipes the heat away by producing gas. It condenses back into a liquid when it flows into the pipe deeper.
Samsung has named this cooling technology as a "thermal spreader." However, what we don't understand is that the name makes no sense to the function it performs. It is supposed to eradicate that thermal not spread it. We would certainly have been happy if there was a "liquid" or a "cooling" word instead of a thermal spreader in there. Well, this technology is applaudable! How well thermal spreader holds the system together and keeps you away from the tensions of over-heating is something we all always wanted.
MobileSiri.com is a participant in the Amazon Services LLC Associates Program, an affiliate advertising program designed to provide a means for sites to earn advertising fees by advertising and linking to Amazon.com. Read about our Affiliates Disclosure Policy
here
. Amazon and the Amazon logo are trademarks of Amazon.com, Inc. or its affiliates.