The Apple iPad Pro was launched in September 2015 in the wake of much anticipation. The latest tablet was highly awaited and was well received by fans. The iPad Pro became quickly popular and was well-reviewed. The tablet has a display size of 12.9 inches and is not only breath-taking in appearance but, is also a virtuoso in the tech field. Apart from the stunning design and appearance, the tablet also has unprecedented performance. You can check the big list of Apple iPhone 12/12 pro cases here.
The device is great for all kinds of usage from entertainment to productivity. If you already own an iPad Pro or if you are considering buying one it is important to understand that device like these need to be protected. We all can be clumsy now and then so it is important to buy a protective case or cover for your iPad Pro to ensure that it is properly protected. Especially considering that repairing an Apple device doesn't come cheap.
Best Cases and Cover for your Apple iPad Pro:
Here is the extensive list of all the very best Apple iPad Pro cases and covers that are currently available in the market. All of these cases vary in protection, price, and quality so there is a wide range from which you can choose the right case to suit your needs. Without further ado here are the very best cases for the Apple iPad Pro…
Best Keyboard Cases for iPad Pro
If you are looking for an iPad case as well as a keyboard for it that works with the new models of iPad then you just need the magic keyboard. The keyboard is magnetic which means that the iPad just sticks to the cover and doesn't pop out. Moreover, it has a backlit keyboard that emits light from beneath the keys. Also, it comes with a USB- C port.
One thing to note is that the magic keyboard is heavier than the iPad itself (iPad ≈ 600g and Magic Keyboard ≈ 700g) for ease of opening and closing the device. To end with, it costs $244.00 on Amazon.
---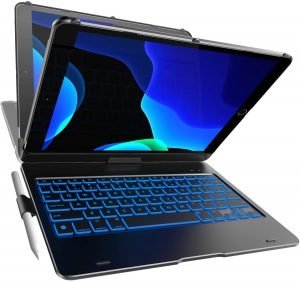 If you're looking to protect your iPad Pro and a keyboard to go with it, then the Smart Keyboard is a great choice. As seen before on the iPad Air and iPad mini, the Smart Keyboard clips magnetically to the side of the iPad Pro and protects its screen. The Smart Keyboard is an original iPad Pro accessory case by Apple. It is a pretty perfect case that comes with a full.
This Apple made iPad Pro cover case resembles the Smart cover it used to sell for Pro's predecessors. The case not only protects your iPad, but it also serves as a junction between a laptop and a tablet, via a keyboard. The case can protect both, the upper and lower part of the device. As far as the price is concerned, Apple Smart Keyboard has the typical price tag feature of the Cupertino giant. It is available for $169.00 on Apple.com.

---
If the official Apple Smart Keyboard was too expensive for you or you just didn't like it then worry not because Apple isn't the only one making keyboard cases for the Apple iPad Pro. Logitech has a great Create Keyboard Case that is almost half the price.
The Logitech Create Keyboard case is available in various stylish color combinations from which you can choose. This case is not as easy to take out and put on but that might be a good thing for some because this case turns your iPad Pro into a laptop. At half the price the keyboard is still a lot better that the official Apple one, because it's keys, are more similar to a normal keyboard.

---
Pitaka magnetic iPad pro 12.9″ case offers you a superior magnetic smart folio case that is compatible with magic keyboard and smart keyboard folio. Different positions giving your hands-free viewing from all angles. The case is smartly designed to guard your iPad Pro against all the possible damages and scratches. In addition to that, it offers an elastic strap around the folio case that is very useful especially when you are traveling. The precise cutouts of the case let you access the ports, controls, and buttons very quickly. The elevated bezel around the camera protects the lenses from scratches. Overall, the case is a successful combination of elegant design and practical functionality.
---
Zagg Rugged Book Case substantial delivers rugged protection and lots of functionality. It is constructed from a mixture of polycarbonate, stainless steel, and silicone that ensures no harm to your iPad Pro. There is a magnetic hinge that lets you attach the backlit keyboard and fix it at any angle you want. You may turn it around into a handy viewing stand. The fact that you can separate the keyboard section is very useful.
---
Best Leather iPad Pro Cases
The Soke iPad Air 4 case/iPad Pro 11 is made from synthetic leather. The case provides protection to the iPad without putting extra weight.
There is also an additional pocket inside the cover where you can keep your documents. There is also a self-propping built-in stand for Apple Pencil. The case is available in different colors. Soke iPad Air 4 case/iPad Pro 11 case is available on the company'site and can be ordered for $14.95

---
The Zugu Alpha Case is a smooth iPad case for the iPad pro. The Zugu Alpha case is made from Microfiber, Fiberglass, Vegan Leather. It comes in many different colors. Also, it is one of the best magnetic cases.
It is an expensive case but one of the best protective case that will surely worth.
The inner covering of the case has the touch of 100 percent leather and microfiber makes it protected from scratches. The case allows you to place it at 10 different angles. The case also gets a place for a pencil to charge up and a pencil slot to hold your pencil while not charging. This case is a perfect fit for everyday use and it offers sufficient protection.

---
If you want to protect your device from scratches, damages and yet you want style and fashion at the same time, then you should definitely opt for this cover. The cover apart from being durable is also stylish and strong. There is a strong magnetic lock with an auto sleep feature and wake support for the iPad Pro which will help in protection. It also has a magnetic place to hold your Apple Pencil.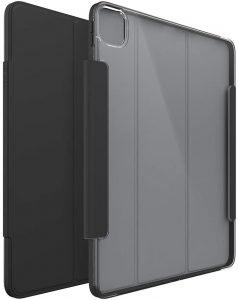 You can use your iPad in different postures and angles with easy access to all buttons and features without the fear of any scratches or malfunction.

---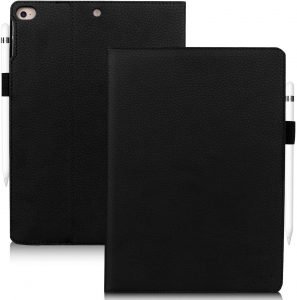 It's difficult to find a genuine leather case at a competitive price, but Fyy Leather Case is worth your little investment. It offers you a wallet-size pocket on the inside and an elegant case for your Apple pencil. The soft sleeve has all the cutouts perfectly in the right place for the convenient use of sleep/wake smart functions. The case folds over for great typing and viewing angles. Besides, the inner pockets do not make it the slimmest case but elegant enough while providing fine protection. In addition to that, the Hand strap is a lovely touch that helps against skidding and provides a strong grip. The case is made available to you in a variety of fun colors including black, brown, cyan, red, and apricot.

---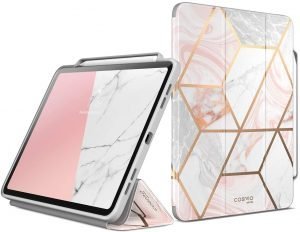 Cosmo Smart Case is made of Faux leather outer with a complementary tan interior. It has incredibly lightweight and consistently sleeps/wakes your iPad when opened or closed. It has a robust design with fine stitching. The iPad Pro case has three-point edges for alternating positions while you are viewing media or typing. An added integrated Apple pencil holder along with a documented patch gives it a more business feel. The interior rubber bumper saves your iPad from sudden falls and raised border protects the screen from scratches and damages is an additional bonus. The case comes in Ameth and marble colors.

---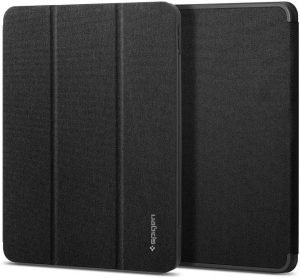 Spigen urban fitSmart Cover excellent value for money. The iPad Pro case has a secure pencil holder and features precise cutouts for the tablets' speakers, ports, controls, and camera. The case is made from soft knitted fabric along with microfiber lining and grooves for charging and lets you fold it back in one of the several positions. It works efficiently with the sleep/wake functions so as soon as you flip the cover, your iPad Pro will turn on. Finally, it effectively guards against minor drops and scratches.

---
ComfyableTablet- Sleeve Case is cushioned with neoprene flap and interior velvet lining, Pu, and microfiber exterior to protect your device from damages. The material is waterproof. It comes in two different colors. You will find it in pink white highlights or pink black color. As you open the sleeve, you will get an Apple pencil slot at the top. Additionally, there is an extra inner cover that is fluffy. The sleeve comes in two sizes that are designed to fit your iPad pro or one with the Apple keyboard.

---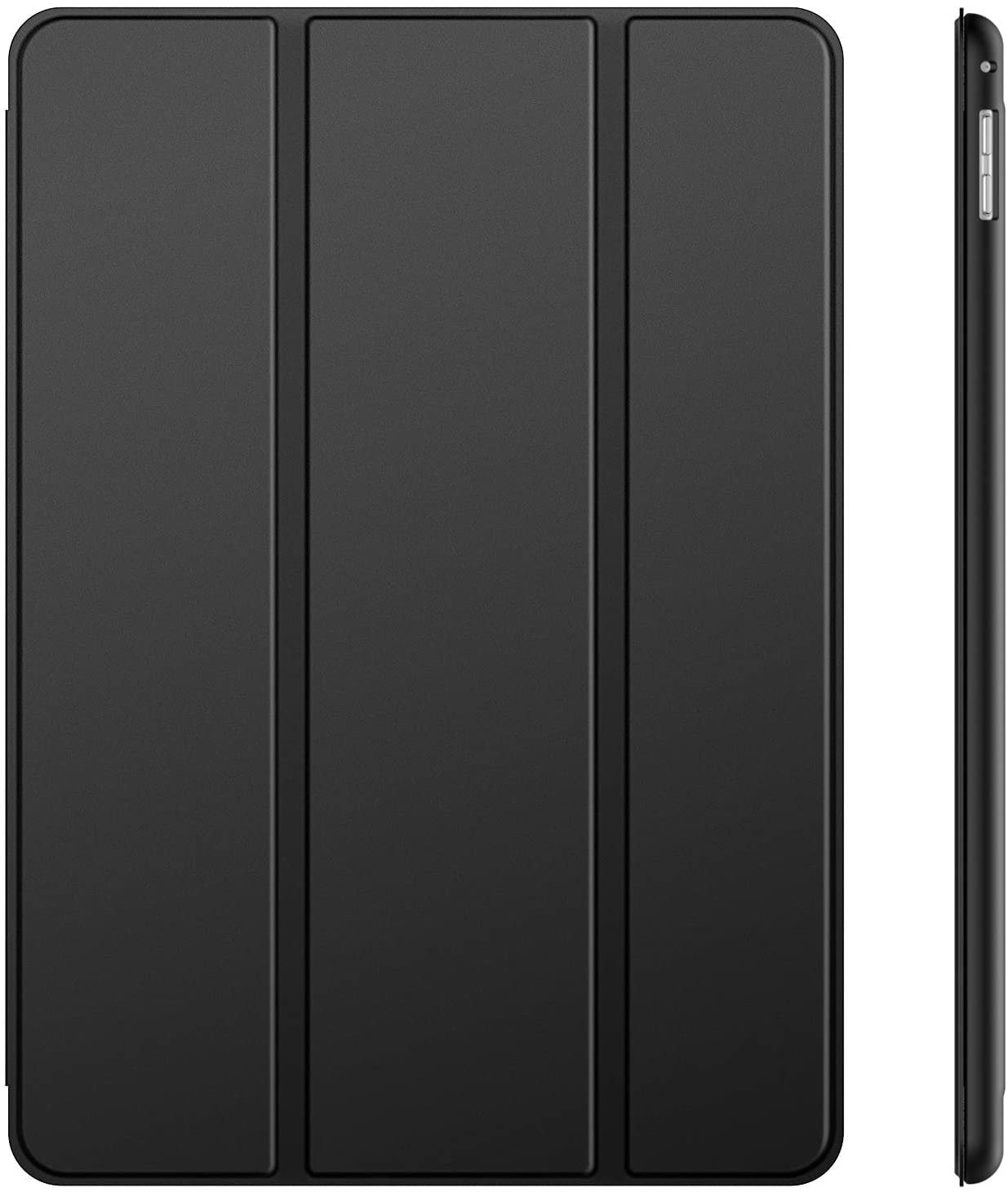 The JETech iPad Pro case features a slim structure to add exceptional elegance to your iPad. The case is made from superior quality synthetic leather to give your hands the real feel of luxuriousness. It is designed in a Flip-style magnetic closure to ensure additional security. Likewise, you don't need to worry about the front and back of your iPad Pro as the case has durable plastic housing along with a slip-proof matte surface. Lastly, it offers easy access to all controls and ports of your iPad Pro.

---
Usually manufacturing a case for a large device such as iPad Pro is a challenging task as one must give perfect cutouts to it. KHOMO has emerged as one of the most competitive iPad Proc case manufacturers. It offers you a premium PU leather case for your iPad Pro. Most importantly, it is an environmentally friendly case. It features TPU along with Polycarbonate for dual protection stem. It guards your tablet against PC hardback cover to soft edges. In addition to that, the hidden magnet at the back effectively holds flip over panels for an excellent user experience.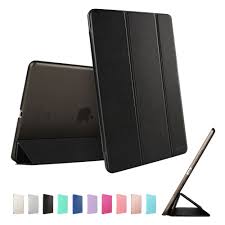 ---
Best Shock absorbing iPad Pro Cases

The Targus VeersaVu is a case made of polycarbonate with microfiber lining. The case has a deep groove on the interior cover that the iPad fits into and can also help to rotate or display the tablet in portrait or landscape mode.

The case is simplistic and not very stylish but it gets the job done. It has a MIL-STD-810G military specification which means that it is approved for the United States Army. While you're probably unlikely to be taking it on a combat tour, it will provide some reassurance that this case is serious about protecting your iPad Pro and iPad Air. The case can survive a 4 feet drop and you can use it outdoors without worrying about your tablet.

---
Seymac stock case is a shock proof protective case for the 9.7-inch iPad Pro. This case has a kickstand that is foldable and can rotate 360 dgree. It offers rugged protection and is made of two parts including an inner crash shell. The shell prevents harsh drops from breaking your precious iPad. Easy to use iPad buttons and precise cutouts along with elatic handstrap.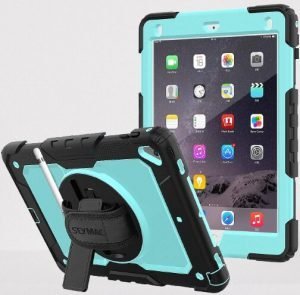 Seymac Stock Case is a great choice if you tend to use your iPad outside often or if your children are always getting their hands on it and bouncing it around. It's all in the name, this case was made to survive.

---
If you are looking for 360-degree protection for your iPad Pro, then the Otterbox Defender Series Case should be on top of your shopping list. The bulky case comprises three distinct layers. It makes sure that every angle of your tablet is fully protected and can withstand drop-offs. It comes with port covers to prevent any dust and debris. If you open it up, it works excellently as a landscape stand. Moreover, there is a particular slot to stow your Apple pencil securely. Also, it features straight cutouts for your camera and speakers. However, the built-in screen protector can interfere with the Apple pencil.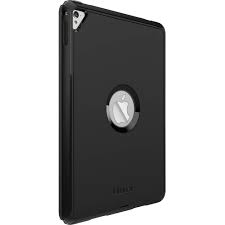 ---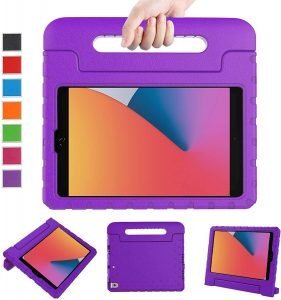 As you are using your iPad Pro for several purposes, and many of you might put your expensive gadget in a place where you want to keep it protected. The LTROP is a fully protective case that comes with a built-in kickstand and screen protector, so you don't need to worry about the safety of your iPad Pro anymore. No matter you are out on construction sites, in warehouse surroundings or simply you don't want to risk the kids dropping it, this is an impressive case for you that provides protection in almost any scenario. The best part is that it is quite inexpensive with superior quality.

---
Supcase brings you an exclusive iPad Pro case that has a built-in screen protector to prevent any scratches. The case is made from a combination of high-grade polycarbonate and thermoplastic polyurethane. As one can't compromise on the sensitivity of the screen, therefore the case effectively absorbs shocks in case you accidentally drop your iPad Pro. Some other significant features of the case are easy to access to all ports, buttons, and controls. The advanced design offers convenient installation. Lastly, the case comes in multiple color range.

---
If you are looking for rugged military grade protection then look no further. The Urban Armor Gear is the best protective case around for your iPad Pro. The company is known for making protective, rugged cases for various devices.

The case also comes with a heavy duty stand at the back and it also has a clip where you can attach your Apple Pencil so you don't lose it.

---
Best Bumper iPad Pro Cases
The Incipio Octane Pure feels more like fun. It comes with a rubber shock-absorbing TPU bumper which is perfectly shaped around the ports and buttons. It has a transparent plastic shell that exposes the rear of your tablet. The flip cover features a microfiber lining to shield the screen entirely. Likewise, it folds up as a dual-angle kickstand for media viewing and typing. Lastly, the case comes in appealing dark blue, pink and purple candy colors.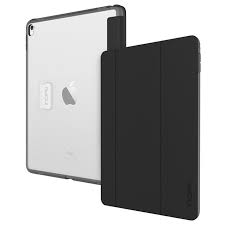 ---
Whenever you have a piece of innovation in your hand, you often get stick to it. A similar case is with CaseBot. The iPad Pro CasaBot Magnetic stand case is made from the dual-layer with a hard interior leather cover that goes easy on your tablet's screen and acts as a real hard safeguard against damages. The case is designed out of the synthetic leather that fits in your Apple iPad along with the magnetic cover. Furthermore, it is equipped with an apple pencil holder that makes sure the pencil remains close and wirelessly charged. Also, the TPU Matte back cover protects from heating and scratching. This high-quality, durable synthetic material avoids scratches, screen damage, and bumps. It features precise cutouts that complement the 12.9-inch body and allow access to all the ports and functions.

---
The Gumdrop case is a case that does not compromise on protection. The case has a built-in, reinforced rubber bumper on the sides. Moreover, there is also a multi-angle stand that you can use to prop your tablet up safely. This case is great if you are looking for high level of protection.
The case is also impact-resistant and has double layered polycarbonate and silicon construction. The slot for Apple Pencil is also a part of this device.

---
Best Slim iPad Pro Cases
Dadanism is also a very smart cover for the Apple iPad Pro. It has a multi-foldable interior with soft PU. The cover features a magnetic backshell. There are precise cut-outs. The cover is available in different colors. You can view the tablet from two different angles. Furthermore, Dadanism also offers apple pencil magnetic pair and wireless charging. Also, it has the option of sleep and wake for the iPad. The case is available from Amazon for £9.95.

---
The bumps and scratches are a part of life; hence you need to rely on something that is strong. ESR for iPad pro 11 is made available to you to provide your tab full protection and guard it against bumps and scratches. The case is made of high-quality hard polyurethane, hard shell along with a soft interior that guards your iPad Pro against any possible damage. Furthermore, the case offers perfect openings to let the users quickly access all the ports, controls, and buttons on their tab. It comes with a perfect pencil holder and allows 2 viewing angles position.
---
The Khomo lightweight case offers a great feature that auto wakes and sleeps your iPad Pro while also functioning as a stand. The simplistic case is a great affordable option and it is available for both sizes of the iPad Pro. There is also a wide range of colors to choose from. It is a good quality case that offers sufficient protection and is great for everyday use.

---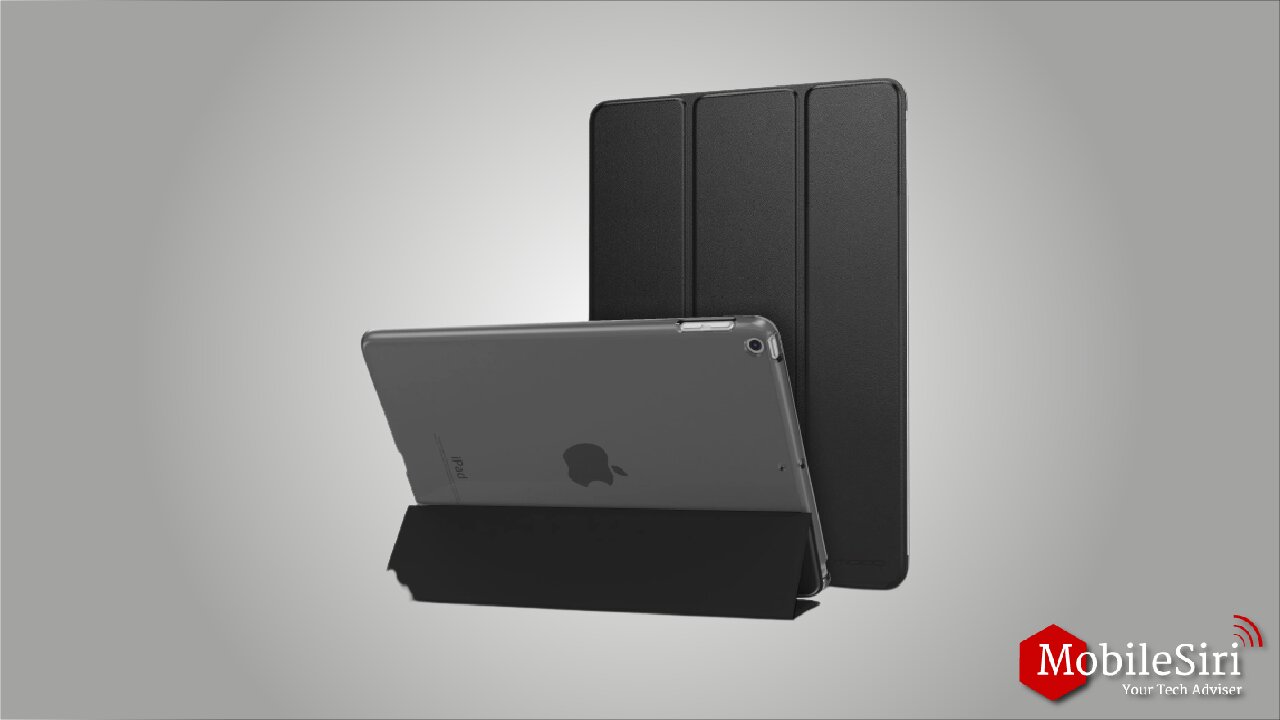 If you are looking for a case that combines durability and design with synthetic fiber and microfiber lining then the MoKo Case Fit iPad Pr0 cover is the one for you. The case has a slim and sleek design. The clear back shows off your flash gadget in all its glory while allowing access to all the ports, buttons, and speakers. Moreover, this case covers the back and protects the screen. It is found in different colors and has a built-in magnetic strip that allows an auto sleep/wake feature.
The case It also allows access to the Smart Connector for full compatibility with Apple's Smart Cover and Smart Keyboard.

---
If you have an eye on Apple's smart case, but your budget is limited, then check out Luvvitt Rescue Case. As far as the functionality is concerned, it's almost similar. Your iPad Pro will snap into the polycarbonate chassis along with a front flap that protects and activates/deactivates the display. The case has a feather-light profile that hardly adds anything to your tablet. This lightweight makes it perfect for traveling. Moreover, the two folds in the cover offer fantastic viewing and typing angles. The best part about the case is that it costs almost nothing as compared to Apple's smart case without compromising on the quality. The case comes in black, rose gold, and champagne gold color.

---
If you want to keep your iPad's color exposed but also want to protect it from everyday knocks and scratches, then Speck Smart Shell Plus is the perfect option for you. It comes with a transparent rear sports cut-out in all the right places along with openings for the Lightning connector, volume buttons, speaker, and camera. Also, there is a gap along the side that allows you to pair the case with Apple's smart keyboard. Furthermore, the folding front cover has a weighted stand function that lets you view media in site orientation. Whereas the magnetic closure on and off your tablet's screen. The case is available in clear and onyx black.

DTTO iPad case comes with a sharp design that effectively protects the back and front screen separately. It is designed for iPad 7th/8th generation. Your tab will automatically sleep and wake up as soon as you open and close the smart cover. It features precise folds for more ease and convenience. It comes with precise cutouts for the camera and USB port. The cover can convert into an inbuilt stand to facilitate reading and watching. You can position it into the trifold stand. Lastly, the softback case strikes with an appealing black color.

---
Griffin has been making protective covers and cases for a wide range of electronic devices for a while now and it has established its name. The Survivor range of cases is one of the most indestructible covers and cases currently available in the market. The Griffin Survivor Slim is a protective case for iPad Pro that offers rugged protection but it is still not very bulky.

If you are clumsy or tend to be in situations where you could drop you iPad Pro often then this case is a great choice. It also has a handy Apple Pencil holder and compatibility with Apple's Smart Cover or Smart Keyboard.

---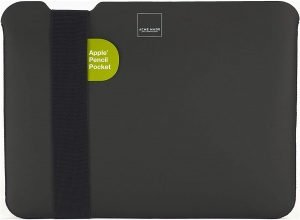 The Acme Made Sleeve Case is another great cover for your iPad Pro if you are looking for something light and sleek with reasonable protection. The Acme Case is made from Neoprene that is 100 percent waterproof and stain-resistant, providing users with a cover that's soft to the touch and will continue to look good over time as it ages.
The case also offers a unique slot for apple pencil. It also has a nice look and offers a comfortable grip.
The case also offers an elastic band that protects the iPad within sleeves and no need for a zipper. Ultimately it is a good quality case that offers a substantial amount of everyday protection for your iPad Pro.

---
The ProCase is another great cover for your iPad Pro if you are looking for something light and sleek with reasonable protection. TheProCase has a hardback design 100 percent scratch and waterproof, translucent back providing users to see the Apple icons with a cover that's soft to the touch and will continue to look good over time as it ages.
The case also offers easy access to all the buttons, ports, and sensors so that you will never have to take your tablet out from it. It also has a nice look and offers a comfortable grip.
The case also offers a smart wake/sleep functionality and it doubles up as a stand for the iPad Pro with two viewing angles. Ultimately it is a good quality case that offers a substantial amount of everyday protection for your iPad Pro.
The case is good if you are not too clumsy and it protects the corners of the screen and the back of the iPad from knocks, scuffs, and cracks.
The case fits snugly over the tablet and it has cutouts for all the ports and the four speakers. The ProCase has a nice feel to it and it offers a comfortable grip. The case is a little pricey but since it is a ProCase product.

---
Best Waterproof iPad Pro case
Bentoben hybrid shockproof Case is low-priced, and if you are looking for a waterproof iPad Air case, then it might be the best option for you. The case is compatible with iPad Air 2. The case has precise cutouts to access the camera, speakers, mic, and charging port. Furthermore, it provides protection against scratches, dust, and sudden incidents because of its triple-layer rugged surface. Also, you can stand the cover with a kickstand and use your iPad Pro in scenery mode or any other position.

---
Best pocket iPad Pro Cases
Stylefolio Pencil 9.7-inch iPad Pro Case does not only carry your iPad Pro but protects your Apple pencil as well, so you don't need to worry about losing the pen. You will find a small carrying area to store the pen while you go anywhere with your iPad. Also, there is an inkwell spot to place the Apple pencil when you are switching between using it and using a keyboard. Moreover, the case effectively protects the front and back of the iPad Pro thus letting you use the iPad in various positions. The pencil holder makes the case a little wider in comparison to other cases.

---
---
The other name in the cover case list for Apple iPad Pro is the ProCase Sleeve. The cover is best for those who use the iPad for daily purposes like carrying to college or workplace etc. The cover is multi-purpose too. It does not only fits your iPad but also looks stylish on your MacBook too.
The most exhilarating feature of this case is that it is built from some very solid material and it can act as a stand for your tablet/laptop. ProCase Sleeve is water-resistant and stylish and comfortable at the same time. There is a total of two pockets to carry your iPad Pro, MacBook, and Smartphone. The smaller items like charger, phone, etc can be protected inside the back area. The Velcro closing protects all your possessions from damages.
---
Tomtoc is great storage bag-like case for your tablet that is available in many trendy colors. The case is well built and it is reliable. The company is known for manufacturing great quality products and this case is no exception.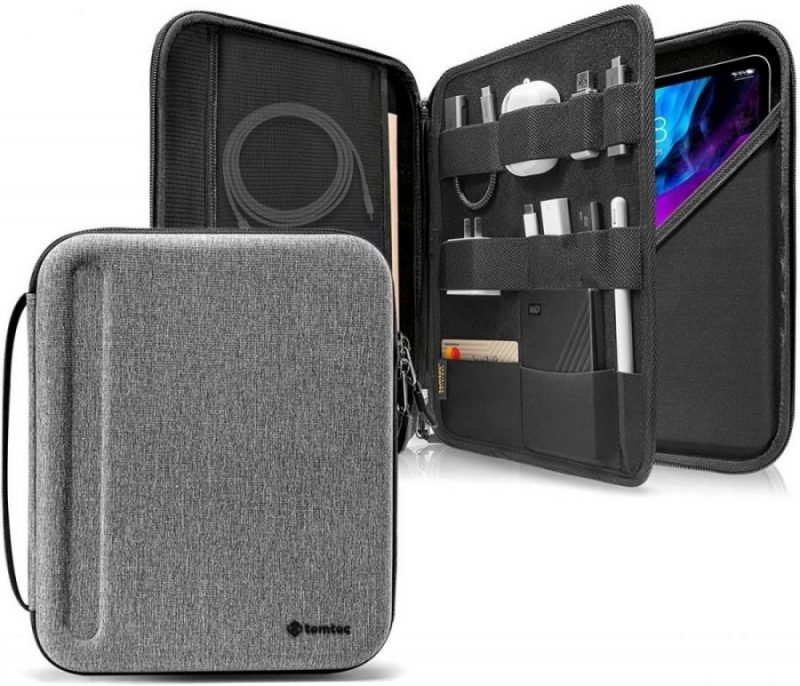 One great feature about this cover that only very few others offer is that the case triple-layer design allows you to store iPad Accessories. The case also has a tab to store your Apple Pencil, or just a regular pen, as the case also Fix iPad with a magic keyboard or smart keyboard folio. Moreover, there is much space to accommodate extra wires and gadgets.

---
The Mofred case is an exclusive iPad Pro case. The best point of this case is that it has an option of flipping the iPad. It means that you can flip the case either horizontal or vertical as per your choice.
There is a built-in magnetic strip which will activate your alarm as soon as iPad Pro is opened and it will also make the device sleep when the case is closed. Moreover, it also comes with a stylus pen and Screen protector.
---
This was our list of the very best cases and covers for the iPad Pro. Hopefully, this list will help you pick out the right case for your Apple iPad. Did this article help you pick a case for your device? Did we miss any of the good cases? Be sure to let us know in the comments and check out our best iPhone 6s battery cases story as well.
---
MobileSiri.com is a participant in the Amazon Services LLC Associates Program, an affiliate advertising program designed to provide a means for sites to earn advertising fees by advertising and linking to Amazon.com. Read about our Affiliates Disclosure Policy
here
. Amazon and the Amazon logo are trademarks of Amazon.com, Inc. or its affiliates.