You just have bought your iPhone 6 and you will certainly not like to lose your new and expensive iPhone because it was dropped or got wet accidentally.  Here we have compiled an extensive list of all the very best waterproof cases for iPhone 6 and iPhone 6S currently available in the market. We hope that this article will guide you in selecting the right iPhone 6 water resistant case. The cases on this list vary in price, quality, feel, robustness, style and many other factors, so you have a large list to choose from. We have also reviewed some of the best iPhone 7 waterproof cases.
Apple is selling official iPhone 6 Case as well, and there is a wide variety available. However, even though they are of high quality, they are not water resistant. The cases we are discussing here have one thing in common, and it is their ability to protect your iPhone 6 from the water. Aside from that most of these cases also offer drop protection, so your iPhone will be protected at all times.
The good news is that all the cases for the iPhone 6 work with iPhone 6S similarly all the cases for the iPhone 6 Plus work with iPhone 6S Plus. So if you already own a case for iPhone 6 you can use it on your iPhone 6S as well and vice versa. Same goes for iPhone 6 and iPhone 6S Plus.
Best Waterproof cases for iPhone 6 and iPhone 6S:
If you are in a rush, and don't want to read the whole article, we have listed down the best iPhone 6 and iPhone 6S Waterproof cases here:
All the cases on this list offer a substantial amount of waterproofing and protection. There is a huge variety to choose from so you can be sure to find the right case that will suit you best. Without further ado here are the very best waterproof cases for the iPhone 6 and 6S.
Griffin is famous for making rugged cases for all kinds of devices. The protective case manufacturer rarely disappoints when it comes to iPhone cases, and the Griffin Survivor All-Terrain is no exception. The case meets military standard 810G, so drop damage up to 2 meters is not a problem. It also keeps the rain out, as every angle of the phone is covered, but there's no guarantee how long it can handle being submerged in water.
The case is rugged so it is quite bulky and the screen protector also tends to reduce the screen sensitivity. However, the touch ID does work with the case on and if you can deal with the added bulk, this is a great case. It is available in black, with three variations, you can get the plain one or the ones with pink or blue highlights.
The Pelican Marine iPhone 6 Waterproof Case is rightfully named. It is one of the toughest waterproof cases currently in the market. This case has a waterproof rating of IP68. It can be submerged in water for up to 6.6 feet for half an hour. It's also very rugged, meeting military drop test standard 810G.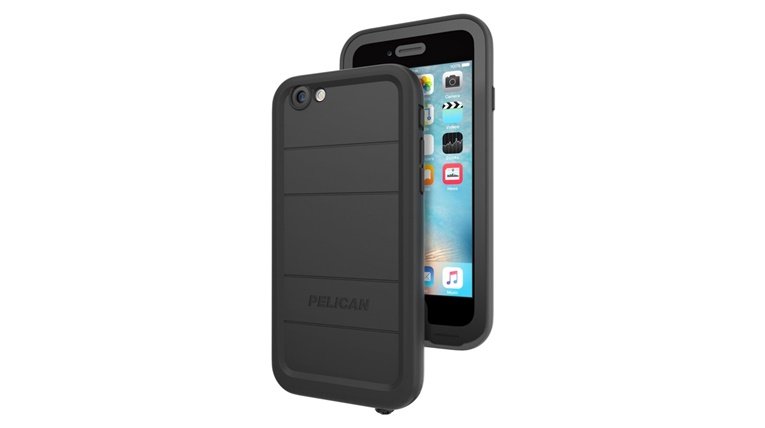 The Pelican case offers five layer protection includes shock absorbing elastomers, a polycarbonate shell, and a built-in screen protector. It also adds comfortable grip and the Touch ID still works with the case on even tough it is completely covered.
The Dog & Bone iPhone 6 Waterproof Case is capable of surviving under 6.6 feet of water for an hour. Bad weather and dirt are not going to damage your device either as long as it is inside this case. The case improves grip and gives you solid military drop protection, should you manage to drop it.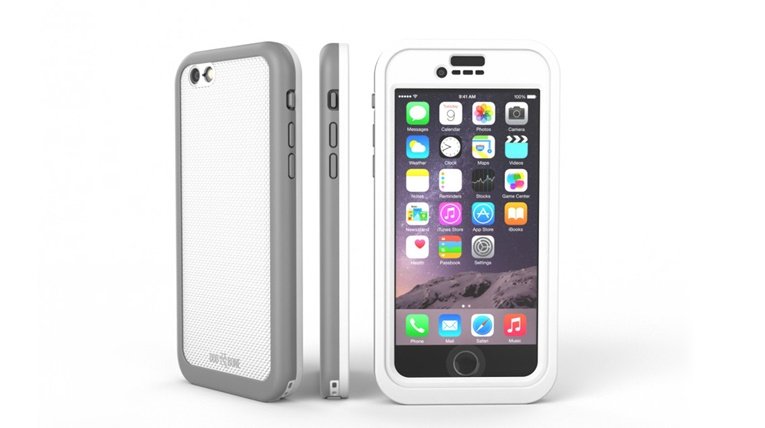 This is one of those cases that can handle a dunk or two in the pool. The Catalyst waterproof case for iPhone 6 can handle up to 5 meters and carries an IP68 rating. It also meets military standards for drop tests, so you can use your iPhone 6 outdoors without fear of damaging it.
The Touch ID and the buttons and the touchscreen all work great with the case on and don't limit the functionality of the device. The ports are accessible via plugs, but not every cable is going to fit.
This case is a fully waterproof case that has a slim and attractive design. It is TouchID compatible and scores an IP68 rating, which means the case will, at a minimum, protect your phone when submerged for up to 30 minutes in up to 3 feet of water.
Lunatick Aquatik iPhone 6S Waterproof Case is a sleek case that is capable of withstanding high impact drops and also offers rugged protection.
The Hitcase Pro is a rugged case with a striking angular appearance. The case is designed to work in conjunction with a range of accessories, including lenses and different types of mounts but it is bulky and covers your device entirely.
This case is quite rugged and good for action filming. It offers waterproofing up to 33 feet (10 meters) and rugged drop protection. The hinge mechanism makes it easy to install and take off. You can use your iPhone with the case on, but you'll need to take it off, or use an adapter, for most chargers and headphones.
The Vansky Universal iPhone 6S waterproof Case is one of those cases that greatly impact the functionality of your device. However, most waterproof cases cost a hefty buck, but Vanksy Universal Waterproof Case is quite affordable at the price of $8. The case is more like a waterproof pouch and it has IPX8 rating means that it won't provide any drop protection, but it will keep your iPhone dry up to depths of 100 feet (30 meters).
If you are looking for an affordable waterproof case than Bessmate Underwater Case might just be the best choice. It has an IP68 waterproof rating and it offers substantial drop protection.  It also has a kickstand on the back, but it's pretty flimsy. Ultimately, the iPhone 6 is perfectly usable with the case on, and this offering is a great value compared to some of the other cases.
This case is specially designed for those who want to convert their smartphone into an adventure camera and shot images and video in rough terrain or underwater. This case can be used in all weather and it offers to waterproof in depths of up to 33 feet (10 meters). It also carries an IP68 rating, and it has been drop tested at up to 20 feet (6 meters).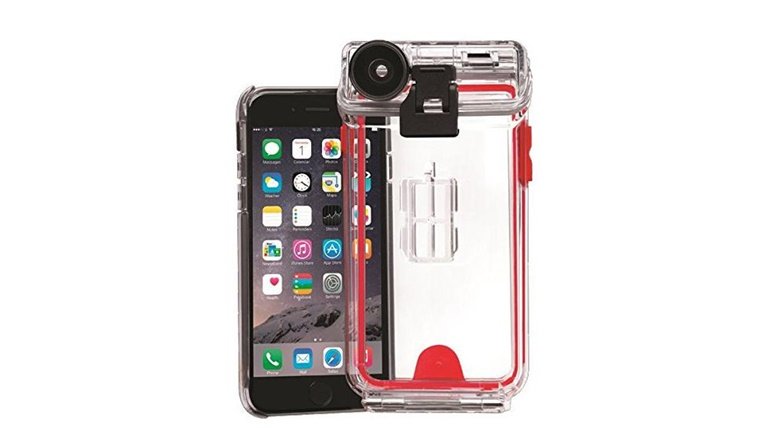 The case has two parts one is a thin shell for your iPhone with a larger waterproof case that it slides into easily. The case allows you to connect lenses of different ranges as well. There are also various mounts available so that you can attach it to anything, from a surfboard to a bike. It's bulky, but you can easily use your device with this case on.
LifeBox Rugged Protection iPhone 6 waterproof case can handle quite a lot of damage. This case offers rugged protection and has an IP68 water resistance rating. The case can survive fully submerged in water at a depth of up to 6.6 feet (2 meters) for an hour. It also meets military drop-test standard 810F-516, which means it can survive falls of up to 6.6 feet.
The case is also dust and dirt resistant and it can protect your device in extreme temperatures as well. The touch sensitivity is slightly impacted in this case, and the button covers are stiff, but for the protection, it offers this much was expected. The case is available in black, green, white, dark red, or purple.
The life proof fre waterproof case for iPhone 6 can protect your phone for one hour in up to 2-meter water.
LifeProof fre is the best waterproof case for iPhone 6 available in the market. It claims not only to be waterproof but also Snow proof, shock proof, and dirt proof. The LifeProof Fre case adds no weight to your phone is resilient enough to protect your iPhone from different accidents. It comes with a built-in scratch protector to maintain the touchscreen quality of your phone as well. The other major features of LifeProof fre are its support for Touch ID, good sound output, and its anti-reflective optical glass camera lens lets you take pictures in water (rain) as well.
JBtek's iPhone 6S waterproof case can protect your phone in under 20ft deep water.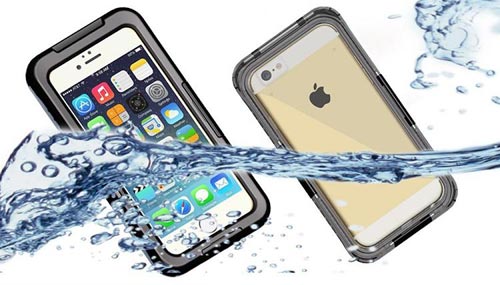 If you are a regular swimmer or live in the area where it rains too much and suddenly, the JBtek's waterproof case for iPohne 6 is the best choice for you. A budget iPhone 6 case which will protect it in rain, while swimming or when you are out at the beach for a picnic.Also, you will have to press Home button very hard to get it work but once your phone is active its touchscreen works like a charm.
One of the best iPhone 6 waterproof case available in the market is Incipio Atlas' case. It has Co-molded design and has impact resistant Flex2O.
The waterproof speaker vents help you listen clearly under the water and has a really cool grip to handle your iPhone 6 when it is wet. The additional water sealed headphone and charging ports make this Case really nice to have.
Another best iPhone 6S waterproof case available in the market is LifeProof Nuud Series Case. Although this case has not been yet released in the market, but the features shared on the Company's website pushed us to include it in our top list. The best thing about the case is its thinner and lighter weight.
It does not add much to your iPhone 6 and you can slip it in/out from your pocket quite easily. Not only you can use it in the shower but also play music using your iPhone 6. For almost all the features available in LifeProof fre, the Nuud series cases cost $75 only saving $4 as compared to fre cases which are available at $79.
The H2NO DryBags waterproof iphone 6S case gives you additional features for only $29.99. While it will protect your iPhone 6 in water and from dust in normal days, you can also place credit cards, ids, extra cash safe in it. It comes with an armband, lanyard, and thermometer as well and provides a high-quality display in water.
Supcase Waterproof Case for iPhone 6 is an ultra-thin case which can change colors of silver, gold, and black. It will protect your iPhone 6 from dirt, water, and different shocks despite being ultra-thin as it is designed specifically for extreme outdoor activities. You can get underwater photos with your iPhone 6 using this case while you are snorkeling without any problem.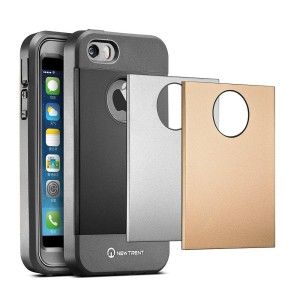 The iBeek's waterproof iphone 6S case claims to be water resistant, shockproof, dustproof and snowproof and only for $20. Although the brand name is not well known but they are offering something real good for reasonable prices. Your iBeek iPhone 6 waterproof case can protect your phone under six meters for up to 12 hours. The claim made by the company is although falls in 'easier said than done' category. It is easy to install and comes in different colors.
Eco-Fused waterproof iphone 6/6S case is not a case but a bag actually and gives your iPhone 100% protection. The case  is transparent on both sides. It allows you to use all the features of your smartphone including camera and touch screen. If you swim a lot and want to stay close to your iPhone, the Eco-Fused waterproof case is definitely for you.
The Ghostek's waterproof case for iPhone 6S provides complete protection from water, snow, dirt and sudden drops as well. Made of Tough PC material, it is available on Amazon as well. It lets you use all the features of iPhone 6/6S including voice, camera, and touchscreen in extreme conditions without any difficulty. It comes with a waterproof 3.5mm earphone jack cable as well.
Well, the last iPhone 6/6S Waterproof case on our list is, the Queen Waterproof case. Don't go on its name and color, the 'pretty' looking case for iPhone 6 gives protection under 18 ft deep waters and you can enjoy boating, swimming and have a cool day at the beach without any tension about your phone. It lets you use all features of your iPhone 6 including camera, speakers, touch screen and other buttons without any problem.
This was our list of all the very best waterproof cases for the iPhone 6 and iPhone 6S. All these cases provide substantial water resistance and protection and prevent you from wasting money on device repairs. Hopefully, this article will help you pick the right case. While the list is long but we tried to review some of the top iPhone 6 and iPhone 6S waterproof cases in the market. If you have something to share with us do write in the comments section. You can read about the leather cases here.
MobileSiri.com is a participant in the Amazon Services LLC Associates Program, an affiliate advertising program designed to provide a means for sites to earn advertising fees by advertising and linking to Amazon.com. Read about our Affiliates Disclosure Policy
here
. Amazon and the Amazon logo are trademarks of Amazon.com, Inc. or its affiliates.