CyanogenMod 11 comes with plenty of free themes to choose from
CyanogenMod Theme Engine offers ton of amazing themes that can light up your Android smartphone. In this ocean of themes it is not an easy task to get the best one which truly reflects the concept of themes you have been looking for. And also it is true that all the good things are not free but still there are many good things you can look for free. Here we have tried to find out some of the best theme that works with CyanogenMod custom Rom and are also free for you.
Read More : 15 Best themes for CyanogenMod
These are some of the great free themes, we are reviewing here, with amazing color concepts, styles and plenty of other customization which can give you a completely different look of your Android smartphone. The amazing looks of these free themes are best run on the CyanogenMod 11 or the CyanogenMod Theme Engine supporting custom ROMs.

Those, looking for a real touch of Android Lollipop need to use the L-Ready Dark which represent the experiences of Android Lollipop in a nice way. You can also have this theme with a light version where its certain dark colors are inverted. With the light styles your quick settings panel and the setting app will look white and highlighted. Its large triangular Lollipop navigation buttons make the best part of it which can attract you apart from its all other nice areas. This triangular navigation button also makes this theme different from many other free and paid themes that are inspired by the Lollipop concept. As there are many custom themes which offer styles and also the triangle, circle and square navigation buttons but they are made with either default or the smaller size. Now L-Ready Dark has changed the concept by making things bigger and also better in their looks.
It also contain another amazing effect which give you transparent background on its quick settings penal and the notification tray. With the impressive transparent effect both notifications and quick settings will give you an illusion like they are hovering on the screen. It makes perfect resemblance with the effects we have seen in the notification of Android 5.0 Lollipop. Its perfect material design colors offer a nice scheme that gives you an updated feel of the Lollipop.

Many of the smartphone manufacturers show a good sense of Android skins which boost up their device interface and also help their good hardware powers. LG is also been among those which have tried to theme up its flagship smartphone G3 with its own concepts. And its results, with the same concept, are here to explore in this amazing theme. The LG G3 theme for Cyanogen Mod 11 is among the best themes concept by LG.
It offers a complete reshaped UI that makes it just according to your choice. Without lifting anything unchanged you will have with LG G3 theme, a complete set of icons and all other themed up system apps. Its other nice customization are seen in its Dialer, Settings, System UI, Google apps and almost all other areas. It also includes the LG original fonts along with many wallpapers and ringtones.
Apart from these nice features it also misses in some areas. The notification with no proper grey shading sometime doesn't match with other buttons. It gives a patchy look which is sometimes annoying but still considering its other areas LG has done a solid job to give you the real fell of LG G3.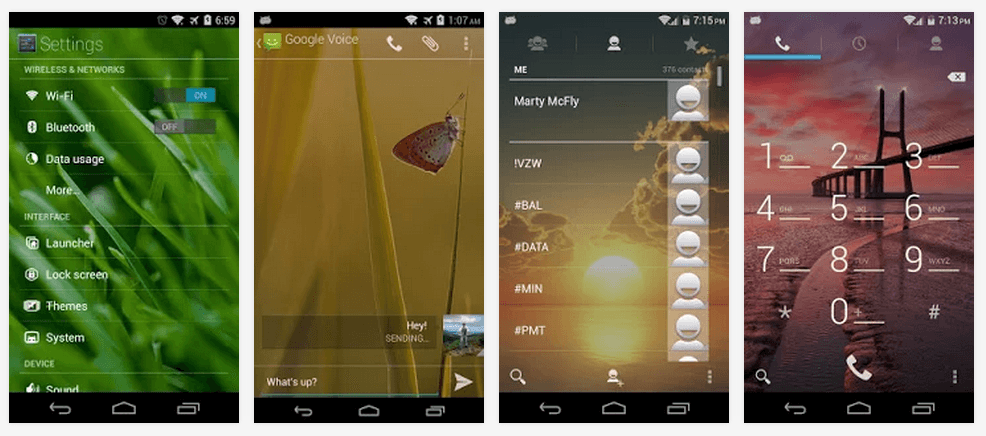 HoloGlass can extend your command on the personalization of your Android smartphone look. Using the HoloGlass Theme you can set a single picture which will turn up in to the background for everything, yes almost for every area of your smartphone screen let it be the home screen, settings app, phone app or the messaging. Also it contains a good sense of transparency and you will also have the background adjusted on your screen in the best way. The transparenct effects are also on the apps therefore you will have many of your apps looking transparent.
As it is the free version you can also go for its paid version with same effects. Aside from its custom picture background and the nice transparency looks you will also have many standard effects. For instance, it also keeps the standard touch of the Android Jelly Beans like interface which can be observed in its light blue switches and the plain black and white shades on its notifications. And finally as it is mostly on the looks, the transparency really give the HoloGlass a glassy and nice feeling which probably makes it stand out against the huge number of CyanogenMod 11 themes.

For those color crazed users looking for full colors in the CyanogenMod 11 themes, the Hazy Smooth White can be the ultimate option. Among the free CyanogenMod 11 themes it is best with its color schemes and its colorful looks outclasses many of the other free themes available for CyanogenMod. It brings the creative sense of colors to every screen of your Android Phone. Though it looks to be a niche theme but if you are looking for bright colors then it is one of the best options.
In the colorful world of the Hazy Smooth White theme what you might like the most is its unique navigation bar buttons. These are really made unique which are eye catching and probably will drive you to it. As you can find on the screen the back arrow and multitasking circles represent a nice sense of creativity also the half circle on the side give it a more nice touch. You will have probably seen a similar arrangement on the Android Lollipop design but here in the Hazy Smooth White you will find a balance between the concepts of Lollipop and its own style. This is what makes it unique along with its colorful impression. It can simply jazz up your black and white smartphone.

As we just reviewed the best of the colorful themes for CyanogenMod 11 now it is time for black out. And if you are looking for a blacked out and colorless design then the Obsidian is the best that you will love. Although it is in black but not like most of the other black and white themes that sacrifice the creativity and the color sense. With simplicity the Obsidian give you a quite different experience of CyanogenMod 11. On obsidian you will have the same black impression but with some degree of creativity. It offers an standard interface with beautifully placed navigation buttons. Also it offers shaded tweaks in the notifications and nice fonts in the status bar.
Read More : 15 Best themes for CyanogenMod
The transparent effects are also there on its notification where you can have some semi-transparent shades. Apart from this and some other occasional adjustments mostly this theme represents a black out concept. You can have another touch of its creativity on the quick setting panel which is switched up a bit that gives it a creative and nice looking and changed outlook. Though it is black but many of the users will probably love it as it offers the simplicity. Also if you are using a smartphone with AMOLED displays you can save up a bit of battery with the black outlook of this theme.
MobileSiri.com is a participant in the Amazon Services LLC Associates Program, an affiliate advertising program designed to provide a means for sites to earn advertising fees by advertising and linking to Amazon.com. Read about our Affiliates Disclosure Policy
here
. Amazon and the Amazon logo are trademarks of Amazon.com, Inc. or its affiliates.