The restriction of iOS 9 to the latest devices would have probably disappointed the users of older iPhone and iPads. The upgraded feel of iOS 9 with the several impressive features makes it worth digging out ways to make it running on older devices. And luckily this is made possible with a new heck, dubbed as Grayd00r. With the Grayd00r heck the users of iPod touch 3G or the original iPad can get the user interface of iOS 9 with its improved performance.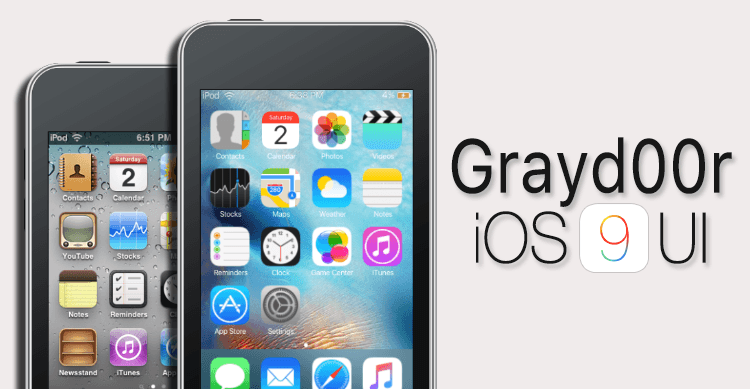 The team who made it happen is the same team who created Whited00r, a similar heck that brought the iOS 7 look to the first and second generation iPhone and iPad touch. The Grayd00r is made simple to install on your device which you can do using Mac or windows PC.
The scope of Grayd00r is not limited to just the UI and performance boast, there are several features worth having. Its noted features include the SlideOver app switcher, an improved Control Center, OTA software updates and Cydia for much more. Also there is an 'App Time Machine' which enables you to run older version of popular iOS apps.
It is an optimized heck to give you useful features with iOS 9 feels and faster performance. As described by their website, the Grayd00r heck is made a speed and feature mix by default to give you a faster performance than the stock iOS 9.
To improve its performance many of the system services are disabled. Also there are options that allow users to further smoothen the performance. Therefore, if you find any of the default service not of your use, just turn it off and feel easy with your liked features. While running the iOS 9 on a device which is officially not supported, you will probably need some of the service turned off.
MobileSiri.com is a participant in the Amazon Services LLC Associates Program, an affiliate advertising program designed to provide a means for sites to earn advertising fees by advertising and linking to Amazon.com. Read about our Affiliates Disclosure Policy
here
. Amazon and the Amazon logo are trademarks of Amazon.com, Inc. or its affiliates.