An Air purifier can efficiently clean your surrounding air of all germs, pet danders, allergins, pollution and pollen. If Air purifiers work with Homekit and other voice assistants like Alexa and Google Home, You can control the air purifiers through your smartphone via HomeApp or Siri from anywhere. Homekit Air Purifier not only removes your surrounding air of allergins, dust, smoke, pet danders, and kitchen odours but improves the air quality of a room.
Here, we have compiled all the best Homekit Air purifiers.
Best Homekit Air Purifier
Smartmi Air Purifier
Meross smart Air purifier
Air versa Purifier with thread
---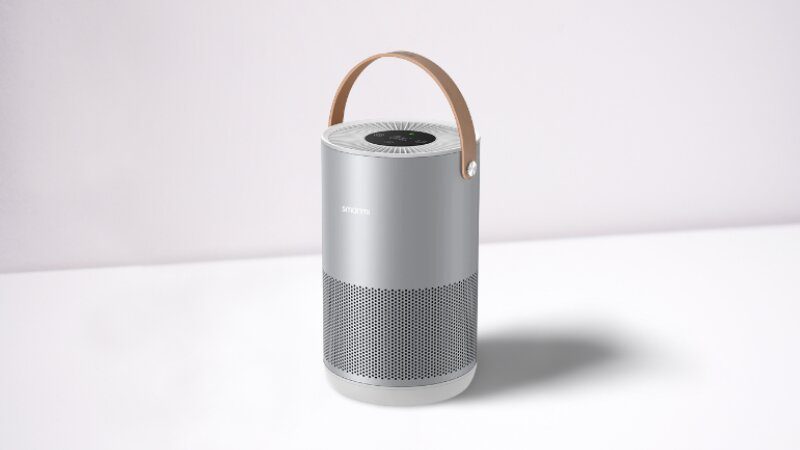 The Smartmi is the best Homekit air purifier for your home's fresh Breathing Air. It cleans your surrounding air of up to 180 to 320ft in just 20 minutes. You can control your air purifier by voice or through the Smartmi link app. The Air purifier can catch particles from 80nano to 0.01mm that are present in the air. Through its auto mode ability to clean air, it identifies the kind of pollutants such as smoke, dust, and pet danders and sucks up all the impure particles present in the air.
Moreover, the Homekit purifier can work with Alexa and Google Assistant. Use your voice to control the air purifier from anywhere. The portable air purifier works on a very low volume of up to 19db and a high volume of 49db.

---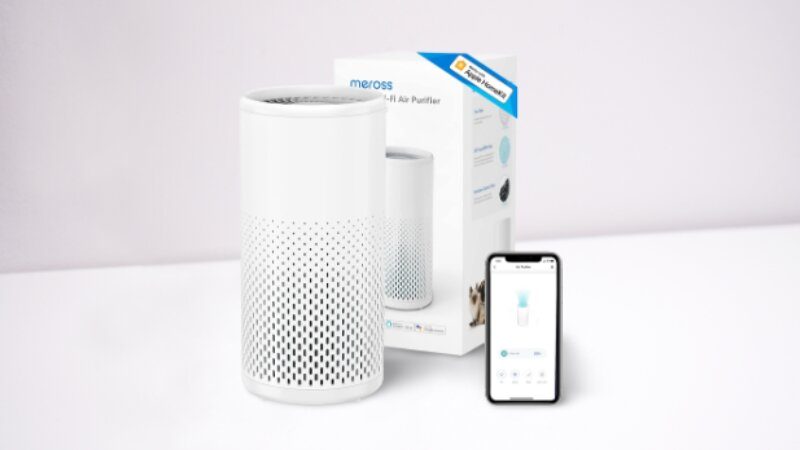 Meross Smart wifi Air purifier can filter dust, pollutants, allergens and pet dander present in your surrounding. Its carbon filter removes all kinds of toxic substances and odours from the kitchen or washroom, as well as its Pre-filter, separates large particles. It can cover up to a 207ft area. Adjust your Air purifier according to your requirement as different fan modes are available in the Air purifier such as sleep mode, high-speed fan, low-speed fan and medium-speed fan. In sleep mode, only 24 dB of sound. Replace the filter after every 3-6 months. The Meross app will notify you when the filter life cycle comes to an end.
The smart Hepa Air purifier is compatible with Alexa, Siri, Homekit, Apple watches and Google Assistant for your hand-free convenience. With voice, you can control your Homekit Air purifier. The smart wifi air purifier works only with 2.4GHz wifi.
Installed the Meross app to control air purifiers from anywhere with internet access.

---
Airversa air purifier is portable and can carry it easily in your bag. It is built on the thread* and requires Homepod Mini or Apple Tv 4K. Airversa is the best air purifier for a large room of 300 sq.ft2. Control the air purifier with Siri voice assistant. It weighs 6.5 pounds and its dimensions measures 9″D x 9″ W x 14″H.
The Airversa consists of three layers filter system that removes dust, hairs, allergins and unpleasant smell present in the air. The air purifier has a touchscreen display and an LED ring that tells you the air quality by changing the colour of the LED ring. Touchscreen displays sleep mode, settings, power button, timer
*Thread devices can work with each other in the absence of the internet but for this, you need Homepod Mini to get access to Siri.

---
If you are looking for the best replacement filter for Homekit Air Purifier, Here we have 3 stage system Hepa filter. It is available in a set. The filters are easily installed in the Air Purifier. Filter life is up to 12 months. Air purifier warns for filter replacement with help of a flashlight that indicates the filter's life is over. (Applicable for VAP1)

MobileSiri.com is a participant in the Amazon Services LLC Associates Program, an affiliate advertising program designed to provide a means for sites to earn advertising fees by advertising and linking to Amazon.com. Read about our Affiliates Disclosure Policy
here
. Amazon and the Amazon logo are trademarks of Amazon.com, Inc. or its affiliates.