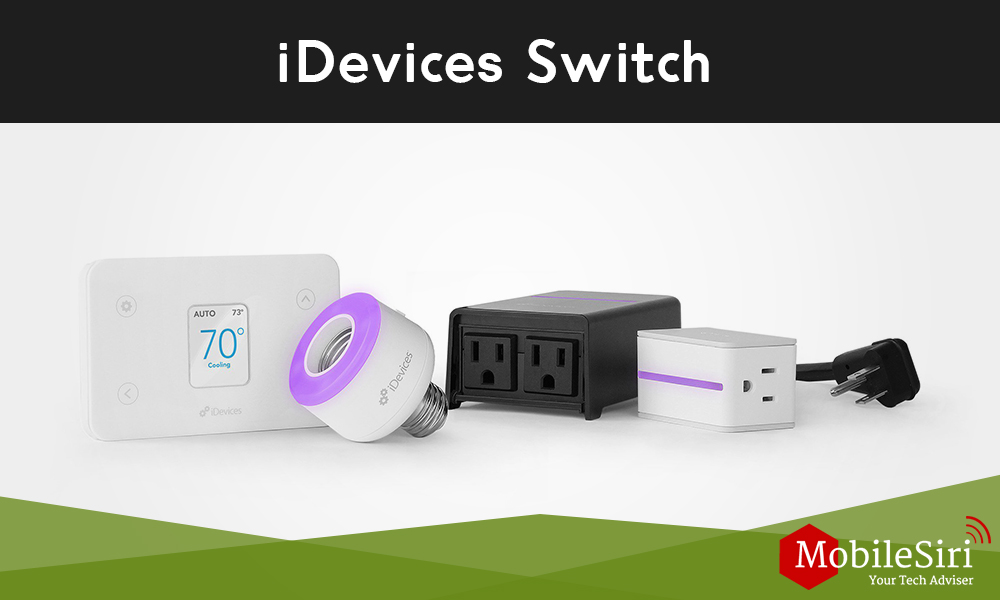 iDevices Switch Review
It's about time that you should now be switching to the latest technology and experiencing the amazing features the latest tech offers you with. For now, we have, an iDevices Switch for you, that gives you the comfort of feeling free from worrying about switching on and off the switches manually. In this iDevices Switch review, we will see how you can control your lights, fans and other electronics with a tap on your phone.
The iDevices Switch is a smart plug that allows you to control, manage and schedule electronics from your home while using your iPhone, iPad or iPod touch. The iDevices app makes it extremely convenient to monitor your iDevices Switch from anywhere without requiring any logins or hubs. The Switch works impressively for lamps, lights, heaters, fans and much more. It truly performs all the standard smart features and adds up Apple HomeKit integration. The device is Alexa compatible, thus letting users control it with Dot and Amazon Echo.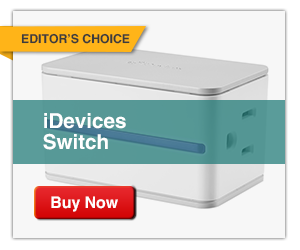 When it comes to aesthetics, the iDevices Switch stands out among other Smart Switches. As many devices are bulky little boxed that adds to the profile of your prior electrical outlet. Here iDevices Switch becomes prominent in a good way. It is one of the most compact options you can find on the market. This is the only model that makes its physical presence very useful through a customizable LED night light that you can turn off or twist to perfectly match the colour scheme of your bright room.
As far as the setup of the Switch is concerned, it comes with easy installation design. The best part about it is that it does not need any logins that can save your precious time and free you from the fatigue of login in and out time and again. Among many exciting features, you will love iDevices Switch response to Siri. While using Siri voice commands, you can control your home directly from your smart device. The iDevices Switch lets you create remarkable "scenes". As it can control multiple products while using Siri voice command, this feature activates a specific pre-set "scene". Let's say, "Hi Siri, turn on my going to bed scene," it will automatically turn on your bedroom humidifier and turn off your nightstand lamp.
Pros
The iDevices Switch efficiently works with HomeKit
It features a minimal design
It offers you a button for manual control
No hub is required
It accurately records power consumption and average daily use
The apps are available on both iOS and Android
It offers you an astonishing optional night light
It has a simple setup with a sleek presentation
An intuitive app gives the iDevices Switch a solid foundation for future development
It adds the new remote access along with energy tracking
Cons
The iDevices Switch requires an iPhone for setup
It does not offer a dimmer function.
You may face sharing problems that hold the switch back from its full potential.
If you prefer an outlet on the unit's left side instead of the right side, you can't rotate the switch. So, if you are planning to plug this into an outlet that has anything to the right side, you may face some problems using the side outlet.
Product Specifications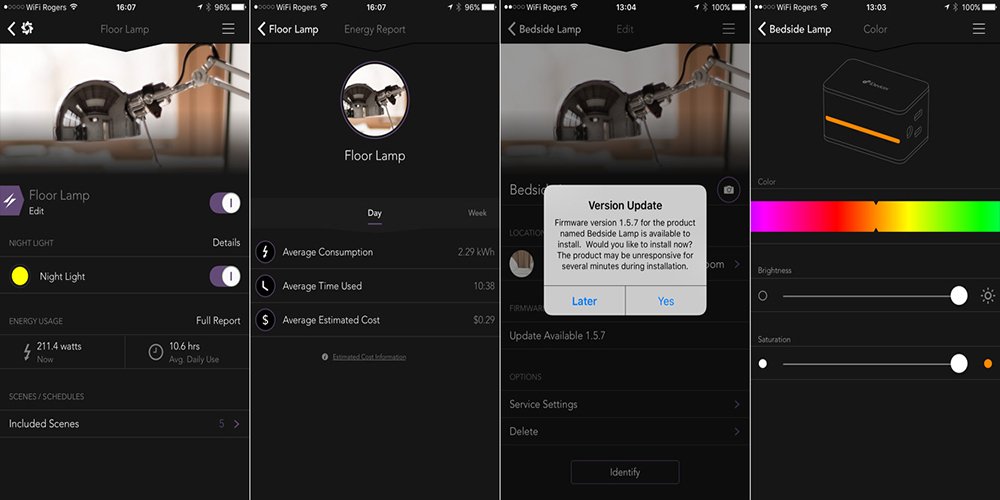 SUPPLIES:
Home Wi-Fi® (802.11 B/G/N)
WPA or WPA2 Network Security
Free iDevices® Connected App
HomeKit requires an Apple device with iOS 8.1 or later.
DIMENSIONS:
Depth: 1.65″ (42mm)
Width: 2.71″ (69mm)
Height: 1.57″ (40mm)
Weight: 3.3 oz
POWER:
Power Input: 120 VAC, 60Hz
Number of Power Outlets: 1
Resistive: 1800W
Tungsten: 600W
Motor: 1/2 HP
OTHER:
One Year Limited Product Warranty
Compatibility:
| | | | |
| --- | --- | --- | --- |
| iPhone Models | iPad Models | iPod Models | Watch Models |
| iPhone 4s | iPad 2 (2nd generation) | iPod touch 5th Generation 32GB/64GB | 38mm Case |
| iPhone 5 | iPad (3rd generation) | iPod touch 5th Generation 16GB | 42mm Case |
| iPhone 5c | iPad with Retina display | iPod touch 6th Generation | – |
| iPhone SE | iPad mini | – | – |
| iPhone 6 | iPad mini 2 | – | – |
| iPhone 6s | iPad Air | – | – |
| iPhone 6s Plus | iPad Air 2 | – | – |
| iPhone 7 | iPad mini 3 | – | – |
| iPhone 7 Plus | iPad mini 4 | – | – |
| – | iPad Pro (9.7-inch) | – | – |
| – | iPad Pro (12.9-inch) | – | – |
Features: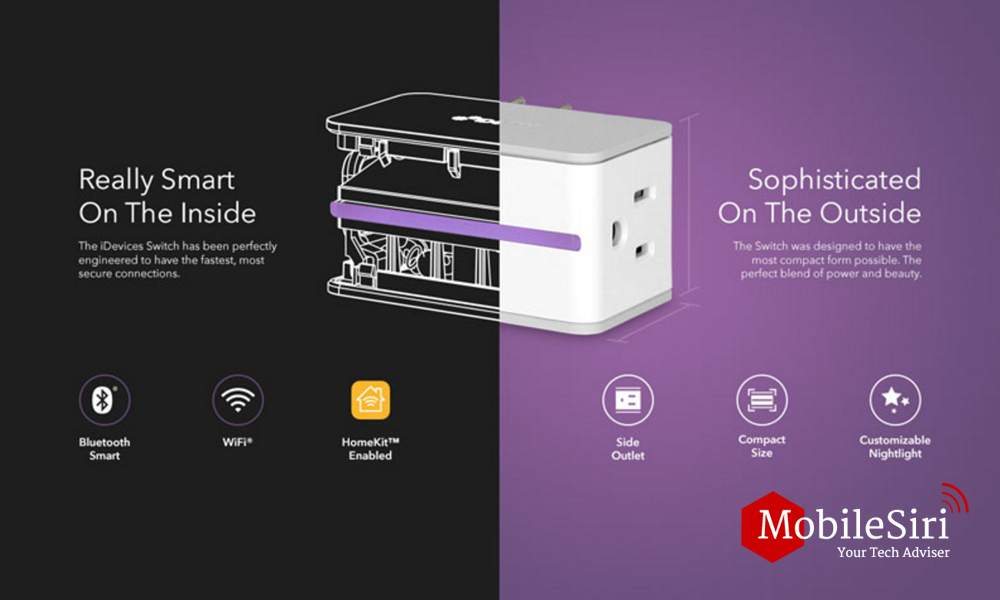 The iDevices Switch looks very elegant!
Though it can be a little smaller, the switch does not create any problem with outlets blocking an adjacent plug probably on a four-plug socket or not fitting into an outlet set at a congested area. You might have experience with smart plugs and switches that are way too bulky, but you know what is the best part about this Switch? The iDevices Switch is very compact.
The iDevices Switch is visually quite appealing. It can perfectly fit into any home. It is a bright white and soft cornered Switch which highlights a linear night light that you can adjust to any color, saturation, and brightness. Though the light is not very bright to light up the dark room, the color personalization is just up to the mark. You can simply turn off the function to avoid any infuriation of a perpetual LED.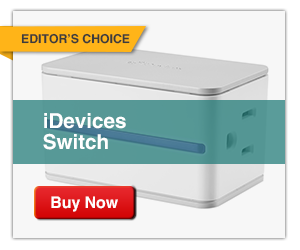 In addition to its striking appearance, it has a great functional design that makes it stand out in the smart home industry. When it comes to size, the switch has only one plug outlet. It has a basic design with unusual features.
Moving on to the functionality of iDevices Switch, when you will open the app it will give you a straightforward and well-designed interface. This iDevices app is made available to you for maintaining highest efficiency, no matter how many smart home devices it is integrating at a time.
The iDevices Switch has some very amazing features. You can turn on and off the things by either manually via a button on the switch or through your smartphone. At times, you are away from home, in such situations the switch tracks energy usage and can be even set on a schedule to follow while you are away. Though there are a lot of switches that tracks power consumption and integrates with IFTTT as well, iDevices app still gives and edge here.
How?
It allows you to control your Switches and set command combinations on timers. It offers as much as a common consumer requires.
Moreover, with the latest firmware updates, you can create schedules. It's a great feature especially for those who are security conscious. You can have quick and easy installation along with Wi-Fi connection while using the iDevices Connected app and Apple HomeKit technology. More importantly, no hubs or logins are required. You can simply use Siri voice commands to monitor your home from your iPhone, iPad or iPod touch. Also, you can control your Switch using the iDevices Connected app from any location.
Another interesting feature is that you can create scenes to manage multiple products while using Siri voice command. Additionally, you can set custom scheduling that lets you time the Switch's activity to meet your everyday routine. Whereas energy reporting efficiently helps you to see the average power your electronic devices are consuming. It allows you to choose any color for the LED on your iDevices Switch and enjoy these luxurious features.
Performance: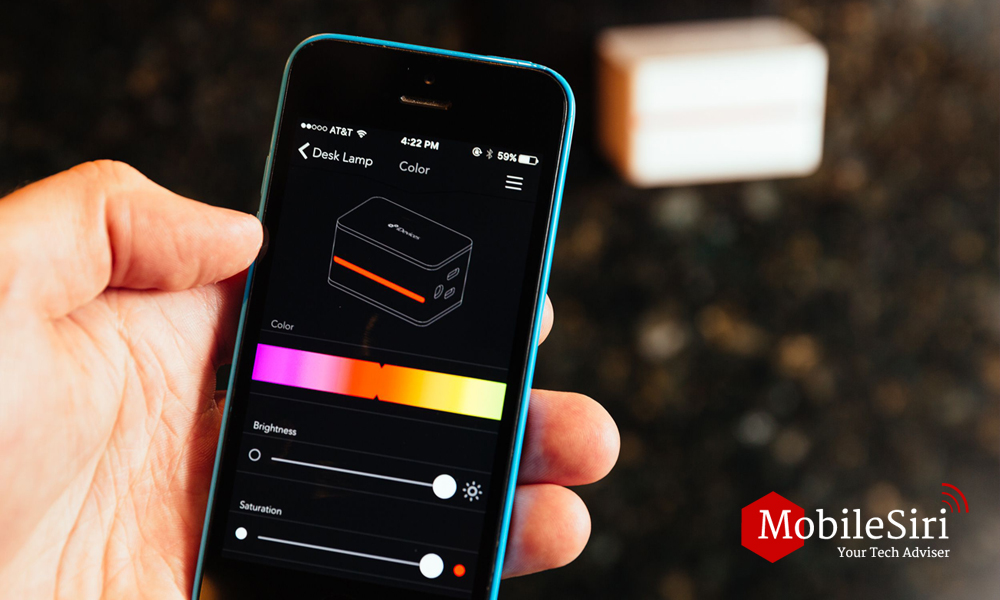 The iDevices Switch performs very impressively. The response time between the app and the Switch is pretty quick, so if you turn on your appliance, it will take even less than a second. On the other hand, if you press the button and manually trigger the Switch, the app will accurately work with the settings. In case you have turned off your wireless network, don't worry as the Switch will still respond quickly to the given commands.
The only problem you may face with iDevices Switch is with resetting and reinstalling the Switch somewhere else and inviting the other users to the same home network. Moving a Switch between multiple houses might not be an issue for most of the users, but user sharing problem need to be resolved soon or else it will limit capabilities of the iDevices Switch. iDevices is taking this issue very seriously and looking for the solutions. So, if this problem is resolved, the Switch will function impeccably.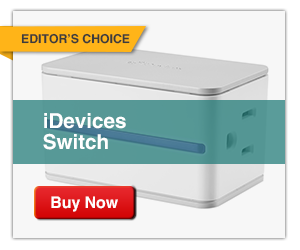 Furthermore, you can set the iDevices Switch in just 5 minutes. It comes with a Quick Start Guide that will guide you about the four easy steps of setup. All you need to do is download the iDevices app, connect your Apple device to your home's wireless network, plug the switch into a wall and finally use the app. The switch will require few seconds to sync with your device and get connected with Wi-Fi, and within minutes you will be able to tell Siri to turn on your appliance.
Once you plug your switch and sync to your home network, afterward what it does is up to you. The iDevices app offers you an incredibly usable interface thus letting you conveniently swipe between rooms. Now you can see multiple Switches and other iDevices products in each room and control them individually.
Though many apps can connect to the physical hubs such as SmartThings Hub but the iDevices Switch and its app, operate through the Apple HomeKit. The HomeKit is Apple iOS based smart home technology that lets you control multiple products by using a single app interface. The most convenient part is that it does not require any central hardware hub to link up the products. Therefore, each connected device you buy must be HomeKit compatible. This cool switch certainly benefits from a simpler setup.
The common problem many users might face in the performance of iDevices Switch is that the original user of a given HomeKit registered home can install the new equipment. So, if you set up one HomeKit device, then only you can set up other devices in future. Even if you try to resolve this issue by creating a new home for the switch, still you won't be able to access any of the HomeKit technology that had been set before by someone other than you.
Overall, the switch does not offer more customizable permissions for user sharing.
Care and maintenance: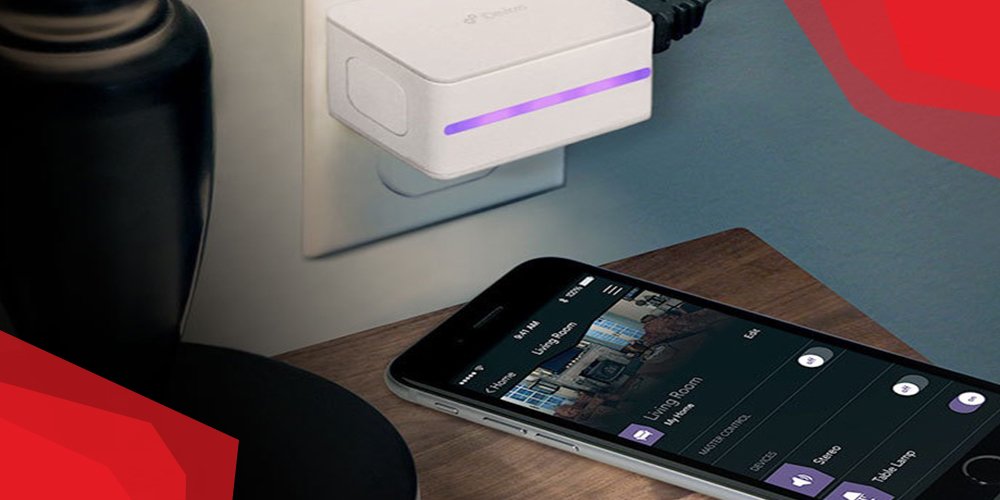 Though Smart Switch may be the easiest thing to connect in the smart home, at times there are one or two issues you face. These problems are probably due to lack of care and maintenance of the Switch. If you face any problem while connecting your iDevices Switch to your network, the first step you should take is to reboot the router. Most of the times, it will fix problems. However, power cycling can also solve the issue. And lastly, make sure your switch is turned on.
Conclusion
Smart Switches are an easy way for to who to raise house's IQ. An accompanying integrating network is equally important as the physical technology if you are looking for something other than the basic controls. With HomeKit, you need to have some faith in the Apple world and be willing to invest some bugs. For an indoor switch, iDevices offers you one of the best out there for which most of the casual consumers are looking for. The product is the foundational part of your Smart Home's development. The iDevices app carries together all the products in one of the most efficient and appealing ways, and now this iDevices Switch seems to be perfectly fit right at your smart home. At $60, you will get a user-friendly app along with a versatile Switch. What else your smart home needs?
There is no doubt that iDevices Switch dominates the list of higher end accessory as a quick outlet. You are paying few bucks over the current iHome option in exchange for a night light and incredible power monitoring features. You can mix and match accessories to achieve the desired results. The night-light and the power control are excellent features so don't forget to make full use of them.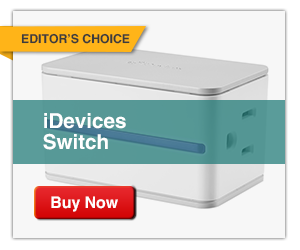 After spending a lot of time in plugging and unplugging and flipping Switches, we conclude that if you want to control devices remotely then, iDevices Switch is the best option for you. The Switch is compact and works well with iOS devices. It effectually monitors energy usage and offers a great deal of smart home integration. Also, using the Switch is an excellent way to sync it with other HomeKit enabled devices, and finally the Switch looks way too stylish.
So aren't you ordering it just now?
MobileSiri.com is a participant in the Amazon Services LLC Associates Program, an affiliate advertising program designed to provide a means for sites to earn advertising fees by advertising and linking to Amazon.com. Read about our Affiliates Disclosure Policy
here
. Amazon and the Amazon logo are trademarks of Amazon.com, Inc. or its affiliates.