Smart home essentials for living
Ever imagined a Bluetooth or WiFi speaker with a personal assistant inside? The Amazon Echo is all of this and so much more you have ever wished for. You can jam your favorite music, check the weather, switch off the lights or dim them, add items to the shopping list and the best part is, to order things directly from Amazon. Just via this 9-inch speaker. What's more? You can do all of this by using Amazon's assistant which is built into the speaker. Here we have tried to review some of the best Amazon smart home essentials for living and have compiled some of the best Amazon smart home products and accessories for you.
Let's deep dive in
Alexa can completely replace the radio in your kitchen and is a great way of controlling several systems. If you are fond of using gadgets & own a Spotify account, then it's the perfect device for you. More importantly, it is improvising dynamically as stuff is added to it.
As the iPhone changed the way we communicate with technology and let us control several apps via the screen, Alexa does the same for devices using Wi-Fi but with voice commands.
Amazon Smart Home Products
Best Amazon Alexa devices
---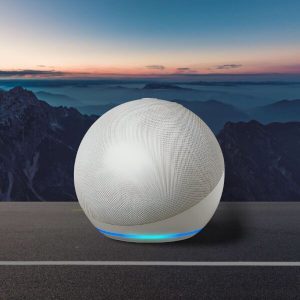 The Amazon Echo Dot 5th Gen is the smart Hub for setting up your smart devices like Fire TV devices, lights, locks, and sensors. The Echo Dot is one of the best Amazon smart home products. It streams music, plays audio, controls various smart home devices, fulfills search queries, etc. You may ask it to tell you a political joke or order something from Amazon. It is voice-activated so once you give a command to Alexa, a blue ring at the top of the speaker will illumine, and the speaker will satisfy your request. Like Dot, the Echo can easily pick up your voice across the room.
Though, unlike Dot, you don't need to connect it to an outside speaker. The Echo comes with an upward-firing woofer and a dual tweeter to deliver its sound. All you need to do is plug it into a power outlet and connect to Wi-Fi when you are ready to do it.
Amazon Echo is the best choice for those who want both, a centralized smart home controller and a speaker in a single unit. Although it is the most expensive among all the best Amazon Alexa accessories, however, it does not require any additional purchases. You can place it anywhere in your home and start using it right away; it will become a significant part of your daily routine in a very short while.

---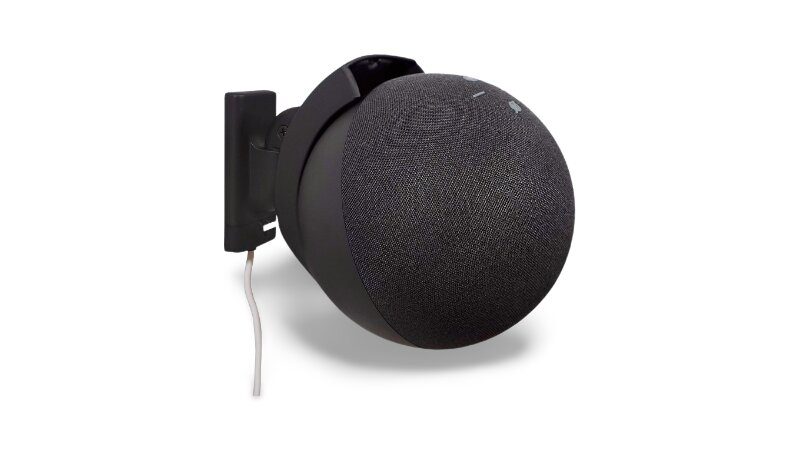 Amazon wall mount is a much-needed one of the best Alexa accessories for mounting Echo Dot devices(4th Gen) on the wall. It is specifically designed for Amazon Echo(4th gen) that can tilt and swivel. The Echo wall mount is easy to install just in 10 minutes. Make sure the mounting position of the Amazon wall mount is near your electric outlet so that you can easily connect the Amazon power adapter cord to the outlet.

---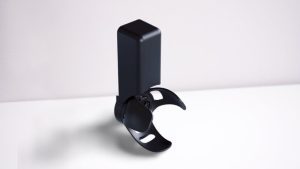 Amazon Outlet Hanger is one of the best Amazon Alexa accessories for Echo Dot(4th & 5th Gen)devices. The outlet Hanger allows you to plug in your Echo Dot charging adapter in Hanger. It has a built-in cord management area where You can easily wrap up the adapter cord. The wall mount can rotate in every direction.
Cons
It is not compatible with other Amazon Echo generations.

---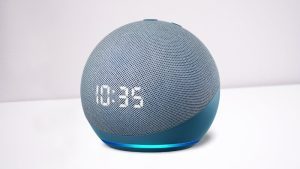 The Amazon Echo Dot with Clock offers many of the Amazon Echo's desirable features in a very affordable package. It features a small built-in speaker, offering you amazing audio quality by pairing it with another speaker, but when it doesn't, the Dot works as a voice-controlled computer. You may use it to stream music, do web searches, regulate calendars and apps such as Uber, order food, and control smart home appliances like thermostats, lights, and much more.
It is a smart speaker and, comes with a clock. It does everything the Echo does, It displays time, sets alarm and timer, Bluetooth connectivity, allowing you to connect it to your current sound system. Undoubtedly, it's as though someone just transformed the Echo and then scrunched up the full-size speaker and jammed it up into a small puck, and boom; the Dot!
The Dot efficiently responds to spoken commands. It comes with seven far-field microphones so it can easily pick up your voice across any room. It can also hear your requests while playing music without being connected to the speaker. The device is an excellent choice for those who want voice-enabled and hands-free functionality. It is one of the best Amazon smart home devices.

---
Amazon smart home products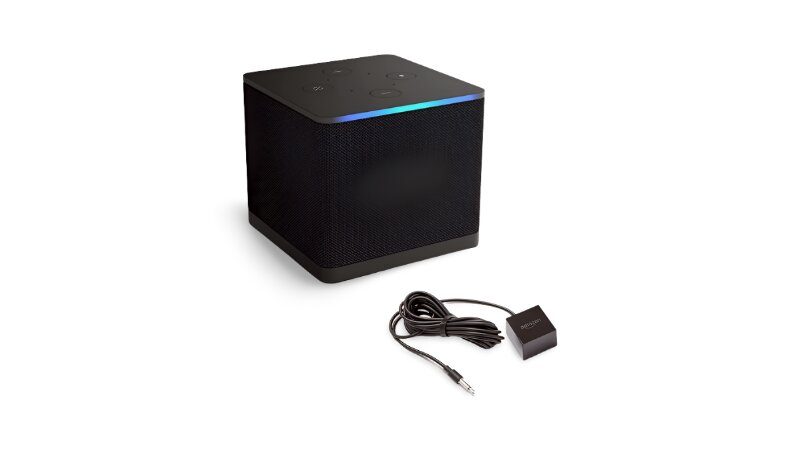 The cool thing you can do with Alexa is to control your TV through voice commands. The Fire TV cube is one of the best Amazon smart home products that has a built-in microphone, and with just one Alexa voice command you can access your favorite stream channel or App.
The Fire TV Cube Gen 3 is a cube-shaped fastest streaming Media player that supports WiFi 6E. It allows you to watch 4K streaming at the fastest speed without any latency as it supports tri-band technology. It comes with an Amazon extended IR extender cable.

---
Best Amazon smart home Products for the kitchen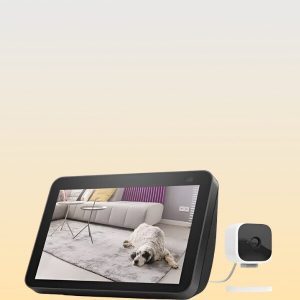 Echo Show 8 is among the best Amazon smart home products. Alexa solves your problem of cooking via Echo Show 8 by getting daily recipe plans, make your cooking easier with hand free step-by-step guide of recipes. Through Echo Show 8, you can add and order ingredients, meals, or kitchen items to your shopping cart.
In addition, add your frequently used smart devices to the home screen for easy access to your smart home while you are cooking. Even you can enjoy your favorite shows on Netflix or Prime Video, and listen to music on Spotify or Amazon music while doing house chores.

---
TOSHIBA Smart Microwave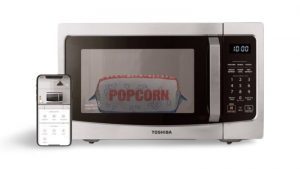 The smart Toshiba microwave is one of the best Amazon smart home Products that connect through wifi uses the MSmartHome App and can work with Alexa. You can control the microwave with a voice command. For example "Alexa, microwave popcorn or potato". The mobile app can help you in cooking as it detects moisture accordingly with the help of a humidity sensor during cooking which keeps your food from being overcooked and burning.
Most importantly it saves 50% energy by ECO mode/function in which the display turns off in case of no use of the microwave.

---
Amazon smart home products
What cool things can you do with Alexa?
A Definitive Guide
By now you must be wondering what's so special about the Amazon Echo. Why not just use Siri if you need a personal assistant for your home?
Now, besides connecting your previous conversation with the current one, Alexa can even interact with third-party apps and answer all the questions that can help you do your shopping; a feature that gives it an edge over Siri.
Moreover, you can even have conversations about sports, ask to read audiobooks, and play your favorite podcasts.
Also, it can play music services other than Amazon Prime such as Spotify or Pandora in the U.S.
We have seen Amazon Echo progressing from a novelty to an intelligent device. Most of us have used products such as iPads and Xboxes for years. But for the first time, we have seen an innovative and evolving product that acts as our guiding hand.
Go through the full review to know everything from design to commands about the Amazon Echo.
Technical Specifications
How to Setup Amazon Echo
Setting up the Echo might not be as easy as ABC, but believe me, it's somewhere in that zone. You just need to stick to Amazon's documentation: Plug in the Echo, download the Echo app, and follow the app's instructions from there. Like every other WiFi gadget, Echo scans and asks which network you want to connect to; and after you select your router and get connected, you're good to go. The best part is, that there's no voice training: anyone can speak to Alexa.
Sounds cool? Right?
Alexa is becoming a prominent choice of an audio assistant. You can purchase this technology at $179.99 whereas the smaller Echo Dot comes at a thrifty price of $69.99 on Amazon.
We've written a step-by-step guide on how to set up your Amazon Echo for the perfect use. Follow the instructions to connect your device within a few minutes.
1. Download Amazon Alexa Application
The Amazon Echo app is available free for Android, Fire OS, and iOS on Amazon's tablets. In fact, the latest Fire tablets already have it built into their system. It is not compatible with the 1st or 2nd generation of Kindle Fire. If you don't prefer smartphones, you have an option of the Web app as well to handle the setup, and many people find it much easier to use.
2. Choose a Device to Set Up
Pop in your Amazon username and password, this is used for various things, like keeping a history of tasks you have been asking Alexa to do. As well as the orders by voice and to stay updated on those orders. However, you don't need Amazon Prime for this purpose. Simply sign in on the app and go to settings. The settings will show you a tab to "Set up a new device" or alternatively you may click on the link. Within seconds, you will be shown three Amazon-provided Alexa options including Echo, Tap, or Echo Dot. Select your device. Also, you might need to pick up a language. The current options are English for the US, UK, or German.
3. Echo's Setup Mode
For the brand-new installation, the light band on the Echo will appear in an orange color as soon as you plugin. If the orange sign is not appearing then just press and hold the action button for approximately five seconds, and you'll find the single dot in the middle. On the tap, there is no orange indication hence you need to hold the WiFi/Bluetooth button at the back of the Echo. After some time, Alexa will tell you that she is now in setup mode.
4. Connecting your PC or Smartphone
Now connect the app to the WiFi network, the same as the Echo. It will show up as something like "Amazon-2Q3, " whereas the last three digits will not be the same. Once connected, Alexa will respond "You've connected to Echo. Go ahead and finish the setup in the Alexa app."
5. Home Wi-Fi Set-Up
In the app, you will see all the Wi-Fi networks available around you so pick up your home Wi-Fi. Then you are required to enter the Wi-Fi password when it asks for it. As soon as all the information is sent to the device, Alexa will say "Your Echo is ready," & the orange light buzzes off. Keep in mind, if you have set up an Amazon device at home, you might have saved the Wi-Fi password.
6. Say 'Alexa.'
The Echo is programmed to respond to a watchword which, by default, is the name "Alexa". Anytime you call out for your personal assistance "Alexa", you'll see the light ring on top of the Echo pop blue and then adjust itself to the perfect point towards the sound's source.
At the final brink of the setup, the Alexa app shows you a video to give you an idea of some of the basics of using the Amazon Echo. It will tell you how to access the app, change the wake word, connect to music services such as Pandora, sync Google Calendar, connect to mobile devices through Bluetooth for audio playback, set news headlines from your favorite sources, play audiobooks, configure Alexa to control your smart home devices and a lot more.
Amazon is always adding new options to Alexa so don't forget the newsletter that comes along with Echo. It will show you a lot of choices every time. Also, make sure to check the skills and other tricks that Alexa has for you to get the best out of it. Amazon Echo is not just a device; it will be more like your lifetime friend.
What is Alexa?
Alexa, Amazon's virtual personal assistant, has been around for about two years, and it was named after a famous ancient Library, in Alexandria. The system allows you to speak your wishes and fulfill them e.g. playing music tracks, turning lights on and off, etc.
It lives inside the company's Echo smart speaker, among other devices, and offers users the ability to dictate commands to the assistant to control products throughout their homes, listen to music, and more. It can turn the Echo, Dot, and Tap from streaming audio players into Internet assistants. This is what turned Echo into the biggest tech product of 2022 which is great news for those who are interested in smart home control.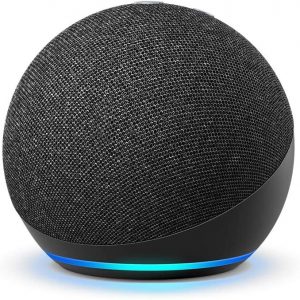 Alexa can respond to voice commands from anywhere. It does not require any activation button to press. Once you say the trigger word it will be done in a short while as long as you have correctly set up everything and used the right command. As you get used to it, you will feel more natural and responsive as compared to speaking to a phone-based voice assistant such as Apple's Siri.
Eventually, you are more likely to find yourself using your phone less frequently at home than before. However, there are a lot of privacy issues regarding Alexa's listening and it cannot do everything. There is already enough to make it a compelling product especially if you are plunging into the smart home lifestyle
Amazon Echo vs. Google Home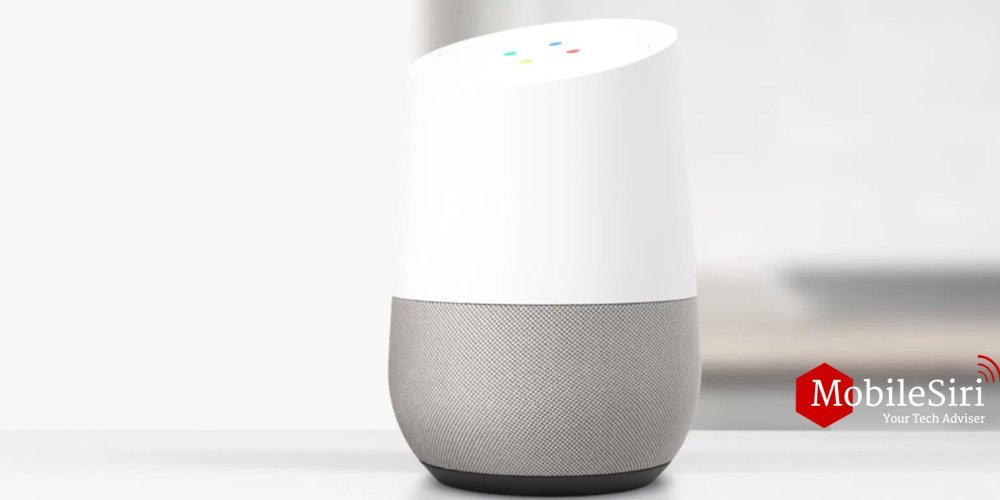 The Amazon Echo and the Google Home both have built-in microphones that can listen from a reasonable distance. Forgiving commands to the Echo, you can use the terms Alexa, Echo, Amazon, or Computer. Whereas the Home looks for "Hey Google." Both perform an excellent job even across a large room with background noise.
As far as the speakers are concerned, both systems function well enough for listening to music. Additionally, both systems offer ways to connect to your existing sound system. The Amazon Echo Dot easily plugs into your existing speakers. Likewise, with the Home, you can regulate any Google Cast-enabled speaker or any speaker that is connected to a Chromecast Audio streamer.
The Home also allows you to control your TV if you have a Chromecast video streamer. For this purpose, give a command, and you will be able to watch your favorite show on Netflix or YouTube.
However, you must cast a video by name. Also, you can't use it to browse videos. The Netflix integration is way too convenient, you simply need to say "Hey Google, play Parks on the living room, TV, " and it will immediately start playing.
Similarly, with music, you can pause, rewind, and forward streaming video with your voice.
Besides this, if your TV supports Consumer Electronics Control, you can expediently turn on your TV with Google Home and ask it to play something. With Sony and Vizio TVs, you don't require a separate streamer, as they have built-in Chromecast. You can't fully control any TV with Google Home for e.g. you can't turn off your TV with a voice command.
Which is better Alexa or Google?
On the other hand, Amazon Echo also has TV integration if you have a Fire TV. For this, you need to press a button on a particular Fire TV remote. If you have a Logitech Harmony setup, the Echo can even go better compared to the Home. However, a Chromecast streamer costs approximately $35, and a Logitech setup can cost hundreds of dollars.
With the Home, you can group several speakers and play one song at the same time in multiple rooms. On top of all of this, both Amazon Echo and Google Home can play games, tell jokes, and respond amusingly. Alexa takes the lead here, though as it has more "fun factor" than Google Assistant. Amazon recently added a new gaming category for the Alexa Skills Kit where it lets you "choose your adventure style".
Alexa also lets you play a Batman-themed voice-controlled mystery game called the Wayne Investigation and also plays the Jeopardy game way better than Google Home. Compared to Amazon Echo, Google Home learns more about you through various Google services such as Google Calendar, Google Maps, etc.
In addition to telling you about the appointments marked on the calendar, it also informs you about the traffic situation on your way to work. It uses Google Assistant to respond to voice commands. However, it cannot change anything on your calendar, does not integrate with Gmail or Google Docs, cannot set reminders, and does not send any directions to your phone. On the other hand, Amazon's Alexa lets you set reminders, make to-do lists, etc. It has even 3rd party support and more than 3000 skills. As Amazon Echo has had a two-year head start from Google Home, it is compatible with SmartThings, Nest, Philips Hue, and IFTTT.
The Home responds more flexibly to commands than the Echo. With Echo, you can create named groups for all your devices. With the Home, you can even give them nicknames and group them into rooms. If you call a bulb "desk lamp" in the Philips app, Amazon's Alexa will only respond if you turn on the bulb. You can create groups for all the lights and give the command to Alexa to turn them on or off. Without the groups, Alexa will not respond to any other names for the lamp. With Google Home, you can assign names to various devices and automatically arrange them.
Google Assistant can integrate with IFTTT and Philips Hue much better than Alexa. You can monitor the colors of your Philips bulbs which you can't do with a command to Alexa. The Home lets you customize controls including several options. For example, you can say, "I am leaving" or "Switch Ecobee to away mode." Whereas on Alexa, you'd probably have to say something like, "Alexa, trigger Ecobee to away mode." Google Assistant offers you more flexible phrasing than Alexa.
Have a great experience with your Digi-tech personal assistant!
MobileSiri.com is a participant in the Amazon Services LLC Associates Program, an affiliate advertising program designed to provide a means for sites to earn advertising fees by advertising and linking to Amazon.com. Read about our Affiliates Disclosure Policy
here
. Amazon and the Amazon logo are trademarks of Amazon.com, Inc. or its affiliates.