No doubt, Philips has revolutionized the world of bright LEDs. The latest bulb, Hue White, and Color Ambiance prove why the company has been a major competitor in this space from the very beginning. The design of the latest Phillips hue starter kit has just changed slightly.
Though they are still shaped like rounded-off twisters, now they come up with a white base instead of a silver one. Overall, the bulbs remain quite modest in comparison to the competition. They are designed to work successfully in connection to your Wi-Fi router through an Ethernet cable.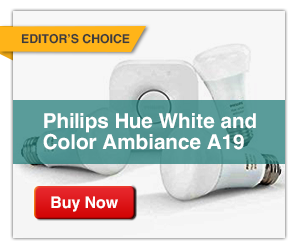 The Phillips Hue Starter kit and White and Color Ambiance A19 are not small and are more streamlined compared to prior models at $60. It is included along with three bulbs in a $176 kit reviewed here. It has become a standard in its way and is now compatible with methods and GE bulbs. These Hue lights efficiently work with Amazon's Alexa voice assistant, Apple's HomeKit platform, and several other smart-home products. Have a look to learn more about the finer features and reliable performance of the Philips Hue White and Color Ambiance A19 Starter kit.
Let's get rolling……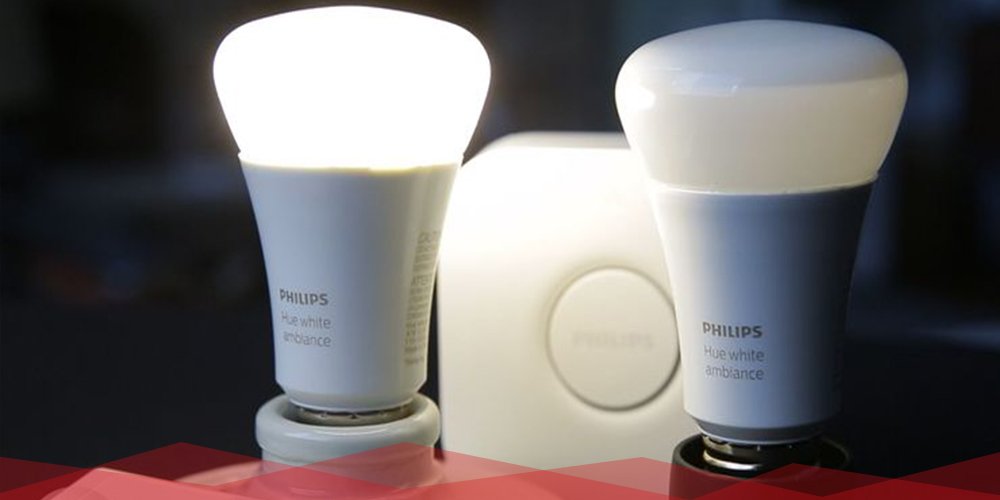 Table of Contents
Phillips Hue starter kit
Pros
Phillips Hue Starter Kit offers an impressive list of compatible smart home platforms.
It can sync your bulb with the iOS device.
You can trigger lighting changes by asking Siri.
The redesigned Hue bridge is less intrusive.
It includes support for Apple Siri and the Apple Watch
The technical improvements make them the best-looking and brightest bulbs.
It offers smooth dimming, so the lights are never too bright or dark.
You can control lights from anywhere when paired with a Philips Hue bridge.
It lets you set different rooms for different times.
You can download third-party apps to integrate the A19 bulb with music or gaming experience.
It offers a range of natural white light from cool energizing daylight to relaxing warm white light.
You can use 16 million colors to paint your walls with a variety of light shades.
Cons
The app could have more benefited from the ease-of-use upgrade.
There are no fun features.
The installation process may be a bit complicated.
The A19 starter kit is expensive.
The app is simple with white-only features.
Key Features
The Phillips Hue starter kit comes with 3 Philips Hue white and color Medium Lumen A19 16W LED smart bulbs, a Philips Hue hub, and one smart button with a mounting plate.
Philips Hue Hub can control up to 50 Hue lights and connect the smart bulbs with smart devices like Amazon Alexa, Google Assistant, and Apple Homekit.
Features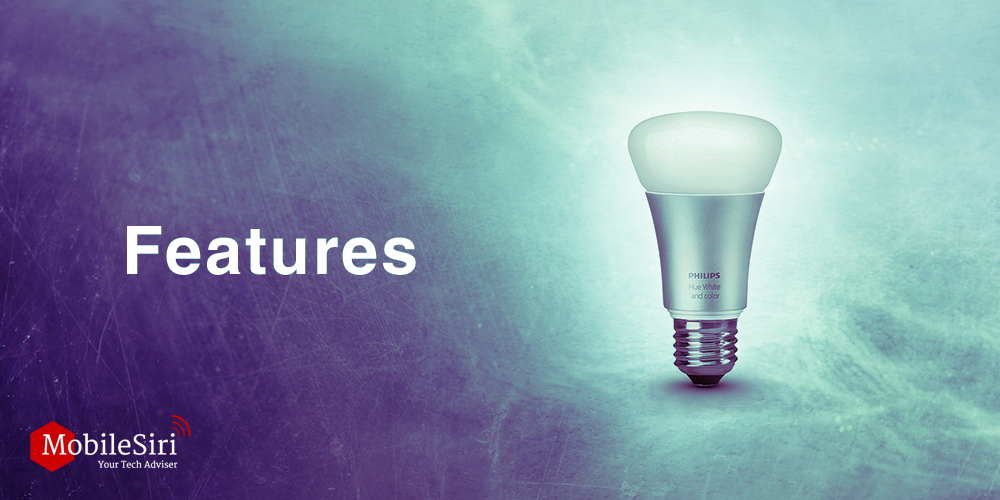 Phillips Hue  Starter kit comes with three Hue bulbs and a bridge that you can control via the Philips Hue App on your Android or iOS device. The most significant addition is that Philips benefited from HomeKit without compromising on the core components of the Hue platform. The major advantages of Hue include updated software that allows third-party developers to make their apps for the lights and bring up new functionality.
Some developer stuff, is great, isn't it?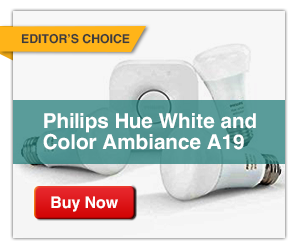 With the Philips Hue App, you can change the color of your bulbs using the drag-and-drop display that lets you cover the part of the spectrum that you want. The emergence of HomeKit support allows smart home devices to effectively communicate within iOS.
The HomeKit compatibility makes it exceptionally easy for other products to assimilate Hue controls into their controller apps. That means you can program lighting changes that are linked directly to those products e.g. lights that turn on or off when you lock your door.
Moreover, you can do that a lot by syncing your lights with a master hub called SmartThings or an automation system like IFTTT. Philips Hue and Color Ambiance A19 Starter kit in association with HomeKit brings you voice activation and on-demand lighting changes that are fit for the system. Now asking Siri to turn the lights is way too easy.
In addition to red, blue, and orange which are the primary colors, you can request teal, gold, and other colors as well. Siri can understand modifiers such as light blue. However, it cannot understand anything on the white light spectrum such as soft white, daylight, or 2700K.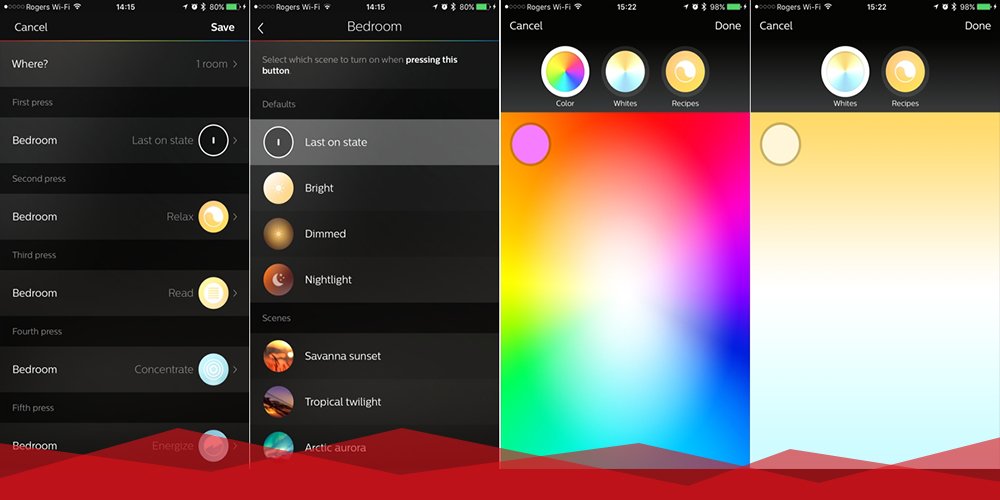 While using Siri, you can also control your Hue scenes which lets you trigger multiple bulbs at a time. The Hue scenes are not programmed in the same way as HomeKit scenes so they might not work at first. However, the work is simple. All you need to do is go to Hue's app settings and select "Siri voice control." You will get a list of scenes that you want to control using Siri and He will translate them into something that Siri can work with.
Pretty customized, right?
Another option you have is to create new scenes using an app that follows Home Kit's scene-creation protocols. Though it might look inappropriate to program the Hue lights outside the Hue app, doing so, will let you create more complex scenes that involve your other HomeKit-compatible gadgets e.g. a good night scene will turn the lights off and lock your door.
Moving on, Hue offers a Phillips Hue bridge transfer mode in the app that will make it easier to switch. Simply follow the onscreen instructions, and it will save your existing settings in the cloud and load them into the new bridge. It will take a few minutes to get things switched, and after you are done, many lights and scenes will remain intact.
Though Siri-powered voice control works well, occasionally there might be language mix-ups. Another unexpected drawback is Hue's integration with the voice-activated Amazon Echo. The new bridge does not let the Echo talk to your lights. The company is working with Amazon to fix it as soon as possible.
Performance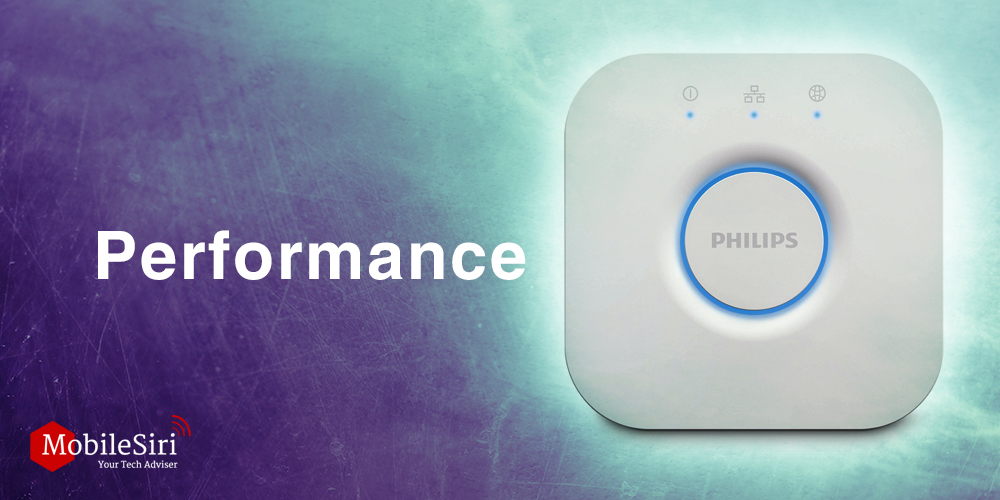 Phillips Hue starter kit Hub offers a superb performance that can make your day. You can add up to 50 lights Using the Hue mobile app, Alexa, Google Assistant, or HomeKit support, you can easily create sophisticated remote-controlled lighting setups along with automation. For instance, you can set all your lights off as soon as your iPhone leaves the house.
In our testing, we set the lamps to fade at sunset, and it worked well. Also, you can trigger the scenes to switch between color and brightness settings. We have tried even more elaborate options through IFTTT integration.
The white ambiance bulbs strike between Philips's cheaper pure white options and expensive full-color models. This white ambiance collection offers various color temperatures within the white spectrum that range from a warm orange to a cold blueish white. The important part is that you can still adjust your lights as per different moods or times of the day.
Additionally, the updated Hue app gives you an option of "Wake up" and "Go to sleep" along with "Nightlight" scenes. All these options are formulated with a white ambiance.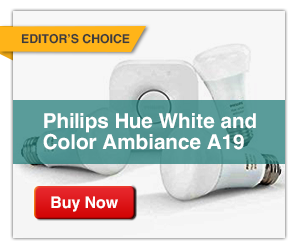 While testing the Phillips Hue Starter kit with white color A19 Ambiance which comes with two bulbs, a scene switch, and a bright hub, we found that warmer lights are more excellent than the most basic LED bulbs which can be quite refreshing according to our liking.
In various situations, warm lighting feels more natural. Moreover, the full brightness is 1100 lumens which is available along with the neutral 4,000K color temperature and is not the default setting. The output dims as you go warmer down to 400 lumens when you hit 2,220K.1100 lumens are bright enough, and You don't need to use some extra lighting to compensate.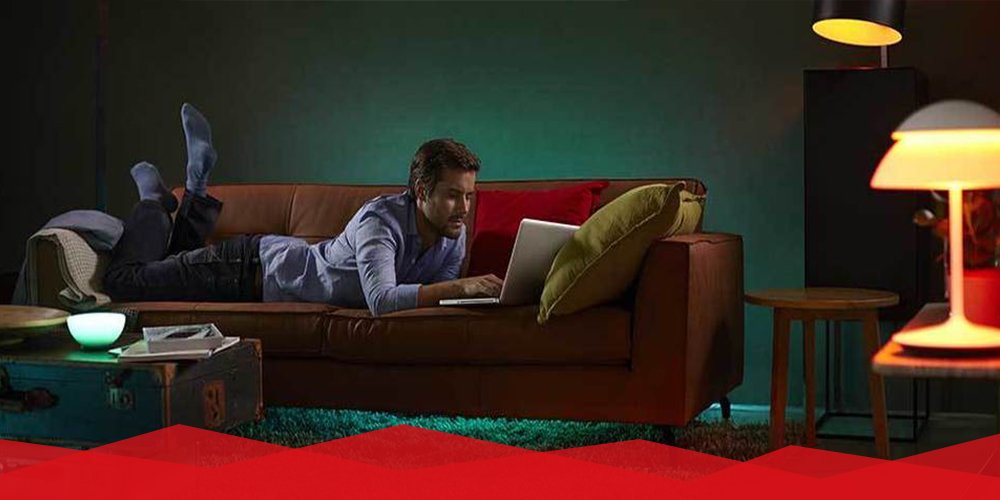 We found the new Hue app relatively well-designed. It allows users to set up lights, rooms, and routines without any trouble. Also, it lets you manage bridges and switches. You can control the lights over cellular connections through the app.
However, Siri will only work outside of the Wi-Fi range if you have an Apple TV. We observed some odd limitations in the software. For example, to rename the bulbs, you need to go into the settings menu and manually resync them with Siri. Also, Siri will not automatically recognize each scene. Hence you must select for yourself.
Alexa commands
Furthermore, when you say, "Turn on the living room lights" or "Dim the living room lights to 40%", you can't say "Turn on the existing lights to 40 percent" as first, you have to turn them on and then you can tweak brightness.
Another issue in our observation with the app is that it may not be instantly apparent how to adjust brightness unless you use scenes or routines. The only way to control the color temperature on each bulb is by tapping icons that you may not recognize as interactive.
Also, with routines, you cannot set lights to shift to a particular color temperature automatically. In many cases, you may not have any way to create routines for individual bulbs rather than making separate rooms.
Comparison of Phillips Hue Starter Kit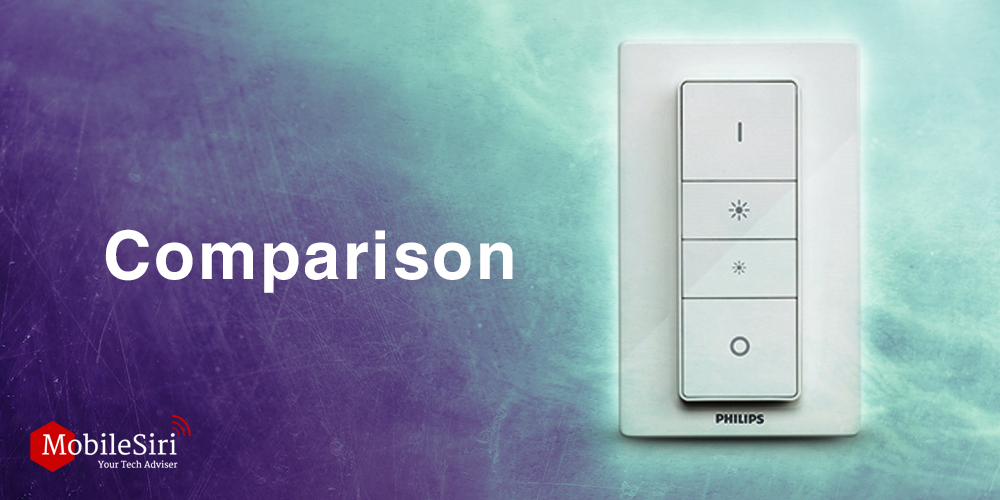 As the brand says it all, Philips is one of the most prominent competitors in the electronic world. The Hue color of ambiance bulbs has not changed much since 2012. White Color Ambiance A19 Philips Hue Starter kit comes with new bulbs that last longer.
Also, the company is adding new shapes, sizes, and accessories. The Hue app has also improved significantly. The Hue bulbs are available in a wide range of forms in A19 and have become very popular in a short while. The price of the starter kit includes the required Philips Hue Bridge.
Price
Whereas, new bulbs cost $60 each. Here LIFX color has become a major rival. The LIFX color LED bright bulb along with an array of infrared LEDs will even help your home security camera see in the dark. Overall, Philips has earned the best position for an extensive collection of styles and several compatible accessories.
BR30 LED Smart Bulbs
If you want Philips Hue white Ambiance BR30 LED Smart bulbs, You can easily control BR30 BULBS with your voice as they are compatible with Alexa, Apple Homekit, and Google Assistant. BR30 LED smart bulb provides 50,000 different shades of white light. It is dimmable and changes different modes from warm to cool according to your requirements. You can also control various modes of up to 10 lights in the room with the Hue Bluetooth App. You can install them in lamps as they are the brightest bulbs with 85W in this roundup.
The price of the starter kit includes the required Philips Hue Bridge. Whereas, new bulbs cost $49 each. Here LIFX color has become a major rival. The LIFX color LED bright bulb along with an array of infrared LEDs will even help your home security camera see in the dark.
Overall, Philips has earned the best position for an extensive collection of styles and several compatible accessories.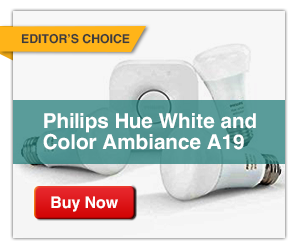 Conclusion
Nonetheless, automation is the foremost reason to buy the Phillips Hue Starter kit and White Color Ambiance A19. Once you set up the right routine, you will hardly need Siri or an app to switch. This is something fanatic about lights coming on whenever you need them and shutting off when they are not required.
Hence, it boosts security and power efficiency at the same time. This white ambiance kit is an excellent starting point when you need at least two bulbs with warmer lighting. Therefore, it makes clear sense to go for the $175 white and color kit.
Additionally, if you have several smart gadgets and you want color hanging bulbs that incredibly work with them then Hue is the best option you can get.
Likewise, if you are a Hue and iOS user as well, then upgrading the new Hue Bridge to set up and add Siri controls is worth considering in this kit.
But if you haven't bought the White Color Ambiance A19 Philips Hue Starter kit yet, the $175 cost of the kit is reachable.
On the other hand, competition is even more compelling. LIFX offers brighter and high-quality color bulbs with an easy-to-use app at $34 each.
Also, there is no hub required so you can control each one straight away from the box, meaning you don't need to invest $175 just to get started.
Lighten up your life, the Philips way!
MobileSiri.com is a participant in the Amazon Services LLC Associates Program, an affiliate advertising program designed to provide a means for sites to earn advertising fees by advertising and linking to Amazon.com. Read about our Affiliates Disclosure Policy
here
. Amazon and the Amazon logo are trademarks of Amazon.com, Inc. or its affiliates.